Real estate investing is one of the most common ways that people begin to build their wealth. In the past, this meant going out and purchasing a rental property. Then, you would roll the income from one property into the next and so on.
The only downside is many real estate investments require a large amount of up-front capital. In order to buy a rental property, you typically need to put 20% down, which is likely tens of thousands of dollars. 
Today, we have crowdfunded real estate sites that make this process a lot easier, and a lot cheaper! You certainly do not need tens of thousands of dollars to get started.
In this article, we will review Streitwise, a real estate investing platform that allows investors to get in on private real estate deals. 
Streitwise
Pricing

Transparency

Due Diligence

Historical Performance

Investment Selection
Summary
Streitwise set out on a mission to bring commercial real estate investing, particularly in office buildings, to the masses. And so far they have done a pretty good job of it.
Although they haven't been around for that much time, they have had great success and have a track record of over 9% annualized returns so far. They will continue to target 8-9% returns indefinitely.
They have also taken extra steps to make your investments a bit more liquid with their redemption plans. Though for the first few years, the penalties are significant. In general, you should not invest in a real estate investment like this unless you have a time horizon of 5 years or more. 
Pros
Invest in high-quality office building real estate

Transparent about fees 

Open to non-accredited investors

Passive investing 

Dividend reinvestment program

Redemption plans offered
Cons
Only office buildings available

Short track record

Illiquid investments

Redemption fees

Higher initial investment fees
Streitwise Review: Highlights
Streitwise takes a different approach when compared to a traditional REIT.

When you invest with Streitwise, they will make the selection of the investment property for you.

Both accredited investors and non-accredited investors have the ability to invest with Streitwise.

There are limitations if you are non-accredited.

Streitwise aims to invest in office buildings throughout the US.

Investors may earn returns through capital appreciation or rent payments as dividends. 

Streitwise fees vary and can be up to 5% depending on the deal, but they try to be as transparent as possible with all fees.
The Streitwise minimum investment is $5,080.
Your investment in Streitwise will initially be locked in for a 1 year holding period.
Because of the nature of the investments that Streitwise offers, liquidity is not guaranteed.

After one year you can redeem your Streitwise investment on a quarterly basis, redemption fees may apply. 

Overall, we find that the fees are relatively high but the investment minimum is low.
They have a limited operating history since just 2017.
They do have a good performance history, earning 9.4% annualized returns since 2017. 
What Is Streitwise?
Streitwise is a platform that you can utilize if you want to diversify your portfolio with income-generating real estate assets.
Since 2017, the company has run on the principle of giving access to real estate investments to everyone, instead of high net worth individuals.

While they don't give exact numbers, their 2022 outlook states that they were able to maintain their course during the pandemic and were able to honor 100% of their redemption requests for investors looking to sell out over 2020.
Though Streitwise is a smaller company at the moment, they have been making significant updates to their system to improve the user experience.
The Steitwise website also states that even though they are growing and looking to add new features, "our thesis remains the same: We believe that buying quality, stabilized office buildings in desirable suburban-urban locations at high cap rates will result in outsized risk-adjusted returns over the long term."
Based on their investment thesis, they currently own a collection of buildings throughout the United States. As time goes on, they plan to expand into many more similar properties around the country to continue to generate returns for their investors.
How Does Streitwise Work?
Streitwise is a company that falls into the category of a REIT. To understand this more thoroughly, it will be helpful to know what a REIT is before we continue.
What Is A REIT?
REIT stands for Real Estate Investment Trust. This is a company that both owns and manages revenue-earning real estate. Typically, these companies own properties such as apartment buildings, hotels, warehouses etc. However they can also own less common assets like cell towers and malls. 
In the case of Streitwise, this means owning office buildings.
These types of companies give investors the ability to own a fraction of the property instead of shelling out the cash to buy the whole thing. 
Unlike other real estate investment platforms out there, Streitwise is not crowdfunded with an online marketplace. With their system, you will be providing the funds and Streitwise will choose the investment for you.
While some REITs trade on public stock exchanges and can be bought and sold as easily as shares of stock, this is not the case for Streitwise. This is a private REIT that can only be bought or sold within the Streitwise platform.
Minimum Investment
The minimum that you can invest with Streitwise is $5,080. They require investors to buy 500 shares at a stock price of $10.16.
Streitwise has historically paid dividends on a quarterly basis. You may also realize capital gains if you sell your shares of the REIT for a gain later to earn money from the investment. 
However, not all of these opportunities are available to everyone. If you are an accredited investor, then you will have access to their entire platform.
But for the non-accredited investors, you are still able to invest but there are boundaries. The total amount a non-accredited investor can invest cannot exceed 10% of their net worth and 10% of their annual income. These restrictions are put in place by the SEC to protect smaller investors from making poor investment decisions.
International investors can apply to invest with Streitwise, but there are limitations Streitwise must follow in this regard.
How to Invest
After signing up with the platform, you will need to fund your account. This can be done through an ACH payment, wire transfer, or cryptocurrency. You will simply enter in the number of shares you want to purchase and the method payment.
Streitwise now accepts both Bitcoin and Ethereum as payment. This service is available using Streitwise's escrow agent, Primetrust, who facilitates the cryptocurrency payment. Once your registration is complete on the Start Investing page, you will be directed to a wallet address to send your funds to.
Best Real Estate Platforms
Investment Features
High Quality Properties
Streitwise focuses primarily on commercial office buildings, not residential real estate. 
They believe finding quality real estate with high quality tenants who have thriving businesses is a profitable investment strategy. So far, they have been correct!
Streitwise owns office buildings which are leased out to well-known companies such as New Balance and Panera Bread.
This significantly decreases the odds that Streitwise will run into any trouble collecting rent from their tenants. In fact, they were able to maintain a 100% collections rate during the COIVID-19 pandemic in 2020.
Options For Non-Accredited Investors
While there are limitations on the amount non-accredited investors can invest with Streitwise, they still have the opportunity to do so.
Many investment platforms are completely unavailable to those that are not accredited. Streitwise allows non-accredited investors to access their platform.
Hands-Off Investing
This can be a double-edged sword depending on your investment style, but if you find yourself being more passive and less hands-on in your investments it may suit your needs.
Since Streitwise does not have a marketplace and distributes your capital where their advisors find a fit, it means you have to make fewer decisions.
This, of course, means that you have to trust the advisors at Streitwise to make the correct decisions. While they do not have a long track record they do have a good performance history, earning over 9% annualized dividends since 2017. The most recent dividend was 8.4% in Q2 of 2021. 
When contrasted with the average 2.85% dividend that public REITs are paying, Streitwise definitely looks like an attractive option for investors looking to diversify into real estate.
Redemption Plans
Because of the nature of the investments that Streitwise offers, liquidity is not guaranteed.
A lot of the time your money is illiquid for 5 years or more depending on the deal.
Streitwise does offer some amount of liquidity through their redemption plans. The amount you can receive back is dependent on your net asset value or NAV.
If you have held an investment for less than a year there is no redemption available

.

One to two years: 90% of net asset value.
Two to three years: 92.5% of net asset value.
Three to four years: 95% of net asset value.
Four to five years: 97.5% of net asset value.
Any time over five years is 100% of your net asset value.
For this reason, it is important for investors to understand Streitwise is a relatively long term investment. Investors should be prepared to hold on to their investment for multiple years. 
However, during the 2020 pandemic it should be noted that Streitwise was able to accommodate all of the redemptions that their investors wanted to make. In a statement, the CEO stated that the majority of investors maintained their discipline, but those who wanted out were able to sell their shares without issue.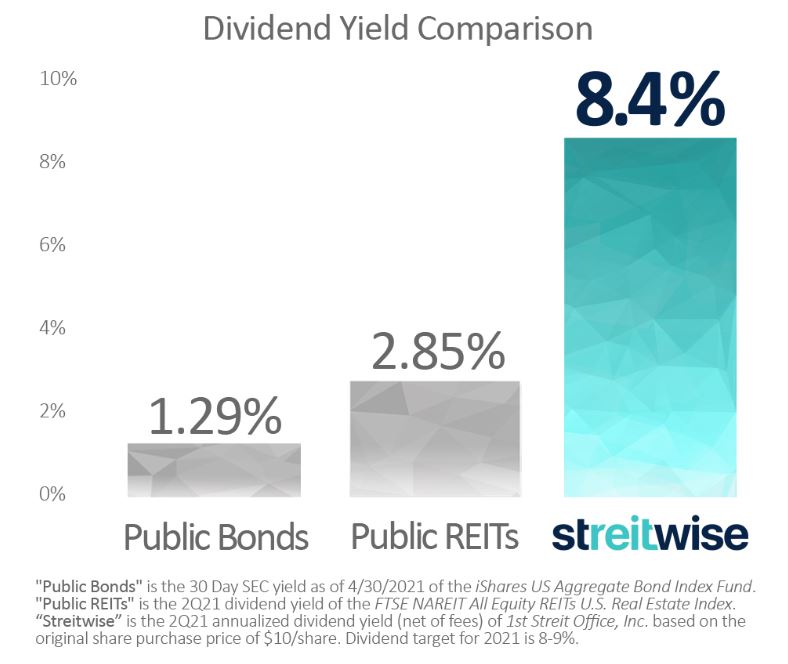 Dividend Reinvestment
The dividend reinvestment plan is a new feature on the Streitwise platform that investors can take advantage of.
Dividend reinvestment, or DRIP, means that you will be investing your earned dividends back into your Streitwise investments.
Reinvestment allows you to compound your returns by adding to your investment position. 
Streitwise claims in 2019 an estimated 40% of their members took advantage of the dividend reinvestment program. This is not surprising given the potential for dividend reinvestment to magnify an investor's returns over a longer time horizon.
IRA Investing
On the Streitwise platform, you have the option to invest your retirement dollars if you would like to invest on a tax-advantaged basis. This can be an attractive feature for investors who have a significant amount of their assets tied up in retirement accounts that they want to diversify out of the stock market.
Streitwise has partnered with 7 of the most popular self-directed IRA providers and allows for easy integration into their platform. However, even if your IRA is not with one of the partners listed on the site, if you email Streitwise, there is a good chance you'll still be able to use it.
A perk of working with a smaller company is that they're typically much more willing to make exceptions and go out of their way to help their investors.
By investing through a self-directed IRA, you can reap the benefits of tax-deferred growth on your investments. Or in the case of a Roth IRA, you could potentially end up paying no taxes whatsoever on your gains!
Streitwise Mobile App
Streitwise recently launched an iOS app for investors to keep track of their holdings, add more funds, enroll in dividend reinvestment, access tax returns, and more. Currently the app has just 9 reviews in the app store.
This app is a huge benefit as investors can monitor their investments and feel in control from anywhere.
The app also has a "Guest Mode" which allows you to explore the app and Streitwise's offerings before ever opening an account.
Is Streitwise Safe?
Because Streitwise is a new company and is relatively small in comparison to other platforms, it can have some red flags. Upon doing a bit of research on sites like Crunchbase, it appears they only employ about 10 or so people.
Obviously, with a newer company, you have a less tested business model and not much of a track record to go on.
So far their dividends were paying out 10% annually through 2019, though for 2020 they dropped their dividend to 8.4%. In 2021, they have stated that they intend to maintain a dividend in the 8% - 9% range.
But of course, they cannot guarantee future returns.
You also have the inherent risk of investing in real estate, if the market falls then you do stand to lose money. This is true of any investment and the risk should certainly be evaluated as well as the potential rewards.
However, even throughout the pandemic, Streitwise collected on 100% of contractual rent obligations from every tenant in the portfolio. Overall, their strong credit tenants have done well through the recession. They were also one of the only investing platforms not to pause redemptions through the recession.
It's also important to note that their founders have over $5 million invested alongside their members. Their founding team certainly believes in their product.
The company is registered with the SEC and strictly regulated as all financial companies are. That being said, it's likely a good idea to take a peek at their Offering Circular to make sure you fully understand the investment before you decide you move any of your hard-earned cash over.
We would not suggest investing your life savings, but it could be a good platform to test out for diversification into real estate and returns have been solid so far. One benefit of working with a small company is that you can email them directly with any questions or concerns you have!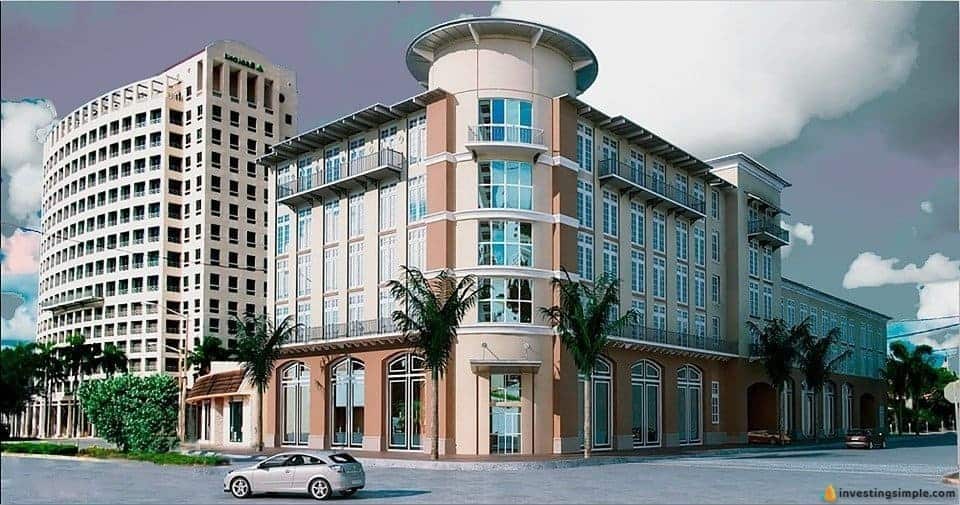 How Does Streitwise Make Money?
Streitwise makes money in a few different ways, of course, they own the properties that their members invest in.
But to their members, the most important thing to take note of is obviously the fees associated with investing in their platform.
If you are switching from another similar service, you will have to weigh the pros and cons between the two and decide which will end up being cheaper for you overall.
Streitwise Review: The Verdict
Streitwise set out on a mission to bring commercial real estate investing, particularly in office buildings, to the masses. And so far they have done a pretty good job of it.
Although they haven't been around for that much time, they have had great success and have a strong track record of over 9% annualized returns so far. However, they target returns of 8% to 9% indefinitely. 
They have also taken extra steps to make your investments a bit more liquid with their redemption plans. Though for the first few years, the penalties are significant. In general, you should not invest in a real estate investment like this unless you have a time horizon of 5 years or more. 
If you are considering taking the dive into office space real estate investing, Streitwise may be a good place for you to start. You may want to compare it with other larger and more well-established real estate crowdfunding platforms before investing.