Investing in the stock market is an ambiguous phrase. The 'stock market' is a fairly large blanket term. Typically, this term refers to securities listed on your local exchange such as the New York Stock Exchange (NYSE) for US residents.
But have you ever considered investing in international securities? How would you even begin with an international stock? What brokerages could you use to trade such assets?
In this article, we provide a complete Tiger Brokers Review with the pros and cons of using the platform as well as the features and fees associated with an account.
This article is sponsored by Tiger Brokers.
Tiger Brokers Review: Platform Highlights
Access to various markets including Singapore, USA, Hong Kong, Australia and China

Desktop and mobile version with advanced charting and research tools

Low fee structure

Currencies available are SGD, USD and HKD

No minimum deposit

Commission Free Trading Platform for US Residents called TradeUp

No maintenance or account opening fees
Tiger Brokers Review
Access to Various Markets
Fees
Charting and Analytics
Customer Support
Sign-Up Incentive
Account Features
Tiger Brokers Summary
Tiger Brokers is an online brokerage that offers members the ability to trade in a number of markets. Account holders have access to trade stocks, ETFs, options, futures, REITs, and funds.
The platform is great for experienced investors as it features advanced charting and a customizable interface.
For US residents, they also have a new offering called TradeUp, which features no commissions yet still has access to their advanced tools and real time data.
Pros
Access to Multiple Markets
Customer Support
Unique Rewards Program
No minimum deposit
What Is Tiger Brokers?
Tiger Brokers is an online brokerage that allows account holders to trade assets in various markets around the world.  They were also listed on the NASDAQ under ticker symbol TIGR in 2019. Since launch, they have attracted over 4 million users worldwide.
The brokerage launched in 2014 with a focus on Chinese investors and making international trading more efficient. Since, the company has expanded into other markets including the US, Singapore, Australia, New Zealand, and Hong Kong.
Their proprietary trading platform features a wide array of advanced charting and various research tools that make it well-suited for advanced investors. The platform could be overwhelming to new investors as they have a plethora of information.
Account holders can trade stocks, ETFs, options, REITs, funds, and more.
One of the concerns many investors have with international brokers is the degree of security offered. Tiger Brokers US is actually a registered broker with the SEC and a member of FINRA and SIPC.
They also recently launched a specific commission-free platform for US residents called TradeUp. 


What is TradeUp?
TradeUp is a new commission-free platform for US residents that is compatible with both iOS and Android devices. The investment platform was first offered by Marsco Investment Corporation, which was acquired by Tiger Brokers in July of 2019. The platform was created to be well-suited for both new and experienced investors. 
TradeUp features an impressive array of research tools and analytics. It has over 30 drawing tools to customize views and track performance of various securities. With the vast number of tools and analytics made available on the platform, new users may feel overwhelmed. 
It has both a web and mobile version with free real-time market quotes. For those that are interested in testing out strategies, the platform also offers paper trading for free. 
For new users, they also have a strong sign-up incentive. With the following deposits, new users can qualify for free stocks up to $1,800: 
$1,000 Deposit: Get 3 free stocks

$2,500 Deposit: Get 4 free stocks

$5,000 Deposit: Get 5 free stocks
TradeUp also has its own customer support team separate from Tiger Brokers which can be reached through email: [email protected]. Once you have an account created, they also have a customer support phone number for specific questions. 
They do have an extensive help page with information about account creating, funding your account, margin and options trading, and more. 
The rest of the features listed below are specific to Tiger Broker's investing platform, TigerTrade. While US residents can still sign up with Tiger Brokers, TradeUp is specifically designed for US residents. 
Interested in TradeUp? Sign up today!
Tiger Brokers Free Stock Rewards
Every trading platform today knows they are playing in a highly competitive field. With this in mind, many brokerages currently offer a sign up/referral bonus. Tiger Brokers is no exception.
New sign-ups can earn a free share of Starbucks stock by making a deposit of $2,000 or more.
Completing the account registration will also earn new users 500 Tiger Coins (more to come on this later) and 60 commission free trades within 180 days.
Those who invite others to join Tiger Brokers will also receive stock vouchers that can be redeemed within the platform.
You can find the details of Tiger Brokers Sign-up incentive here.


Tiger Brokers Features
Tiger Brokers has a number of features that make them an attractive brokerage for many investors. Merely having access to multiple markets is a huge benefit for investors looking to engage with international markets. Typically, investors looking to trade in international markets would have to do so through membership in multiple brokerages all with unique fee structures. With Tiger Brokers, it is certainly easier to monitor international assets from one place.
In addition to offering access to other markets, they also have other features that make them highly competitive.
Advanced Charting and Other Free Tools
The trading platform offered by Tiger Brokers, is available in both a desktop and mobile app. Both versions feature technical analysis indicators, customizable watchlists, financial data calendars, price-line chart comparisons, and top advancers and decliners lists.
One of the features that investors really love is the valuation analysis available for various investments. It's a tool that uses technology to provide a quick valuation for an investment.
Additionally, the platform offers access to an earning calendar and a newsroom with latest information about various companies and investments.
Free Real Time Quotes and Level 2 Market Data
Tiger Brokers currently offers users free real time quotes and Level 2 Market Data for US stocks and ETFs. This could change in the future, but currently is completely free.
Tiger Coins
One of the unique features offered to account holders is the ability to earn Tiger Coins. In turn, these coins can be redeemed for various platform rewards such as stock vouchers or commission-free trading.
Tiger coins can be earned in three ways:
Logging in Daily: Users can earn 10 coins a day simply by logging in. On the weekends, users can earn more.

Completing Daily Tasks: When logged into the app, users can select "Me" in the bottom menu and select "Tiger Coins." Here, users will see various daily activities such as liking, commenting, and sharing. Each daily activity is worth 10 coins.

Completing Achievement Tasks: These tasks are bigger and thus can earn more. Some of the achievement tasks are things like completing account registration, making a deposit, and adding stocks to a watchlist.

Once you have earned Tiger Coins, they can be redeemed for various prizes. By navigating to the Tiger Coins page in the app, users can select "More Benefits." Here they will notice a variety of prizes such as free stock vouchers, commission free trades, and more. Currently, a free stock voucher of $30 USD, can be redeemed for 5,000 Tiger Coins.
Tiger Brokers Customer Service
The customer service offered by Tiger Brokers is actually top notch. They offer both an email and a phone number.
You can expect to receive answers to your emails within 24 hours. And their phone number is open during business hours. Additionally, for those that are already signed up, they have a chat available on the trading platform both on desktop and mobile.
The platform also has a highly detailed help page with answers to most questions. Considering the fact that they offer trading in multiple markets which have varying rules and regulations, there is certainly a lot built into this platform. Users will be able to find information specific to each of the markets, margin trading, transfers, company information, and more.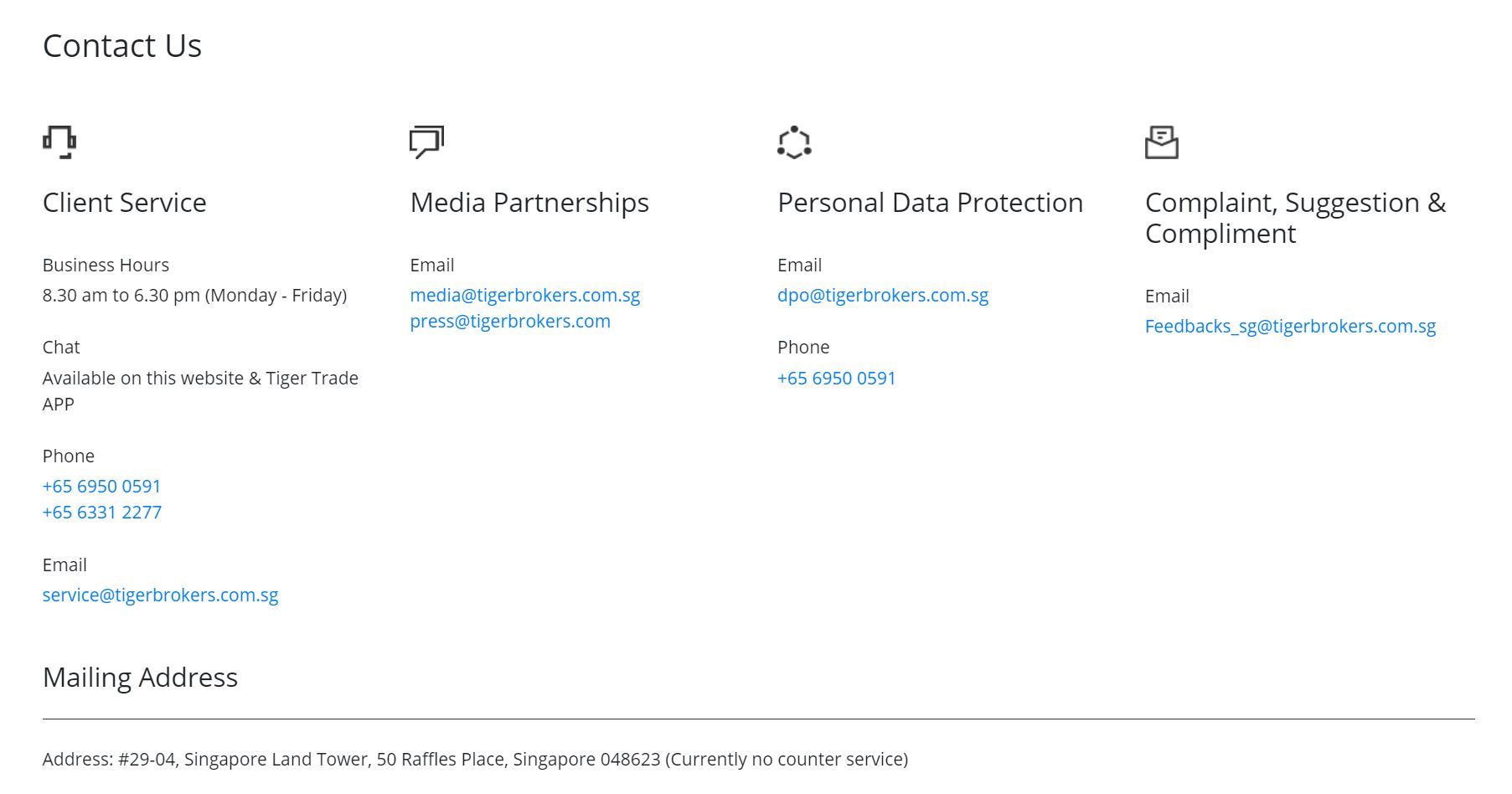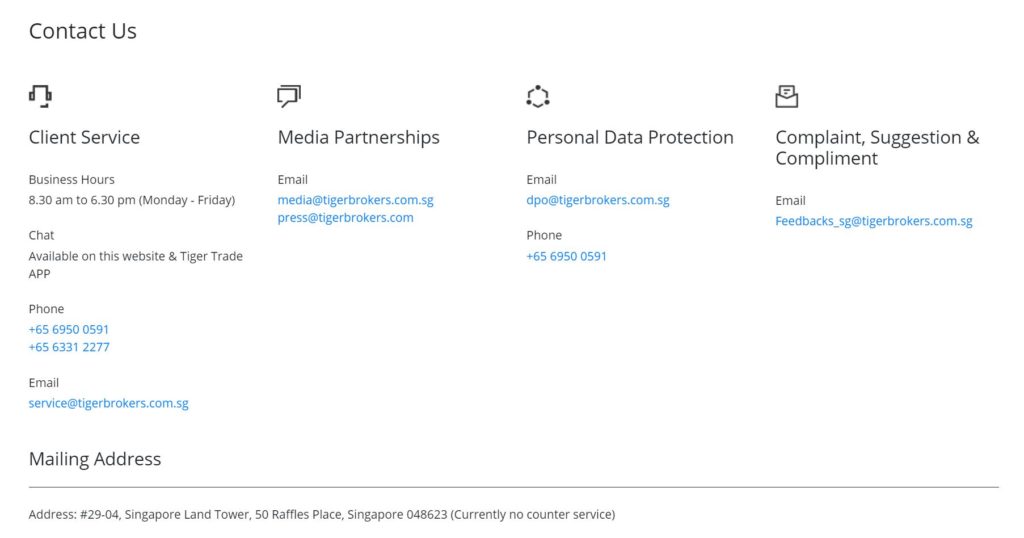 Is Tiger Free to Use?
Commission-free trading used to be unheard of. As Robinhood and other brokerages became popular, so did commission-free trades. While Tiger Brokers does charge trading fees, they are highly competitive. Especially in international markets where fees are typically higher.
Their fee structure varies depending on your location.
For US stocks and ETFs, they charge $0.01 per share and $1.99 minimum per order. (If you purchase 10 shares of a company, that would equal to a fee of $0.10; however, the minimum fee of $1.99 is higher and would be charged instead. If you purchase 1000 shares, then the fee would be $10.)
For Singapore stocks, the fee is 0.08% of the trade's value, while Hong Kong and China A Shares is 0.06%. Australian stocks are a bit more at 0.10% of the trade's value.
Is Tiger Brokers Safe?
Tiger Brokers is a safe company to work with. It is important to note that while Tiger Brokers is safe to use, an investment with any brokerage is subject to risk due to volatility and other market factors.
Due to the fact that Tiger Brokers is a registered broker with the SEC and that they are listed on the NASDAQ, investors can trust a certain level of transparency and reporting when dealing with Tiger Brokers. The fast customer support email, phone number, and chat also provide investors confidence in the company.
In addition to being registered with the SEC, Tiger Brokers is also a registered financial services company in New Zealand. They are regulated by the Australian Securities & Investments Commission (ASIC). Tiger Brokers (Singapore) is licensed by the Monetary Authority of Singapore.
On their website, Tiger Brokers touts "24 types of securities licenses or qualifications
Reliable compliance and strong risk management."
Getting Started With Tiger Brokers
Opening an account with Tiger Brokers is easy and can be done fairly quickly.
When you go to open an account, you will be prompted to select your location. The process to open an account varies by location.
Regardless of your location, you will need to provide information such as your name, email, phone number, location, ID, and proof of address. The ID can be a government issued ID or a passport. Proving an address can be done through a bank statement, utility bill, ID, or a property ownership document.
Creating an account can be done in the Mobile app or through their online portal.
After filling out the required information and verifying your name through an ID, your account will be submitted for approval.
Tiger Brokers Review: Final Thoughts
Tiger Brokers is an online brokerage that is seeking to disrupt the world of investing through expanded access to multiple markets and the utilization of strong data to make better informed investing decisions.
While the fee structure may seem steep compared to other commission-free trading platforms such as Webull or Moomoo, Tiger Brokers does offer a competitive product. Trading in international markets can be expensive. Tiger Brokers has reduced the commissions heavily and features no other maintenance or account opening fees. For US residents, they actually have a unique investing platform called TradeUp, which features commission-free trades and many of the same charting tools and analytics. 
Tiger Brokers could be the platform for you if you are searching for a brokerage that allows you to invest across multiple markets. While you may not have access to retirement accounts, you are able to trade stocks, ETFs, options, futures, REITs, and funds.