Have you ever heard the process of separating the signal from the noise? 
The idea is simple. Noise represents hype, unwanted fluctuation, and emotion. Signal, on the other hand, represents true information. 
Actually separating the signal from the noise can be a difficult process. 
Titan was created to level the playing field. The founders of Titan created the platform to give every investor access to an actively managed portfolio, not just the ultra wealthy.
The company recently launched Titan Crypto. As the first ever actively managed crypto fund, investors have the opportunity to let Titan's expert investors separate overhyped cryptos from those that are here to stay. 
So, how does Titan Crypto work? What are the fees? What percent of my funds are invested in crypto? In this article, we answer those questions and more with our full Titan Crypto Review. 
What is Titan?
As mentioned above, Titan is a premier investment firm. They offer a number of actively managed portfolios to all investors. 
The company was launched in 2017 and has since amassed over 35K clients with over $750 million in assets managed. 
Their rise in popularity is due to a number of factors, but chief of those factors is the opportunity for all investors to participate in an actively managed fund with low fees and no lockups. 
Titan is not for investors looking to manage their own portfolio. With Titan, you deposit funds and rest assured knowing that a team of experts is managing all investment decisions. With no lockups, you are able to withdraw your funds at any time. 
To learn more about Titan, check out our full Titan Review. 
How Does Titan Crypto Work?
Titan Crypto is actually one of four investment strategies. Each fund differs in its target. Each of the four are highlighted below:
Flagship: L

arge cap U.S. growth strategy, aimed at identifying high-quality companies that can compound capital in excess of the S&P 500 index."

Opportunities:

Focused on identifying smaller U.S. companies that they believe can grow at exceptional rates and become the next crop of shining stars.

Offshore:

international growth strategy, aimed at identifying the world's best businesses in emerging and developed markets from China to Latin America and beyond.

Crypto:

Crypto is an actively managed portfolio of crypto assets that are believed to be positioned for outstanding long-term returns with minimal correlation to equities and with attractive hedging qualities.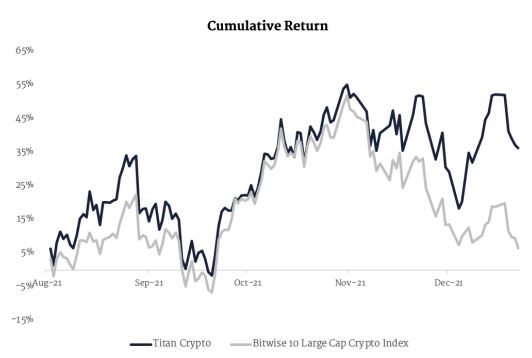 When you invest with Titan, your capital will be invested across these strategies. Each of the funds have between 15-25 stocks, while Crypto has 5-10 crypto assets. 
The allocation between the funds will depend on your profile with Titan. For example, if you choose their aggressive mix, more of your funds will be allocated to the Opportunities strategy. A more conservative profile will lead to a higher allocation to their Flagship fund. 
To invest in their Crypto fund, you will need to confirm you are comfortable with crypto investments. After confirmation, a portion of your funds will be allocated into this strategy. 
This allocation also depends on your time horizon and other investing goals that you will identify in the app upon getting started. 
If you have any questions, you can reach out to their investor relations team for more details. 
Titan Crypto Strategy
The investing team at Titan believes that blockchain technology has incredible potential future application. They also believe that crypto investments have a place in your investment portfolio.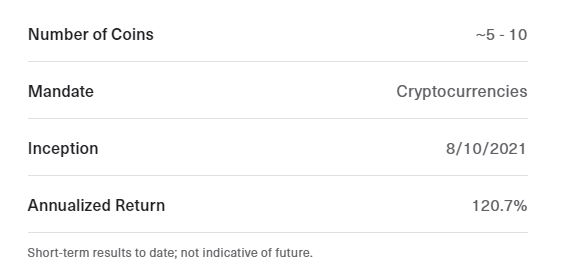 Titan Crypto launched in August  2021 and has since earned an annualized return of 120%! Of course, this fund is still in infancy, though their results certainly speak to the quality of their process. 
Currently, there are over 8,000 cryptocurrencies! With Titan Crypto, your funds will be invested in 5-10. They seek to invest in large-cap cryptos with high potential. 
So, how does Titan choose among the vast number of coins? How do they separate the signal from the noise?
Like their other strategies, they believe in a rigorous process to identify those investment opportunities that can yield powerful results. The objective of Titan Crypto is to outperform the Bitwise 10 Large Cap Crypto Index over a 3-5 year horizon.(The Bitwise is a fund that seeks to track the performance of the 10 highest valued cryptos.)
What Cryptocurrencies Am I Invested In With Titan Crypto?
Narrowing down a group of 8,000 to 5-10 is no small task. Choosing 5-10 cryptos requires that Titan is 'picky.' It also requires an intensive process to screen for those with the highest potential for returns. 
The cryptos in the fund are subject to change at any time based on market trends and latest analysis. 
 "Our Investment Team conducts deep fundamental and quantitative research to identify what we believe to be the highest quality cryptoassets for the next 3-5+ years. We then construct a concentrated yet balanced portfolio of these cryptoassets with strict risk controls to screen out cryptoassets which we believe entail outsized risks around custody, liquidity, regulatory, and other concerns. 

The Crypto portfolio is monitored daily and updated by the Portfolio Manager and Investment Team based on the evolution of each cryptoasset's utility, adoption, and price action. This includes regular rebalancing and tactical trading during periods of excess volatility to attempt to maximize reward/risk."
Their rigorous process for identifying opportunities in crypto includes the following 4 steps:
Idea Generation: To kick off the process, the investment team's analysts screen out large cap cryptocurrencies with high potential. This screening seeks to separate the cryptos with high risk due to adoption concerns, questions about utility, regulatory concerns, and low liquidity.
Fundamental Research: After screening out high potential cryptos, the team performs quantitative and qualitative research to determine how durable a particular token is. Their research seeks to understand how a crypto is used and current market trends. This research even includes networking with a particular coin's founders.
Valuation: In this step, the investment team strives to determine the proper valuation of a crypto as well as a prediction for future value.
Portfolio Management: Once a cryptocurrency has made it into the portfolio, it is then monitored daily to ensure the potential is realized. Based on performance and other indicators, the position can be rebalanced or replaced entirely.
Courtside Seats
Titan believes in educating investors. Though they manage the portfolio on your behalf, they don't want you to be left in the dark. 
Titan has a few different ways of giving you a "courtside seat" and sharing information with you. In addition to having direct access to the investor relation team, members will also receive a daily email highlighting new research. 
As new stock picks are made, investors will receive a detailed video explaining the decision. 
Each of their four funds also has a scorecard that you can view in the app. This scorecard highlights the performance of Titan as well as other investment platforms such as Betterment, Wealthfront. 
They also offer a free blog on their website with market news and trends. 
What Are The Fees?
Titan's fee structure is simple. For accounts with less than $10,000 invested, there is a monthly $5 fee. And for accounts with more than $10,000 invested, there is a 1% annual management fee. 
They also require a $100 minimum investment. This minimum investment is just a fraction of what you would be required to invest with other actively managed funds. 
What Are Lockups?
With actively managed portfolios, it is common to hear about lockups. Many funds have a lockup period of 1-2 years. This means that the investors must be willing to hold the investment for that period of time. 
With Titan, there is no lockup period, meaning you are able to sell an investment at any time. A withdrawal with Titan takes 2-4 business days. 
How To Get Started
If you are completely new to Titan, signing up is easy. You can get started by signing up on the website. You'll receive an email with the link to download the app. Their app is simple to navigate and has earned an average 4.6 star rating from over 2,000 reviews.
Account setup only takes a few minutes and includes standard information to create an investment account: name, email, address, SSN. 
Once your account is created and you've confirmed your email, you will be asked to finalize your account. This includes your investment experience, goals, and tolerance for risk. 
One of the questions you will be asked is if you are comfortable with crypto investments. In order to invest with crypto, you must confirm these investments. 
If you already have an account with Titan, then you will need to accept crypto investments in the app to get started. 
In the app, you can also view "About Crypto," which is a series of 13 short videos that describe the opportunity in crypto. They detail their process to pick coins and why crypto belongs in your portfolio in the first place.
In addition to their videos on crypto, they also provide investors with Titan 101, which is a series of short videos that explain what Titan is and what to expect. Members have loved these videos! 
Titan Crypto Review: Final Thoughts
Cryptocurrency has been a hot topic for the past few years. However, it is still not widely understood. 
With over 8,000 cryptos in existence (and still growing), it can be hard to know which ones have high potential. With retail investor hype, celebrity tweets, and high volatility, cryptocurrency investing is difficult. 
Titan is the first investment firm to offer its members access to an actively managed crypto portfolio. Their team deploys an intense research process to invest in 5-10 cryptos. 
Their team of experts believe crypto is here to stay and that it belongs in your portfolio. With this in mind, investing with Titan does not mean that all your money will be in crypto. Instead, it will be allocated among their four strategies. 
One of the key benefits of investing with Titan is their low minimum investment of $100 and simple to understand fee structure. 
If you are interested in an actively managed portfolio with or without cryptocurrencies included, then Titan could be exactly what you are looking for. Get started today! You can actually download the app and start browsing before ever creating an investment account.