You may have heard that the world of investing is not quite equitable. If so, you've heard correctly. Some investors are privy to opportunities and information that is not otherwise accessible to the rest of us.
Due to this knowledge gap, the Securities and Exchange Commission (SEC) has created limits to protect novice and intermediate investors. Moreover, accredited investors, or those who have a net worth over $1 million and extensive knowledge of personal finance and investing, have access to certain complex funds and investments that the average investor does not.
The founders of Titan were dissatisfied with the vast opportunity gap that exists in the investing world today. Hoping to close this gap, Titan was born. Titan now provides experienced and inexperienced investors alike the opportunity to invest and grow their wealth like the experts.
In this review, we will cover how Titan works and the pros and cons of the platform.
This review is sponsored by Titan.
Simplicity

Account Minimum

Account Fees

Information and Learning

Customization
Summary
Titan is a great platform for investors looking to invest in actively-managed portfolios. With low account minimums and access to investment decisions, Titan is a premium investment service readily available to all investors.
Pros
Actively managed portfolio
Strong track record since inception
Experienced founding team
Low account minimums
Low fees compared to typical investment firms
Access to information determining investment decisions of team
Cons
Customization of portfolios
No customer service phone number
No 1 on 1 access to financial advisor or tax strategist
Titan: Highlights
Low account minimums compared to typical full-service investment platforms
1% annual fee for accounts over $10K, $5 per month for accounts less than $10K
Actively managed accounts
Four investment strategies to bolster portfolio growth
Professionally-managed portfolios to mix strategies based on the desired outcome
Access to investment rationale and research from Titan investment experts
Taxable and retirement accounts
No lock ups
Though Titan has had great performance thus far, it is still in its infancy. This strong start is bolstered by high returns, a large following, and recognition in the investment community.
Since launch in 2017, its Flagship portfolio has experienced annualized returns of 20.4%. This quick start has attracted over 35K clients and $750M in managed assets.
So what is Titan and is it the right investment platform for you? Let's get started with our complete Titan review.
What is Titan?
Titan is an investment management company that gives investors access to an actively managed portfolio with a low account minimum. The company was founded in 2017 by a group of individuals with extensive investment and former hedge fund experience.
They created the company out of frustration that not all investors were treated equally. Built with the idea that everyone should have access to an actively managed portfolio, Titan is a premium investing service available to all.
In today's investing age, the investment options are rather limited. Investors can essentially opt for one of three investment strategies: control nothing and pay a high fee, control nothing and pay a low fee for minimal returns, or manage everything with zero guidance.
The founders of Titan saw this as a huge miss for investors who want some control but who also want to be in a position to win.
Titan offers its users access to actively managed portfolios across four investment strategies: large-cap US companies (Flagship), small-cap US companies (Opportunity), international growth (Off-Shore), and Crypto.
The company will review investor preferences and recommend a tailored portfolio mixing the four strategies to reach the client goals.
How Does Titan Work?
Once users sign up with the Titan platform, they can initiate a deposit to fund their account. The minimum deposit amount is $100 and there are never any lock ups, meaning you can withdraw whenever you need to.
Users can then identify what investment strategies they are interested in (Flagship, Opportunities, Offshore, and Crypto) and their investment growth objective (aggressive, moderate, or conservative).
Once these selections have been made, Titan will then recommend an allocated amount for each strategy.
This, of course, depends on the amount invested as certain funds require a higher minimum account for access.
From here, Titan takes over and gives users a courtside seat to watch their investments grow!
Titan's Active Management
Titan identifies investments that match the user's chosen criteria and then purchases and sells stocks based on the predetermined objectives. These assets are all publicly traded and are vetted to provide maximum return with minimal risk.
As stated on its website, Titan's process for choosing investments looks for companies with the following:
Long-Term Competitive Advantage: Titan seeks to invest in companies that have a market advantage, such as strong brands and those with economies of scale.
Strong Growth Potential: Companies must have an ability to grow in the long term and sustainably.
High Returns on Capital: Companies must be able to demonstrate an ability to give a return to shareholders
Margin of Safety: The valuation of a company can be telling. Titan seeks to invest in companies that are trading at a discount.
Each of the stock funds that Titan offers investors features 15-25 stocks while Titan Crypto contains 5-10 crypto assets. These assets change over time as Titan identifies new opportunities with greater potential. Though with a long-term investment strategy, Titan seeks to hold various stocks for 3-5 years.
Titan Flagship
Flagship was the first portfolio launched by Titan and thereby has the longest track record. It was created in February of 2018 and has had an annualized return of 20.4%.
Titan Flagship is focused on large-cap US companies. It is a mix of 15-25 companies with an average market capitalization of $600 billion.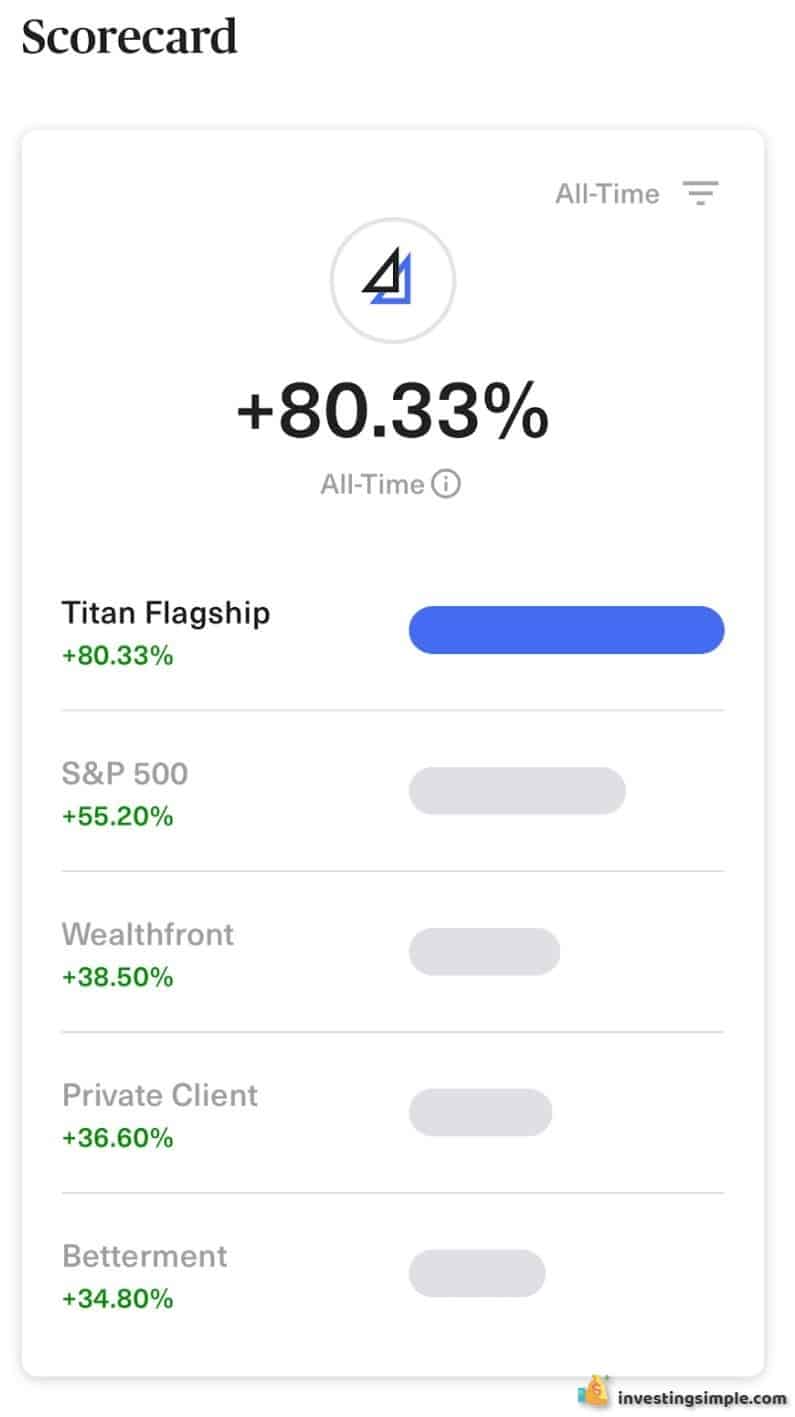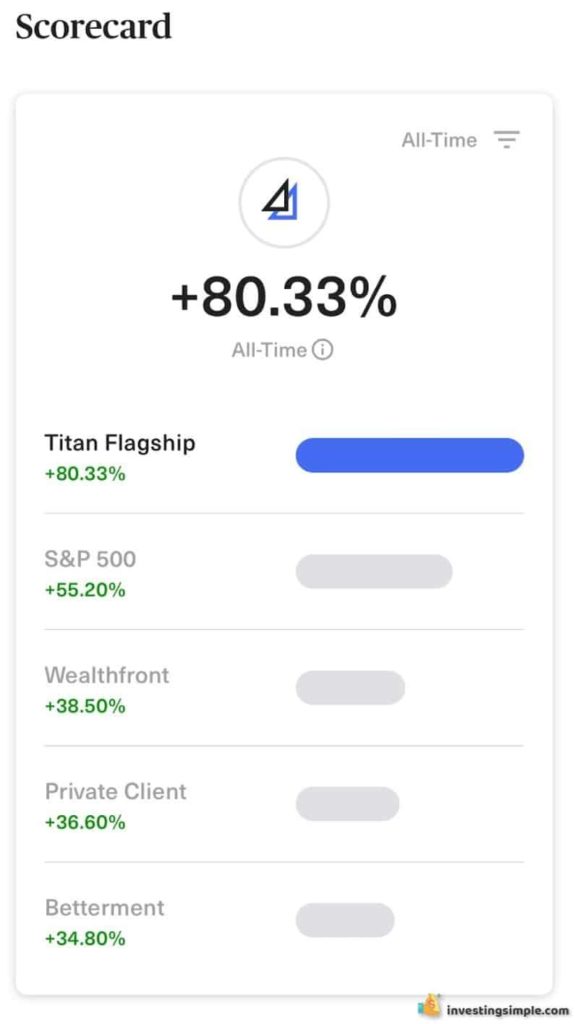 Titan Opportunities
Launched in August of 2020, Titan Opportunities has had an impressive start with an annualized return of 61.4%.
Titan Opportunities also features 15-25 stocks and is focused on smaller companies. This portfolio currently has an average market capitalization of $13 billion.
Titan Offshore
Titan Offshore focuses on international growth opportunities. It was launched in April of 2021. This is an exciting new offering for investors looking to diversify their portfolio with international companies.
Like the two offerings above, Titan Offshore will fluctuate between 15-25 stocks. This portfolio currently has an average market capitalization of $175 billion.
Titan Crypto
As the first actively-managed crypto fund, Titan strongly believes in this fund's ability to excel and provide investors a needed hedge against the equity market.
Comprised of 5-10 crypto assets, investors will gain access to the highly significant crypto market. The company has made it clear that they believe crypto is here to stay and should be included in your portfolio.
Titan Features
Titan has several offerings that could make them a great option for investors. One of the key features is access to research Titan calls "Courtside Seats."
With many actively managed investment portfolios, the moves made in your portfolio are often not explained. However, Titan investors can remain close to the decisions being made through videos, emails, and newsletters. With consistent communication from the Titan team, investors have the opportunity to get an inside view explaining why certain investments are being made. This education can be an excellent resource for investors of all levels.
No lock ups are also a huge advantage for investors looking to use an actively-managed portfolio. A lock up is a period of time when investors are unable to withdraw their funds to allow fund managers time to exit investments that created an imbalance in the fund. These locks up can extend up to 30-90 days.
With Titan, investors are assured zero lock ups. Withdrawing your funds can be done quickly, easily, and anytime you need. Depositing funds is done instantly, and withdrawing funds takes 2-4 days.
Throughout COVID-19, Titan was ranked the number 1 robo-advisor by U.S. News in 2020. This was largely because of its shorting feature. Each of its strategies offers "downside protection that's tailored to individual risk tolerances." This allows Titan members to potentially earn during a market decline.
Additionally, Titan also offers investors Traditional, Roth, and inherited IRAs. Investors can also rollover an existing IRA, 401k, or 403b into a Titan IRA.
How Much Does Titan Cost?
Titan's fee structure is simple to understand. Accounts under $10K in invested assets will pay $5 per month. Accounts over $10K will pay 1% of total assets annually as a management fee.
While these fees are more expensive than other competitors such as Betterment or Wealthfront, Titan offers a unique service of an actively managed portfolios led by stock experts.
Is Titan Secure?
Security is of the highest importance for Titan. The company uses 256-bit encryption security to protect your personal information. The funds in your account are also SIPC-insured up to $500K. Titan is likewise registered with the SEC as an investment advisor. Clearing and custody are handled by Third Party Trade and Apex Clearing.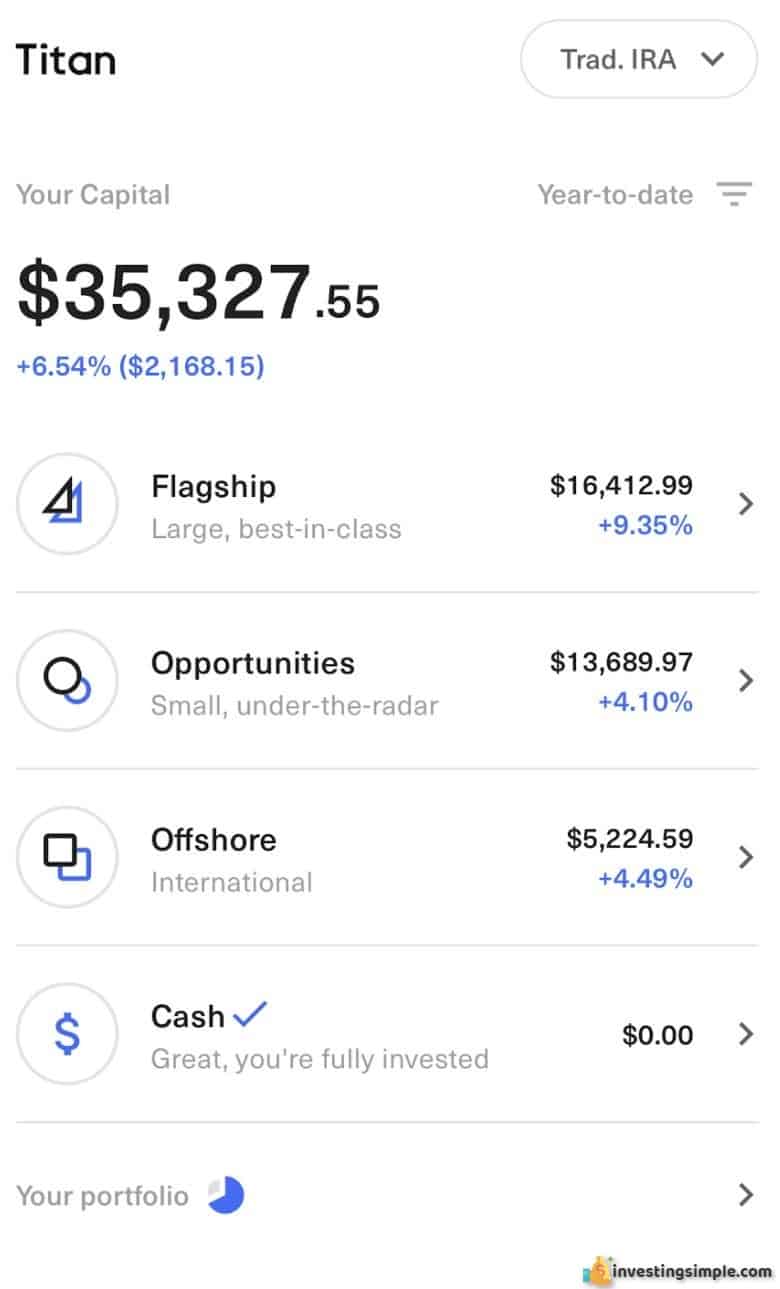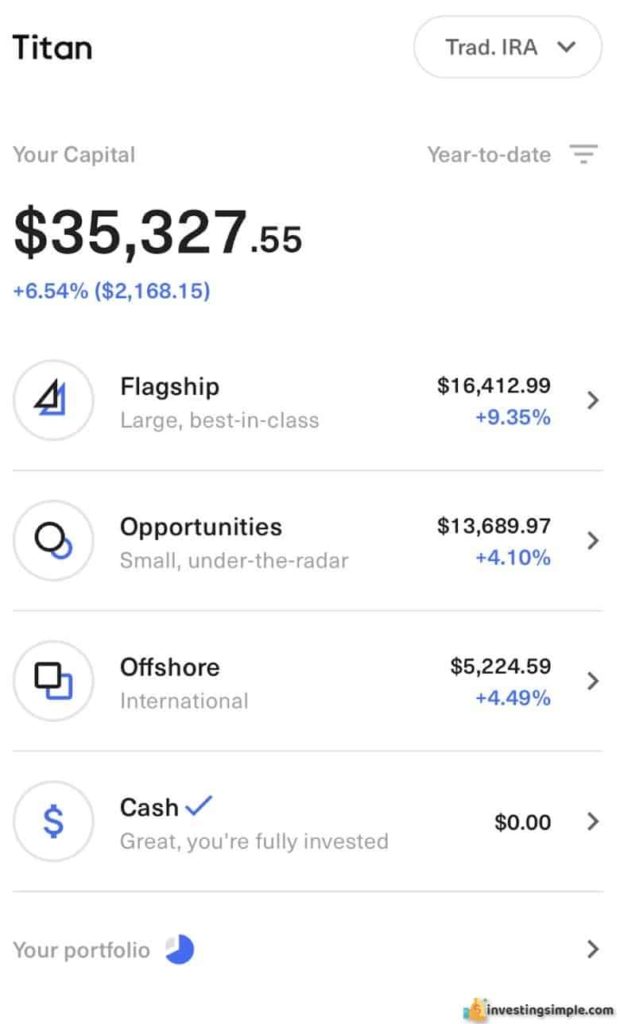 How to Get Started with Titan?
Signing up with Titan can be done in as little as two minutes. After inputting in personal information and answering a few questions, investors can start watching their portfolio immediately.
To create an account, people will have to open a brokerage. The following information will be needed:
Name
Email
Phone number
Address
Social Security
Employment Information
Once the account is created, the next step will be funding the account. For Titan Flagship, the account minimum is $100. In order to access Titan Opportunities and Titan Offshore, investors will need to have at least $10K in invested assets.
The account minimum for an IRA is $500.
Titan Review: Final Thoughts
Though Titan is still a young platform, it has shown great results thus far. With over 35K clients subscribed in just a few years, Titan has definitely captured the attention of many.
This platform offers investors a new way to engage with an actively managed portfolio. Before Titan, investors seeking an actively managed portfolio often had to turn to hedge funds with extremely high account minimums and fees. Unfortunately, these funds are not even accessible to most investors. Creators of Titan sought to even the playing field and built a platform for everyone.
With low account minimums, investors can get started right away. If you are looking for a different approach than what is currently offered in the investment community, check out Titan and get started today!