Titan App Review
Do you know how millionaires and billionaires invest? Most of them invest in hedge funds. These are investments the ultra-wealthy make by pooling their money together and having someone manage it on their behalf. These hedge funds are for investors with a net worth in the millions. Titan is a mobile investing app that allows you to invest like one of these world-class hedge funds with just $500. We will be doing a comprehensive review of the Titan investing app.
What Is Titan?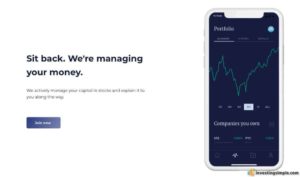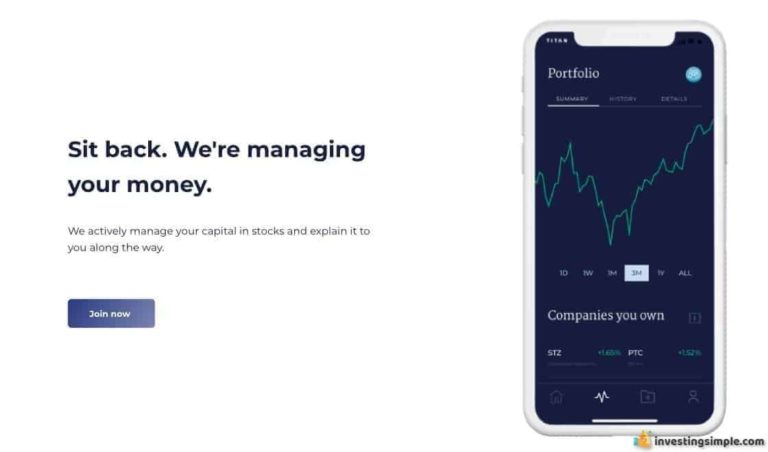 Titan was created by a group of, you guessed it, hedge fund managers. These guys were tired of helping the ultra-wealthy get richer and they wanted to create a solution for the common everyday investor. Through their common frustrations, they created a platform where non-accredited investors could invest just like these hedge fund investors with as little as $500. In exchange, Titan collects an asset management fee of 1%. For comparison sake, the common fee structure of a hedge fund is "two and twenty" or a 2% asset management fee and 20% of the profits.
Titan is now helping over 5,000 clients manage their hard-earned money. They are currently managing over $25 million in assets and growing. These figures are as of their last form ADV filing on 4/15/19.
For clients who have invested with Titan since its inception in early 2018 and with an aggressive hedging strategy, their accounts have outperformed the S&P 500 net of fees! For those who are not familiar, this means the return after the 1% fee paid to Titan beat the overall market.
See the end of this post and Titan's website for full performance disclosures.
Titan is for the investor looking for above-average returns without the stress or time commitment of managing your own money. It is for those looking to stay informed about their portfolio but not managing it themselves. Investing in the stock market can be an emotional rollercoaster, so many options to invest in a passive or managed portfolio instead.
How Does Titan Work?
Titan is "built like an old school hedge fund inside a mobile app" according to their site. Their software-driven investment strategy keeps track of leading hedge funds and identifies what they believe to be the top-performing stocks within each fund. Then, Titan invests your money directly into a portfolio of these high-quality companies. This includes a personalized hedge to protect against a downturn.
For those who are not familiar, when we say hedge we are not referring to the bushes between your house and your neighbors. A hedge is an investment designed to offset a potential loss experienced from another investment. Consider a sporting event for example. If you had a bet that one team would win, you could hedge that bet by placing a bet on the other team as well.
Titan ensures that you know exactly what you are investing in. This is accomplished through videos, articles, audio notes and more provided to investors. Titan is at the wheel, but they inform you of every move they are making on your behalf.
One of the annoying aspects of hedge funds is that there are usually lock-ups. This means that your money is inaccessible for a set period of time. This could be a number of months or even years in some cases. Titan does not have any lockups, meaning you can cash out at any time if you change your mind about the investment or need access to your funds.
In a nutshell, Titan has taken the investing strategies of the ultra-wealthy and made them accessible to the common everyday investor for a significantly lower fee. In order to invest in a traditional hedge fund, you would need millions of dollars, insider connections, and expertise.
How To Get Started With Titan
First… Decide if this is right for you (see Titan's disclosures).
Then… Download the Titan app here.
Then… They analyze the top-performing hedge funds and invest you in a portfolio of 20 stocks vetted by those hedge funds, along with a personalized hedge.
Finally… You invest or withdraw capital at any time.
Titan Features
Stock "Deep Dives"
Titan is available to you as a personal research team. This includes "deep dives" on particular stocks that are outperforming the market. This will help you to understand why this stock is moving. I went ahead and read the sample deep dive of Facebook stock on their website. This was a very thorough research report, 20 pages in length. Now, we are not talking about 20 pages of text and confusing lingo. This research report included many visuals, helpful explainers and was extremely easy to use. I think any investor out there would benefit from this feature.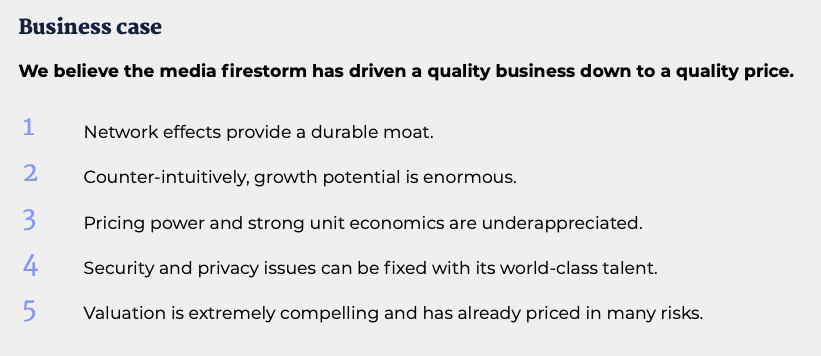 Research Articles And Videos
At the end of the day, Titan wants you to be an informed investor. They help you understand your investments through the use of articles and helpful videos. I watched one of the videos on their site called "Trade War Demystified." The video was just under three minutes in length. This provided me with a great explanation about how the US and China trade war is impacting the stock market. Easy to digest content like this is great for investors like me, especially on days when the market is making drastic moves. I believe this is one feature that differentiates Titan from other investing platforms out there.
Referral Program
Not a fan of the 1%? Titan has a generous referral program. If you refer a friend, you will both save 0.25% on the management fee. The best part? This isn't just for the first referral. If you can refer four friends to Titan, they will manage your money free of any advisory fees, for life, on this first product. No other investing platforms provide investors with the ability to have 100% free active asset management in terms of advisory fees.
Titan Investment Strategy
Titan analyzes what they believe to be the top hedge funds out there and identifies the 20 highest-conviction stocks held by those funds. Then, they invest your money in a portfolio of those stocks. The ethos of their strategy is to invest your money in high-quality businesses with a Warren Buffet Esque view on investment. They accomplish this by considering these five characteristics:
Moat – Titan looks for businesses that are hard to replicate.
Cash Generation – They believe cash flow is king. Titan looks for these "cash cow" businesses out there.
Return On Capital – Titan analyzes what kind of returns these companies are getting on their investments.
Management – Just like Buffett himself, Titan looks for companies with excellent management.
Growth Potential – Titan looks for companies with obvious growth potential.
Sophisticated software conducts this analysis. Titan analyzes the 13F filings of hedge funds each quarter. There are thousands of hedge funds, and Titan keeps track of about 5% of them. Based on these filings disclosing the holdings, they identify the stocks that overlap most among those funds and aim to whittle that basket down to only the top 20 stocks that meet the above criteria.
Titan provides you with a hedge by shorting or betting against the S&P 500 based on your personalized risk tolerance. If the stock market takes a dive, they aim for this hedge to actually generate profit for you. They believe this can offset potential losses experienced with the individual stock investments.
Is Titan Safe?
Titan is an SEC-registered investment adviser. All data is encrypted with 256-bit encryption and SSL. All investment accounts are SIPC insured for up to $500,000. Investments and trades are handled through Third Party Trade and Apex Clearing, both being used by a number of reputable brokerages in the industry.
Titan Historical Returns
The returns for Titan have been positive, however, it is important to remember that this is in a very short period of time. The stock market is not a guaranteed way to make money, and there is always the potential for loss.
In 2018, Titan incurred a loss of 7.5% net of fees compared to a 6.1% dip in the S&P 500 (for Titan clients with an aggressive risk profile). You should expect this when holding individual stocks. In 2019 YTD, Titan has so far is outperforming the market with a return of 26.7% net of fees versus the S&P 500 return of 18.2% (again, for Titan clients with an aggressive risk profile; clients with moderate or conservative risk profiles would have had lower returns). This is not a long enough time period to draw any kind of conclusion about the returns.
See the end of this post and Titan's website for full performance disclosures.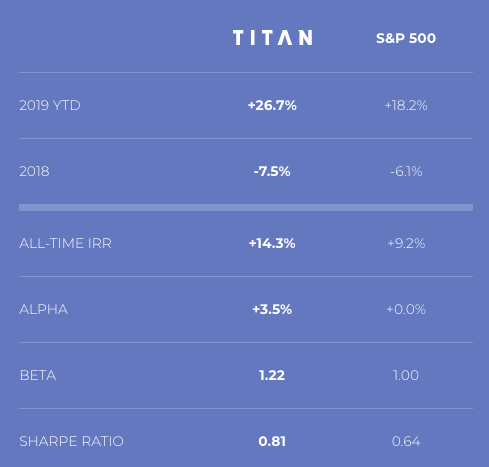 Titan Fees
Titan collects an asset management fee of 1% per year, which is significantly lower than what you would pay to a traditional hedge fund. Most hedge funds collect a 2% asset management fee and 20% of profits.
Titan Pros
Fees are significantly lower than traditional hedge funds
Stock "deep dives" and other informational resources are extremely helpful
Titan allows you to hedge your investment with ease
Founders have deep experience in the hedge fund industry
A generous referral program could lead to free money management (in terms of advisory fees)
Titan Cons
Very limited operating history to go off of

Their portfolio is concentrated, which could lead to short-term volatility

Titan only invests in US securities
Titan: The Verdict
Overall, I think Titan is an investing app with a bright future. From what I have seen, this is perhaps the only investing app that actually cares about its clients becoming smarter investors, and that level of care is apparent from the features the app has. With limited operating history though, it is hard to say whether or not they will continue to achieve their goal to outperform the S&P 500. Titan provides a unique solution for those who are looking for more than a cookie-cutter passive investment portfolio. With a minimum investment of just $500, this is very accessible to the common investor.
This article is a paid partnership with Titan Invest ("Titan"). All opinions are our own. This is for informational purposes only and does not constitute a comprehensive description of Titan's investment advisory services. Titan uses a proprietary algorithmic strategy in selecting recommendations to advisory clients. Please see Titan's website (https://www.titanvest.com/) and the Program Brochure (available on the website) for more information. Certain investments are not suitable for all investors. Before investing, consider your investment objectives and Titan's fees. The rate of return on investments can vary widely over time, especially for long term investments. Investment losses are possible, including the potential loss of all amounts invested. Titan's registration as an SEC-registered investment adviser does not imply a certain level of skill or training and no inference to the contrary should be made. Nothing here should be considered as an offer, solicitation of an offer, or advice to buy or sell securities. The above content is for illustrative purposes only to demonstrate products, services, and information available from Titan. Past performance is no guarantee of future results. Any historical returns, expected returns, or probability projections, are hypothetical in nature and may not reflect actual future performance. All Titan performance results include the use of a personalized hedge for a hypothetical client with an "Aggressive" risk profile; clients with "Moderate" or "Conservative" risk profiles would have experienced lower returns. Please visit https://support.titanvest.com/investment-process/hedging for full disclosures on our hedging process. 2019 YTD results are from 1/1/19 through 4/30/19. 2018 results are from Titan's launch date of 2/20/18 through 12/31/18. All-Time results are from Titan's launch date of 2/20/18 through 4/30/19. Performance results are net of fees and include dividends and other adjustments. All Titan figures represent the performance of a hypothetical account created on Titan's launch date of 2/20/18 using Titan's investment process for an aggressive portfolio, not an actual account. See Titan's website for full performance disclosures. [/bg_collapse]
By signing up for Titan from this page, you acknowledge your receipt of the Wrap Fee Brochure and Solicitor Partner Compensation Disclosure. In addition, you understand the new account opening requirements. Solicitors may receive compensation for funded account openings on the Titan app that occur through this referral landing page.