Years ago, trading stocks was certainly not convenient. In order to place a trade, investors had to call their broker and have them execute the trade on their behalf. 
Today, however, trading has become far more widespread with the proliferation of new trading platforms. In fact, trading can be done from your phone in mere seconds! Many of these new platforms tout features such as commission-free trades and fractional share investing. 
So, how do you know which platform is best for you? With a vast number of online brokerages, it can be difficult to find the best app for you. In this article, we take an in-depth look at TradeZero and highlight its features, fees, and more. Let's dive in!
This review is sponsored by TradeZero.
TradeZero Review: Platform Highlights:
Access to both a mobile and web view

For $59 per month, investors can access the Pro version

Advanced charting with drawing tools, pre/post views, and key indicators

Level 2 market data

Real-time quotes and live streaming

24/7 customer service chat, customer support phone number is also available during business hours

Commission-free trades

Access to TradeZero short locator with patent-pending technology to sell back locates

Extended trading hours from 4 am to 8 pm
Investment Options

Fees

Research Tools

Features

Customer Support
Summary
TradeZero is an online trading platform with a plethora of features for investors. The platform has web, desktop, and app based platforms that allow investors to trade on the go or in the home.
Many newer trading platforms are seriously lacking in their features and charting capabilities. TradeZero offers investors a vast array of features such as commission free trades, locates, advanced charting tools, and more.
They have a free platform for beginners and a pro version for $59 per month.
If you are looking for a new brokerage account, then TradeZero may be the platform for you. Check it out now!
Pros
Commission Free Trades
24/7 customer support
Web, desktop, and app platforms
Options for US and International investors
Cons
Must pay for advanced platforms
Fees for OTCBB and OTC trades
What is TradeZero?
TradeZero, launched in 2015, was created for everyday investors with a specific focus on day trading. The company is headquartered in the Bahamas and was created for international investors. The vast number of features quickly garnered attention, but since the brokerage was not available in the US, the company expanded. 
TradeZero America is headquartered in New York and was founded in 2019. TradeZero America is FINRA and SIPC registered. Investors can buy and sell stocks and ETFs. Though cryptocurrency is not currently on the platform, TradeZero has made plans to add it in the near future. 
Since its launch, the brokerage has certainly been successful. TradeZero America reported new accounts rose by 600% in 2020. And, the value of trading volume increased by over 460%. So, what was the cause of this growth?
In addition to commission-free trades, the company offers traders a large array of features. Though some of these features are paid, traders now have access to capabilities in one simple platform that they would typically have to collect from a group of accounts. 
While TradeZero certainly caters to the advanced and active trader, they also have a number of resources for beginners as well such as Zero Learn and their blog. These resources cover key terms, trading strategies, and more. 


TradeZero America vs TradeZero
Depending on your location, you may use TradeZero America or the original TradeZero. TradeZero, headquartered in the Bahamas, is designed for international traders. Because they are not regulated by the SEC nor FINRA, they do not have to follow the $25,000 minimum account value for day trading. However, TradeZero America does follow this rule. 
Other key differences are some of the various fee structures such as fees for options trading, OTCBB trading, and other add-ons. In this article, we will focus on TradeZero America. 
TradeZero Platforms
Before diving into all of the features offered by TradeZero, it is helpful to understand the various platforms offered to traders. They currently provide investors with 4 platforms. 
ZeroFree
As suggested in this name, this platform is free for all traders to open an account with and get started, though you can pay $25 per month to add on Level 2 market data and advanced hotkeys. 
ZeroFree equips traders with real-time news, advanced charting, custom watchlists, and real-time streaming of level 1 market data. 
Active traders appreciate their charting tools that feature key indicators, drawing tools, pre/post views, and the ability to link to other trading screens. 


ZeroMobile
ZeroMobile is TradeZero's mobile platform that also does not require any signup fee or subscription. 
It offers investors a chance to see their portfolio, check stock prices, and access other features while on the go. 


ZeroWeb and ZeroPro
ZeroWeb and ZeroPro are part of a combo package for $59 per month. ZeroPro is the desktop application software and ZeroWeb is their online version. 
With this subscription, you receive access to all of the aforementioned features as well as level 2 market data, advanced hotkeys, alerts, options trading, top lists (gainers, losers, and changers), and up to 10 screens.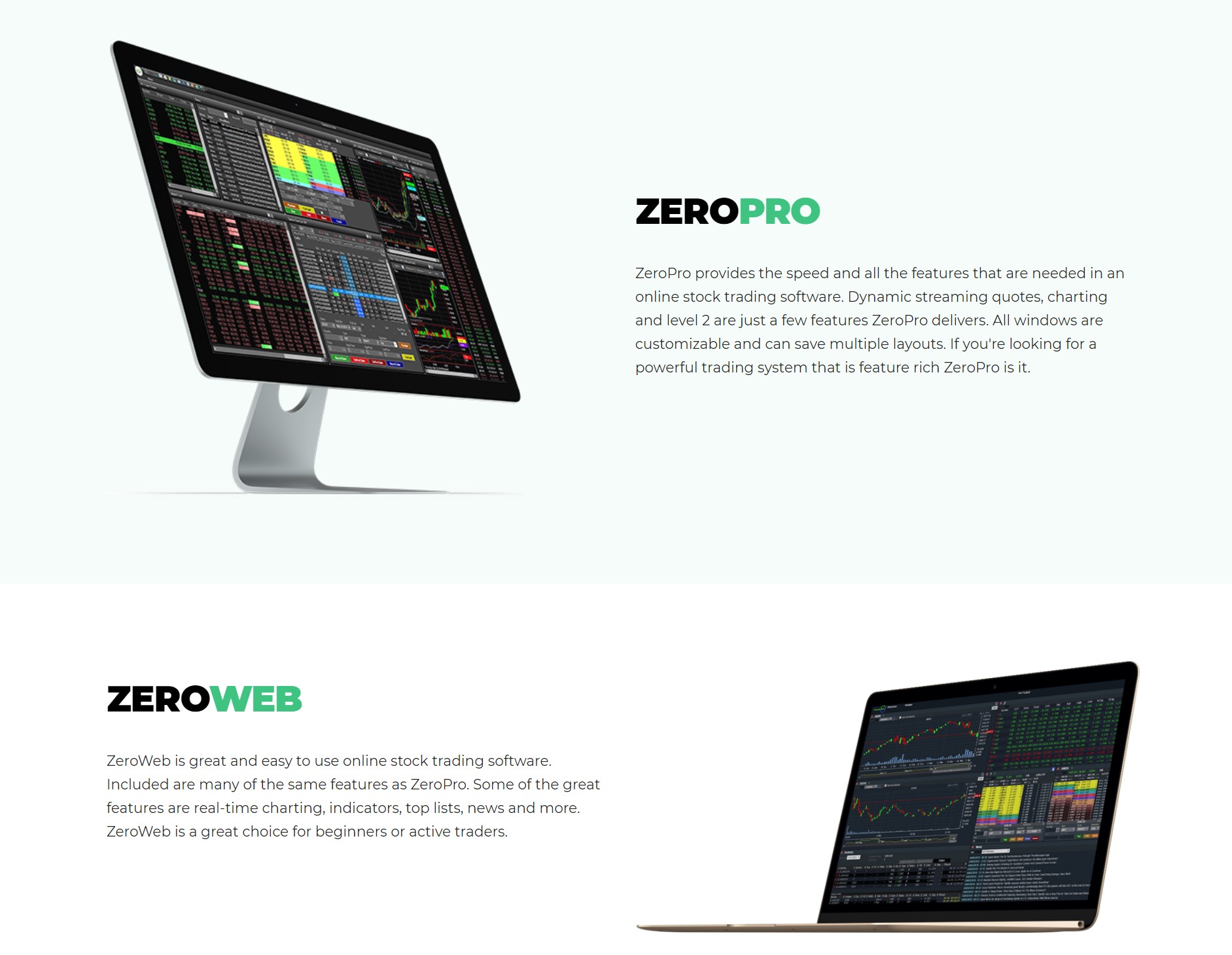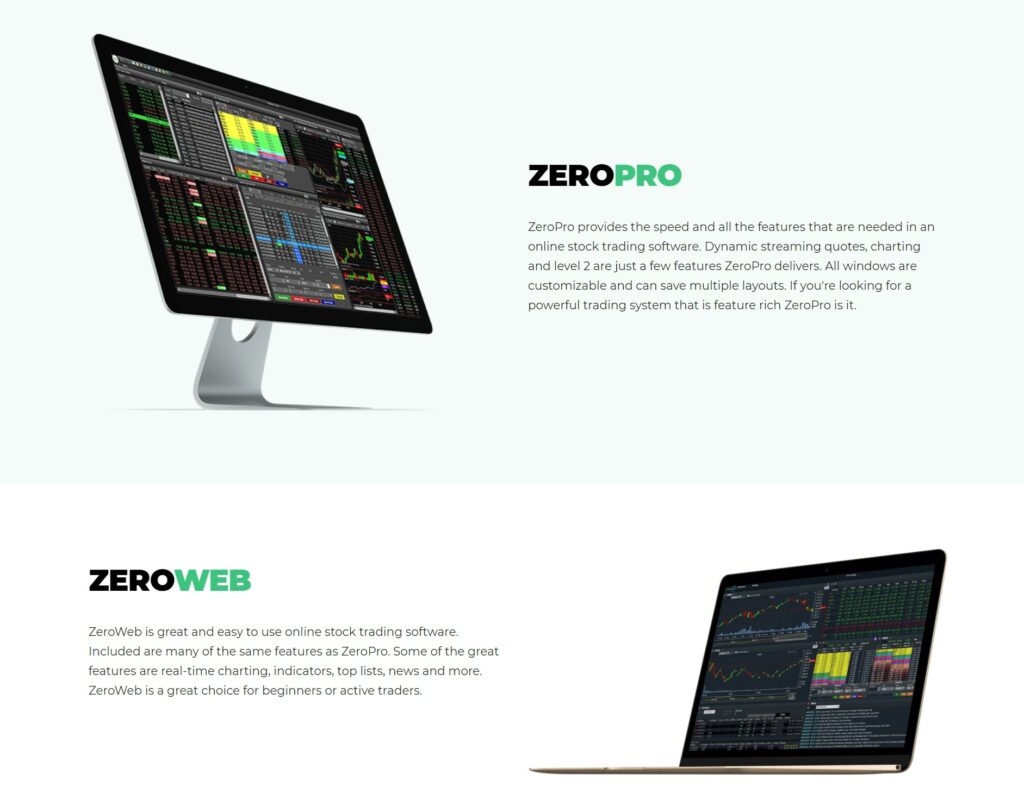 TradeZero Platinum
Though Platinum is not a platform, it is a premium account option for those that maintain an account balance of $50,000 or more. 
With a Platinum account, investors automatically receive the ZeroPro and ZeroWeb subscriptions for free. They also receive a 5% discount on short locate requests against the published locate price. 
Another key feature of a Platinum account is that investors receive a personal account liaison who is a Series 7 registered representative. This liaison is equipped to handle any request you may have whether it is an account question or technical question. 
TradeZero Features
One of the main complaints investors have with some of the new trading apps today is their lack of features. While many of them offer commission-free trades and a few other perks, their research capabilities and other abilities are seriously lacking. 
With TradeZero, investors are heavily equipped to have all the tools necessary for success. CEO of TradeZero America, Dan Pipitone states that they "...think the average trader should have the same tools that the guy at Goldman Sachs has." With this in mind, they have built a platform with a vast array of features and offerings. 
Hallmark to TradeZero is commission-free trades. But they also have a number of other features that they believe truly sets them apart. Let's dive into a few of them:
Short Locates
It is common for short traders to not be able to find locates. With TradeZero, they make this incredibly easy. And for locates you no longer want, you can sell back and recoup some of your initial fee (up to 50%). 
At the end of the trading day, many traders often have locates that they no longer need. With a highly simple process, you can mark either all or a portion of your locate shares for credit. Then, another TradeZero client can purchase your locate. 
Be aware, however, that once you mark a locate for credit, it will be locked and you will not be able to initiate a new short position. 
The fee for a short locate will vary and must be viewed individually.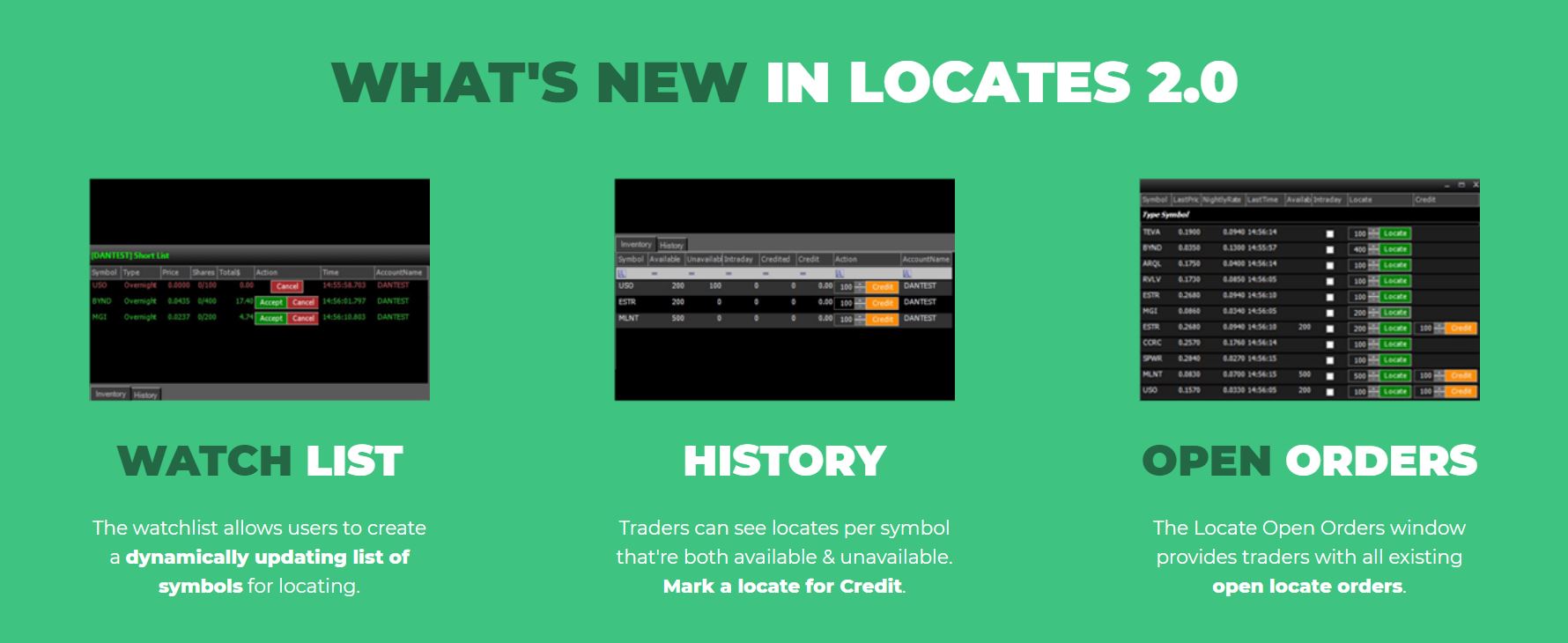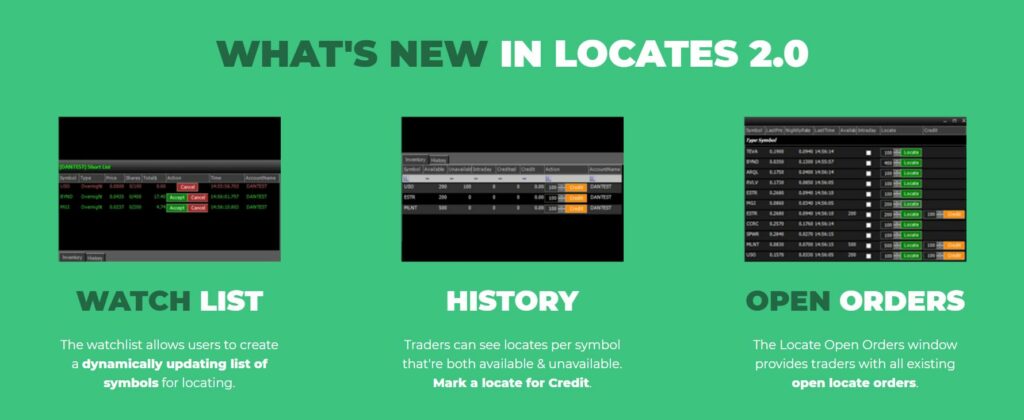 Advanced Trading
In addition to being able to trade in extended hours (4 am to 8 pm), investors are also given access to real-time quotes, level 2 market data (depending on your account), margin, advanced charting with drawing tools and other indicators, multiple windows, and commission-free trades. 
Real-Time News
How common is it to read an article about a stock but miss the wave? This is because it is difficult to stay current on the news. With TradeZero, you gain access to real-time news and alerts. With this feature, you can make moves in the market without being behind. 
Investors have the ability to quickly scan headlines or click into an article to read details. 
Options
Investors are pleased to learn that with TradeZero America, options trading features $0.00 per contract. There is an Options Clearing Corp fee of $0.055 per contract with a $55 cap and an Options regulatory fee of $0.0388 per contract. 
Customer Support
Another key feature of TradeZero is the fact that they offer 24/7 customer support. Many newer trading platforms are limited in their customer support and only offer an email. With TradeZero, members enjoy phone support from 8-5 pm EST on Monday through Friday. They also offer members 24/7 access to their online chat. 
And for those with $50,000 or more in their account, they also gain access to a personal account liaison! This is certainly a rare feature!
TradeZero Fees
It is common for traders to ask how brokerages make money when they offer commission-free trades. For TradeZero, though many of their features are free, they do have a few fees in place. 
First, while the ZeroFree platform is free (ZeroMobile is also free), their other platforms do carry a cost. ZeroWeb and ZeroPro cost $59 per month (This $59 grants you access to both ZeroWeb and ZeroPro). 
For ZeroFree members, you can also add on Level 2 market data for $25 per month. 
While they do offer commission-free trades, there are a few requirements to qualify:
Stock must trade on the NYSE, AMEX or NASDAQ

Securities must be priced $1 or greater

All market and limit orders
For stocks trading under a dollar or traded on the OTCBB and OTC markets, traders will pay $0.003 per share. This fee also includes stocks not trading on the NYSE, AMEX, or NASDAQ or trades placed between 4 am and 7 am EST. 
They also have a number of account-related fees such as an outgoing ACH for $5 or a dividend check for $50.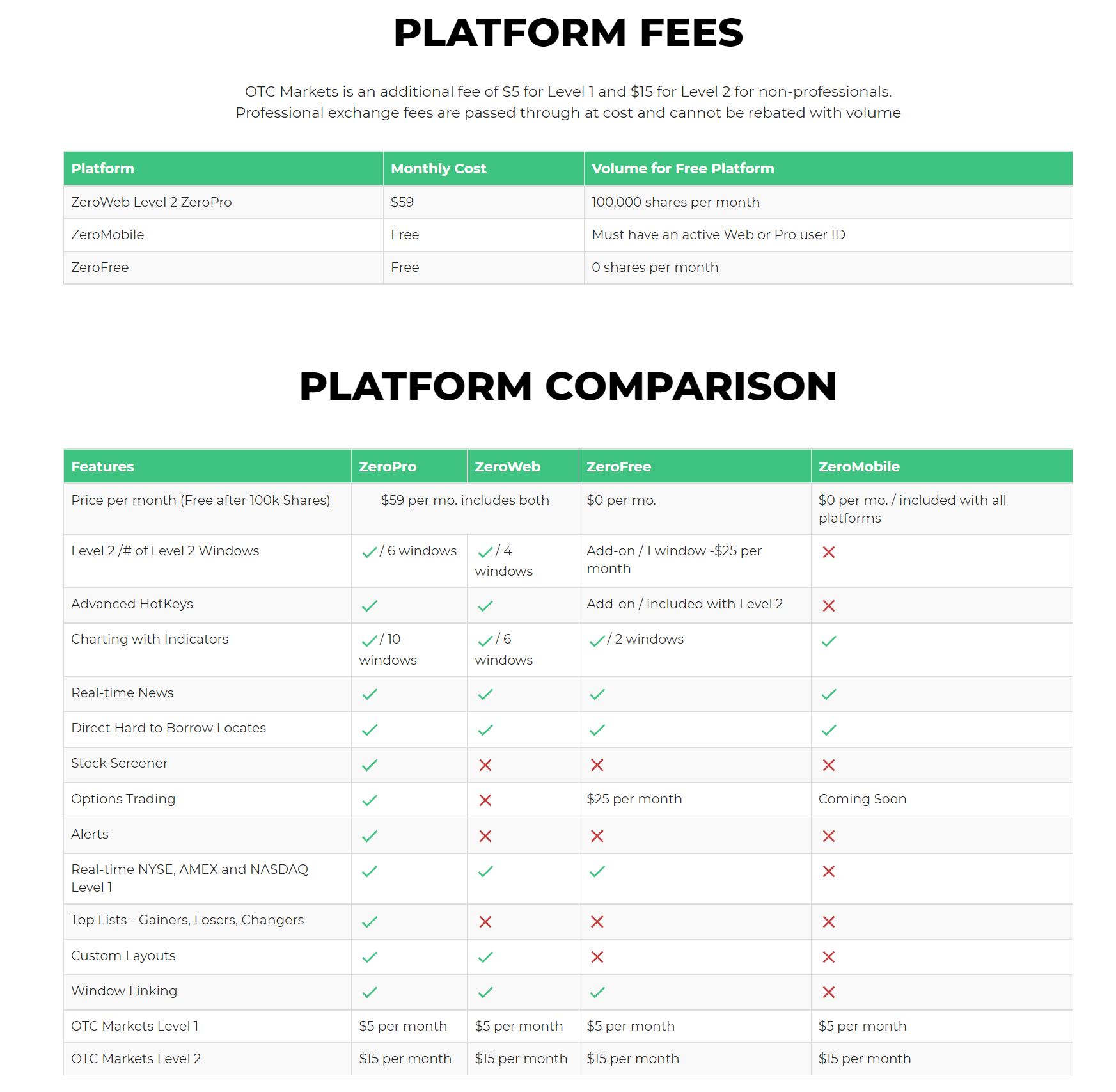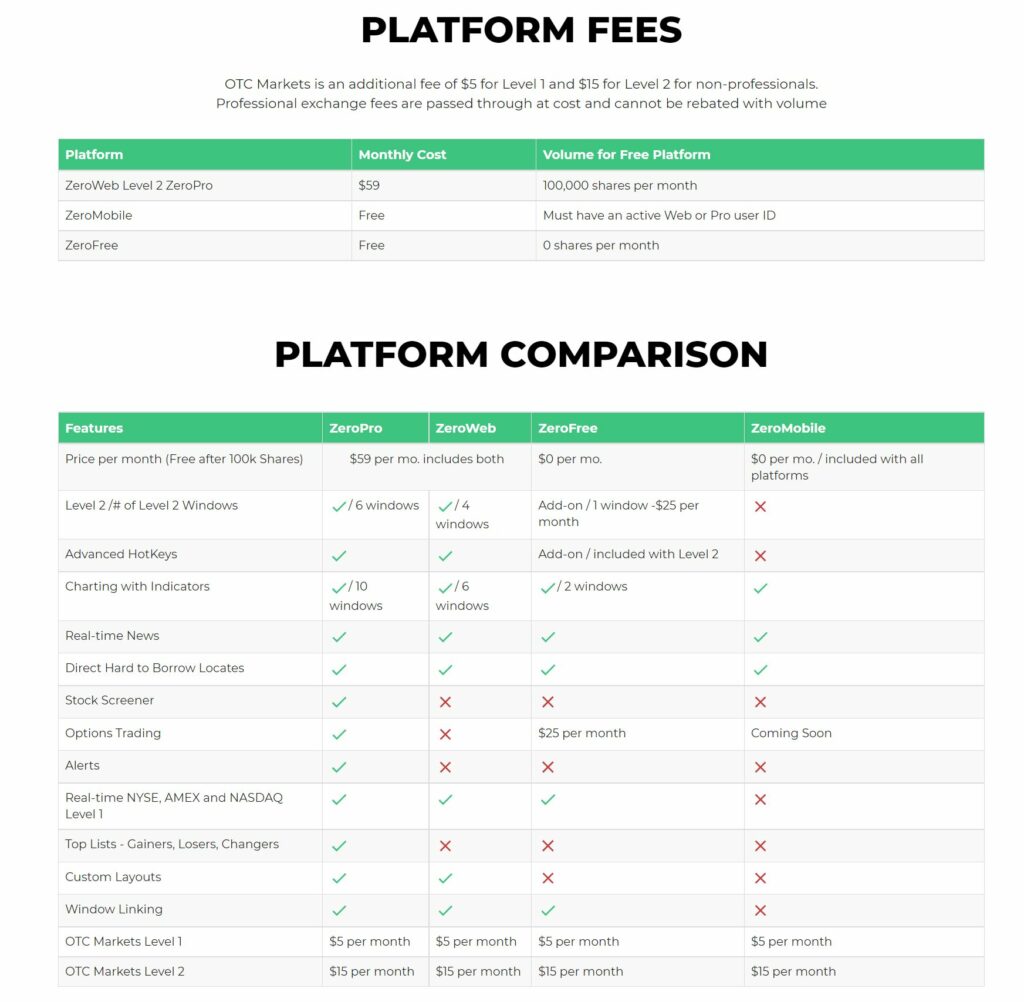 TradeZero Review: Final Thoughts
Finding a great brokerage is actually not as easy as it may sound. Combing through all of the options that exist today can be exhausting. TradeZero wanted to make this decision easier. 
With crucial features such as commission-free trades, advanced charting, locates, 24x7 customer service, and more, TradeZero may be a top option for those looking for a sophisticated brokerage account. 
Beginners may find the platform overwhelming at first, but there are a number of resources to help new traders understand key trading terms, metrics, and how-tos. In addition to their blog, they also offer investors access to Zero Learn, which is a great resource for anyone looking to learn more about trading. 
For advanced and active traders, TradeZero has all the features needed to be successful as well as a number of other helpful capabilities such as the ability to have up to 10 windows and use advanced hotkeys. 
If you are looking for a new brokerage account, be sure to check out TradeZero! Additionally, TradeZero provides a platform for those located in the United States and internationally.