Are you an Ally Invest user looking to make a move to M1 Finance?
Transferring your investments can seem like a daunting task, but it doesn't have to be.
In this article, we will guide you through the steps to transfer from Ally Invest to M1 Finance.
What is M1 Finance?
M1 Finance is an emerging player in the financial services industry that has successfully transferred over $2 billion in assets to its platform.
They offer a user-friendly platform that combines automated investing with customization, making it an attractive choice for investors seeking more control over their portfolios.
Here's how to initiate a transfer, step by step.
Best Free Stock Promotions
1. Create an M1 Finance Account
If you haven't already, the first step is to create an M1 Finance account.
You can do this by visiting their website and following the account setup process.
2. Access the Investment Section
Once your account is set up, log in and click on "Invest" located in the bottom menu.
To initiate the transfer process, click the three horizontal lines in the top left corner of the "Invest" section.
4. Select "Transfer an Account to M1"
Scroll down until you find the option that says "Transfer an account to M1" and click on it.
5. Choose the Type of Account
You will be presented with three options: full brokerage account transfer, partial brokerage account transfer, or a retirement account transfer.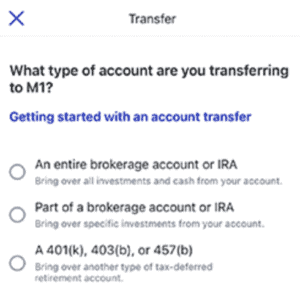 Select the one that applies to your situation.
6. Select Your Brokerage
Next, choose Ally Invest from the list of available brokerages.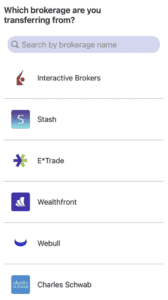 If you don't see it immediately, you can use the search function to find it.
7. Enter Your Account Number
You will need to enter your Ally Invest account number. You can find this on your account statement.
Double-check this number to ensure the transfer goes smoothly.
8. Authorize the Asset Transfer
Finally, authorize the transfer of your assets from Ally Invest to M1 Finance.
Keep in Mind the Transfer Fee
Ally Invest charges a $50 transfer fee for each partial or full Automated Customer Account Transfer Service (ACATS) transfer of securities or cash to another firm.
This fee will be incurred on your Ally Invest account, so be sure to account for it when considering your transfer.