On November 11th 2022, BlockFi suspended withdrawals from the platform and discouraged new user deposits. This guide was written prior to the suspension. Please refer to the official BlockFi website for more information.
If you currently have crypto assets with BlockFi and are looking to transfer them over to Coinbase, the process is very simple and straightforward.
Whatever your reason is for making the switch, we will show you how to transfer crypto from BlockFi to Coinbase step by step!
Limited Time: Robinhood 1% Transfer Bonus
If you transfer an existing brokerage account to Robinhood through January 31st, 2024, you can get an Unlimited 1% Transfer Bonus.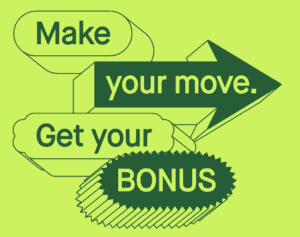 For example, if you transferred a brokerage account worth $50,000 - that would be a bonus of $500.
In addition, Robinhood offers a free stock for new users as well as a 1% IRA match for retirement accounts.
Best Free Stock Promotions
1. Open A Coinbase Account
The first step is to open a new Coinbase account if you don't have one already.

With Coinbase, users can easily buy, sell, transfer, and store crypto.
Coinbase allows users to store coins for free on the platform, however they do collect fees on crypto transactions. This fee ranges based on the size of the transaction.
You are able to trade over 100 different cryptocurrencies over on Coinbase, with new additions every few weeks.
2. Verify Your Coinbase Account
In order to send or receive crypto, you will need to verify your Coinbase account.
This verification is done through uploading a copy of your driver's license or other state issued ID:
To do this, you will click "Send/Receive" once logged into Coinbase
A popup will appear that prompts you to upload a photo of your ID
This can take 1-2 business days to complete
If the images are clear and match your information on file, your account should be verified in minutes.
3. Gather Necessary Information
In order to transfer crypto out of BlockFi, you will need an address to send the crypto.
Finding this wallet's address in Coinbase is easy:
Determine what type of crypto you are sending from BlockFi to Coinbase
Find the cryptocurrency on Coinbase and click "Send/Receive"
A popup will appear with a QR code and the wallet's address
Copy this address with the "copy" function on your phone
Keep in mind, BlockFi only offers 1 free withdrawal per month from the interest account. You may want to consolidate all of your crypto together before sending it.
4. Withdraw From BlockFi

Here are the steps to withdraw crypto from BlockFi:
Click "Withdraw" once logged in to BlockFi
Select the cryptocurrency you would like to withdraw
You will then select which wallet you would like to send to
If you selected "New Wallet," then you will need to paste in the new wallet's address
After pasting in the address, click "Review"
After reviewing the withdrawal for accuracy, you will click "Confirm"
Be advised that any withdrawal with BlockFi will take one business day and will be processed by 8:00pm on a weekday.