On November 11th 2022, BlockFi suspended withdrawals from the platform and discouraged new user deposits. This guide was written prior to the suspension. Please refer to the official BlockFi website for more information.
If you currently have crypto assets with BlockFi and are looking to transfer them over to Coinbase, the process is very simple and straightforward. BlockFi supports trading of a small handful of cryptocurrencies, meanwhile the selection on Coinbase is substantially larger.
Most people make the switch in order to have access to a larger selection of cryptocurrencies available for trading. Whatever your reason is for making the switch, we will show you how to transfer crypto from BlockFi to Coinbase step by step!
Limited Time: Robinhood 1% Transfer Bonus
If you transfer an existing brokerage account to Robinhood through December 8th, 2023, you can get an Unlimited 1% Transfer Bonus.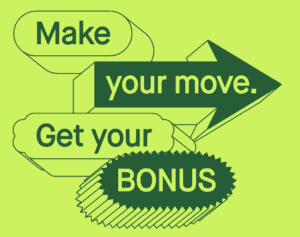 For example, if you transferred a brokerage account worth $50,000 - that would be a bonus of $500.
In addition, Robinhood offers a free stock for new users as well as a 1% IRA match for retirement accounts.
How To Transfer From BlockFi To Coinbase
You can complete this process either from a computer or your phone using the two apps.
In order to get started, make sure you have your Coinbase account setup. Creating an account with Coinbase is fairly quick and easy. Doing so will require information such as your name, email, phone number, address, and SSN.
Best Free Stock Promotions
1. Open A Coinbase Account

With Coinbase, users can easily buy, sell, transfer, and store crypto.
Coinbase allows users to store coins for free on the platform, however they do collect fees on crypto transactions. This fee ranges based on the size of the transaction.
You are able to trade over 100 different cryptocurrencies over on Coinbase, with new additions every few weeks.
If you sign up for Coinbase using our button above, you will get $5 worth of free Bitcoin!
The process is simple enough to open a Coinbase account:
You will create an account with your email and password
Then, you will have to give them your address and SSN for verification and tax purposes
After that, you will be prompted to set up 2FA by adding your phone number
Then, you will link to your bank account using a secure service called Plaid
Lastly, it will prompt you to verify your ID by taking a picture of the front and back
2. Verify Your Coinbase Account
In order to send or receive crypto, you will need to verify your Coinbase account.
This verification is done through uploading a copy of your driver's license or other state issued ID:
To do this, you will click "Send/Receive" once logged into Coinbase
A popup will appear that prompts you to upload a photo of your ID
This can take 1-2 business days to complete
If the images are clear and match your information on file, your account should be verified in minutes. Coinbase will send you an email with the outcome of the verification process. They will also email you in the event that they need additional information from you to verify the account.
3. Gather Necessary Information
In order to transfer crypto out of BlockFi, you will need an address to send the crypto.
Finding this wallet's address in Coinbase is easy:
Determine what crypto you are sending from BlockFi to Coinbase
Find the cryptocurrency on Coinbase and click "Send/Receive"
A popup will appear with a QR code and the wallet's address
Copy this address with the "copy" function on your phone
Keep in mind, BlockFi only offers 1 free withdrawal per month from the interest account. You may want to consolidate all of your crypto together before sending it.
For example, if you have both Ethereum and Bitcoin in BlockFi, you would end up paying a fee on the 2nd withdrawal. Instead, you could swap your Ethereum for Bitcoin and then send it all together to avoid the fee. Once you have that sent over to Coinbase, you can swap back into Ethereum with ease.
4. Withdraw From BlockFi

Withdrawing crypto from BlockFi has a few steps of its own:
Click "Withdraw" once logged in to BlockFi
Select the cryptocurrency you would like to withdraw
You will then select which wallet you would like to send to
If you selected "New Wallet," then you will need to paste in the new wallet's address
After pasting in the address, click "Review"
After reviewing the withdrawal for accuracy, you will click "Confirm"
Be advised that any withdrawal with BlockFi will take one business day and will be processed by 8:00pm on a weekday.
When making a withdrawal, BlockFi allows one fee-free withdrawal per calendar month. If you make an additional withdrawal, then a fee will be applied. There are also withdrawal limits. For example, you are able to withdraw 100 Bitcoin per any 7 day period. Additionally, the fee for withdrawing Bitcoin after making your first fee-free withdrawal is 0.00075 BTC.
The fee and withdrawal limit vary by coin. Be sure to review BlockFi's fee page for more.
Conclusion
Transferring crypto from BlockFi to Coinbase is actually pretty simple. Fortunately, using these two platforms does not require selling off any positions and thus does not create a tax event.
In order to get started, you will simply need to gather a few pieces of information and then follow the prompts within the platforms.
Don't forget to grab your free stock worth up to $200 from Robinhood today!