Are you considering transferring your investment accounts from Charles Schwab to Fidelity?
In this article, we'll walk you through the steps of transferring your investments, retirement accounts, annuities, CDs, or other holdings from Charles Schwab to Fidelity.
Limited Time: Robinhood 1% Transfer Bonus
If you transfer an existing brokerage account to Robinhood through January 31st 2024, you can get an Unlimited 1% Transfer Bonus.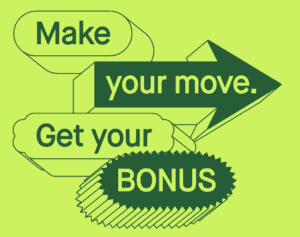 For example, if you transferred a brokerage account worth $50,000 - that would be a bonus of $500.
In addition, Robinhood offers a free stock for new users as well as a 1% IRA match for retirement accounts.
What is Fidelity?
Fidelity is a renowned financial institution known for its wide range of investment options, robust research tools, and exceptional customer support.

If you've decided to make the switch, rest assured that the process is straightforward and hassle-free.
Best Free Stock Promotions
What Can You Transfer to Fidelity?
Fidelity allows you to transfer various types of accounts and investments, including:
Investment Accounts: You can transfer all or part of your investment account holdings, including specific investments "in kind."
Retirement Accounts: Fidelity accepts transfers of retirement accounts such as Individual Retirement Accounts (IRAs) and Health Savings Accounts (HSAs).
Annuities and CDs: Liquidated annuities and Certificates of Deposit (CDs) can also be transferred to Fidelity.
Timeline for the Transfer
The timeline for transferring assets from Charles Schwab to Fidelity typically takes between 3 to 5 business days.
However, the exact duration can vary depending on your current firm's policies and the type of accounts and investments you're transferring.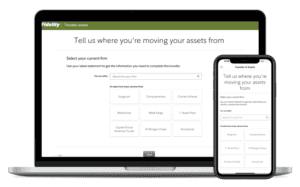 Step-by-Step Guide to Transferring from Charles Schwab to Fidelity
Here are the simple steps to initiate the transfer of your assets.
1. Submit Your Transfer Request to Fidelity
Visit the Fidelity website and log in to your Fidelity account or create one if you don't have it already.
Navigate to the "Transfer" section, where you can initiate the transfer process. It usually takes only 5–7 minutes to complete the online request.
2. Fidelity Contacts Your Current Firm
Once you've submitted your transfer request, Fidelity will take care of the rest.
They will contact Charles Schwab on your behalf to request the transfer of your account assets.
3. Current Firm Processes the Request
Charles Schwab will process the transfer request and send the account assets to Fidelity.
This step may take some time, depending on your current firm's internal procedures.
4. Fidelity Deposits Your Assets
After receiving the assets from Charles Schwab, Fidelity will deposit them into your selected account. You will receive a notification confirming the successful transfer.
In most cases, the entire process is handled online, making it convenient and efficient.
Transfer Costs
It's essential to be aware of any potential costs associated with transferring your assets.
Charles Schwab charges a $50.00 fee for an outgoing Automated Account Transfer Service (ACATS) transfer. This fee will be deducted from your account during the transfer process.
Make sure to review any other fees or charges that may apply, and consider these costs when deciding to proceed with the transfer.