If you're currently with Charles Schwab and are considering transferring your assets to M1 Finance, you're in luck.
M1 Finance offers a seamless transfer process, having successfully facilitated the transfer of over $2 billion in assets.
In this article, we'll guide you through the steps to make this transition efficiently.
Step 1: Create an M1 Finance Account
If you don't already have an M1 Finance account, the first step is to create one.
You'll need to provide some basic personal information to get started.
Step 2: Access the Transfer Feature
Once your M1 Finance account is set up, click on "Invest" located on the bottom menu.
This will take you to the investment section of the app.
In the top left corner of the "Invest" section, you'll see three horizontal lines.
Click on these lines to access a drop-down menu of options.
Step 4: Choose "Transfer an Account to M1"
Scroll down this menu until you find "Transfer an account to M1" and click on it.
Step 5: Select the Type of Transfer
You will now be prompted to select the type of account transfer you want to initiate:
Full Brokerage Account Transfer: This option is for transferring your entire Charles Schwab brokerage account to M1 Finance.
Partial Brokerage Account Transfer: Choose this if you wish to transfer only a portion of your assets.
Retirement Account: If your account at Charles Schwab is a retirement account, select this option.
Here is a visual of what you will see.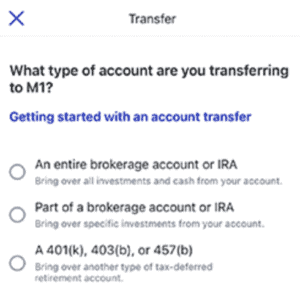 Step 6: Identify Your Brokerage
Next, you will need to select Charles Schwab as your brokerage.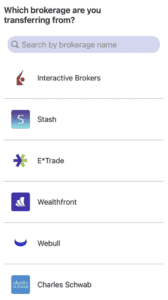 You can either scroll through the list or use the search feature to find it.
Step 7: Enter Your Account Number
You'll need to enter your Charles Schwab brokerage account number, which can be found on your account statement.
Make sure you double-check the accuracy of this number, as it's crucial for the successful transfer of your assets.
Step 8: Authorize the Asset Transfer
Finally, authorize the asset transfer. M1 Finance will guide you through the necessary steps to confirm and complete the process.
You may need to provide additional information or documentation to ensure a smooth transition.
Transferring Fees
It's essential to be aware of the fees associated with transferring your assets from Charles Schwab to M1 Finance.
Charles Schwab charges a $50 fee for transferring your entire account, but there is no fee for a partial transfer.