Coinbase is a great app to learn about the world of cryptocurrency, and to even start trading crypto.
With its built-in companion wallet, as you buy and trade crypto, you'll actually have ownership of the coins you purchase, unlike some of the other newcomer-friendly crypto apps out there.
However, there always comes a time when one needs to access their funds.
Whatever your reason, today we're going to show you precisely how to transfer money from Coinbase to your bank account.
Without further ado!
Limited Time: Robinhood 1% Transfer Bonus
If you transfer an existing brokerage account to Robinhood through December 8th, 2023, you can get an Unlimited 1% Transfer Bonus.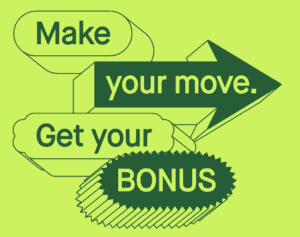 For example, if you transferred a brokerage account worth $50,000 - that would be a bonus of $500.
In addition, Robinhood offers a free stock for new users as well as a 1% IRA match for retirement accounts.
Transferring From Coinbase To Your Bank
Moving funds into your bank from Coinbase involves the following steps:
Linking your Bank account to Coinbase
Sell Your Crypto for Cash (optional)
Transferring your Money to your Bank
In order to move money to your bank from your Venmo account, you'll need to link your bank account and Venmo together. After your bank is set up inside Venmo, you'll be able to easily move your money between these accounts through either an instant transfer, or standard transfer.
However, most people skip the very important second step, verifying your bank account with Venmo. Doing this helps guarantee none of your money gets lost or irreversibly sent to the wrong account.
First things first, we'll make sure your accounts are linked up!
Best Free Stock Promotions
1. Link Your Bank Account To Coinbase

If you haven't linked your Venmo to your bank account, you'll need to do that before transferring any money over.
Luckily, linking your bank account inside the Venmo app is very straight forward.
Open your Coinbase app, and follow these steps:
Select the menu icon (three horizontal lines) in the top-left corner of the home screen
Choose "Profile & Settings"
Choose "Add a Payment Method"
Select Bank Account
Log in to your bank account inside Plaid with your online banking login information
After signing in with Plaid, your bank account will be linked and verified.
If your bank doesn't show up right away, search for it in the search bar.
If your bank still doesn't show up, choose the manual link option at the bottom of the search results.
Manual Bank Link Using Microtransactions
Here, you'll verify your bank manually by providing your name, bank routing number and your bank account number. Enter all your information and click Verify Account.
After doing this, Coinbase will deposit two separate amounts of money into the bank account provided, and then withdraw the funds they deposited. This process usually takes 2-3 business days.
After these deposits show up in your account, go to the Payment Methods screen inside the menu icon at the top right corner of the home screen. There, you can enter the deposit amounts.
However, Coinbase makes you list the deposits only by the "cent" portion deposited. 
For example, if your deposits were $1.40 and $1.50 respectively, you would only enter "40" and "50" as the deposit amounts.
After your bank is linked to Coinbase, you can continue.
2. Sell Off Your Crypto (Optional)
After your bank account is linked, you can begin your transfer.
In case you were wondering: "how to transfer my crypto from Coinbase to my bank", this is technically how to do that, as most traditional banks don't have the systems or incentive to hold cryptocurrency for its general users.
Instead of transferring directly, you'll have to sell off the crypto you'd like to turn into cash, and transfer that cash into your bank.
Here's how to do just that:
On the main page, click on your Portfolio tab in the bottom menu.
Select the cryptocurrency you'd like to sell from your portfolio
Select the amount of crypto you'd like to sell, either in USD amounts or in coin amounts
Review the transaction details, including exchange rates, and Coinbase fees
After you've reviewed your order details, press "Sell Now"
After selling off your crypto, the funds from your transaction may take time to "settle".
While the funds are settling, you won't be able to withdraw them from Coinbase.
Coinbase states that most users who use their banks to transfer funds can withdraw within 5 business days of their sale.
3. Transferring Money from Coinbase To Your Bank
Now that your bank account is linked and any crypto sale funds have settled, you can finally withdraw your money from Coinbase.
Open your Coinbase app, and complete the following steps:
Tap the blue transfer button with the two arrows at the bottom of the screen
Select "Add Cash / Cash Out" at the bottom
Press "Cash Out"
Choose the amount of money you'd like to send to your bank account
Select your linked bank as the destination point
Review transaction details
Press "Cash Out Now"
Time may vary as to when your funds will pay out, but it is listed under "Funds will arrive" in your transaction details.
Don't Overlook This!
Whenever dealing between cryptocurrency and fiat money, you create a taxable event, as if you've made any profit by trading crypto, you've experienced capital gains.
Make sure you understand the tax implications of cryptocurrency and capital gains before executing cash-out transfers.
Don't forget to grab your free stock worth up to $200 from Robinhood today!