Coinbase offers a great starting point for new crypto investors. It has possibly the most user friendly app out there for buying and selling major crypto's.
However, there are many different platforms out there today competing for your business. Uphold is one of these newer crypto exchanges available today.
If you decide to try out the platform, we will show you how to transfer crypto from Coinbase over to Uphold step by step.
Limited Time: Robinhood 1% Transfer Bonus
If you transfer an existing brokerage account to Robinhood through December 8th, 2023, you can get an Unlimited 1% Transfer Bonus.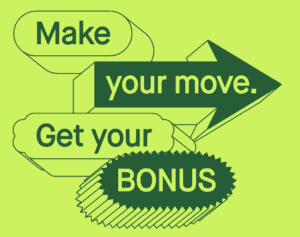 For example, if you transferred a brokerage account worth $50,000 - that would be a bonus of $500.
In addition, Robinhood offers a free stock for new users as well as a 1% IRA match for retirement accounts.
Best Free Stock Promotions
1. Sign Up For Uphold
Already have an Uphold account? Head on over to Step 2.
Click the button above to download Uphold or sign up via the link here.
First, you'll enter some account credentials - your email and a new password, and your country of residence and citizenship. Then you'll need to read and click agree with Uphold's terms of service, assuming you do agree.
Next, enter your first and last name, the territory where you live, and your birth date. Then you'll choose your account username and Uphold will send you a confirmation email. Open the email to continue signing up.
After that, you'll need to sign up for 2-factor authentication, which Uphold uses for extra security for all its user accounts.
"2FA" works by requiring you to confirm inside of the authenticator app that it's actually you signing into Uphold. Uphold uses the Authy app for 2FA.
You'll have to download Authy and sign up using your phone number (this only takes a second or two).
Finally, when your Uphold account has been fully set up, you'll need to verify your identity.
This process doesn't take long either. You'll need to confirm your current address, and upload a photo of a valid ID like your driver's license, as well as a selfie to verify.
2. Copy Uphold Wallet Address
Now we have to grab your Uphold wallet address, so we can send your crypto to the right place.
Depending on what type of crypto you want to send over from Coinbase (ex. Bitcoin) you want to find that corresponding wallet within Uphold (ex. Bitcoin Wallet).
Log into Uphold, and follow these steps:
Go to your portfolio (wavy button at the bottom of the app screen)
Choose the crypto you want to deposit into Uphold
Click the ellipsis at the top right (...)
Choose the option that says "Wallet Address"
Go to your private wallet
Copy your private wallet address for the withdrawal
3. Withdraw Crypto From Coinbase
Finally, with your Uphold address copied, log into Coinbase and make a withdrawal:
Open the app on your phone
Click the "Send" button
Set the type of coin and amount you want to withdraw, and press "Continue"
Paste your Uphold wallet address (on the browser, this field is on the same page as step 2)
Confirm your transaction before pressing send
Be sure to consider any fees before making the transfer, which can be viewed before confirming your transaction.
Don't forget to grab your free stock worth up to $200 from Robinhood today!