There are many reasons for wanting to switch from one investing platform to another. Whatever the reason, you can rest assured that the process is actually not too bad.
Of course, you can sell your assets and transfer the funds to your bank. And then fund a new investment account and repurchase your investments. However, this method can trigger capital gains taxes should you sell for a profit.
Rather than sell your assets, you can perform what's called an in-kind transfer, or ACATS (automated customer account transfer service). This kind of transfer simply moves your account from one platform to another.
So, whatever your reason for wanting to transfer, we have you covered. In this article, we cover the steps to transfer from ETrade to Vanguard.
Limited Time: Robinhood 1% Transfer Bonus
If you transfer an existing brokerage account to Robinhood through January 31st 2024, you can get an Unlimited 1% Transfer Bonus.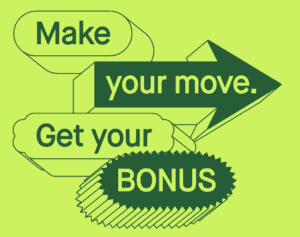 For example, if you transferred a brokerage account worth $50,000 - that would be a bonus of $500.
In addition, Robinhood offers a free stock for new users as well as a 1% IRA match for retirement accounts.
Best Free Stock Promotions
Transfer From ETrade To Vanguard
When both platforms accept ACATS transfers, the transfer process is pretty straightforward. In fact, most platforms will require the same steps as below simply with different platform names.
To transfer from ETrade to Vanguard, follow these three simple steps:
Open a Vanguard Account
Gather Information From ETrade
Initiate an ACATS transfer
Let's jump into each of these steps in more detail!
1. Open A Vanguard Account

If you already have a Vanguard account, then you can move on to the next step. 
Vanguard is one of the longest standing brokerages available and as such, have some of the most advanced offerings and options for investors.
Before you start the transfer process, be sure you are eligible to open an account. To create an account, you will need to have the following:
Permanent US address
Social security number
If applicable, employer's address
To open an account, follow these steps:
Navigate to Vanguard's website
Click on the "Open an account" button on the top menu
You can either fund your account with a bank account or through a transfer from another account.
Follow the remaining steps as prompted. You will be asked for your name, email, phone number, address, SSN, employer, and level of investing experience.
Once you have completed the account application, you will be able to start investing in 3 business days.
2. Gather Information From ETrade

When you want to transfer assets into Vanguard, you will need to collect information about the platform that you are transferring from. In this case, you will need to locate your ETrade account number and login details.
You can find your account number with the following steps:
Log in to your E*TRADE account.
In the main menu, under "Accounts" — click "Complete View".
The last 4 digits of your account number is available next to the account name on the following screen. Click "Show Number" to reveal the full 8-digit account number.
Note the type of account you want to transfer (individual, taxable, etc). You'll need to open the same kind of account in Vanguard for your ACATS transfer
Once this information is securely copied down, we can finish the process on the Vanguard website!
3. Initiate ACATS Transfer
With a Vanguard account and your ETrade account information readily available, you are ready to execute the transfer.
Before you do, you should note that an outgoing transfer from ETrade will incur a transfer fee. For full transfers, the fee is $75. Partial transfers are $25.
Despite having a solid app, Vanguard requires members to follow their web-based prompt to initiate a transfer. The transfer steps can be completed in as little as 10 minutes online, though the funds may take up to 4-6 weeks to appear in your Vanguard account.
Before you start the transfer, you should also know about the assets that you can and cannot transfer to Vanguard.
Investments you can transfer:
Stocks.
Bonds.
Most options.
Exchange-traded funds (ETFs).
Unit investment trusts.
Certificates of deposit (CDs) held in a brokerage account.
Most mutual funds (although money market funds will be sold and transferred as cash).
Investments you can't transfer:
CDs held directly with a bank.
Certain options.
Limited partnerships and private placements.
Certain mutual funds and other investment products offered exclusively by your current firm.
Certain low-priced securities traded over the counter (OTC) or on the pink sheets market.
Commodities.
Annuities.
Life insurance policies.
Any investments that you have that cannot be transferred must be liquidated first.
Account Transfer Steps
To initiate this ACATS transfer, follow the steps below:
Navigate to Vanguard's account transfer page
Select the option "Transfer investments from another firm to Vanguard" and click continue
Select the type of account you want to transfer from (whichever account you are transferring to Vanguard, needs to be the same type of account you have with Vanguard)
Next, login with your Vanguard login details or select the Sign-up option

If you already have a login, then you will continue with the steps below. If you need to sign up, then you will need to provide additional details first such as your name, email, phone, SSN and more.

After clicking continue, type in the name of the platform you want to transfer from. In this case, it would be "ETrade."
Enter in your ETrade login details or find the account manually by entering in your ETrade account number.
Decide whether you want to transfer all or some of the assets held in ETrade

If a partial transfer, you will be able to select the individual investments you want to move

Select where you would like to transfer the assets to, either a new account or an existing Vanguard account
Review the details of the transfer and click continue
Review the terms and conditions and accept to move on
Be aware that this transfer can take up to 4-6 weeks to complete, though typically is completed much sooner.
Transfer From ETrade To Vanguard: Final Thoughts
Because both of these platforms accept ACATS, this process is really quite simple. All you need is to ensure you have a Vanguard account that is the same type as your ETrade account and your ETrade login information and account number.
From there, you will simply follow the prompts on Vanguard's website. The process itself will be completed online in about 10-15 minutes, though the funds may not appear for 4-6 weeks.
If you have additional questions, be sure to reach out to Vanguard's customer support team.
Don't forget to grab your free stock worth up to $200 from Robinhood today!