It is fairly common for most investors to have a number of brokerage accounts. With so many to choose from, it makes sense that you might have multiple accounts.
However, this doesn't mean that you have to keep those accounts. If you try a brokerage account and find that is just isn't what you were looking for, then you can always transfer your assets and close the account.
Many investors are surprised to learn that transferring assets is actually really easy.
In this article, we show you the steps to transfer from E*Trade to Webull. Let's go!
Limited Time: Robinhood 1% Transfer Bonus
If you transfer an existing brokerage account to Robinhood through December 8th, 2023, you can get an Unlimited 1% Transfer Bonus.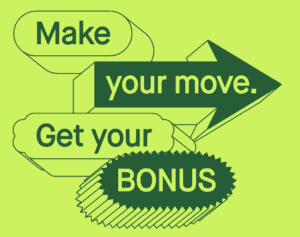 For example, if you transferred a brokerage account worth $50,000 - that would be a bonus of $500.
In addition, Robinhood offers a free stock for new users as well as a 1% IRA match for retirement accounts.
Best Free Stock Promotions
Transfer From E*Trade to Webull
Webull is a top platform for many investors, and it is easy to see why. With a wide array of research features and capabilities, Webull certainly equips its members with all the data they need.
Transferring your assets from E*Trade to Webull is a simple process. Both platforms support ACATS (Automated Customer Account Transfer Service). Not only is ACATS faster than selling your assets and transferring funds to your bank and then to the new platform, but also it avoids creating a tax event. With ACATS, you are transferring the assets without ever selling them.
In order to execute the transfer, you'll follow the steps below:
Open a Webull Account (if you do not already have one)
Gather your E*Trade account information
Initiate ACATS transfer from E*Trade to Webull
Let's take a closer look at each of these steps.
1. Open a Webull Account

When you sign up for a Webull account, you will need to meet the following requirements:
Be 18 years or older
Have a valid Social Security Number (not a Taxpayer Identification Number)
Have a legal U.S. residential address within the 50 states or Puerto Rico (there may be exceptions for active U.S. military personnel stationed abroad)
Be a U.S. citizen, U.S. permanent resident, or have a valid U.S. visa
If you meet these requirements, then setting up an account is quick and easy. Follow these steps to open a new Webull account:
Go to Webull official website
Click "LOG IN"
Click "Sign up Now"
Follow the steps as prompted to create your new account (you will need to input information such as your name, email, phone number, address, SSN, and level of investing experience.)
2. Gather Your E*Trade Account Information


In order to transfer your E*Trade account to Webull, you will need to locate your E*Trade account number. You can follow the steps below to find your account number:
Log in to your E*TRADE account.
In the main menu, under "Accounts" — click "Complete View".
The last 4 digits of your account number is available next to the account name on the following screen. Click "Show Number" to reveal the full 8-digit account number.
With the account number in hand, you are all set to initiate the transfer.
3. Initiate Transfer From E*Trade To Webull
Before initiating the transfer, there are a few things to be aware of. E*Trade actually offers a few assets that are not supported by Webull. If you own assets in E*Trade that are not supported by Webull, then you will need to sell those assets before conducting the transfer.
Assets not supported by Webull include OTC penny stocks, options, and a few other investments. You will need to sell these off for a full transfer. After selling these assets, you can transfer the funds to your bank account and then deposit them in your new Webull account.
Be aware that any profits you earn when selling off particular positions could result in capital gains taxes.
Additionally, you will be charged transfer fees. While Webull does not charge for an incoming transfer, E*Trade does charge for an outgoing transfer. E*Trade uses the Automated Customer Account Transfer Service (ACATS) and charges $75 for a full transfer to another platform and $25 for a partial transfer. This amount is in line with the range other investing apps charge for outgoing transfers.
In order for the transfer to go smoothly, make sure your name and type of account on E*Trade is identical to the new Webull account's name and type. The transfer may be delayed if your E*Trade account name or type differs from your new Webull account type
Steps To Transfer Your E*Trade Account To Webull
To initiate the transfer, follow these steps in the Webull app:
Login to your account in the Webull App
Tap the Webull Icon in the middle of the bottom navigation menu
Across the top, you will see a menu of options starting with "Assets." Choose the "Transfers" option
Tap on "Transfer Stocks into Webull"
Choose the broker to transfer from. If you do not see your brokerage listed, you can use the search function and either type in E*Trade or use their DTC number, which is 0385.
Take note of the important notices before making the transfer and confirm that you have read them
Tap "Continue"
Type in your E*Trade account number that you found earlier on
Choose either Full Transfer or Partial Transfer

If you choose a partial transfer, you will be able to choose which assets to move

Tap "Submit Stock Transfer Request" to finalize the transfer
This transfer can take a few business days to complete. As long as the account type and name match, then the transfer should have no problems.
Transfer From E*Trade to Webull: Final Thoughts
Transferring your assets from one platform to another may not be as much of a hassle as you think.
In the case of E*Trade and Webull, it is actually pretty simple as both brokerages support ACATS transfers. Before executing the transfer you will need to check that the assets in your E*Trade account are supported by Webull. If they are not, you will need to sell off those positions before executing the transfer.
Submitting this transfer is as simple as finding your E*Trade account number and typing it into Webull.
Check out our full Webull review article to learn more about that platform.
Don't forget to grab your free stock worth up to $200 from Robinhood today!