Investors are making the switch from Fidelity to TD Ameritrade for a variety of reasons. 
Although Fidelity is a fantastic platform for both beginners and advanced traders, more and more investors are switching to TD Ameritrade for its exceptional trading tools and features. 
One of TD Ameritrade's greatest tools is its thinkorswim trading platform. This desktop and mobile trading tool provides investors a world-class trading experience. 
The investing community has awarded TD Ameritrade's thinkorswim platform the following awards: #1 Platforms & Tools, #1 Desktop Trading Platform, and #1 Active Trading. 
Whatever the reason may be for wanting to transfer from Fidelity to TD Ameritrade, we will show you how to execute this transfer step-by-step!
Limited Time: Robinhood 1% Transfer Bonus
If you transfer an existing brokerage account to Robinhood through January 31st 2024, you can get an Unlimited 1% Transfer Bonus.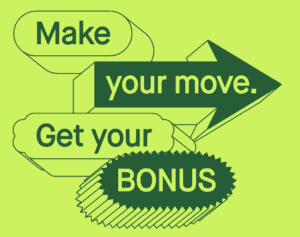 For example, if you transferred a brokerage account worth $50,000 - that would be a bonus of $500.
In addition, Robinhood offers a free stock for new users as well as a 1% IRA match for retirement accounts.
How To Transfer From Fidelity to TD Ameritrade
The process for transferring your assets from Fidelity to TD Ameritrade can be completed through 3 steps. 
Gather information from Fidelity

Open your TD Ameritrade Account

Initiate your transfer from Fidelity to TD Ameritrade
These steps will be described in detail in the paragraphs below!
Best Free Stock Promotions
1. Gather Information From Fidelity

The first step in ensuring a successful transfer of assets is to gather all necessary account information from Fidelity. 
Typically, all required account information can be found on your Fidelity account statements. Some of the information that you will need is listed below. Please note you may need additional information during the transfer. 
To find the majority of the above account information, follow the below instructions on the Fidelity mobile app. 
Sign in to your Fidelity account

Select the specific account that you are transferring to TD Ameritrade (i.e. Individual Investment Account)

Click the three dots in the top right corner of the page

Select "View Account & Routing Numbers"
2. Open Your TD Ameritrade Account

After you have gathered the information that you need from Fidelity, head to the TD Ameritrade website and follow the step-by-step instructions to create your TD Ameritrade account. 
Here you have the ability to select what type of account you want to create. Majority of the options are the same between Fidelity and TD Ameritrade (Individual Accounts, Joint Accounts, Traditional IRA Accounts, etc.).
It is vital to understand that the name(s)/title on the account being transferred must exactly match the name(s)/title on the new TD Ameritrade account. 
To illustrate the above principle, assume you are working to transfer your assets out of your Individual Account within Fidelity. The TD Ameritrade account that you create must be an Individual Account with you being the sole owner of the account (just like the Fidelity account is). 
Once the transfer has been completed you will have the ability to change the titling of the newly opened TD Ameritrade accounts. However, for a successful transfer of assets, name(s)/title must match completely. 
3. Initiate Your Transfer From Fidelity To TD Ameritrade
The final mandatory step to complete the process is to officially initiate the asset transfer from Fidelity to TD Ameritrade. Please note that while most brokerages charge a fee for transferring assets out of the brokerage, Fidelity does not. Click here to see Fidelity's complete pricing sheet. 
In most cases you will be initiating an in-kind transfer which means you will not be selling assets during the transfer (thus you will not be incurring a tax liability). 
However, if you have assets in Fidelity's proprietary funds (i.e. funds that are created by Fidelity and only sold through the Fidelity platform), that investment will need to be liquidated during the transfer. 
Please remember that the sales of assets may incur a tax liability. 
To initiate the transfer follow the below steps. 
Log onto the TD Ameritrade desktop version

Click "My Account" in the top left of the page

Select "Account Transfer"

Click "Begin Transfer" and then "Fidelity" on the next page

Use the information gathered from Step 1 to complete the remaining form
After initiating the transfer, you can expect to see your assets in TD Ameritrade in about a week.
Conclusion: Transfer From Fidelity To TD Ameritrade
Since Fidelity and TD Ameritrade do not offer crypto investing, transferring assets from one brokerage to another is a pretty straightforward process. 
As mentioned above, the transfer process may take several days to complete. During the transfer process, you will not have access to your assets and you will not be able to make trades. Please keep that in mind when planning out when to initiate the transfer. 
Transferring assets does carry risk, especially if information is entered incorrectly. Investing Simple advises all investors to confirm the above steps with the Fidelity and TD Ameritrade official websites. For additional guidance, TD Ameritrade has provided an FAQ section to support in the process. 
Remember that Fidelity is unique in that it does not charge a fee for transferring funds out of an account or even for closing out an investment account. If you ever need to transfer all your funds out of TD Ameritrade, expect the fee to be around $75. To see TD Ameritrade's full pricing sheet click here. 
Don't forget to grab your free stock worth up to $200 from Robinhood today!