If you're currently with Firstrade and considering a change, M1 Finance offers a seamless process to transfer your assets.
In this article, we'll guide you through the steps to make the transition, while also addressing the fees associated with moving your investments.
Transferring from Firstrade to M1 Finance


M1 Finance has successfully transferred over $2 billion in assets.
Firstrade charges fees for outgoing transfers, and it's essential to be aware of these costs before initiating the process.
Firstrade charges $75 for a full outgoing transfer and $55 for a partial transfer. These fees are assessed by Apex Clearing, which is the clearing house used by Firstrade.
To get started, follow these steps.
1. Create an M1 Finance Account

If you don't already have an M1 Finance account, begin by signing up.
You'll need to provide the necessary personal information to set up your new account.
Once your M1 Finance account is created and logged in, click on the "Invest" option located on the bottom menu.
This is where you'll initiate the transfer process.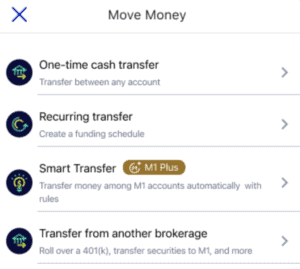 Click on the three horizontal lines in the top-left corner of the "Invest" section.
This will open a menu with various options.
Scroll down and find the "Transfer an account to M1" option, then click on it.
3. Choose the Transfer Type
You'll be presented with three options: a full brokerage account transfer, a partial brokerage account transfer, or a retirement account transfer.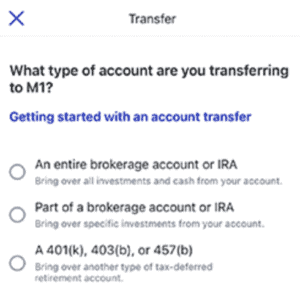 Select the one that applies to your situation.
4. Select your Brokerage
Search for Firstrade in the list provided or type it in the search bar.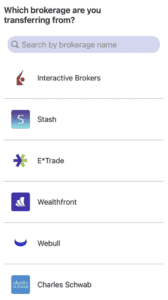 You'll need to enter your current brokerage account number. You can find your Firstrade account number on your statement.
Enter it accurately to ensure a smooth transfer. After entering your account number, you will need to confirm and authorize the transfer.