If you want to make the switch from Kraken to Robinhood, then you've come to the right place.
In this article, we cover the steps required to transfer crypto assets from Kraken to Robinhood.
Let's dive in!
Limited Time: Robinhood 1% Transfer Bonus
If you transfer an existing brokerage account to Robinhood through January 31st, 2024, you can get an Unlimited 1% Transfer Bonus.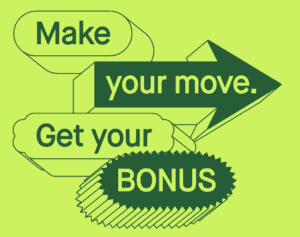 For example, if you transferred a brokerage account worth $50,000 - that would be a bonus of $500.
In addition, Robinhood offers a free stock for new users as well as a 1% IRA match for retirement accounts.
Best Free Stock Promotions
1. Open A Robinhood Account

First, you will need to open a Robinhood account.
Use the button above to get a completely free stock when you sign up!
2. Set Up Robinhood Wallet
Setting up the new wallet is actually really simple. The whole process takes a matter of minutes and can be completed from your phone.
You will need to submit a photo of your ID, set up two-factor authentication, and download an authenticator app.
3. Locate the Desired Wallet Address From Robinhood
When transferring crypto assets out of Kraken, you will need a location to send them to.
In this case, that location is going to be a crypto wallet address from Robinhood. Each crypto has a specific wallet, and each wallet has a specific address.
This address can be found in Robinhood quickly and easily:
Locate the desired crypto by tapping on the search icon in the bottom menu and typing in the crypto you want
Scroll down and tap on the "Receive" button
Tap on the "Copy Address" button
4. Transfer From Kraken To Robinhood


Here's how to send crypto from Kraken to Robinhood:
Once logged into Kraken, click on "Funding" in the main menu
Find the crypto you would like to transfer and click on "Withdraw" or the up arrow
Click on "+Add address"
A new popup/screen will appear when you will type in a description of the new address (example "Robinhood Wallet") and paste in the address you copied from Robinhood
Click "Save Address"
You will then receive a note informing you to confirm the new address
You will receive an email with instructions on how to approve the new wallet you just added
After confirming the new address, you will enter in the amount of the particular coin you want to transfer
Confirm the information is correct and click "Withdraw"