Two platforms available to investors today for cryptocurrency investment are Kraken and Uphold. The time may come when you may decide to move some or all of your crypto assets from one platform to another.
Below you'll find a step-by-step guide on how to transfer your crypto from Kraken to Uphold.
Transferring from Kraken to Uphold consists of three main steps:
Copying Your Uphold Wallet Address
Withdrawing Your Crypto From Kraken
Limited Time: Robinhood 1% Transfer Bonus
If you transfer an existing brokerage account to Robinhood through December 8th, 2023, you can get an Unlimited 1% Transfer Bonus.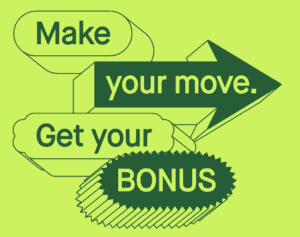 For example, if you transferred a brokerage account worth $50,000 - that would be a bonus of $500.
In addition, Robinhood offers a free stock for new users as well as a 1% IRA match for retirement accounts.
Best Free Stock Promotion
1. Open An Uphold Account
Have an Uphold account set up? Start with Step 2!
To start, you'll have to enter some account credentials - your preferred email, a unique password, and your country of residence and citizenship. Then, assuming you agree, you'll need to read and click agree with Uphold's terms of service.
Next, you'll enter your first and last name, your birth date, and the territory you live in. Then, enter a username for your account, and Uphold will send you a confirmation email. Open the email to continue signing up.
Now, you'll need to sign up for 2-factor authentication using Authy, a separate app Uphold uses for extra security for all its users.
"2FA" works by requiring you to confirm inside of the authenticator app that it's actually you signing into Uphold.
Download Authy and sign up with your phone number (this is pretty quick, no sweat).
Finally, after everything else is in place, you'll have to verify your identity.
This process doesn't take long either. You'll need to confirm your current address, give a photo of a valid ID like your driver's license, and a selfie to verify.
Now you're in!
2. Copy Your Uphold Wallet Address
To transfer your crypto out of Kraken, we'll have to find and copy your new Uphold wallet address, so your funds go to the right place.
Uphold accounts have multiple wallets inside of them - one for each kind of crypto Uphold supports.
You'll have to copy the same wallet address associated with the crypto you're sending. 
How To Find Your Wallet Address In Uphold:
Go to your portfolio (wavy button at the bottom of the app)
Choose the crypto you want to deposit into Uphold (the one you will be sending from Kraken)
Click the ellipsis at the top right (...)
Choose the option that says "Wallet Address"
Go to your private wallet
Copy your private wallet address
3. Withdraw Your Crypto From Kraken
Now all that's left is to enter your Kraken account, and send your crypto to Uphold.
Select the "Funding" tab
Click the Withdraw button listed within the cryptocurrency you'd like to withdraw
Enter your Uphold wallet address, and click "Add New Address"
Enter the amount of crypto you'd like to withdraw
Review the transaction details
Confirm the transaction by clicking "Withdraw"
Be sure to consider any fees associated with the transfer prior to conformation.
Don't forget to grab your free stock worth up to $200 from Robinhood today!