Transferring your investments and assets from one financial institution to another is a common occurrence.
In this article, we'll guide you through the process of transferring your account from M1 Finance to E*TRADE.
Best Free Stock Promotions
Step 1: Understand the Basics of the Transfer Process
Before you embark on this journey, it's essential to grasp the fundamentals of transferring an account.
The process involves moving all your assets, which include both cash and securities, from one financial institution (M1 Finance) to another (E*TRADE).
Step 2: Log In to Your E*TRADE Account
To initiate the transfer, start by logging into your E*TRADE account.
If you don't have an E*TRADE account, you'll need to create one before proceeding with the transfer process.
E*TRADE's user-friendly online platform offers an easy "Transfer an Account" feature that guides you through the process step-by-step.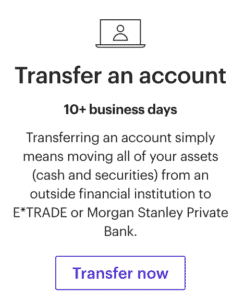 Step 3: Gather Necessary Information
Before you start the transfer process, make sure you have the following information from your monthly statement handy:
The name of the delivering financial institution (M1 Finance)
Your account number at M1 Finance
Step 4: Use E*TRADE's Online Transfer Tool
The quickest and most convenient way to transfer your account from M1 Finance to E*TRADE is to use E*TRADE's online Transfer an Account feature.
This tool will streamline the process, making it much easier for you. Simply follow the prompts and provide the required information.
Consider the Fees
Before initiating the transfer, be aware of the fees involved.
M1 Finance charges a $100 fee for outgoing ACAT (Automated Customer Account Transfer) transfers for all account types.
Additionally, there is an extra $100 closing fee for retirement accounts.
Make sure you have the necessary funds available to cover these charges.