Transferring your investments from one brokerage to another may seem like a daunting task. However, it has become easier than ever to move your assets.
M1 Finance has successfully transferred over $2 billion in assets to its firm, and they've streamlined the process to make it as smooth as possible.
In this article, we'll guide you through the steps to transfer your account from Merrill Edge to M1 Finance.
Best Free Stock Promotions
Fees and Considerations

Merrill Edge charges an account transfer fee (ACAT) of $49.95 for a full brokerage account transfer.
However, there is no charge for partial account transfers, making it a cost-effective option if you want to move only a portion of your assets.
1. Open an M1 Finance Account

The first step in transferring your Merrill Edge account to M1 Finance is to create an M1 Finance account if you don't already have one.
You will need to provide your personal information and complete the necessary identity verification.
2. Initiate the Transfer
Once you have your M1 Finance account set up, log in and click on "Invest" in the bottom menu.
This will take you to the investment section of your M1 Finance account.
In the top left corner of the "Invest" section, you'll see three horizontal lines.
Click on these lines to open a dropdown menu of options.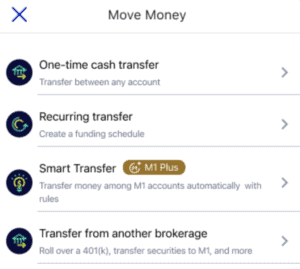 Scroll down through the dropdown menu until you find the option "Transfer an account to M1."
Click on it to initiate the transfer process.
3. Choose Account Type
Next, you'll be prompted to choose the type of account you're transferring.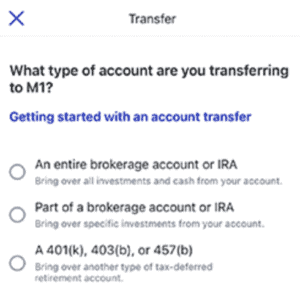 M1 Finance offers three options:
Full Brokerage Account Transfer: This option allows you to transfer your entire brokerage account from Merrill Edge to M1 Finance.
Partial Brokerage Account Transfer: If you only want to move a portion of your assets, choose this option.
Retirement Account Transfer: Select this option if you're transferring a retirement account, such as an IRA or 401(k).
4. Choose your Broker
After choosing the account type, you'll be presented with a list of brokerages.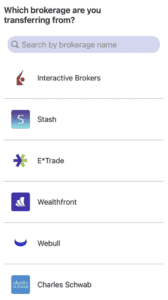 If you don't see Merrill Edge on the list, you can search for it. Select Merrill Edge as your current brokerage.
You will need to enter your Merrill Edge account number, which can be found on your Merrill Edge statement. Ensure that you enter this information accurately to facilitate a smooth transfer.
5. Initiate the Transfer
Once you've entered your account number, you'll need to authorize the asset transfer.
This authorization initiates the process of moving your assets from Merrill Edge to M1 Finance.
It's important to review all the details and double-check for accuracy before confirming the transfer.