Moomoo is one of the most advanced stock trading apps available - and it's free! You may have tried Moomoo in your online investing journey, and have some assets lying around that could be put to better use elsewhere in your life!
Because Moomoo features so many ways to efficiently interact with the stock market, it can be easy to get lost inside the many menus and tabs to find some of the more basic functions.
Today we're going to show you how to move your money out of Moomoo and into your bank, step by step, no fuss necessary.
Let's get it!
Limited Time: Robinhood 1% Transfer Bonus
If you transfer an existing brokerage account to Robinhood through January 31st 2024, you can get an Unlimited 1% Transfer Bonus.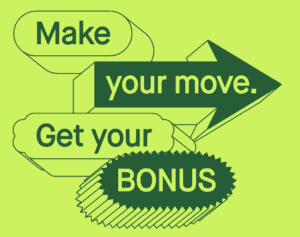 For example, if you transferred a brokerage account worth $50,000 - that would be a bonus of $500.
In addition, Robinhood offers a free stock for new users as well as a 1% IRA match for retirement accounts.
How To Transfer Money From Moomoo To Your Bank
Luckily, once we navigate through the app itself, the process for withdrawing funds from Moomoo to your bank is pretty simple. Depending on the amount of setup you might need however, it may take a few business days to finally get your money in your checking account.
Here's what we're looking at:
Link your Bank Account with Moomoo
Sell off Stock Positions in Moomoo
Withdraw Money From Moomoo To Bank
If Moomoo's interface seems daunting to you, no worries: we're in this together.
Best Free Stock Promotions
1. Linking Your Bank Account Into Moomoo

If you don't have your bank account linked with Moomoo, you won't be able to withdraw funds into said bank account. If you already have this set up, skip on down to step 2!
From the Moomoo home screen, follow these steps:
Select the "Me" tab, the last button at the bottom right of the screen
Choose the yellow "Trading Related" icon shown in the middle menu
Select "Add Bank Account"
Enter your bank account information, and upload proof of your bank
Press "Submit" to save your bank in Moomoo.
2. Liquidating Stock Positions In Moomoo
Now we're going to go through the process of selling stock on Moomoo. If you're only withdrawing settled funds, feel free to skip on to the next step.
From your home screen, take the following steps:
Select your account near the top of the home screen to view your assets (it should have an icon of the American flag, or the country in which you're investing)
Scroll down to where it lists your "Positions"
Select the stock you'd like to sell
Choose "Trade"
Choose the type of trade you'd like to use (Limit or Market are fine for our purposes)
Select the quantity of shares you'd like to sell
Choose any other preferred settings you'd like to use with your trade
Confirm the transaction details are correct, and press "Sell"
Repeat for all stock positions you'd like to sell
Trade funds take anywhere from 1-2 business days to settle.
3. Transfer Your Money From Moomoo To Your Bank
Once your bank has been linked to the app, and all your trade funds have settled into your account, you can begin transferring your money into your bank. The technical term for what we'll be doing today is called an ACH transfer.
From Moomoo's home screen, take the following steps:
Click on the "Me" icon at the bottom right corner
Choose the yellow "Trading Related" icon shown in the middle menu
In the Funds tab, choose the green "Withdraw" icon
Choose "Withdraw via ACH"
Select the amount of funds you'd like to withdraw
Confirm your linked bank account is correct, as well as your transaction details
Press "Submit"
ACH withdrawals from Moomoo can take up to 5-7 business days to complete.
Final Thoughts: Moomoo
Moomoo is a powerful app that everyone who invests online should consider using! Its many features allow a greater amount of control for investors, which when utilized properly, often ends with more money in your portfolio (and pockets)!
While liquidating stock positions on Moomoo, please be aware of any capital gains tax liability incurred.
Don't forget to grab your free stock worth up to $200 from Robinhood today!