There comes a time when many decide to transfer out of one brokerage account and into another.
If you've found yourself wanting to explore new opportunities or services, such as forex trading or mutual funds, TD Ameritrade might be the next logical step.
In this guide, we'll walk you through the process of transferring your stocks from Robinhood to TD Ameritrade, ensuring a smooth transition.
Limited Time: Robinhood 1% Transfer Bonus
If you transfer an existing brokerage account to Robinhood through January 31st, 2024, you can get an Unlimited 1% Transfer Bonus.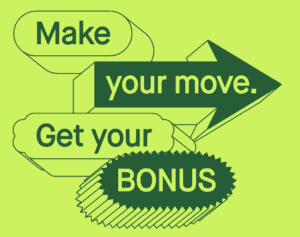 For example, if you transferred a brokerage account worth $50,000 - that would be a bonus of $500.
In addition, Robinhood offers a free stock for new users as well as a 1% IRA match for retirement accounts.
Best Free Stock Promotion
ACATS Transfer
The easiest and quickest method to transfer your Robinhood account to TD Ameritrade is by utilizing the ACAT system.
ACAT, or Automated Customer Account Transfer, is an electronic service designed to seamlessly move securities between brokerage accounts. This method eliminates the need for physical paperwork, making the transfer process efficient.
Robinhood supports outbound ACAT transfers, but be aware that there is a $100 fee for this service.
TD Ameritrade, however, will reimburse you for this fee once the transfer is complete, provided you submit proof of payment, such as a statement.
Eligible Assets
You can transfer stocks, options, ETFs and other assets into your TD Ameritrade account from another firm.

However, you are unable to transfer cryptocurrency out of Robinhood. If you have any, you will want to liquidate it into cash.
That cash will transfer into your new TD account. Keep in mind, this could result in a capital gain which you would have to pay taxes on.
1. Open A TD Ameritrade Account
The process is simple from the TD Ameritrade platform:
The first step is to set up a TD Ameritrade account within the app. There is no initial deposit required to open an account with TD Ameritrade.
The next step is to make sure the name on your Robinhood account matches the name(s) on your receiving TD Ameritrade account.
After logging in to your new TD Ameritrade account, go to My Account > Account Transfer.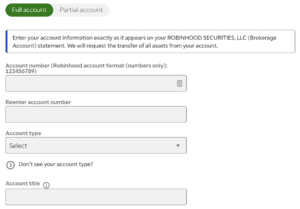 The standard time period it takes for the transfer into your new TD Ameritrade account is about a week.
Once the transfer process begins, your Robinhood account will be restricted from placing new trades.
2. Gather Information From Robinhood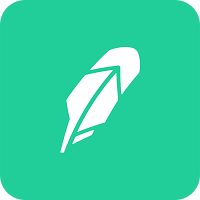 In order to transfer out of Robinhood, you will need to gather some information from them.
The most important is your Robinhood account number. This is also visible on your Robinhood statement, and it is likely that TD Ameritrade will ask you for a copy of this.
How to find your Robinhood account number:
Tap the Account icon in the bottom right corner
Tap Investing
Your account number will be at the top of your screen
3. Initiate The Transfer
Finally, initiate the ACATS transfer within TD Ameritrade.

This can take a few business days. You will be able to track the progress of the transfer within your TD account.