In this article, I'll be walking you through the process of transferring from Charles Schwab to Robinhood step-by-step. If you want more information about either platform before starting the transfer process, check out our full reviews, linked above.
Regardless of your reason for transferring your investments, we are here to guide you through the process to assure a secure transition of your assets.
Transferring Assets out of Your Schwab Account
Since Robinhood does not currently allow direct transfers, there are a few more steps that need to be taken. If direct transfers become available in the future, we will be updating our articles to ensure our information is accurate. 
Given the fact that you cannot directly transfer, you will have to sell your stocks in order to transfer them. This will likely result in tax consequences. Whenever you sell stocks for a gain, the IRS wants their share. On the other hand, when you sell for a loss you may be able to write off some or all of that loss on your taxes. For this reason, it may be worthwhile to talk to a tax professional before initiating a transfer.
Selling Assets On Schwab
The first step to withdrawing any funds from a brokerage is to sell your assets. Below we have listed the steps to do so form your Schwab account:
Select the

Trade

tab

Select the account you wish to sell assets from

Type in the

symbol of the stock

you wish to sell

Choose the

Stock/ETF

strategy

Change your

Action

to

Sell

Enter the number of shares you wish to sell to the right of the action box

Choose the type of order you wish to use

Select the timing of your order; for more information on your option, click the 'i' symbol

Confirm the details are correct in

Review Order

If it is all accurate, press

Confirm Order
Transferring Funds To Your Bank Account
Go to the

Accounts

tab

Choose the type of transfer you would like to do; most will choose

Online Transfer

Choose

Cash Only

; positions is not an option since Robinhood is not accepting those types of transfers currently

In the

From drop-down menu

, choose your Schwab account you sold the assets from

In the

To

drop-down menu, choose the bank account you wish to deposit the funds to

Enter the funds you wish to withdraw

Then

Review

the accounts, method, and amount selected to complete your request
Schwab Transfer Factors
Types of Transfer
There are a variety of options to deposit funds into the app, but when it comes to transferring out, we suggest Wire Transfers or Online Transfers. These will generally be the fastest and least expensive options.
Transfer Fees
There are minimal fees applied to depositing funds into the brokerage, although that is not the case for transferring funds back out. Online transfers have no charge connected to them. Wire transfers from your Schwab account to an outside account are $15 - $25 per transfer. 
Timeline
Most bank deposits should be completed and settled within three trading days of the transaction.
Investing with Robinhood
You can skip to the Connecting your Bank Account section if you already have an account set up with Robinhood. If you are starting with a blank slate, here are some steps to get your account set up.
Signing Up for Robinhood
To create your Robinhood account, head

here

.

You will need to provide information such as email, phone number, SSN, etc.

Once you fill out your personal information, you will need to connect a bank account

This can be the one your funds were deposited into or a new one altogether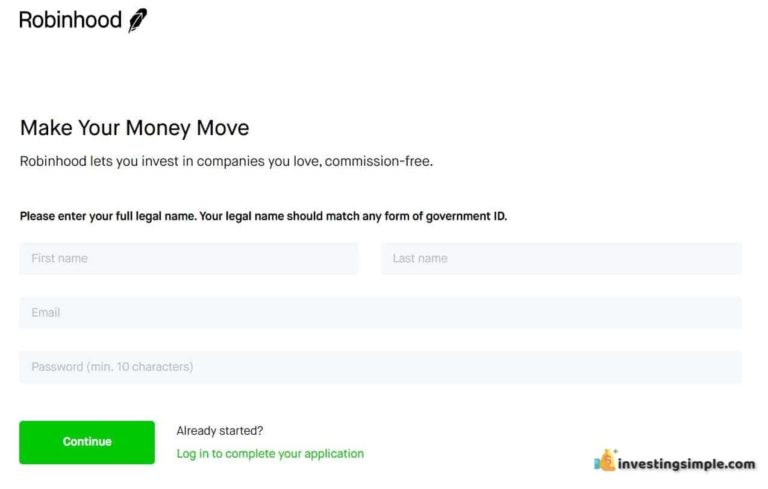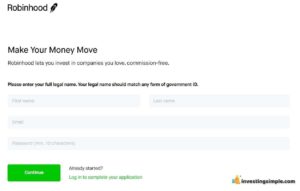 Depositing Funds into Robinhood
Mobile App
Tap the Account icon in the bottom right corner.

Select

Transfers

.

Tap

Linked Accounts

.

Tap

Add New Account

.

Choose your bank from the list of major banks, or use the search bar to search for your bank.

Enter your online banking username and password.

Choose the account you'd like to link.

Enter the amount you wish to add to your account.

Wait 3-5 days for the settlement period.

Start investing!
Desktop Website
Click

Account

in the upper right corner of the screen.

Click

Banking

.

Select

Add New Account

under Linked Accounts.

Choose your bank from the list of major banks, or use the search bar to search for your bank.

Enter your online banking username and password.

Choose which account you'd like to link.

Choose the amount of money you wish to deposit to your Robinhood account

Wait until the funds have settled in your new account

Invest away!
Robinhood Transfer Factors
Fees
There are no fees linked to signing up or depositing funds into your Robinhood account.
Timeline
Depending on your account activity, the time between requesting your funds' transfer and it being available for use in the app is approximately five days. It is important to maintain the deposit amount in your bank account on those days until the transfer is complete.
Limits
The most you can transfer into your Robinhood account in a single business day is $50,000.
Final Considerations
If the proper comparison has been done between these two brokerages, hopefully, this article can guide you through a safe and secure process of extending or starting fresh with Robinhood. As always, investing is an exciting journey and we wish you the best. Just remember that it doesn't need to be complicated; let us help make it simple.
Best Free Stock Promotions