Moving your investments from one financial institution to another can be a big decision.
Transferring your brokerage account from TD Ameritrade to E*TRADE is a straightforward process.
In this article, we will guide you through the steps to make the transition, ensuring a smooth and hassle-free account transfer.
Transferring an Account
E*TRADE offers a user-friendly "Transfer an Account" feature through their online platform.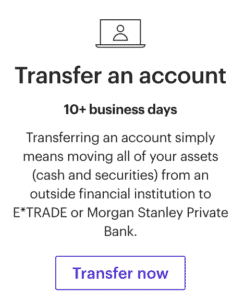 This method is the quickest and most convenient way to initiate the transfer.
Best Free Stock Promotions
Gather Required Information
You will need certain information from your monthly statement provided by TD Ameritrade.
Be sure to have the following details on hand:
The name of the delivering financial institution (TD Ameritrade)
Your account number at TD Ameritrade
Step-by-Step Guide to Transferring from TD Ameritrade to E*TRADE
Here's how to initiate the transfer.
1. Log In to Your E*TRADE Account
Begin by logging into your E*TRADE account. If you don't have one, you'll need to create one first.
2. Access the "Transfer an Account" Feature
Once you're logged in, navigate to the "Transfer an Account" feature within your E*TRADE account.
This tool is designed to guide you through the transfer process step by step.
3. Provide Necessary Information
Enter the information you collected from your TD Ameritrade monthly statement, including the delivering financial institution's name, your TD Ameritrade account number, and potentially more.
4. Review and Confirm
E*TRADE will guide you through the required forms and agreements.
Carefully review the provided information and make sure it's accurate before proceeding.
5. Initiate the Transfer
After confirming the transfer details, E*TRADE will initiate the process.
Your assets will start moving from TD Ameritrade to your new E*TRADE account.
Alternative Method: Paper Account Transfer Form
If you prefer a non-digital approach or if you are changing the account registration during the transfer, E*TRADE also provides a paper Account Transfer Form.
You can download and print this form from their website.
Complete the form, including all the necessary information, and mail it to the address provided by E*TRADE.
Understanding Transfer Fees
It's essential to be aware of the costs associated with transferring your account.
TD Ameritrade charges a $75 fee for outgoing account transfers. However, there is no fee to make partial transfers out of your account.
Keep this in mind when planning your transfer, as the fee will be deducted from your TD Ameritrade account.