If you're considering transferring from TD Ameritrade to Fidelity, this article will provide you with a step-by-step guide to make the process as smooth as possible.
What is Fidelity?
Fidelity offers a wide range of investment services and products, making it an attractive choice.
You can transfer various types of accounts and investments to Fidelity, including investment accounts, retirement accounts like IRAs, health savings accounts (HSAs), liquidated annuities, CDs, and holdings from your investment account.
The Transfer Process
Transferring your assets from TD Ameritrade to Fidelity is a straightforward process, typically taking 3–5 business days, depending on your current firm's rules and the types of accounts and investments being transferred.
Here's how it works.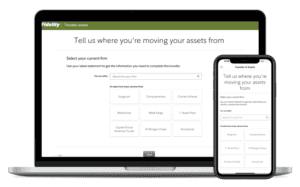 1. Submit Your Transfer Request (takes 5–7 minutes)
Start by initiating the transfer on Fidelity's website.
This step is typically straightforward and can be completed online. Fidelity will guide you through the necessary information and forms to get the process started.
During this step, you'll specify which assets you want to transfer and into which Fidelity account.
2. Fidelity Contacts Your Current Firm
Once you've submitted your transfer request, Fidelity will contact TD Ameritrade on your behalf to request the transfer of your account assets.
Fidelity's experienced team will handle this part of the process, ensuring that all necessary documentation and information are provided to TD Ameritrade.
3. Transfer Processing by Current Firm
TD Ameritrade will process the request and prepare to transfer the account assets to Fidelity.
This stage can take some time depending on TD Ameritrade's policies, but it's typically completed within a few business days.
4. Fidelity Deposits Your Assets
After TD Ameritrade has processed the transfer, your assets will be deposited into your selected Fidelity account.
You will receive confirmation from Fidelity once the assets have been successfully transferred. In most cases, the entire transfer process can be handled online.
Fidelity's user-friendly platform makes it easy for you to initiate the transfer, track its progress, and receive updates along the way.
Consider the ACAT Fee
It's important to be aware of the fees associated with transferring your assets.
In the case of TD Ameritrade, there is an outgoing ACAT (Automated Customer Account Transfer) fee of $75.
This fee is charged by TD Ameritrade when you initiate the transfer.