If you're considering moving your assets from TradeStation to E*TRADE, you're in the right place.
In this article, we'll walk you through the process of transferring your brokerage account from TradeStation to E*TRADE.
Best Free Stock Promotions
1. Prepare Required Information
To start the transfer process, gather the following information from your monthly statement issued by TradeStation:
The name of the delivering financial institution (TradeStation in this case)
Your account number at TradeStation
2. Use E*TRADE's Online Transfer Feature
E*TRADE offers a convenient online tool called "Transfer an Account."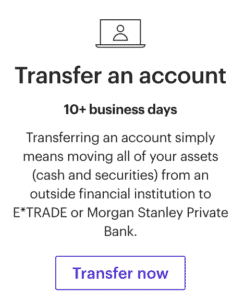 This feature simplifies the process and ensures a quicker transfer.
Here's how to use it:
Log in to your E*TRADE account.
Navigate to the "Transfer & Rollovers" section, which is usually found in the "Accounts" tab.
Select the "Transfer an Account" option.
The online tool will guide you through the necessary steps, including providing the information you gathered from your TradeStation statement. Be sure to double-check all the details for accuracy. E*TRADE will communicate with TradeStation to facilitate the transfer.
Paper Account Transfer Form (if needed)
If you prefer a more traditional approach or are changing the account registration during the transfer, E*TRADE offers a paper Account Transfer Form.
You can download this form from their website and complete it manually. Once filled out, mail it to the address provided on the form.
Consider the Costs
It's important to be aware of the associated costs when transferring your account.
TradeStation charges a fee of $125 for outgoing account transfers. This means you'll need to cover this expense when initiating the transfer.
Be sure to have the necessary funds available in your TradeStation account to cover this charge.