Robinhood has become synonymous with commission-free stock trading and user-friendly interfaces.
With its easy-to-navigate mobile app and web platform, it has captured the attention of many investors looking for simplicity.
If you're considering making the move from TradeStation to Robinhood, this guide will walk you through the process step-by-step.
Limited Time: Robinhood 1% Transfer Bonus
If you transfer an existing brokerage account to Robinhood through January 31st 2024, you can get an Unlimited 1% Transfer Bonus.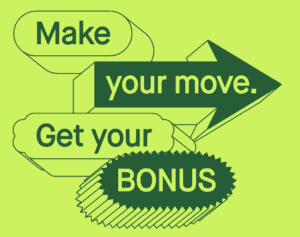 For example, if you transferred a brokerage account worth $50,000 - that would be a bonus of $500.
In addition, Robinhood offers a free stock for new users as well as a 1% IRA match for retirement accounts.
What is Robinhood?
Robinhood is a user-friendly, commission-free trading platform that has revolutionized the way people invest in stocks, ETFs, options, and cryptocurrencies.
Now, let's explore how you can smoothly transfer your assets from TradeStation to Robinhood.
Best Free Stock Promotions
Robinhood Free Stock
Robinhood offers new users a completely free fractional share worth between $5 and $200.
Sign up with the above button to get your free fractional share today!
1. Sign up for Robinhood
If you haven't already, sign up for a Robinhood account.
The process is quick and straightforward.
2. Open the app and click on the Profile Icon
Once your Robinhood account is set up, open the app on your mobile device and locate the Profile Icon.
This icon is usually located in the bottom right-hand corner of the screen.
Within your profile, you'll find a Menu Bar.
Click on it to access various options.
4. Select Transfers
In the Menu Bar, locate and select the "Transfers" option.
Select "Transfers Account Into Robinhood."

Within the "Transfers" menu, choose the "Transfers Account Into Robinhood" option.
5. Select your brokerage account or search for it
You will be prompted to select your current brokerage account. You can either select it from a list or use the search function to find it.
Enter your current brokerage account number found on your statement.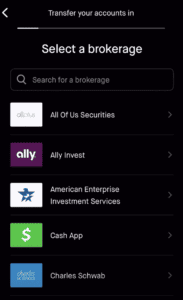 Double-check for accuracy.
6. Confirm the name on the account, it must match
Verify that the name on your TradeStation account matches the name on your Robinhood account. This step ensures a smooth transfer.
7. Answer the questionnaire
Robinhood will likely ask you a series of questions to ensure that the transfer process goes smoothly.
8. Continue with Full or Partial Transfer
You have the option to transfer your entire account or select specific assets for transfer.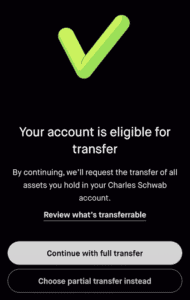 Choose "Full" or "Partial" depending on your preference.
Important Considerations
TradeStation charges $125 for outgoing account transfers, so be prepared for this cost.
Transfers typically take 5 to 7 business days, during which you won't be able to trade the assets being transferred. Plan your investment strategy accordingly.
Robinhood will reimburse the transfer fee your other brokerage may charge, up to $75 for transfers of $7,500 or more, making the transition more cost-effective.
It's important to note that Robinhood only accepts assets from individual cash, margin brokerage accounts, or traditional or Roth.