In this article, we cover the steps required to transfer crypto from Trust Wallet to Robinhood.
Trust Wallet is a crypto wallet app that supports a wide range of cryptocurrencies.
Robinhood, on the other hand, offers a wide range of financial products from an investing account to crypto investing and even retirement accounts.
If you're looking to move your assets from Trust Wallet to Robinhood, you'll need to set up a Robinhood Crypto Wallet.
Let's dive in!
Limited Time: Robinhood 1% Transfer Bonus
If you transfer an existing brokerage account to Robinhood through January 31st 2024, you can get an Unlimited 1% Transfer Bonus.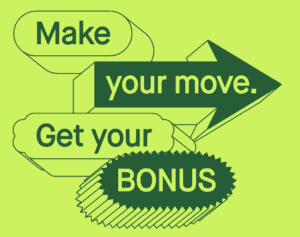 For example, if you transferred a brokerage account worth $50,000 - that would be a bonus of $500.
In addition, Robinhood offers a free stock for new users as well as a 1% IRA match for retirement accounts.
Best Free Stock Promotions
1. Open A Robinhood Account
First, you will need to open a Robinhood account if you do not already have one.
Use the button above to get a completely free stock when you sign up!
2. Enable Robinhood Crypto Wallet
In order to set up your new wallet, you will need to verify email as well as your identity with a picture of your license.
You will also need to download an authenticator app.
Robinhood will provide you with step by step instruction within the app on how to create your wallet, or you can import an existing crypto wallet.
If you have your passkey phrase handy for your Trust Wallet, you can enter it - but keep in mind, Robinhood only supports a small handful of cryptos. 
If you own cryptos in your Trust Wallet that are not supported by Robinhood, this is not a recommended method.
3. Locate the Desired Wallet Address From Robinhood
In this case, that location is going to be a crypto wallet from Robinhood.
Each crypto has a specific wallet, and each wallet has a specific address. If you want to send Bitcoin for example, then you need to ensure you are using the Bitcoin wallet.
Make sure you double check all of these details to ensure you don't lose your assets!
This address can be found in Robinhood quickly and easily:
Locate the desired crypto by tapping on the search icon in the bottom menu and typing in the crypto you want.
Scroll down and tap on the "Receive" button.
Tap on the "Copy Address" button.
4. Transfer From Trust Wallet To Robinhood
This process is pretty straightforward:
Choose the crypto you want to withdraw within Trust Wallet.
Select the "Send" button.
Paste your Robinhood wallet address that you just copied in the previous step.
Set the amount of crypto you want to send, and press "Next."
Review transaction details, double-checking that your wallet address is correct and

matches

the cryptocurrency.
Press "Confirm" to complete your transfer.
Don't forget to grab your free stock worth up to $200 from Robinhood today!