Investing today looks very different than it did just 10 years ago. Today, investors have a plethora of investing platforms to choose from, all with various features and benefits.
Vanguard is certainly a pioneer when it comes to investing. Additionally, they have adapted to the new environment with an investing app that offers commission free trades and a number of research tools and capabilities.
However, Vanguard is limited when it comes to cryptocurrency and may not be the most beginner friendly option.
Robinhood, on the other hand, was built for investors of all levels! Though the cryptocurrency offering on Robinhood is light, they do support 11 coins and have plans to add more.
If you are interested in making the switch, then this is the article for you. Here, we cover all the steps required to transfer from Vanguard to Robinhood. Let's jump right in!
Limited Time: Robinhood 1% Transfer Bonus
If you transfer an existing brokerage account to Robinhood through December 8th, 2023, you can get an Unlimited 1% Transfer Bonus.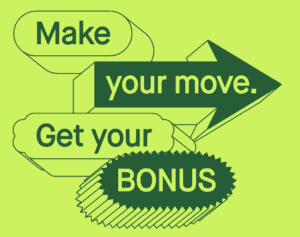 For example, if you transferred a brokerage account worth $50,000 - that would be a bonus of $500.
In addition, Robinhood offers a free stock for new users as well as a 1% IRA match for retirement accounts.
Best Free Stock Promotions
Transfer From Vanguard To Robinhood
Transferring assets from Vanguard to Robinhood is actually quite simple as both brokerages support ACATS (Automated customer account transfer service).
With ACATS, you do not have to liquidate your positions and create a taxable event. Instead, you transfer the asset ownership to a new brokerage.
This process can be completed in just a few minutes, though the assets may take up to 7 business days to appear.
Robinhood does not charge for this type of transfer, though Vanguard does. There will be a $75 transfer fee from Vanguard that will be taken from your account balance. Robinhood will actually reimburse you for this fee. In order to get the reimbursement, you will need to reach out to Robinhood's customer service team.
In order to transfer from Vanguard to Robinhood, you will need to follow the steps below:
Open a Robinhood Account
Gather Information From Vanguard
Initiate an ACATS transfer
Let's jump into each of these steps in more detail!
1. Open A Robinhood Account

Opening an account with Robinhood is fairly simple. If you already have an account, you can skip to the next step!
To apply for a Robinhood account, you'll need to meet the following requirements:
Be 18 years or older
Have a valid Social Security Number (not a Taxpayer Identification Number)
Have a legal U.S. residential address within the 50 states or Puerto Rico (there may be exceptions for active U.S. military personnel stationed abroad)
Be a U.S. citizen, U.S. permanent resident, or have a valid U.S. visa.
Use the button above to get a completely free stock when you sign up!
If you meet these requirements, you are then ready to open a Robinhood account. The process is pretty simple and can be completed by submitting an application in the app. After downloading the app, you will select the register option. The application will then be reviewed and takes a few days for review. You will either receive an email confirming your account or asking for more information.
2. Gather Information From Vanguard

In order to initiate the ACATS transfer from Vanguard to Robinhood, you will need to find your account number.
In the Vanguard app, you can find your account number by opening the app and logging in to your account. Tap on the "My Accounts" selection. There, you will see your 8 digit account number.
3. Initiate ACATS Transfer
Once you have your account number, the transfer is pretty simple. If you don't already have a Robinhood account and need to create one, then one of the account funding options will be to transfer from another brokerage. That is the option you would select in this instance. With that option, you will need to input your Vanguard account number and follow the steps as prompted.
If you do aleady have a Robinhood account, then you will perform the steps below within the Robinhood app.
Tap the person icon along the bottom navigation menu
Tap the three lines icon in the top left
Select "Transfers"
Choose "Transfer accounts into Robinhood"
Select Vanguard by typing it in the search bar
Enter in your account number
Confirm your account name
Answer whether or not your Vanguard account has mutual funds or bonds
Choose full or partial transfer
Review the transfer and submit
This process can take up to 7 business days.
If you select the partial account transfer, then you will be able to select which assets you want to move.
You ought to be aware that you are not able to transfer the following assets:
Fractional shares
Cryptocurrencies (crypto cannot be transferred in an ACATS transfer though they can be transferred using the new Robinhood crypto wallet.)
Options contracts expiring within 7 days
Unsupported options strategies
Mutual funds
Bonds
Futures
Annuities
These types of assets will need to be liquidated prior to requesting the transfer.
Transfer From Vanguard to Robinhood: Final Thoughts
Because both brokerages support ACATS transfers, this process is actually pretty easy.
After locating your Vanguard account number, you will simply follow the steps in the Robinhood app as highlighted above.
Before initiating this transfer, be sure to double check which assets cannot be supported and liquidate those positions first.
After you complete this transfer, the funds will appear within 7 business days. You can actually track the progress of the transfer in your account when logged into the app.
If you have any questions, you can reach out to the Robinhood customer service team.
Don't forget to grab your free stock worth up to $200 from Robinhood today!