Transferring your investments from one brokerage to another is a common occurrence in the financial world.
In this article, we'll guide you through the process of transferring from Webull to Fidelity.
What is Fidelity?
Fidelity offers a multitude of reasons to consider it as your new brokerage.

You can transfer all or part of an investment account, including specific investments in kind, retirement or health savings accounts (IRAs and HSAs), liquidated annuities, CDs, or holdings from an investment account.
Fidelity provides a robust platform and a wealth of resources for investors, making it a compelling choice for many.
Best Free Stock Promotions
Transfer Time and Process
The transfer of assets from Webull to Fidelity typically takes between 3 to 5 business days, depending on your current firm's rules and the type of accounts and investments you're transferring.
Here's a breakdown of the process.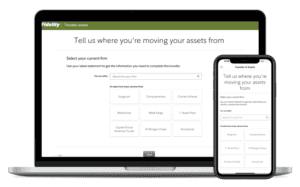 1. Submit Your Transfer Request (usually 5–7 minutes)
The first step in transferring your assets to Fidelity is to submit a transfer request.
This can be done online and is a relatively straightforward process.
You'll need to provide some basic information about your current accounts and the assets you wish to transfer.
2. Fidelity Contacts Your Current Firm
Once you've initiated the transfer request, Fidelity will take over the process. They will contact your current brokerage firm to request the transfer of your account assets.
This step ensures a smooth transition of your investments.
3. Current Firm Processes the Request
Your current brokerage firm will process the request from Fidelity and prepare to transfer your account assets.
This may involve selling certain investments or transferring them in kind, depending on your preferences and the assets involved.
4. Fidelity Deposits Your Assets
After your current firm has completed the necessary steps, they will send your account assets to Fidelity. Fidelity will then deposit these assets into your selected account, ensuring that your investments are safely and securely transferred.
In most cases, the entire transfer process can be handled online. This means you don't need to visit physical locations or deal with extensive paperwork.
Fidelity's user-friendly online platform makes it easy for you to initiate and monitor the transfer, ensuring a hassle-free experience.
Transfer Fees
It's important to be aware of any fees associated with transferring your assets.
When transferring stocks from Webull to Fidelity (outgoing), you may incur a fee of $75.00.
This fee is assessed by Apex, the clearing agent for Webull.
It's essential to consider these fees when planning your transfer to ensure you're making a financially sound decision.