Trim App
Summary
Trim is a useful app for those looking to save money and keep track of their financial life. The free plan comes with bill negotiation and features for monitoring your spending. They will also make you aware of any subscriptions you are currently paying for. Trim offers bill negotiation, however they keep a third of any money they save you. The premium plan is $10 per month and offers some other useful features like medical bill negotiation and automatic subscription cancellation.
Pros
100% free plan available
Trim will alert you about monthly subscriptions you are paying for
Very user friendly app
Bill negotiation is available for a fee (percentage of refund)
Cons
Premium plan costs $10 per month
Trim keeps one third of bill negotiation refunds
No investing tools
Common scenario: You open your mailbox every day and find it stuffed with junk mail.
Have you ever really looked at it? Maybe you give it a quick glance from time to time, then toss it. But here's the thing... frequently, the ads contain offers for savings on things like cable and internet service.
Next question: Have you ever followed up on this deal to reduce your rate?
If you're like us, the answers to these questions is a resounding "no."
Why don't we do this, if it means saving money? Frequently, we don't even have a handle on how much we're spending! Most of us have auto-pay for our monthly expenses and don't even look at where we're spending money. Next, we know it will take a phone call involving being on hold for an interminable time and haggling with unfriendly customer service associates.
Then there's the big question: how long will this "special rate" be offered?
Typically, it is for a very limited time averaging around six months. After that, your account will rise right back to where it was, even after all the work you've done to reduce it.
It's frustrating to say the least.
Or maybe you joined the cosmetic of the month club, or even the fitness club, but you get tired of mascara and don't use the gym despite your best efforts. But it's not high on your list to track down the website/phone number to cancel the subscriptions. You put it off until next month, and soon it becomes buried in the other busy aspects of your life.
Another common scenario is when you use Amazon for everyday purchases from protein bars to shampoo. Frequently, you pay the price listed, but then, for whatever reason, the price drops.
It's all enough to tear your hair out!
What Is Trim App?
Now, there is a simple option to take all these worries out of your hands. It's called Trim, an AI automated bill negotiation tool designed to find you savings in all aspects of your spending habits.
How effective is this 5-year-old innovation? To date, Trim users have saved a cumulative total of more than $40 million after signing up.
Trim can:
Negotiate your cable, internet and/or phone bill with any provider, lowering your bill by up to 30%.
Analyze your transactions so you can quickly and easily understand where your money is being spent.
Recognize recurring charges to make sure you don't have any forgotten or unwanted subscriptions.
Provide personalized recommendations for the right financial accounts for you.
A lot of businesses out there rely on the subscription model. They get you to sign up for something with a free trial, knowing that you are likely going to forget about it. Then, they perpetually bill you every single month until you cancel it. Trim alerts you to all of these subscriptions across all of your different bank accounts and credit cards.
They also go to bat for you and negotiate with certain service providers such as television and cable. They use the chat support to try to get you a better rate. If they can't negotiate a better rate, they will often recommend a cheaper service in your area offering the same thing.
How Much Does Trim Cost?
This service could come with its own high price tag. However, and this important to note, Trim doesn't get paid a penny until they save you cold hard cash.
Once they've uncovered savings for you, Trim pockets 33 percent of annual savings. For example, if Trim saves you $10 a month for 12 months, you would have saved a total of $120. Trim would keep just a third, or $40.
On the off chance they don't find any savings for you, you will pay nada.
Seems like a good deal to us.
It is also important to remember that this money Trim finds for you falls under the category of "found money." It is money you would not ordinarily have, unless you spend your Saturday mornings going through your junk mail and calling the cable company to negotiate.
Trim Premium Plan
Trim offers new premium plan for $10 a month that includes the following features:
Bank Negotiation - They get on the phone with your bank to negotiate credit card interest rates, fees etc.
Medical Bill Negotiation - If you have medical bills, they call the offices and try to get you a better rate or on a payment plan.
High Yield Savings - Simple Savings comes with a 4% yield on the first $2,000 that you save in the account.
Automatic Credit Card Payments - You can automate transfers to credit card companies with Trim to pay debt down faster.
Subscription Cancellation - If Trim finds unwanted subscriptions for you, they will also cancel them for you on your behalf.
Financial Coach - Unlimited access to financial planners via email where you can ask questions.
Trim is also compensated by third-party partners, such as credit card issuers, for referring customers to them.
Trim's new Simple Savings comes with a 4% annual reward on the first $2,000 that you save in the account. The rate is 0% after that, unfortunately.
Trim's new TrimPay has a goal of getting your credit card debt down to zero. You select which card you want to pay off, then set up automatic weekly transfers to TrimPay. TrimPay will send this additional payment on a day of the month you choose.
Trim's premium subscribers also get unlimited access to an elite list of financial planners for one-to-one info and advice.
How To Get Started?
Signing up for a Trim account is completely free. Your free account gives you a personal finance dashboard, personalized spend alerts and reminders, detection and fighting of overdraft fees, finding and cancelling old subscriptions, and more.
Once you create an account, you'll be prompted to connect your Facebook messenger or phone number so Trim can communicate with you. Then, securely connect your primary bank account and/or credit card so Trim can start finding savings and recommendations for you.
How Does Bill Negotiation Work?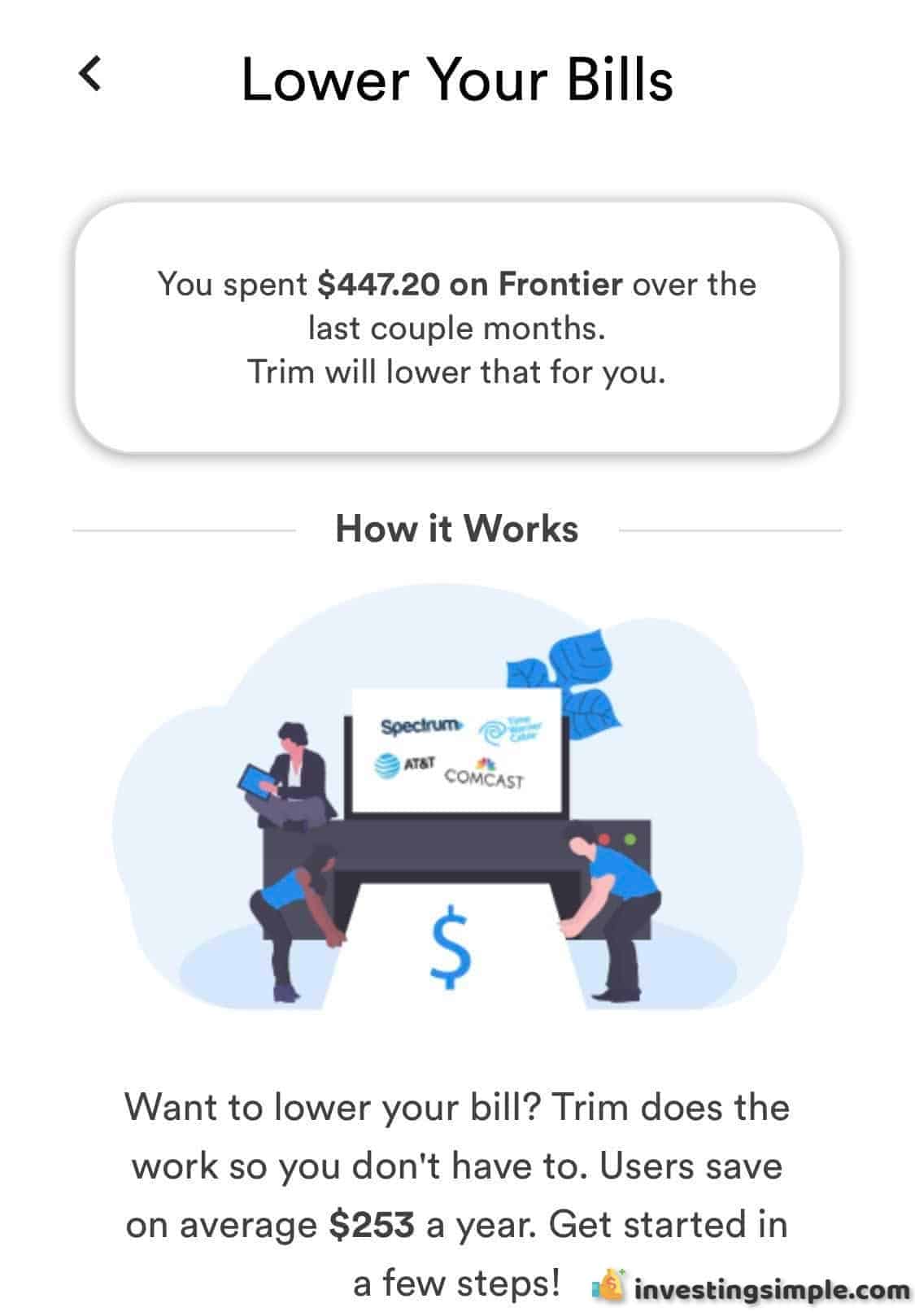 First, you provide them with the info about your service provider account and current bill by either uploading or sending a bill or logging in through the platform. As soon as you do this, Trim will get to work on finding better plans and promotions and negotiating savings on your behalf.
How are these negotiations done? Either by utilizing a Chatbot, or, if needed, an actual live person from the Trim team will actually place the call.
But wait, that's not all! Aside from the initial savings, Trim continues to monitor your bills and will negotiate whenever they see an opportunity to save you money. Trim is essentially a money saving robot that is looking for ways to save you money 24/7.
How Does Subscription Cancellation Work?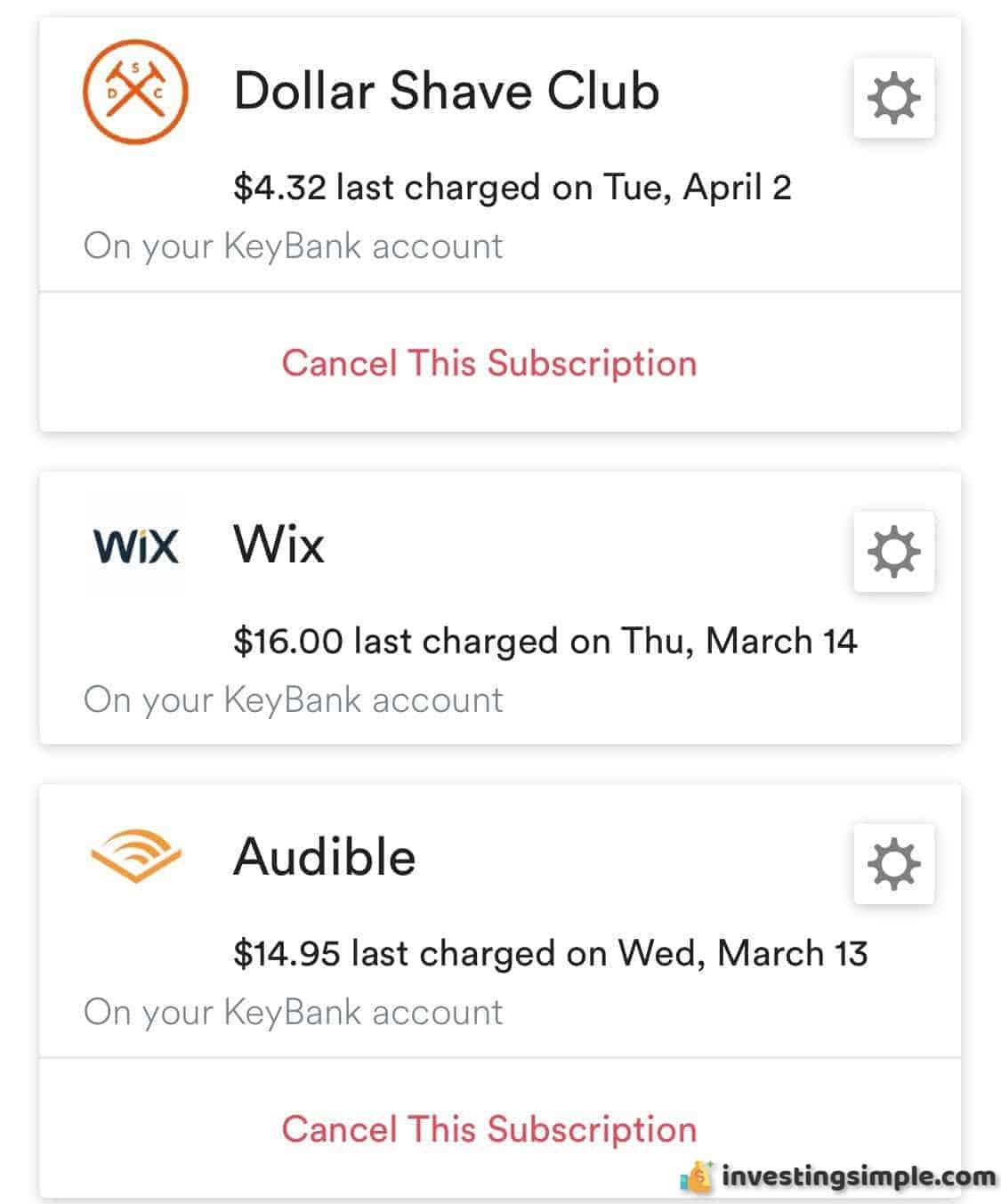 If you're like us, you have a bunch of old subscriptions you've forgotten to cancel? Maybe it's a fly-fishing mag for a sport you are no longer interested in. Or country lifestyle, when you've decided to go modern. Trim will analyze recurring subscription payments and give you the option of getting out from under them.
According to Forbes, these pesky subscriptions can get pretty costly. On the low end, they are often $6.99 or less. The middle range is $7 to $20 per month and on the high end they can cost as much as $20 to $50 per month! It is important to keep track of these.
First, it will send you a text supplying you with the subscription details – including what it's costing you – then give you the choice to opt out. If you pay for the premium service, Trim can cancel these subscriptions for you on your behalf. If you just have the free version, you will have to contact the company and request a cancellation.
Trim will also help you take advantage of those special introductory rates or teaser rates that often end without warning. Maybe you were sold a cell phone plan that seemed amazing…but after 12 months, that plan doubled. Or there's a new offer from your cable company you never even knew about. In both cases, Trim will work hard to get you a better deal.
Is Trim Safe/Secure?
A lot of people are weary of apps that have connections to your important financial accounts. Rest assured, your data and information is safe and secure with Trim.
Trim uses can securely connect to more than 15,000 financial institutions across the US. During the registration process, you will need to enter your online banking credentials. Trim does not store your info or sell it to third parties.
Trim hosts its servers seamlessly using Amazon Web Services (AWS), a secure online data storage and hosting service that's used by the Department of Defense, NASA, and the Financial Industry Regulatory Authority (FINRA).
Again, your data on Trim servers won't ever be available for access or to be used by any other party. And it will not be sold or shared in any way without your permission.
What Else Does Trim Offer?
Trim has expanded to tackle even larger financial woes seeping into all aspects of your financial wellness. Some of these include managing a budget, getting out of debt and planning for a healthy retirement.
Trim will help manage those financial worries that keep you up at night, such as how do I get out of debt? Do I have enough money in my emergency savings fund? Will I have enough money to retire someday? Am I financially healthy?
Do you have a goal to hit a specific marker in your emergency savings fund? Trim can make saving money painless. Trim Simple Savings is an automated savings account that provides a 4% bonus APY on the first $2,000.
Simple Savings allows you to set it and forget it with automated weekly transfers of an amount specified by you from your selected checking account.
Automated weekly transfers make it easier to part with your hard-earned cash. Before you know it, that emergency fund will meet, or even exceed your goals.
Pay Off Debt
Trim can now help you dig your way out of debt.
They will help you map out a custom payoff plan, lower your Annual Percentage Rate of interest (the interest you pay for borrowing money), and even give you access to expert advice from financial coaches. The Debt Payoff program is $10 a month, since it is part of Trim Premium, and comes with a 90-day money back guarantee.
Monitor Spending
It's easy enough to set a monthly budget; not so easy to stick to it. Trim helps you track where your money goes by keeping tabs on all your transactions. Trim tracks and organizes your transactions so you can watch where your money is being spent.
You may not remember that dinner out with your significant other, but Trim will find that expense in your spending history. Had to buy new gym clothes? You may regret that $100 expense and wish you'd worn your old t-shirt after you see money lost on impulse purchases.
You can even get a breakdown of what you spend by category, such as entertainment, gas or groceries. Or imagine this, you can uncover how frequently you shop by specific merchant (Hello, Amazon!) through a simple texting maneuver, rather than sifting through your lengthy transaction history. It helps you sort the spending categories wisely (travel, food, online).
Other Recommendations
Do you have the right credit card? Trim will recommend cards that get you the best rewards based on your credit score. It is important to note that Trim will often receive payments from these different companies for making these recommendations.
Final Verdict: Trim
We highly recommend Trim for its many money-saving services that continue to expand for your financial health. It's like having a financial planner at your fingertips, and best of all, it doesn't scold or judge!
If you simply want to keep track of your spending and be alerted about subscriptions you may have forgotten about, the free plan will be just fine. They still offer the bill negotiation service where they keep one third of the money they find you.
For those looking for more advanced features, such as high yield savings and subscription cancellation, the premium service may interest you. If you think of it this way, Trim essentially pays for itself since they are able to help you cancel unwanted subscriptions and save money.
Best Free Stock Promotions
Keep Reading: