Trim App Review
Investing Simple is affiliated with Trim. This relationship does not influence our opinion of this app.
This happens to us all the time, and we're willing to bet you share our frustrations when you take advantage of a "one time" or "special" offer from your cable or phone company or internet service provider. Then forget about it, somehow believing that stellar rate is yours for eternity. News flash: that great rate ended 6 months ago and now you're paying a hefty increase.
Or, how about this scenario? You join the latest subscription club offering monthly shipments of fruit/exercise apparel/shavers (you name it, they'll sign you up), then decide after a month you don't want those spandex leggings or apples. But you lack the time, energy and gumption to track down the numbers to call and negotiate your way outta the club, leaving you with way too much fruit and yoga shirts.
To the rescue comes Trim, the latest artificial intelligence-based endeavor on a mission to tie up those loose ends that cost more than you think. We are going to be reviewing the Trim app, providing a unique solution to this problem.
What Is Trim?
Billed as a "holistic financial health company," Trim launched in 2015 with a noteworthy goal of helping people like us overcome spending challenges. It garnered the spotlight with its automated bill negotiation tool that does the footwork for you when you're looking for a better rate on service providers like cable and internet.
The numbers are in, and they are impressive: To date, Trim users have saved more than $20 million after signing up with Trim to keep an eye on their day-to-day finances and uncover ways to cut unwarranted (and even extravagant) expenses. Ready to save?
Click here to learn more about Trim!
How Much Does Trim Cost?
One of your first questions, understandably, is "what's this gonna cost me?" Trim doesn't get paid a penny until they save you cold hard cash. Once the savings are in the works, Trim pockets 33 percent of annual savings. And we've found very little small print in Trim disclosures. Instead, they are quite transparent and even we can do the math to quantify our savings.
Using top secret automated bill negotiation tools, Trim will find the best rates for your cable company, internet and/or phone service provider, lowering your bill by up to 30 percent according to company literature. They work with companies including: Comcast, AT&T, Time Warner, Verizon, Charter, T-Mobile, DirecTV, Spectrum and Sprint. If you have some obscure provider, you can even upload or email a bill and Trim will talk to them about savings too.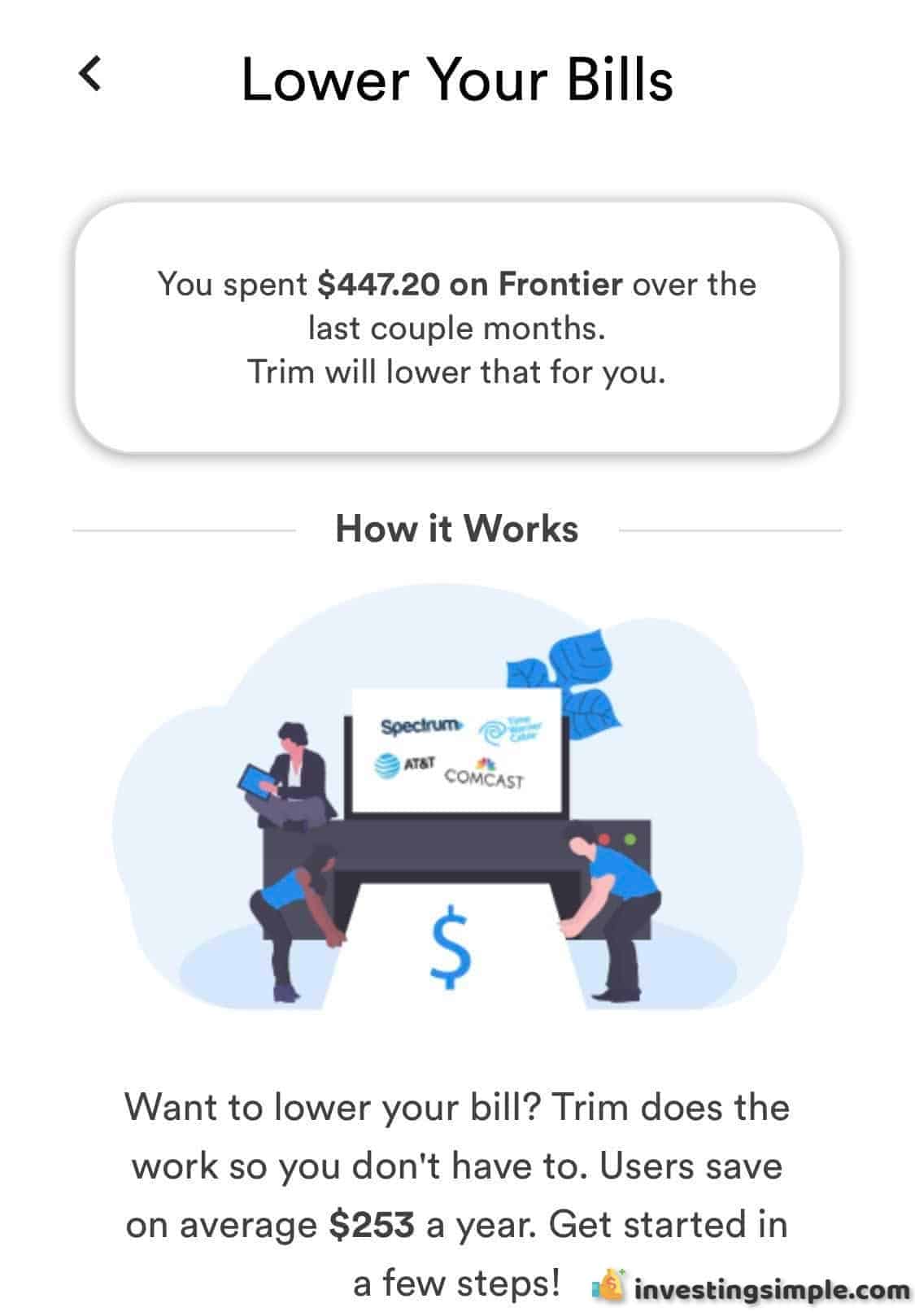 But wait, that's not all! Aside from the initial savings, Trim continues to monitor your bills and will negotiate whenever they see an opportunity to save you money. Trim is essentially a money saving robot that is looking for ways to save you money 24/7.
How Trim Works
One of the primary ways to save you money on your service bills is through credits for power outages. You may not even realize it, but last month's storm may have caused your cable to go out for a couple hours, and you're not responsible for paying for that lost time.
How are these negotiations done? Either by utilizing a Chatbot, or, if needed, an actual live person from the Trim team will come to the rescue and place the call.
Now, what about those old subscriptions you've forgotten to cancel? That gardening mag you ordered and then realized you had a black thumb? A wedding guide that keeps renewing long after you said your vows? Trim will analyze recurring subscription payments and give you the option of getting out from under them.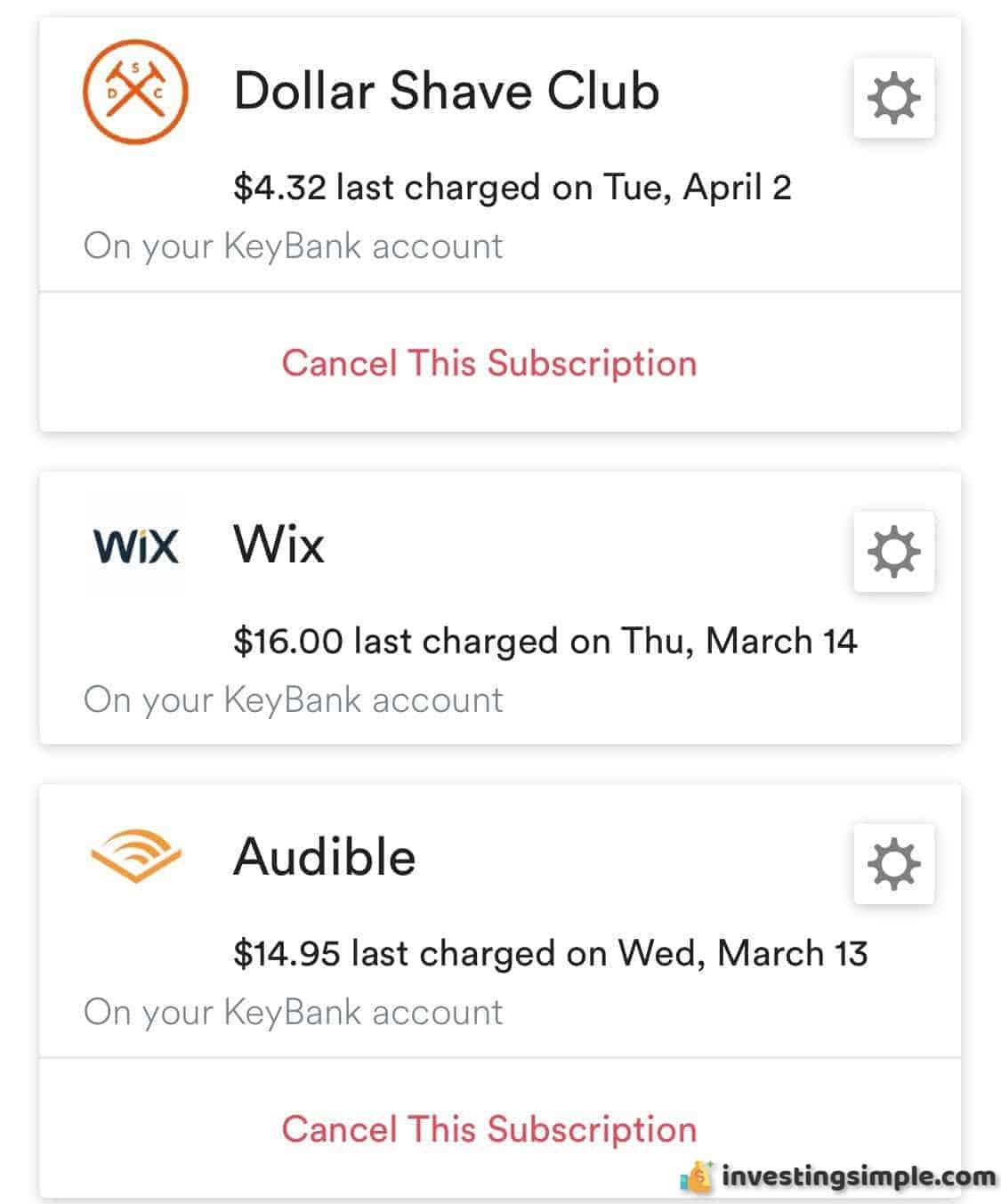 First, it will send you a text supplying you with the subscription details – including what it's costing you – then give you the choice to opt out. If you decide to do away with any, Trim will cut you loose by alerting the company that you're officially cancelling. Done and done.
Trim will also help you take advantage of those special introductory rates that often end without warning. Maybe you were sold a cell phone plan that seemed amazing…but after 12 months, that plan doubled. Or, there's a new offer from your cable company you never even knew about. In both cases, Trim will work hard to get you a better deal.
Since it's free to sign on with Trim, there appear to be very few cons. There's a mobile optimized website but not mobile app to date, and of course you must be ok with linking your financial accounts to your profile. Nervous? Check out the security details below.
Click here to learn more about Trim!
Is Trim Secure?
Trim uses Plaid to securely connect to more than 15,000 financial institutions across the US. During the registration process, you will need to enter your online banking credentials. Company literature promises these credentials never touch their servers and are never stored in any way.
Your credentials are sent through Plaid to your bank or credit card provider. Plaid then sends back an encrypted token to Trim.
This token provides read-only access to your transaction data. Trim cannot move money or make any changes to your account. As an added reassurance, you can revoke their read-only access token at any time.
In addition, some banks and credit card providers have complex security measures, such as multi-factor authentication using security codes, challenge questions, or phone confirmation.
Trim uses 256-bit SSL encryption for its website and all server-side databases. If you sign up to get notifications via SMS, you will need to set up two-factor authentication when you register for Trim. Then, you will need to confirm your identity using 2FA for any sign-in using a new device, or if your security token has expired. For users who sign up using Facebook Messenger, Trim relies on Facebook's implementation of the OAuth protocol to ensure secure sign-in.
Trim hosts its servers seamlessly using Amazon Web Services (AWS), a secure online data storage and hosting service that's used by the Department of Defense, NASA, and the Financial Industry Regulatory Authority (FINRA).
Again, your data on Trim servers won't ever be available for access or to be used by any other party. And it won't be sold or shared in any way without your permission.
After the initial burst of excitement over bill negotiation, Trim founders expanded to tackle even larger financial woes seeping into all aspects of your financial wellness. Some of these include managing a budget, getting out of debt and planning for a healthy retirement.
What Trim Does For You
1. Automating Savings
Have a goal to hit a specific marker in your emergency savings fund? Trim's "Simple Savings" can give you a hand setting goals and tracking progress. Automated weekly transfers make it easier to part with your hard-earned cash. Before you know it, that slush fund will meet, or even exceed your goals.
2. Monitoring Spending Habits
Trim tracks and organizes your transactions so you can watch where your money is being spent. You may not remember buying two rounds of Margaritas last weekend, but Trim will find that expense in your spending history. Had to buy new gym clothes? You may regret that $100 expense and wish you'd worn your old t-shirt after you see money lost on impulse purchases.
You can even get a breakdown of what you spend by category, such as entertainment, gas or groceries. Or imagine this, you can uncover how frequently you shop by specific merchant (Hello, Amazon!) through a simple texting maneuver, rather than sifting through your lengthy transaction history.
3. Monthly Monitoring
Wonder why you had more cash a few weeks ago, but you're broke now? Trim will give you a snapshot of your spending trends across the months. Maybe this will help you re-think those daily bagels with cream cheese that come with an outrageous price.
Click here to learn more about Trim!
4. Staying On Track
It's easy enough to set a monthly budget; not so easy to stick to it. Trim helps you track your day-to-day progress Set a monthly target budget and check your progress (or back slide) all throughout the month.
5. Recommendations
Do you have the right credit card? Trim will recommend cards that get you the best rewards for your credit score.
6. Paying Off Debt
Trim can now help you dig your way out of debt. They will help you map out a custom payoff plan, help lower your Annual Percentage Rate of interest, and even give you access to expert advice from financial coaches. The Debt Payoff program is $10 a month and comes with a 90-day money back guarantee.
The Verdict: Trim
Trim reps promise to roll out even more ways they will help users find the golden path to financial wellness. Hey, it beats writing down expenses in a notebook or sweating over a spreadsheet. Let us know your experiences with Trim and how it compares with other finance apps. Happy saving!
Click here to learn more about Trim!