Twine vs. Digit
[bg_collapse view="link-list" color="#4a4949" expand_text="Disclaimer" collapse_text="Close" ]Investing Simple is affiliated with Twine. This relationship does not influence our opinion on this platform.[/bg_collapse]
We have countless choices for saving and investing platforms. It seems like every day, there is a new app being released. We created this blog, Investing Simple to provide clarity when trying to understand all of these different options you have in front of you. In this review, we're going to compare two money-saving platforms that are rising in popularity, Twine, and Digit. Both of these platforms offer a similar service for the potential investor or saver.
What Is Twine?
If there was a way to grow a savings account, get into investing, and meet your financial goals, would you be interested?
Introducing Twine, investment, and savings platforms designed to make all this easy!
It all starts with you. You set your monthly savings goals for purchases ranging from small (a new bike helmet) to larger (a new washing machine). Going at it alone? You can set up an individual savings and investment account. Have a partner? Twine lets you open a joint savings and investment account, so you and your partner can work in tandem towards your goals.
Right now, Twine is offering a starting credit of $5 for you.
How Does Twine Work?
Get into it now using the Twine investment platform by opening an account here.
Once you've created the account, consider your short and long-term savings goals. How much will you pay for the Twine savings platform? There are no fees. You read that right. No fees for saving money with them.
You can also invest your savings using the Twine platform for a 0.60% annual fee. Twine portfolios are created for investors who love the thrill of risk, and also for investors who love the safety of low-risk.
As you begin to approach your goal, Twine uses algorithms to adjust your portfolio and keep your money increasing.
Savings Goals With Twine
Once you've opened an account – by yourself or a joint account with a partner - you come up with savings goals and also amounts to contribute. Consider setting up recurring payments, so that's one less thing you have to think about as you start taking steps towards those financial goals. Another smart idea: linking your bank accounts to the Twine account to make saving toward your goals effortless.
This all comes at an astonishingly low cost: You can set up a Twine savings account with just 5 bucks. What's more, the Twine savings account yields interest rates far higher than most typical bank accounts, with a current yield 1.05% variable interest.
Twine Investing
Now let's talk investing. After you've set up your Twine savings account, you'll want to start investing some of that money to fast-forward your growth and move towards long-term goals. As your goal comes within reach, your Twine portfolio will auto adjust to help you reach them, or even out-distance them.
The Twine investment platform offers a huge variety of portfolios, all designed to meet your risk and goals. To get started, all you need is $100. Fees are based on 0.25% monthly for each $500 invested, which is 0.60% annually. Twine platform investment portfolios use Exchange Traded Funds (ETFs). Many well-known fund companies, such as Vanguard, are used in Twine portfolios.
Conservative Portfolio
The conservative portfolio is designed for investors who are looking for stable ground in their investments, rather than taking on risk and have a goal within 5 years. Because it is less risky than other Twine portfolios, this conservative one could yield lower returns.
This option is 6% stock ETFs and 94% money market and bond securities. The percentage of stocks may decrease to 4 or 5% as you near that goal.
Moderate Portfolio
As you can guess, the moderate portfolio comes with additional risk, but also generates slightly higher returns than the conservative portfolio. This choice of the portfolio will be 10% (or less) in stocks, and 90% money market and bond funds for goals under 5 years. If you have a longer-term goal, for example, 10-15 years, your portfolio will be 55% to 70% stocks. As your goal is approached, your stock allocation will be about 70%.
Aggressive Portfolio
The aggressive portfolio is perfect for people who want higher risk, given the fact it may also yield higher returns. If you have under 5 years for your goal, this portfolio option includes 70% money market and bond funds, and 30% (or less) stocks. Have a longer-term goal? If you have 10-15 years, the aggressive portfolio will direct around 80% of your portfolio into stocks, and as your goal becomes longer-term, this amount will rise.
Dividend Reinvestment
The more you earn in dividends, the higher your savings account balance will be. All of the dividends you earn will be deposited into your cash savings account.
Once your cash account exceeds the goal you've set, it will be reinvested into your Twine portfolio, where it will earn compound interest.
Account Protection
The Federal Deposit Insurance Corporation (FDIC) protects your cash up to $250,000 per account. The Securities Investor Protection Corporation (SIPC), will cover the securities in your account up to $500,000, and $250,000 for cash.
Twine Fees
It's free to open a Twine savings accounts. You will need at least $100 for an investment account. After that, fees are just $0.25 monthly for each $500 invested (or 0.60% annually).
Twine Pros
Backed by reputable company John Hancock.
Easy to start-up.
The flexibility of either individual or joint goals and savings accounts.
Lower fees (0.60% annually) when compared to industry averages.
Twine Cons
No IRA or retirement account platform.
Although the fee is very low, other similar investing platforms are cost-free.
No guidance offered by investment experts.
What Is Digit?
Digit is a money saving app with a unique goal. They want to make the act of saving money as easy and painless as possible. Instead of relying on you to do the saving, Digit does it for you. You simply link this app to your bank account and allow Digit to analyze your spending and income. Each week, the money will be withdrawn and moved to your savings account. They are analyzing your spending day in and day out. Money is moved from your checking account to an FDIC insured Digit deposit account. Unlike most bank accounts, Digit does not pay any interest. Instead, they pay a 1% annual savings bonus. They also charge $2.99 a month for the service after the first 30 days.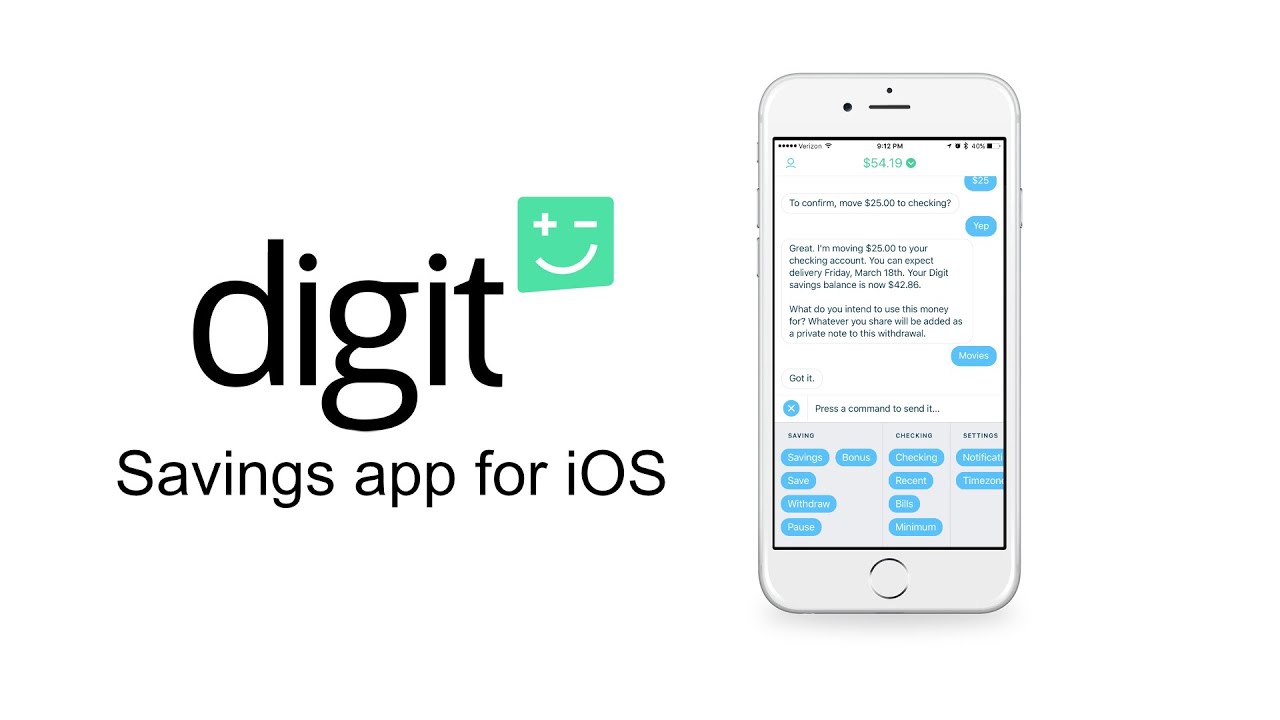 Digit Fees
They charge a subscription of $2.99 per month to use the service after the first 30 days.
Digit Pros
Offer a passive, hands-off approach to saving money.
Free for the first 30 days.
Digit will reimburse the first two overdraft fees.
Annual 1% savings bonus.
Digit Cons
They charge $2.99 per month after the first 30 days.
No interest on the account.
No option to invest your savings through Digit.
Digit vs. Twine: The Verdict
If you are strictly looking at the savings feature of Twine versus Digit, we believe that Digit is for someone who needs a lot of hand-holding when it comes to saving money. This comes for $2.99 per month. Twine allows you to set savings goals and automatically contribute towards them each week. They do not provide the income and spending analysis that Digit offers. On top of that, Twine allows you to earn interest in the savings account they provide you with. Twine savings accounts currently yield 1.05% variable interest.
Beyond the savings aspect, Twine provides investors with the option to invest their money with a 0.60% annual fee. Depending on what you are saving for and the time horizon, in some cases, it makes sense to invest that money to allow it to grow. With Digit, your money is just sitting there. You do earn an annual 1% savings bonus, but unless your balance is over $3,600 that is going to be a wash when you factor in the subscription fee of $2.99 per month.
Twine is offering readers a $5 investing credit to start with.