We have countless choices for saving and investing platforms. It seems like every day, there is a new app being released. We created this blog, Investing Simple to provide clarity when trying to understand all of these different options you have in front of you. In this review, we're going to compare two money-saving platforms that are rising in popularity, Twine and Qapital. Both of these platforms offer a similar service for the potential investor or saver.
What Is Twine?
If you've always wanted to nail down your short and long-term financial goals, designate a savings account, and venture into the world of investing, Twine platforms may be a good fit for you.
The platform lets you set monthly savings goals towards purchases small or large, and keep tabs on your progress. Looking for a joint venture? Twine lets you create a joint savings and investment account, so you and your partner can work together towards your goals.
Right now, Twine is offering a starting credit of $5 for readers like you.
How Twine Works
Start off using the Twine investment platform now by creating an account here.
After you've opened the account, put some thought into your short and long-term savings goals. How much will you pay for this savings feature? Nothing. Zero. Nada. You can also invest your savings using the Twine platform for a 0.60% annual fee. What's your tolerance for risk? Twine portfolios are tailored to make you feel comfortable whether you're a risk-taker or not.
As you get closer to your goal, algorithms are used to adjust your portfolio and keep your money increasing.
Save With Twine
You can invite your partner or family member to join you in an account, or you can open accounts with them. Once created, you can set both savings goals and amounts to contribute. Recurring payments are an effortless way for you and your partner to make strides towards that goal. Keep in mind, you can also each link your bank accounts to the Twine account to make saving toward your goals as easy as 1-2-3.
You may be wondering how much this all costs. You can set up a Twine savings account with just a five-dollar bill. The Twine savings account yields interest rates far higher than most typical bank accounts, with a current yield 1.05% variable interest. 
Twine Investing
Ok, so you've set up your Twine savings account. Now it's time to switch gears and start investing some of that money. This is especially valuable to maximize your growth and move towards long-term goals. As your goal comes into view, your Twine portfolio will auto adjust to help you reach those goals. Or maybe even exceed them!
The Twine investment platform offers a myriad of portfolios designed to meet your risk and goals. All you need is $100 to get started. Fees are based on 0.25% monthly for each $500 invested, which is 0.60% annually.
Twine platform investment portfolios blend a mix of Exchange Traded Funds or ETFs. Many well-known fund companies are utilized in Twine portfolios, for example, Vanguard. Twine want all clients to have a solid return based on risk for their portfolios.
Conservative Portfolio
Have a short-term savings goal within 5 years in the future? The conservative portfolio may be the choice for you. This option is 6% stock ETFs and 94% money market and bond securities. The percentage of stocks may decrease to 4 or 5% as you near that goal.
The conservative portfolio is tailored to investors who are looking for stable ground in their investments, rather than taking on risk. Since it is less risky than other Twine portfolios, this conservative one could yield lower returns.
Moderate Portfolio
The moderate portfolio generates slightly higher returns than the conservative portfolio. However, it does come with additional risk. If you have a goal to reach in 5 years or less, then your portfolio will be 10% (or less) in stocks, and 90% money market and bond funds. If you have a longer-term goal, for example, 10-15 years, your portfolio will be 55% to 70% stocks. As your goal is to move out, your stock allocation will be about 70%.
Aggressive Portfolio
If you're ready to jump in with both feet, the aggressive portfolio comes with higher risk, but may also yield higher returns. If you have less than 5 years for your goal, this portfolio option includes 70% money market and bond funds, and 30% (or less) stocks. Have a longer-term goal? If you have 10-15 years, the aggressive portfolio will direct around 80% of your portfolio into stocks, and as your goal becomes longer-term, this amount will go up.
Dividend Reinvestment
All of the dividends you earn will be deposited into your cash savings account.
Once your cash account exceeds the goal set by you, it will be reinvested into your Twine portfolio, which will earn compound interest.
Account Protection
The Federal Deposit Insurance Corporation (FDIC) protects your cash up to $250,000 per account. The Securities Investor Protection Corporation (SIPC), will cover the securities in your account up to $500,000, and $250,000 for cash.
Twine Fees
You can open a Twine savings accounts for free. For an investment account, you'll need a minimum of $100 to get going. After that, fees are just $0.25 monthly for each $500 invested (or 0.60% annually).
Twine Pros
User-friendly.
Both individual and joint goals and savings programs can be set.
Comes with big names like Vanguard as fund companies.
Much lower cost (0.60% annually) when compared to industry averages.
Twine Cons
What Is Qapital?
Qapital is a money saving app that follows the roundup approach. Your purchases are rounded up to the nearest dollar, and that spare change is added to your new bank account. Beyond that, this app allows you to set rules for saving money that will trigger transfers. For example, you could have Qapital move $5 to your savings account every time you make a purchase at Starbucks. Your deposits go into a Wells Fargo bank account. Unfortunately, Qapital does not allow you to earn interest in your deposit. There is also no direct option for investing that deposit either.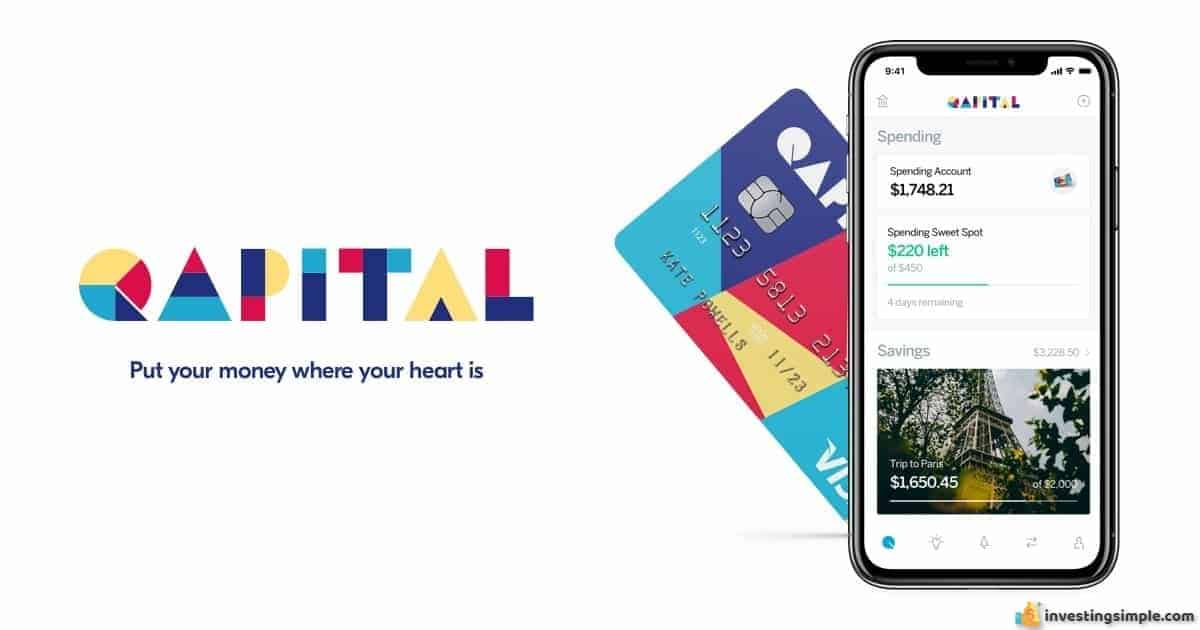 Qapital Fees
They offer several different pricing tiers. They range from $3 to $12 a month and offer savers a variety of various features. The higher tier packages offer you a variety of varying saving and budgeting tools that will help you build a plan for your overall finances.
Qapital Pros
Several unique ways to save with the rules you can set.
Seamlessly round up purchases to begin saving.
Additional saving and budgeting tools are available in the higher subscription tiers.
Qapital Cons
No interest is earned on the deposit.
The minimum subscription is $3 per month.
No direct way to invest your savings with Qapital.
Digit vs. Qapital: The Verdict
Strictly looking at the saving features of both Twine and Qapital, we believe that Twine is a better option for the diligent saver who already has their monthly cash flow under control. Qapital is offering the round-up approach for those who might not be the best savers in the world. The idea behind this is all these small sums of money will add up to a large amount with time. But day by day, you won't even notice that you are saving. With Twine, you set savings goals for yourself and set up automated weekly transfers.
However, it is essential to keep in mind that Qapital charges a monthly subscription while Twine is entirely free. Beyond that, Twine allows you to earn interest while Qapital does not. Currently, Twine savings accounts yield 1.05% variable interest.
Finally, Twine offers savers the opportunity to invest their money with a 0.60% annual fee. In some cases, it makes sense to invest the money you are saving for certain goals to grow your money. With Qapital, your money is just sitting there and earning nothing.
Twine is offering readers a $5 investing credit to start with.