Stash vs. Twine
We have countless choices for saving and investing platforms. It seems like every day, there is a new app being released. We created this blog, Investing Simple to provide clarity when trying to understand all of these different options you have in front of you. In this review, we're going to compare two new investing platforms that are rising in popularity, Twine, and Stash. Both of these platforms offer a similar service for the potential investor or saver.
What Is Twine?
One of the best investments you can make for yourself is setting aside a little time to learn about saving money and investing. A great way to kill two birds with one stone is to find a platform like Twine that allows you to do both!
Although easy-to-use, the platforms navigate the complicated waters of savings and investment accounts for you, from the comfort of your own home.
All you have to do is sign up and now's a great time, because Twine is offering a starting credit of $5 to you.
Once you're on board, give a little thought to your monthly savings goals. Maybe you're saving for a small purchase (new microwave) or a larger venture (family vaca to Hawaii!), or you just want to move closer to your long-term financial goals to feel more secure. Whatever they are, jot down those goals, and Twine will help you figure out how to reach them.
How Twine Works
Twine gives you the option of opening personal savings and investment accounts or working with a partner on a joint account.
Join the Twine investment platform by opening an account here.
Remember, the Twine Savings Platform is free of charge.
Set Savings Goals With Twine
So, you've opened a Twine savings account, either individually or jointly with a partner. Now, give some thought to set savings goals and decide how much you can contribute without derailing your monthly budget entirely.
Forgetful? Twine offers an easy-to-use recurring payment option so you can make those contributions effortlessly. You can even link your bank accounts to the Twine account to make saving seamless.
This may all sound costly, but you can actually open Twine savings account with just $5. But there are even more perks! The Twine savings account yields interest rates far above than most typical bank accounts, with a current yield 1.05% variable interest.
Twine Investing
Once you've set your monthly savings goals, move on to longer-term, and how you'd like to reach those milestones.
One great choice is investing your savings using the Twine Investment Platform, available at just a 0.60% annual fee.
As your goal approaches, your Twine portfolio will automatically adjust to help you get there faster.
Whether you like to take risks or play it safe, the Twine investment platform has a portfolio for you. All you need is $100 to get started. Fees are based on 0.25% monthly for each $500 invested (0.60% annually).
Twine investment portfolios are comprised of various Exchange Traded Funds (ETFs) to garner the best results. Public fund companies, like Vanguard, are used in Twine portfolios, all with a goal for every client to have a solid return based on risk for their portfolios.
Conservative Portfolio
Consider your financial goals in the shorter term of five years or less. How would you like to get there? A conservative approach calls for slow and steady, less risky growth.
It's essential to keep in mind, however, because it's less risky than other Twine portfolios, this conservative one could yield lower returns.
The conservative portfolio is 6% stock ETFs and 94% money market and bond securities. The percentage of stocks may decrease to 4 or 5% as you near that goal.
Moderate Portfolio
There's slightly more risk involved in the moderate portfolio, but the moderate portfolio typically generates slightly higher returns than the conservative portfolio.
If you have a financial goal that's less than 5 years, this portfolio will be 10% (or less) in stocks, and 90% money market and bond funds. If you have a longer-term 10 – 15-year goal, your portfolio will be 55% to 70% stocks. As your goal is approached, the stock allocation will be around 70%.
Aggressive Portfolio
This option carries the most significant risk, but also comes with the higher chance of hefty returns. Feel like rolling the dice and going for it? You decide.
If you have less than 5 years for your goal, this portfolio option includes 70% money market and bond funds, and 30% (or less) stocks. Similarly, if you have 10-15 years towards your financial goal, the aggressive portfolio will direct around 80% of your portfolio into stocks. As your goal becomes longer-term, this amount will rise.
Dividend Reinvestment
Here's another fantastic feature of Twine platforms: the dividends you earn will be automatically deposited into your cash savings account. Once your cash account exceeds the goal you've set, it will be reinvested into your Twine portfolio, where it will earn compound interest. It's a win-win.
Account Protection
The Federal Deposit Insurance Corporation (FDIC) protects your cash up to $250,000 per account.
The Securities Investor Protection Corporation (SIPC), will cover the securities in your account up to $500,000, and for cash, up to $250,000.
Twine Fees
There is no cost to open a Twine savings accounts, but you'll need at least $100 for an investment account. Then, fees are just $0.25 monthly for each $500 invested (or 0.60% annually).
Twine Pros
Compared to industry averages, Twine has lower fees (0.60% annually).
Simple to use.
Available choice of individual or joint accounts and goals.
Includes big-name fund companies like Vanguard.
Twine Cons
No input or suggestions from a financial advisor.
Lacks an IRA or retirement account platform.
Although the fee is low, comparable investing platforms are cost-free.
What Is Stash?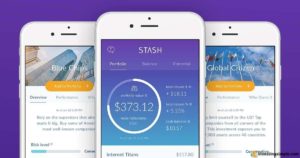 Stash is another modern-day investing app, similar to Twine and Acorns. You can begin investing in Stash with as little as $5. However, be cautious because there is a minimum fee of $1 per month to use Stash. You may want to wait until you have more cash to begin investing.
After opening an account, you will be guided through a questionnaire where Stash will ask a variety of questions to analyze your risk tolerance, investment horizon, and personal preferences. Once Stash has an idea of what type of investor you are, they will offer you a variety of portfolios that fit your investment objective.
Most portfolios are composed of a group of ETFs as well as a limited number of individual stocks. Stash uses clever names and easy to understand themes for their portfolios such as "American Innovators" "Blue Chips" and "Clean & Green."
Stash also offers a variety of educational materials to teach investing principles to new investors. This is one feature that is unique to Stash that really sets them apart from the others.
Stash Fees
To use stash, there is a minimum fee of $1 per month for accounts below $5,000 and 0.25% annual fee on accounts higher than $5,000. There is also a $2 per month fee for retirement accounts; however, this fee is waived if you are 25 years old or younger.
Stash Pros
Offers investors many portfolio options.
Provides investors with ongoing educational material.
The $5 minimum is shallow, but watch out for the $1 per month minimum fee.
Fractional shares are offered on the platform.
Offers a retirement account.
Stash Cons
Very high fees on small account balances.
ETFs have high expense ratios.
Strictly an investing platform with no saving tools.
Stash vs. Twine: The Verdict
Let's say you have $100 in front of you that you would like to invest. If you were to invest that money with Stash, you would have to pay them $1 per month in fees. For one year, that is $12 or 12% of your total original investment.
If you invested that with Twine, you would be paying 0.60% as an asset management fee or just $0.60. Over time, Twine will become a more expensive option than Stash. But for those investing with a tiny amount of money, the fees Stash charges are going to suck your account dry.
Beyond that, Stash is strictly an investing platform, and they do not offer any of the saving features that Twine does. With Twine, you can set money saving goals and automatically contribute to them each week. You can even get your spouse or girlfriend involved through a joint account!
If you are investing a large sum of money, say $5,000 for example, the fee structure of Twine would be higher in that case. However, it is crucial to consider the fees of the ETFs as well. Twine invests your money in low fee ETFs offered by companies like Blackrock and Vanguard. The ETFs Stash offers are higher in fees.
Twine offers tools for both saving money and investing money, while Stash is only providing you with an investing tool. The fee structure of Stash favors larger accounts and puts a massive dent in smaller ones. Overall, Twine seems to be the better option for those looking to save and invest at the same time.
Twine is offering readers a $5 investing credit to start with.
Best Free Stock Promotions