ViacomCBS, VIAC stock, is a worldwide media company. They deliver entertainment to audiences around the world through a variety of platforms. They operate primarily across three segments: TV entertainment, cable television, and filmed entertainment.
ViacomCBS is listed on stock market under two ticker symbols: VIACA and VIAC.
The difference between the two pertains to voting rights: VIACA is the company's offering of class A shares while VIAC are class B shares. After the merger of Viacom and CBS in 2019, the company now trades VIACA for its voting shares and VIAC for it's non voting shares.
ViacomCBS is a multi-billion dollar company with many popular brands such as CBS news, CBS sports, Nickelodeon, MTV, BET, Paramount, Comedy Central, and more. Their TV entertainment segment features talk shows, kid's entertainment, comedy, drama and reality, and game shows to name a few.


Why is VIAC Stock Moving Now?
In the recent past, VIAC stock saw steady decline until March 2020.
In line with the market in March 2020, VIAC fell to below $12 or down 71% vs the prior month. Since then, the stock price has exploded over 250%! Though earlier this month in March 2021, the stock price briefly flew above $100, which was up over 630%.
In the recent days, the stock has fallen 50% back down to ~$48. What is the cause for this volatility? Could this recent fall signify a discount for investors?
COVID-19 has driven most people to stay home through the pandemic, which in turn has meant more TV, streaming, and movies. This has been a large driver of the recent growth for VIAC.
Most recently, on March 4th, ViacomCBS rebranded its streaming service CBS All Access to Paramount+. This new streaming service features live sports like March Madness as well as thousands of TV episodes. Their new service has plans starting at $5.99 a month.
On March 26th, Steven Cahall, a Wells Fargo analyst, downgraded VIAC stock from a target price of $82 to $59. This downgrade spurred a sharp decline in the stock price.  Cahall's actions were motivated by ViacomCBS' plans to invest billions into Paramount+. With stiff competition from other streaming powerhouses such as Netflix, AppleTV, YoutubeTV, or Hulu, investors worry about this future bet.
What are ViacomCBS' Strengths and Opportunities?
ViacomCBS has a lot going for it. With recognized brands and the increased demand for television and other content, ViacomCBS is certainly in a position to deliver.
From a financial standpoint, 2020 revenue was up 74% vs 2018, though revenue was down 9% vs 2019. This is largely due to the merger in 2019. As the two media giants, Viacom and CBS, continue to gain efficiencies, the financial statement should continue to improve. As is the case for most large profile mergers, ViacomCBS has the opportunity to leverage both company's strength, but it certainly takes time to merge operations, company cultures, and personnel.
ViacomCBS also recently finalized an agreement with the NFL to extend its long term partnership to 2033. Existing partnerships such as this one are important to ViacomCBS, but new deals in the future will also help gain new viewers.
What Challenges is VIAC Facing?
One of the greatest challenges VIAC is facing currently is the competition in the streaming market. Giants such as Netflix and Amazon have established themselves as market leaders. However, newer entrants are seeking to gain and maintain market share. Players like HBO, Youtube TV, Hulu, Disney+, and Peacock are fighting for their place.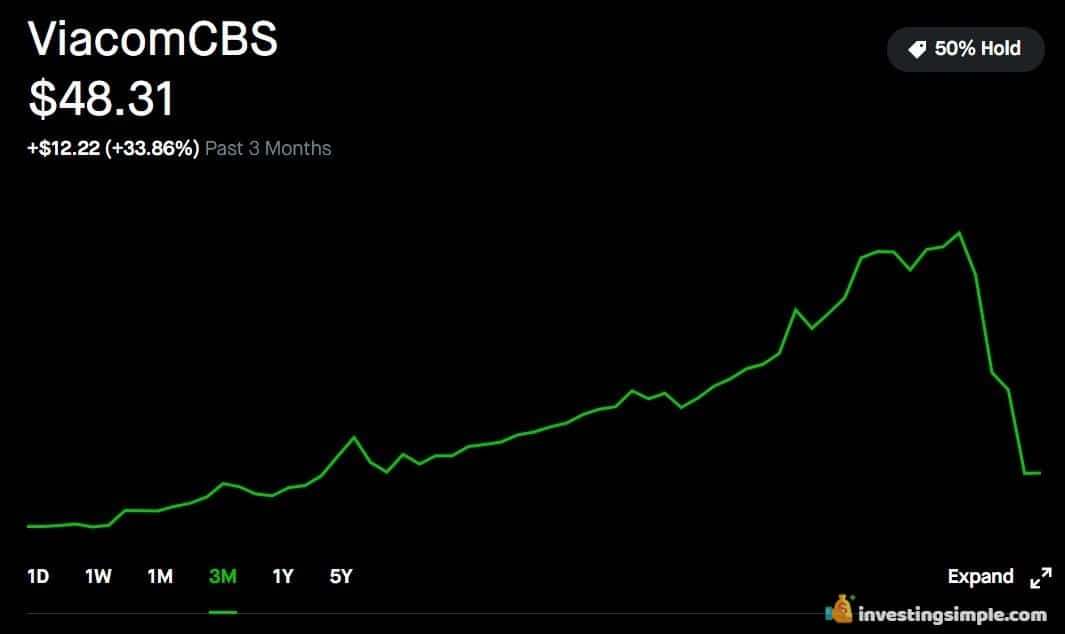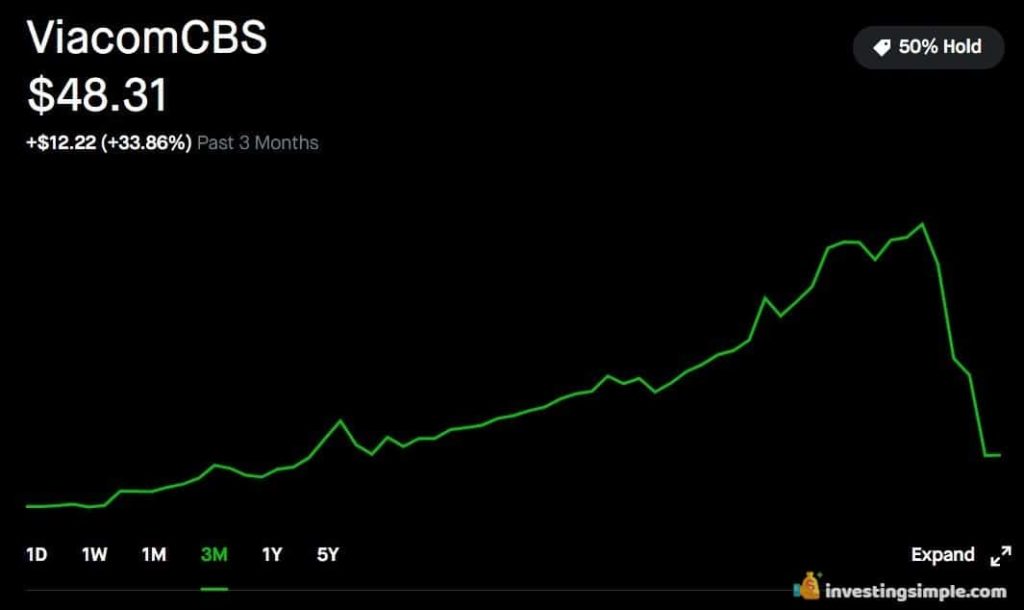 The introduction of Paramount+ is right on trend, though gaining new subscribers can be a fierce challenge. ViacomCBS had around 19 million subscribers with their former service, CBS All Access. Their target is to reach around 70 million by 2024. Compare that to 203 million subscribers Netflix has or the 95 million subscribers Disney+ has already acquired since their launch in November of 2019.
ViacomCBS: Final Thoughts
Investors interested in VIAC stock should stay close to company press releases. With the launch of Paramount+ and the heavy investment into it, VIAC could see steady growth as they capture market share. However, if they fail to gain subscribers, their investment won't see the intended return and could scare off investors.
In the streaming business, a new program can gain immense popularity overnight. ViacomCBS has announced many exclusive programs to launch in the coming years. If these programs do well, then it will certainly bode well for VIAC.
Start Investing Today
Investing has never been more accessible than it is today. You can quickly open a brokerage account and start investing all within 10 minutes from your personal phone! The question is, which investing app is best?
With so many to choose from, people often delay getting started, but with any investment, time is often one of the most important factors!
If you are looking to get started but are unsure how, then be sure to read How to Invest in Stocks For Beginners or check out the 10 Best Investing Books Beginners Need To Read In 2021.