Realistically, there's no perfect investment platform, or a "one size fits all". But that's a good thing! It means you can shop around and explore what's out there and make smart decisions about getting the best bang for your hard-earned buck.
Every investor has their own specific plan and objectives, and there are plenty of online investing apps to get you where you want to go.
We're here to help you do that comparison shopping. Today, we are going to be looking at two platforms and the diverse services they offer. They are Webull vs Betterment.
While Webull and Betterment fall under the same category for what they offer, which is investing in the stock market, they are quite unique when compared to one another.
In this article, we are going to break down the key features, fees, pros, and cons of both Webull and Betterment. This will give you a broader picture and a better understanding of which platform may be a good fit for you.  
Summary: Webull vs Betterment
Both Betterment and Webull have no account minimums
Betterment charges a 0.25-0.40% fee for investment management and financial planning
If you sign up with Webull, you will get a free stock!

Webull is a commission-free brokerage trading platform designed for active traders

Betterment has great financial planning features for long-term, passive investing

Webull offers a paper trading account where you can practice risk-free
Both platforms support retirement accounts

Betterment is best for those who need investment management and/or financial advice

You can trade individual stocks, ETFs and options on Webull
You can only invest in prebuilt portfolios on Betterment
What Is Webull?
Webull is a new player in the investment realm.
Launched in 2018, the platform follows in the footsteps of discount brokers like Robinhood by specializing in commission-free trades and a decidedly user-friendly trading platform. They picked up where other free trading apps left off by offering more advanced research tools and features.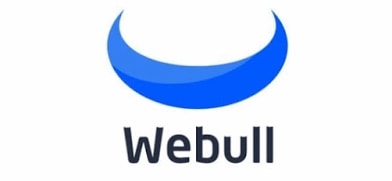 Webull offers a great layout whether you're a beginner or a seasoned investor. The platform has more advanced tools compared to other discount brokerages. However, complete beginners could be overwhelmed by the amount of information available at your fingertips. 
Some of their specialties include advanced trading charts, real-time market data, and technical and fundamental data. 
Although Webull is relatively new, the platform already has a user base of over 9 million. The company primarily uses its mobile app as its interface, but does offer a web and desktop application as well. 
How Does Webull Work?
It really couldn't be much easier to create an account with Webull. The whole process took us under 5 minutes, and you can complete the task directly from the mobile app.
You'll have to put in a bit of your info (just like any other service), such as your personal information and social security number for tax reasons. After you do, there will not be a prompt to deposit any cash as there is no minimum balance that Webull requires in order to start an account with them. 
However, if you want the free stock, you will need to open the account with a minimum $100 deposit.
Best Free Stock Promotions
Webull Features
The Webull platform offers a host of free features that appeal to investors and traders alike.
Tools and Analytics
Webull lets you view data such as analyst recommendations, insider activity, earnings, revenue, and historical earnings per share and the list just keeps going.
This research is found on four separate pages of the Webull mobile app. Though the app is their primary mode, it is somewhat simpler to navigate the desktop and web platforms in order to really take advantage of all the tools. 
You're able to get much deeper into researching individual investments on the Webull platform than you can on many of the other investing platforms out there.
The stock screener and other tools make it easy to narrow down thousands of stocks to a list of only a few that fit your ideal criteria for investment.
Options  
Webull's options feature has very recently been released and investors couldn't be more excited. 
To start using options, you first require approval from Webull. They will ask you how much options trading experience you have and will give you a trading level of 1-6. This is an enormous help to figure out what strategies they will let you get into. 
If at any time you feel you're ready for the next steps in options trading, then you can ask to have your account reevaluated to be bumped up to higher levels in their system. 
Just like the rest of the Webull platform, there is no fee for trading options.
Paper Trading
One of our favorite features on the Webull platform is the paper trading tool. This gives you $1,000,000 in fake money to test out your investing strategies, all risk-free! 
We know, you won't earn anything from this. But for a new investor, it can be a great way to learn the ropes without risking your hard-earned money. 
With paper trading, you can test out all of Webull's other features as well to learn a wide variety of their tools. This will (hopefully) make it a much less painful learning experience once you start investing real money.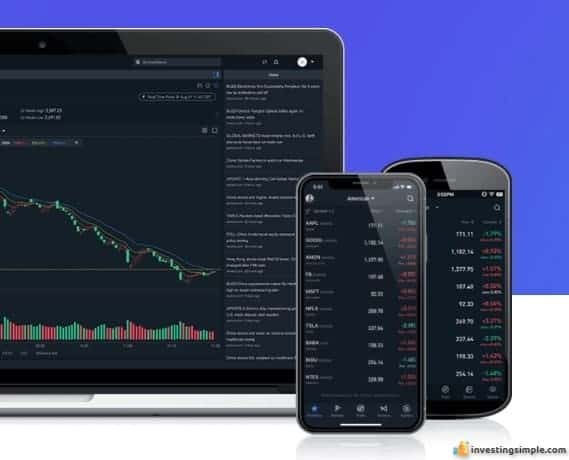 Retirement Accounts
Webull recently added IRA accounts to its menu. One great benefit to using an IRA through Webull is that they will not charge an annual fee to manage the account.
You can open a Roth IRA, Traditional or Rollover IRA. The process is just as simple as creating a Webull account and just takes a few minutes. 
By taking advantage of these accounts you can save and invest for retirement while potentially avoiding a significant amount of taxes that would ordinarily be due on your gains.
However, it's important to note that these accounts should only be used for retirement. Using them for shorter-term goals could result in significant penalties eating into your gains.
Real-Time Data
Webull offers real-time market data on US markets 100% free. For a monthly subscription, you can get access to global market data.
IPO Offerings
For those looking to get in on new and exciting investments, Webull has a section for exclusive IPOs or initial public offerings.
While this is risky, it does give you the opportunity to be among the first group of investors for a given company.
Extended Trading Hours
Normal market hours are 9:30 am to 4:00 pm EST. Webull offers trading from 4:00 am to 8:00 pm EST on any day the market is open.
It's important to note that there is typically less trading going on pre-market and post-market so prices can be more volatile during these times.
Webull Fees
There are no fees to place trades through Webull for stocks, ETFs or options.
In addition, there are no annual fees or management fees associated with their taxable or retirement accounts.
That being said, you may run into some fees when utilizing margin trading or short selling, which are more complicated investment strategies that involve borrowing money.
Pros of Webull
No minimum deposit

Commission free stock, ETF and options trading

Trading simulator lets you practice with $1,000,000 fake money

Advanced data and research tools

Free retirement accounts

No ongoing fees to use the platform
Full customization in creating your investment portfolio
Cons of Webull
Limited customer support

No pre-built portfolios/guidance of any kind
Can be intimidating for beginners
What Is Betterment?
Betterment has been building its reputation of saving you money on your investments since 2008.
And since then, it has become a true leader in the world of the robo-advisor. They are different from brokerages like Webull in that they let their algorithm call the shots to get you from where you are to where you want to be in your financial future. 
The process is coming along swimmingly for the company who now has over $22 billion in total assets managed from all of its users. 
Betterment offers a wide array of financial advice and caters to both brand new and more experienced investors. Their goal is to make the investing process as hands-off as possible. 
Beyond investing, Betterment also offers a host of personal finance features that allow the platform to serve as the central hub for all of your financial activity if you chose to take advantage of them.
Signing Up With Betterment
The signup process is about the same compared to other online brokers.
All you have to do is provide your name, address, SSN, and other personal information. The process is unique, however, in parts of its questionnaire that you will need to fill out. This is how Betterment learns about you and decides what funds to put in your portfolio.
Betterment Fees
Betterment Features
The feature set you get with Betterment is much more tailored towards the long-term investor as opposed to the trading tools and resources you get with Webull.
Passive Investing
When you sign up for a Betterment account, you will fill out a questionnaire giving info about yourself and your short and longer-term investment goals.
Betterment takes these details and decides where to automatically invest your money to reach these milestones. This is what is called a robo-advisor, and Betterment is one of the few online brokers in the industry that offers a robo-advisor with no account minimums.
This makes it a great option for those who are looking for a more passive approach to investing.
Advice Packages
Betterment offers access to a CERTIFIED FINANCIAL PLANNER™ (CFP®) if you have questions about your investments or even finances in general.
A CFP® Professional is an individual that has gone through rigorous training and has sworn an oath to put your interest before their own. When you work with a CFP® you know that they won't be trying to take advantage of you or sell you things you don't need. The next time someone tries to give you financial advice, ask if they are a CFP!
This service is entirely free if you have Betterment Premium. If not, you will have to buy into an advice package starting at $199.
There are different packages for you, all dependent on what you want out of your phone call with the CFP® Professional, so give some thought to what kind of advice and discussion you're looking for.
Betterment Checking & Cash Reserve
With Betterment, you can open a high-yield savings account called Betterment Cash Reserve that boasts an interest rate higher than most banks.
This account doesn't even require a minimum balance and holds $1,000,000* of FDIC insurance coverage. However, *$1,000,000 in FDIC insurance is a goal and not a guarantee.
Betterment uses four member banks to hold cash deposits. Each bank covers $250,000 in FDIC insurance, but it's not guaranteed your account will be spread across these four banks proportionately.
They make the process of using this account as easy as possible with a couple of automation features such as smart deposit and two-way sweep.
Recently, they added a checking account too. The goal with this account was to eliminate all the pesky fees. With Betterment Checking, all ATM fees are reimbursed and there are no foreign transaction fees.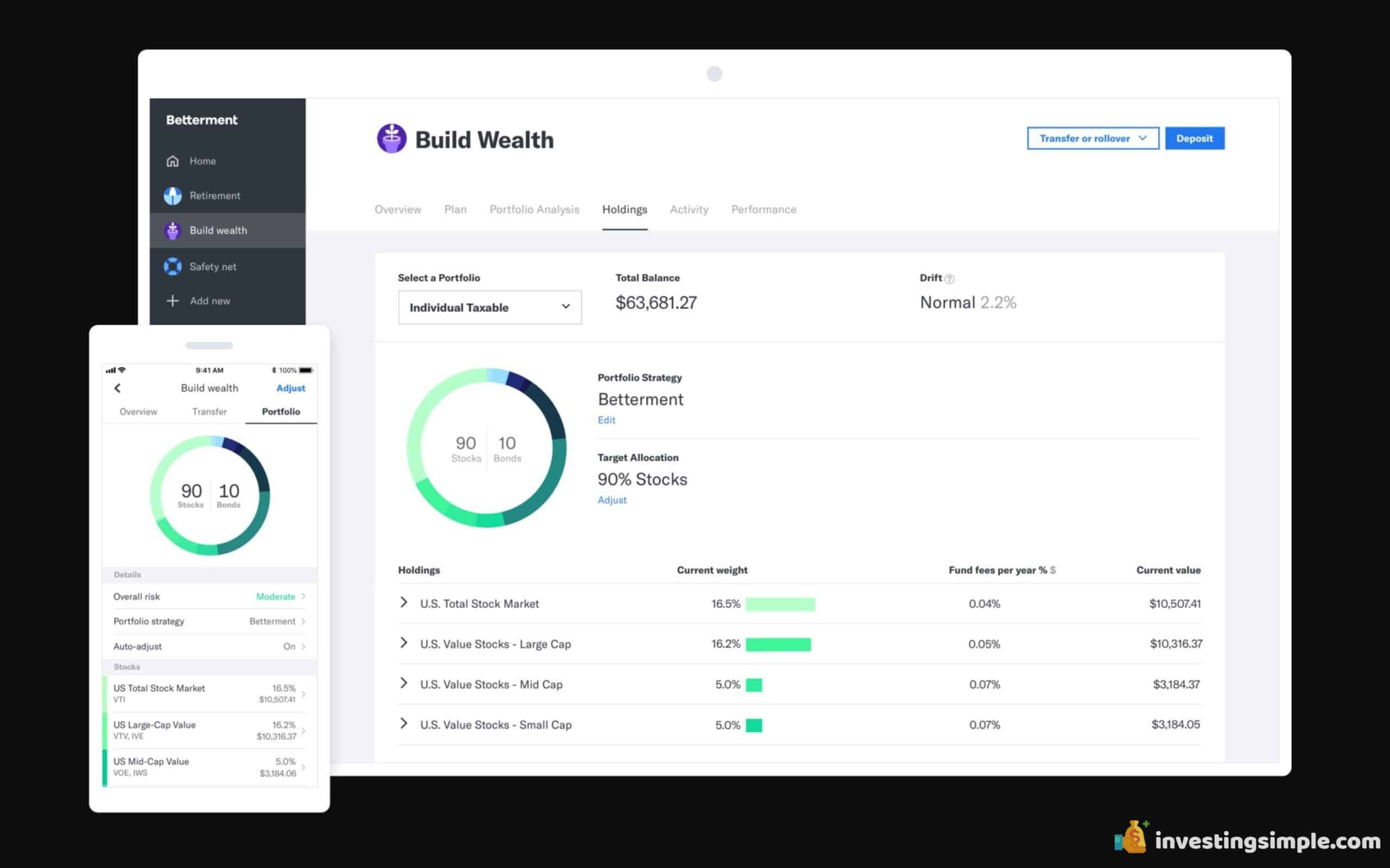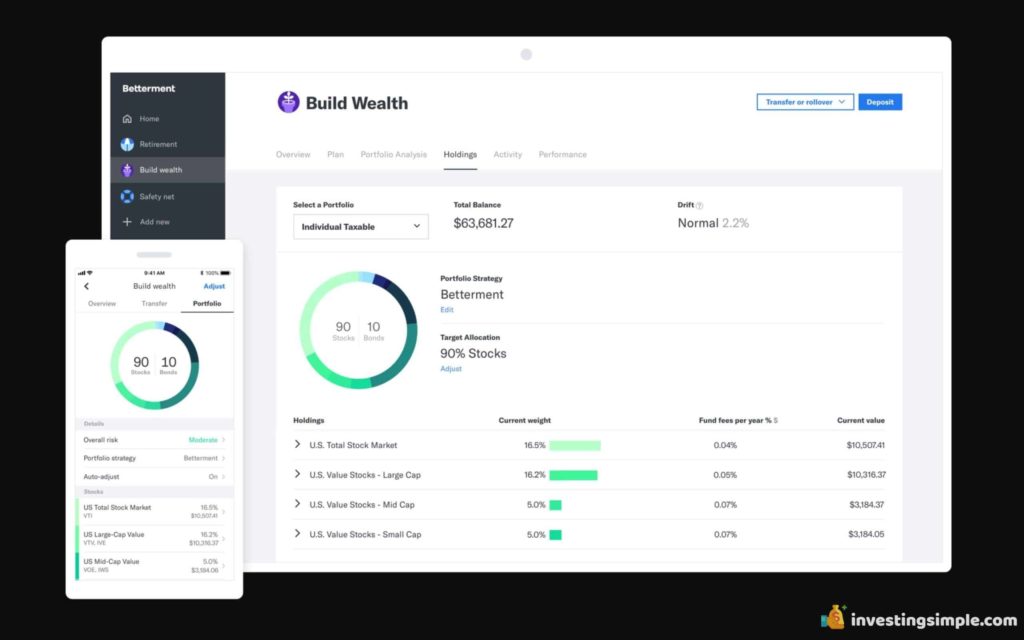 Smart Deposit
Smart Deposit allows you to automate the transfers between your checking account and the Betterment Savings account. You link those two accounts and give Betterment a set amount of money you want to hold in your checking account. 
Any money that is over that set threshold is automatically transferred, free of charge, to the Betterment Savings account. This means you don't have to think about how much you need to deposit every month. 
If you prefer, you can send your money to your brokerage account to invest with this feature as well. 
Two Way Sweep
Two Way Sweep offers is a similar function but in the opposite direction. If the money in your checking account dips below that threshold you supplied them, Betterment will automatically transfer the funds to bring it back up to where you want it. 
Betterment empowers you with tools to put your savings on 100% autopilot!
Tax-Loss Harvesting
One of the most important features offered by Betterment is tax-loss harvesting on all accounts.
In a nutshell, Betterment is able to capture losses when the funds they invest you in take a dip. They will sell one fund and buy a near-identical fund, recognizing a capital loss in the process. These losses can be used to offset capital gains from other investment activity and reduce your overall tax burden come tax day.
Betterment Pros
Full-scale investment management

Access to human advisors through premium or advice packages

Wide variety of financial planning features

No account minimum
Passive, hands-off investing made easy
Access to a team of CFP Professionals to help you plan for the future
Betterment Cons
Annual fee based on assets

No direct indexing or investing in individual securities

Limited to stocks and bonds using ETFs
No individual stock or asset purchasing, portfolios only
No access to initial public offerings
Betterment vs Webull: The Final Verdict
At the end of the day, while both of these platforms allow you to invest in the stock market, they each take a completely different approach. 
Webull is designed for active stock and ETF trading, where you have a great deal of research tools and data available.
Betterment, on the other hand, is meant for long-term passive investing. 
You pick and choose your investments with Webull, you are 100% in the driver's seat. With Betterment, they are in complete control. They choose everything for you and automatically rebalance and reallocate over time.
Ultimately, it comes down to whether you are looking to be a DIY investor or have guidance from a team of experts.
You will find a wider variety of account types available with Betterment, however you cannot trade any individual stocks, ETFs or options.
In some cases, it might make sense to utilize both Betterment and Webull. You can do your long-term investing with Betterment while placing your active trades with Webull.
Keep Reading: