Webull vs Betterment 
The perfect investment platform is going to vary from investor to investor depending on what features they are looking for. There is no one size fits all in investment platforms.
Today, we are going to be looking at two platforms that have very different offerings; Webull and Betterment.
These two investment platforms have less in common than people may initially believe. 
Webull is a platform aimed at intermediate active traders looking for easy access to research and trading tools.
Betterment is a robo-advisor designed for hands off, passive stock and bond investors.
By the end of the article, we hope to give you a good idea of their foundations and which one of these services is going to best fit your investment style and financial life. 
Summary
Both Betterment and Webull have no account minimums
Betterment charges a 0.25-0.40% fee for investment management and financial planning

Webull is a commission-free brokerage trading platform

Betterment has great financial planning features

Webull features paper trading and other features designed for more active trading 

Both platforms support retirement accounts

Webull is best for active traders

Betterment is best for those who need investment management and/or financial advice

You can trade individual stocks, ETFs and options on Webull
You can only invest in prebuilt portfolios on Betterment
If you sign up with Webull, you will get a free stock!
Click here to sign up for Betterment!
Sign up for Webull + Get a free stock!
What Is Webull?
Webull is a new investment platform that just launched in 2018. They follow in the footsteps of services like Robinhood and offer a commission-free platform to complete your trades.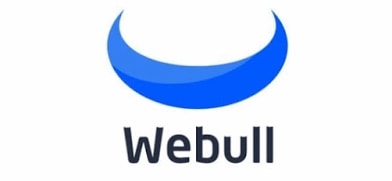 Webull offers a great layout for both the beginner and the seasoned investor. Those accustomed to Robinhood's free service but want more tools are going to find Webull a great option. However, complete beginners might be overwhelmed by the Webull app. There is a lot of data available at your fingertips.
Even though Webull is relatively new, they already have a user base of over 9 million. The company primarily uses its mobile app as its interface. Although, Webull does offer a web and desktop application as well. This is something you might need for all the tools they offer. 
How Does Webull Work?
It really couldn't be much easier to create an account with Webull. The whole process took us under 5 minutes, and you can complete the task directly from the mobile app. 
You'll have to put in a bit of your information just like any other service, such as your personal information and social security number for tax reasons. After you do, there will not be a prompt to deposit any cash as there is no minimum balance that Webull requires in order to maintain an account with them. 
If you wanted to stop here and just take advantage of all their tools and features you could. Tou wouldn't be making a bad decision either. They really do offer a great suite of industrial-scale technology right at your fingertips. 
But if you want to start investing on their platform, you can make a deposit. Their great user interface makes it simple to look up stocks and learn just about anything you want to know about them in a matter of minutes. 
And the best part is, if you use the link below you will get a free stock when you open and fund the account!
Sign up for Webull + Get a free stock!
Webull Features
Tools and Analytics
Like we mentioned above, Webull has some excellent tools that are at your disposal completely free. These tools and graphs can be a bit overwhelming to a completely new investor, but people with experience will really appreciate these features. 
Webull allows you to view data such as analyst recommendations, insider trades, earnings, revenue and historical earnings per share and the list just keeps ongoing. 
This research is found on 4 separate pages of the Webull mobile app. Though the app is their primary interface, it is a bit easier to navigate the desktop and web platforms in order to really take advantage of all the tools. 
Options
Webull's options feature has very recently been released and investors couldn't be more excited. 
In order to use options, you must first gain approval from Webull. They will ask you how much options trading experience you have and will give you a trading level of 1-6. This level will determine what kind of strategies they will allow you to use. 
If at any time you feel you are ready for the next steps in options trading, then you can ask to have your account reevaluated to gain levels in their system. 
Just like the rest of the Webull platform, there is no fee for trading options.
Paper Trading
One of our favorite features on the Webull platform is the paper trading tool. This basically gives you $1,000,000 in fake money to test out investing strategies without any risk. 
Of course, you won't earn anything from this. But for a new investor, it can be a great way to learn the ropes without risking your hard-earned money. 
With paper trading, you have access to all of Webull's other features as well so you will also be able to learn their tools. This will (hopefully) make it a much less painful learning experience once you start investing real money. 
Webull IRAs
Webull recently launched its IRA accounts. A great benefit to using an IRA through Webull is that they will not charge an annual fee to manage the account. 
With their service, Webull allows you to open a Roth, Traditional or Rollover IRA. The process is just as simple as creating a Webull account and just takes a few minutes. 
Webull Fees
Webull does not charge any extra fees in order to use their platform.
At the time of this article, they do not have a premium service either. Right now the only money you'll spend with Webull will be on buying securities themselves.
You can purchase access to global market data for a monthly or annual subscription, but this is option. US market data is 100% free!
Webull Pros
No minimum deposit

Zero Commission

No extra fees

Paper Trading

Excellent Tools and Analytics

Access to IRAs
Webull Cons
No mutual funds 

No direct bond investing (only through ETFs)

Limited customer support

No prebuilt portfolios/guidance of any kind
What Is Betterment?
Betterment has been building its service around the idea of saving you money since 2008. And since then has become a real leader in the world of the robo-advisor. 

They are different from brokerages like Webull in that they let their algorithm call the shots to get you from where you are to where you want to be in your financial planning. 
The process is coming along swimmingly for the company who now has over $22 billion in total assets managed from all of its users. 
Betterment offers a wide array of financial advice and caters to both brand new and more experienced investors. Their goal is to make the investing process as hands-off as possible. 
How Does Betterment Work?
The signup process for Betterment is similar to a lot of brokerages and requires your basic info; address, name, social, etc.
But they will take it a step further and ask you some questions as well. 
They will determine your risk tolerance and goals in investing that way their service can suggest a portfolio that best fits your needs. 
When you have finished, you will not have to make a deposit, Betterment is one of the few robo-advisors that does not have account minimums. 
If you do decide to deposit with Betterment, you will have a lot of automation doing the heavy lifting for you. Basically, all you have to do is sit back and let the algorithm do its job. 
Betterment Features
Financial Advice
Betterment offers access to a CERTIFIED FINANCIAL PLANNER™ if you have questions about your investments or finances in general. 
This service is entirely free if you have Betterment Premium. If not you will have to purchase an advice package starting at $199.
They have different packages depending on what you want out of your phone call with the CERTIFIED FINANCIAL PLANNER™ so you can tailor your experience to the services you are looking for.
Betterment Bank Account Management
With Betterment, you have access to a high-yield savings account called Betterment Cash Reserve that boasts an interest rate higher than most banks. This account does not require a minimum balance and holds $1,000,000* of FDIC insurance coverage.
*$1,000,000 in FDIC insurance is a goal and not a guarantee. Betterment uses 4 member banks to hold cash deposits. Each bank covers $250,000 in FDIC insurance, but it is not guaranteed your account will be spread across these 4 banks proportionately.
They make the process of utilizing this account as easy as possible with a couple of automation features such as smart deposit and two-way sweep.
Smart Deposit
Smart Deposit is a feature that allows you to automate the transfers between your checking account and the Betterment Savings Account. You link those two accounts and give Betterment a set amount of money you want to hold in your checking account. 
Any money that is over that set threshold is automatically transferred, free of charge, to the Betterment Savings account. This means you don't have to think about how much you need to deposit every month. 
If you prefer, you can send your money to your brokerage account to invest with this feature as well. 
Two-Way Sweep
Two Way Sweep offers similar functionality but in the opposite direction. If the money in your checking account dips below that threshold you supplied them, Betterment will automatically transfer the funds to bring it back up to where you want it. 
Betterment Fees
This robo-advisor offers two different levels of service that have a different set of fees. 
Betterment Digital is their basic level of service. This requires no account minimum to access and has a fee of 0.25% of your total managed assets. 
Betterment Premium gives you access to the rest of their platform and a free consultation with human advisors. This level has a fee of 0.40% of your total managed assets. You must maintain an account minimum of $100,000 to use this tier. 
Betterment Pros
Full-scale investment management

Access to human advisors

Wide variety of financial planning features

No account minimum

Passive, hands off investing made easy
Betterment Cons
Annual fee based on assets

No direct indexing or investing in individual securities

Limited to stocks and bonds using ETFs

No individual stock or asset purchasing, portfolios only
Betterment vs Webull: Summary
Choosing between these two investment platforms is entirely going to come down to what you want to get out of them. They offer two very different approaches to investing and will likely attract different types of investors. 
If you have a more active investment style, then you are likely going to lean towards Webull. The free trades and tools they offer make them one of the best to trade on in this capacity. 
However, if you are more prone to a passive style, then Betterment is going to be a good choice for you. They have excellent automation for their users and there is almost nothing you will need to do once your account is completely set up.
Betterment also offers financial planning and access to human advisors for a small fee.
Betterment is also favorable for those with a long-term investment approach since they offer many different retirement accounts. However, Webull did make a stride here when they debuted their new IRAs. 
It may be in an investor's best interest to use both of these platforms to accomplish different goals. Active stock trading is a good fit for Webull while passive long term investing is better suited for a platform like Betterment. 
Click here to sign up for Betterment!
Sign up for Webull + Get a free stock!