With so many investing and trading platforms, it can be difficult to choose which is best for you. Recently, a variety of commission-free trading platforms have emerged. In this article, we are going to review two of the top trading platforms available today: Webull and M1 Finance.
The platforms are similar in many respects. However, they are tailored toward two very different types of investors.
Let's break these two platforms down to determine which one is best for you.
If you prefer watching instead, check out our video on this topic below!
Webull vs M1 Finance: The Basics
Webull is best for intermediate to advanced investors because of its focus on in-depth analysis and a wide variety of tools. This platform is sleek and easy to use although it may be overwhelming for beginner investors. Think of Webull as a more advanced version of Robinhood. Webull offers fractional shares and other services like a free virtual trading simulator and crypto trading.
M1 Finance is colloquially known as the finance super app because it aims to provide all the necessities of a healthy financial life. This platform offers tools for those interested in investing, borrowing, and spending their cash. The investing features are unique with the ability for users to create their own portfolios and invest in several hand-picked stocks at once.
Webull vs M1 Finance Summary
Webull offers free trading of stocks, ETFs, options, and crypto
It also has a $0 account minimum to open an account
M1 Finance offers free investing for stocks and ETFs and has a $100 account minimum ($500 for retirement accounts)
The basic account on M1 Finance only offers one trading window per day, making it a better platform for long-term investors rather than frequent traders.
Webull offers a more advanced trading platform for active investors and those who frequently trade in and out of positions.
M1 Finance focuses on long-term investing using portfolios called "pies".
It also offers pre-built portfolios for free
Webull offers a more technical user interface with charting, analyst ratings, fundamentals, and news data.
M1 Finance has tax minimization and both offer fractional shares.
M1 Finance also offers members additional resources such as M1 Spend, M1 Borrow, and a Credit Card.
Don't forget to grab your free stock worth up to $200 from Robinhood today!
Best Free Stock Promotions
What Is M1 Finance?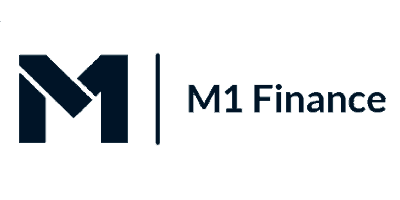 M1 Finance was launched in 2015 and is an online robo-advisor and brokerage hybrid for everyday people who want to invest in stocks or exchange traded funds (ETFs).
M1 Finance combines features of a traditional brokerage account with a modern robo-advisor. First, you select your investments and your allocations. Then, you automate the entire portfolio! Check out our detailed review of M1 Finance here.
M1 Finance focuses on low-cost passive investing with additional features such as automatic rebalancing, professionally built portfolios, and tax minimization strategies. The only fees you pay are the fees associated with any ETFs you invest in. M1 Finance is a completely free investing platform!
M1 Finance Summary:
Commission-Free: Stocks and ETFs
Account Types: Individual, Joint, Traditional IRA, Roth IRA, SEP IRA
Account Minimums: $100 for individual accounts, $500 for retirement accounts
Top Features: Free pre-built portfolios, free retirement accounts, low account minimum, beginner-friendly interface.
M1 Finance Features
The comprehensive feature set of M1 Finance makes it an attractive choice compared to many of the other free investing apps on the market.
Custom Portfolios
M1 Finance operates by creating portfolios of stocks and ETFs called "Pies". You can customize your pie and choose the specific stocks and ETFs that you want to add to your portfolio. For example, you could build a pie with 50% Tesla stock and 50% Google stock.
Within each pie, you can have up to 100 stocks or ETFs. Each can carry a different weight in the portfolio. There is no limit on the number of pies you can have in your M1 Finance account! For example, you could have one growth-oriented pie and one income-oriented pie in your M1 Finance account.
Pre-built Portfolios
M1 also offers pre-built pies that are free to invest in, these are called expert pies. You can invest in these pre-built portfolios based on your investment time horizon and personal preferences.
It is important to understand that these portfolios or expert pies are not tailored to any one person. Each investor has a unique set of circumstances. If you want a personalized portfolio, you should consider a robo advisor like Betterment or a financial advisor. Betterment is another cutting-edge platform that saves investors money by leveraging technology.
Most investing platforms charge an asset management fee in exchange for any kind of investment guidance. M1 Finance offers these pre-built pies for free. They do not charge any fees outside of the ETF expense ratio. This expense is present regardless of the platform you choose to invest with.
M1 Finance also allows you to buy fractional shares of a corporation within your pie. For example, if your M1 Finance account has a balance of $1,000 but you would like to buy a share of Amazon for $3,000+, you can purchase a partial share of Amazon to hold in your portfolio. With fractional shares, you can buy as little as 1/10,000th of a share!
This keeps more of your money invested and less idle cash sitting on the sidelines. It also prevents a high share price from being a barrier to your investing.
Retirement Accounts
M1 Finance offers investors the ability to take advantage of retirement accounts including IRAs, Roth IRAs, SEP IRAs, and even trust accounts.
These accounts allow for a reduction in the tax liability due on your investment gains provided you don't withdraw your cash until retirement. Additionally, trust accounts provide the ability to plan for future generations and ensure your wealth lives beyond your life.
M1 Spend
The M1 Finance platform offers a free checking account, called M1 Spend, in addition to the investment tools available. With the M1 Finance basic account, you won't earn any interest or be eligible for any cash back when spending on the debit card you are issued.
However, by upgrading to M1 Plus ($125/year), you'll earn an above-average APY on the account and get 1% cash back on all of your spending on the card. This comes in addition to multiple other features and perks exclusive to M1 Plus users.
Either way, the checking account is fully integrated with your M1 Invest account, meaning transfers occur instantly and investing can be easier than ever.
M1 Credit Card
In addition to a debit card, M1 also offers a credit card, called the Owner's Rewards Credit Card. This card is available to all M1 members (pending application) but M1 Plus members get the $95 annual fee waived!
This credit card offers members up to 10% cashback! All purchases provide 1.5% cashback. However, if you own stock with the company that you are making a purchase with, then you can qualify for more, up to 10%. There are over 70+ participating companies. Companies such as Walmart, Amazon, and Netflix are all on the list. These companies are split into 3 tiers. The first tier of companies makes 2.5% cashback, the second 5.0%, and the third 10.0%.
M1 Borrow
M1 Borrow is a flexible line of credit with no application and very low rates. Members can borrow up to 35% of the value of their portfolio. The interest rate is 5.0%, but for M1 Plus members, the rate falls to 3.5%.
For example, if you have $10,000 invested with M1, then you would be able to borrow up to $3,500.
This personal loan can be a great way to pay off credit card debt, wipe out student debt, and more. Check out our full M1 Borrow review.
Portfolio Automation
As a platform that focuses on passive investing, M1 provides a host of features that aim to simplify and automate the investing process.
First, you are able to set up automatic recurring deposits into your M1 Finance pies. This allows you to follow a dollar-cost averaging strategy without the discipline or time that doing so would typically require.
Personally, I have a recurring deposit set up every 2 weeks to deposit $100 into my M1 Finance portfolio. This keeps my portfolio growing without me needing to do anything.
Smart Transfers
The next automation feature that sets M1 Finance apart is Smart Transfers. Smart Transfers take recurring deposits up a notch by creating logic-based rules for your M1 Finance account.
For example, if you know you want to keep $1,500 in your checking account at all times and invest any money above that amount, Smart Transfer is a great solution. M1 will monitor your checking account and whenever the balance is over that threshold, the rest will automatically be moved to your investments.
Currently, this feature is only open to M1 Plus investors but it's possible that over time it could be rolled out to a wider audience.
M1 Plus
For investors looking for additional features beyond what M1 Finance Basic offers, they can choose to subscribe to M1 Plus. This $125 per year service will provide four main benefits not included in the standard M1 Finance Basic features.
Access to a second trading window in the afternoon.
Lower interest rates when using M1 Borrow.
1% Cash back on all purchases made with your M1 Finance debit card.
1% APY on the balance of your M1 Spend account. (without M1 Plus, you won't earn any interest on this account)
No annual fee on the Owner's Rewards credit card
Clearly, most users won't need M1 Plus. However, for some these features will be well worth the price tag.
M1 Finance Pros
M1 Finance has no fees or commissions to use the platform
Free access to professionally-built expert pies
Automated rebalancing tools to save you more time and make investing seamless
Free dividend reinvestment program
Access to high-yield checking account
Lower interest rates on margin borrowing
Simple interface for long-term investors
Automatic diversification through pie investing
M1 Finance Cons
Not well-suited for active traders
Limited to one trading window per day
Cannot buy or sell options or crypto on the platform
Who Is M1 Finance For?
M1 Finance has a great platform for long-term investors. In most cases, the ideal user for M1 Finance is someone who is a somewhat passive investor, relatively fee sensitive, and does not want to spend a significant time managing their investments.
M1 Finance offers a greater amount of flexibility because you can choose exactly what you invest in. Most other robo-advisors limit you to a handful of ETFs.
M1 Finance is also a great platform for dividend investors. Your dividends will be automatically reinvested back into your portfolio once the cash balance exceeds $10. Other free investing platforms like Robinhood and Webull do not offer any kind of automated dividend reinvestment. Typical brokerage accounts that offer dividend reinvestment and fractional shares charge a fee for this service.
What Is Webull?
Webull is a commission-free stock and ETF trading platform. It is ideal for the active trader who is looking for a more dynamic user interface. Webull has a variety of features that benefit traders such as technical indicators, research agency ratings, financial calendars, and free margin trading as well as short selling, options trading, and crypto trading.
With easy access to margin, research tools, and live data, Webull has built an ideal platform for active traders. Check out our detailed review of Webull here.
Webull is a platform that is designed for the intermediate trader who already has some experience with the stock market. If you are a complete beginner, you might experience information overload.
Webull Summary
Free trading: stocks, ETFs, options, and crypto.
Account Types: Individual, Traditional IRA, Roth IRA
Account Minimums: $0
Top Features: Commission-free trading, real-time market data, commission-free short-selling, trading simulator, advanced mobile app, fractional shares.
Webull Features
Webull was designed for the active investor. It offers investors free trades like other platforms such as Robinhood but comes with a feature-rich platform. Three notable benefits of investing Webull are commission-free trades, extended hours, and Fractional shares.
Traditional investing hours are from 9:30 am to 4:00 pm. With Webull, investors can invest from 4:00 am to 8:00 pm. This certainly gives Webull the edge for active investors or day traders.
Research and Charting Tools
Webull has an impressive array of stock research and charting tools. When it comes to active investing or day trading, Webull definitely has the edge.
Technical Indicators: Webull has a variety of technical indicators available on the platform. You can choose from up to 22 technical indicators such as moving averages, relative strength indexes, and more. Here is the full list in our complete Webull review.
Smart Alerts: Webull lets you set a variety of alerts for different holdings. You can get an alert when a price level is hit, or a rate of change has hit a defined level. There are also alerts for volume levels or changes, this can be useful for traders to get a sense of where the stock may be headed in the short term.
Financial Calendar: The financial calendar feature keeps you informed on all the latest and upcoming financial news. Important events such as upcoming IPOs, dividend payouts, and earnings releases are all provided to you in a calendar format on the Webull platform.
Commission-Free Short Selling: There are no trading commissions to short a stock in Webull. Short selling occurs in a margin account, but all trades are completely free.
Paper Trading
Webull has a useful feature called the virtual trading simulator. This feature lets you create a virtual portfolio with fake money to test out strategies before risking real money. This is an ideal feature for someone just starting out who may need to gain more investing knowledge and know-how before investing real money.
Margin Trading
Webull allows margin trading on its platform to certain users. You must have a minimum account balance of $2,000 for margin trading access. Check out this site for Webull's margin interest rates. 
Cryptocurrency
When it comes to cryptocurrency, Webull clearly would be the better option as M1 does not support this asset just yet. Webull currently allows trading of 21 cryptos as well as monitoring for many more.
The list of 21 includes the following: BTC, DOGE, SHIBU, ADA, ETH, SOL, LTC, BCH, ETC, DASH, XLM, ZEC, BAT, LINK, UNI, ALGO, MATIC, AVAX, SUSHI, LUNA, and REN.
Trading crypto on a popular platform like Coinbase actually costs you trade commissions. With Webull, these trades are offered commission-free!
Another great feature of Webull is its community. This is a social media type feature that lets you follow other investors and comment on various stocks. This can be helpful to guage social sentiment around a particular stock or see what others are purchasing.
Webull Pros
Commission-free trading of stocks, ETFs, options, and cryptocurrency
Advanced features make the platform attractive to active traders
Ability to actively buy and sell individual stocks and ETFs throughout the day
Access to cryptocurrency
Increased access to research and screening tools
Access to trading both options and cryptocurrencies
Advanced desktop trading platform called Webull Desktop 4.0
Ability to paper trade $1,000,000 in fake money
Webull Cons
The Webull interface can be intimidating for complete beginners
Higher interest rates for margin borrowing
Webull does not provide automatic rebalancing of your portfolio
Who Is Webull For?
Webull is ideal for active traders who focus on investment research. Webull provides an array of research tools for both technical and fundamental investment researchers.
In most cases, this platform is best for those with some prior investment experience. If you are completely new to investing in the stock market, you might be overwhelmed by the number of research tools available to you.
But if you have experience trading in the market, Webull will likely have many of the features you have been missing out on with other free investing apps.
If you sign up via our link and fund your account with at least $100, you will get 2 free stocks!
Webull vs M1 Finance: Final Thoughts
M1 Finance and Webull are both very powerful investing platforms. A decade ago the features available on these platforms were only offered by the best and most advanced investment companies to wealthy individuals. Now, with so many platforms available to the retail investor, people have a wide variety of options to choose from.
We believe M1 Finance and Webull offer two different services that each meet its own target user. In most cases, M1 Finance is a good platform for someone who is investing for the long term and using a relatively passive investing approach.
Whereas Webull fits best with more of an active trading style. Investors who use technical indicators and those who need to make more frequent trades would be better off using the Webull platform. In the end, both platforms are free so you can always give both a try and see which is best for you!