Today's investors primarily care about two things; fees and account minimums. It just so happens that today, we are reviewing two platforms that excel in both of those categories.
Without trading commission fees or account minimums, investors can have their cake and eat it too with Webull and SoFi Invest.
While both are relatively new to the game of investing, both have impressive offerings that allow all investors to put their financial life in order with ease. Let's jump in and see why investors are talking about Webull vs Sofi Invest!
Summary: Webull vs SoFi Invest
Webull is a mobile-first platform focused primarily on active trading
SoFi Invest has several other tools and products in addition to investment access
Both platforms have fee-free stock and ETF trading and both have a $0 account minimum
SoFi Invest offers fractional shares while Webull does not
Both also feature retirement accounts as well as stock trading
Webull offers new users a free stock
SoFi Invest has options for both passive and active investing
Webull offers a paper trading simulator 
What Is Webull?
Although founded not too long ago in 2017, Webull has competed with some of the top investment platforms because of its user-driven trading platform.
Although mainly focused on mobile-app execution, Webull has recently improved its desktop platform with the release of Webull desktop 4.0. Let's dive in a check out some of this platform's features.
Webull Features
Although it is similar to other platforms like Robinhood which specialize in mobile-based trading, Webull offers features other leading brokerages lack. The main thing they are known for is advanced research tools and data.
Commission-Free Trades
With Webull, there aren't any commissions on trading stocks, ETFs or options.
Not only are there no commissions, but these accounts also come with no minimums, meaning anyone can hop into the game of investing.
In addition, options are available with Webull with $0 commissions or contract fees. This is an incredible offering is that is not very common in the industry.
Retirement Account Options
With Webull, you can open a retirement account to focus on your long-term wealth building strategy. These retirement options include Traditional, Roth, or Rollover IRAs.
These tax advantaged accounts mean that you'll be able to shelter some of your gains from taxes, depending on the account you choose.
Paper Trading
Using Webull's Paper Trading features means you can see if you are the next Warren Buffett without betting the farm. You can practice trading without any risk of losing actual money, because it's all a simulation.
Webull offers users a trading simulator with $1,000,000 to trade with. These funds of course, are not real, but they mimic the market exactly so you can see what would have happened based on your decisions.
This feature makes it so you can take this app for a spin without committing the big bucks and helps you familiarize yourself with the stock market without risking your own money.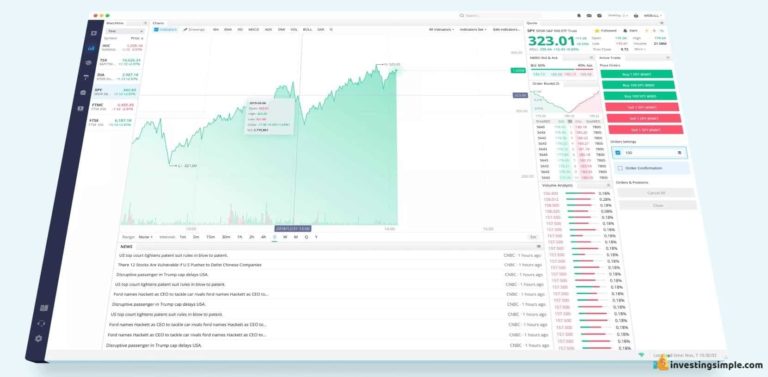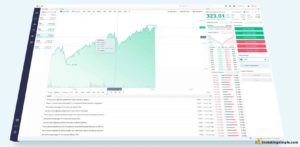 Data & Research Tools
One of the best things about Webull's platform is the amount of research and data at your fingertips. In just the app on your phone, you have access to a wide variety of advanced tools and data to help you make the best decisions.
This is something that other brokerage accounts such as Robinhood have failed to do and it has cost them users.
However, a word to the wise: all this information can be a bit overwhelming. So do your research and make sure you are focusing on the most important data points without suffering from analysis paralysis.
Webull Pros
Slick mobile app
Plentiful data and research
Paper trading platform to try before you buy
Free stock when you sign up
Retirement accounts
Webull Cons
No fractional shares
Overwhelming amount of data
Not a long track record
What Is SoFi Invest?
SoFi, otherwise known as Social Finance, is a popular conglomerate of personal finance tools. You've probably seen the commercials or received fliers in the mail claiming to save you money on your student loans and what not due to SoFi's robust loan refinancing program.
While SoFi does seem to have a strong hold on the lending and refinancing side, let's focus on its less well-known sector of SoFi Invest.
SoFi Invest Features
This platform uses its expertise to help investors excel in three areas. These are Active Investing, Automated Investing and Crypto Investing.
Together, these features, along with the many other financial tools offered, have helped over 1 million customers.
SoFi Invest Community
Before jumping into the nuts and bolts of each investing area, it's important to note SoFi Invest's community centric program.
Some of these benefits range from career coaching to financial planning advice and discounts on other SoFi products. This is a great perk that helps SoFi Invest differentiate itself from the ever-growing number of financial products out there today.
SoFi Active Investing
With Active Investing, you can trade stocks and ETFs with absolutely no account minimums or those the profit-eating trading commissions.
Instead of making investors wait until they can afford the whole stock, SoFi Invest, along with other brokerages, offers its version of fractional shares in what it calls Stock Bits.
With Stock Bits, you can invest in dollar amounts instead of numbers of shares. This means that while it would normally cost $500 to buy your favorite company's stock, you can now buy it for $250 and get ½ a share.
This offers investors another way to get into the game!
While not all blue-chip stocks are available for fractional shares, SoFi Invest has made it so that 43 of the most common stocks or ETFs are available.
SoFi ETFs
If you're not a genius at picking individual stocks, and let's face it, who is, you may consider investing in one of SoFi Invest's specialized ETFs. Here are some options below:
"SoFi Select 500: the 500 largest publicly traded U.S. companies weighted by growth signals. This ETF is fee-free for at least the first year and is included in SoFi automated investing portfolios.
The SoFi Next 500: Invest in 500 mid-cap U.S. companies weighted by growth signals with the SoFi Next 500 (SFYX). This ETF is included in SoFi automated investing portfolios and will be fee-free for at least the first year.
SoFi 50: Every share of the SoFi 50 (SFYF) has an equal slice of the 50 U.S. companies with the strongest growth signals. This low-fee (0.29%) ETF is a more aggressive fund than the SoFi Select 500 with a greater risk/return potential.
The SoFi Gig Economy: The SoFi Gig Economy ETF (GIGE) is a low-fee (0.59%) way to invest in the high-growth tech companies once they become public."


SoFi Automated Investing
With this, members can sign up and fill out a questionnaire and SoFi will build a personalized portfolio and manage it with no management fees!
They also offer the following retirement accounts: Roth, Traditional, or SEP IRA.
In addition to creating this portfolio for you, they will rebalance it too. This ensures that you are staying on track.
It's important to keep in mind that while there are no management fees charged by SoFi Invest, there are other investment expenses that need to be taken into consideration. The most common one is the expense ratio of an investment fund.
SoFi Invest claims these range from 0.03% to 0.08%. While you may think these are rather high, take a look at standard expense ratios in the industry.
Learn More About SoFi Roboadvisor Investing
SoFi Crypto
Cryptocurrency is quite the buzzword through around nowadays. But where is the best place to take advantage of all the hype? Well, SoFi Invest is one option.
They are so confident that after you complete your first trade of at least $10 using crypto, SoFi will give you $25 in bitcoin for free.
Crypto trading is also open 24/7, unlike public exchanges. But also unlike trading stocks on SoFi Invest, this is not free of fees.
A 1.25% fee is added to every crypto transaction and all crypto trades need to be above $10 in value and have a maximum of $50,000.
In addition, to protect user data, no crypto can be transferred outside of SoFi Invest to an external wallet.
SoFi Invest Pros
Trade stocks, ETFs and crypto
No management fees
Free automated investing 
Fractional shares through Stock Bits
SoFi Invest Cons
Limited account types
Relatively short track record
Not all stocks are eligible for fractional shares
1.25% fee for crypto transactions
Final Summary: Webull vs SoFi Invest
SoFi Invest and Webull are both new to the game of investing. However, this does not mean they should be overlooked.
Webull offers users a great experience on their mobile-first app and gives users access to several advanced research tools and stock information rarely found with other brokerages.
SoFi Invest, on the other hand, offers several other tools that investors love such as fractional shares and automated investing.
Both offer taxable and retirement accounts with $0 minimums.
If you are looking to trade stocks actively and conduct research, Webull may be a better option to consider. They are a research oriented trading platform.
If you do not want to construct your own portfolio, SoFi Invest can do this for you with the Automated Investing features.
Best Free Stock Promotions
Keep Reading: