What Are the Risks of Investing in Fundrise?
Over the last decade, crowdfunded real estate investing has emerged as a popular method of real estate investing. Thanks to developments in technology new online platforms have made gaining access to real estate investments extremely simple. 
But with such a new investing platform investors must ask themselves what are the risks involved? In this article, we will outline the risks of investing in Fundrise. 
The Fundrise investment platform is subject to risks such as liquidity, hidden fees, track record, and diversification risk.
What is Crowdfunded Real Estate?
Real estate crowdfunding is just another word for a real estate partnership. Rather than a single investor putting down a large sum of cash, crowdfunded investments are groups of investors putting down smaller sums of cash.
This structure gives smaller investors an opportunity to invest in private real estate deals without needing a significant amount of cash.
Crowdfunded real estate investing is a new term, but the underlying idea has been around for some time. Investors have been pooling their money together for decades to purchase real estate using partnerships, trusts, or syndicates. Where crowdfunding differs is the use of technology.
Technology plays a large role in real estate crowdfunding platforms. Most platforms will now allow you to stay up to date on individual projects and offer easy to use platforms that track your investment.
The online platform gives the investor the feeling of a more hands-on experience. Visually being able to see these properties and track the progress of each investment is a relatively new approach to traditional real estate investments.
Risks to Crowdfunded Real Estate Investing
Liquidity – Most crowdfunded real estate platforms are illiquid in nature. This means you do not have a promise to be able to sell your investment and get your cash. Depending on the platform, there may be lockout periods or redemption fees for selling your investment before the original term of the investment.
Fees – Fees tend to be higher for crowdfunded real estate platforms. Depending on the platform you may need to do your due diligence to make sure you understand all the fees involved. Certain crowdfunded real estate platforms are clever at hiding fees such as front end load and early redemption fees.
Track Record – Crowdfunded real estate investing does not have a long track record or history. Most of these platforms have been released in the last decade so there is no data available as to how this investment will perform during a downturn.

What is Fundrise?
One of the most popular crowdfunded real estate investing platforms today is Fundrise. Fundrise allows investors to gain exposure to real estate investments throughout the United States. Starting with $500, investors can purchase shares of real estate partnerships managed by Fundrise and owned by individual investors. 
Fundrise curates private real estate deals. With some of these deals, you are an owner who has equity in the property. In others, you serve as the bank earning interest on a loan. Equity investments are growth investments, as you can capitalize on asset appreciation. Debt investments are income investments, as you aim to receive interest payments from the loan.
Fundrise Portfolio Options
If you invest a minimum of $500, you will have access to the starter portfolio. The other three advanced plans require a minimum investment of $1,000.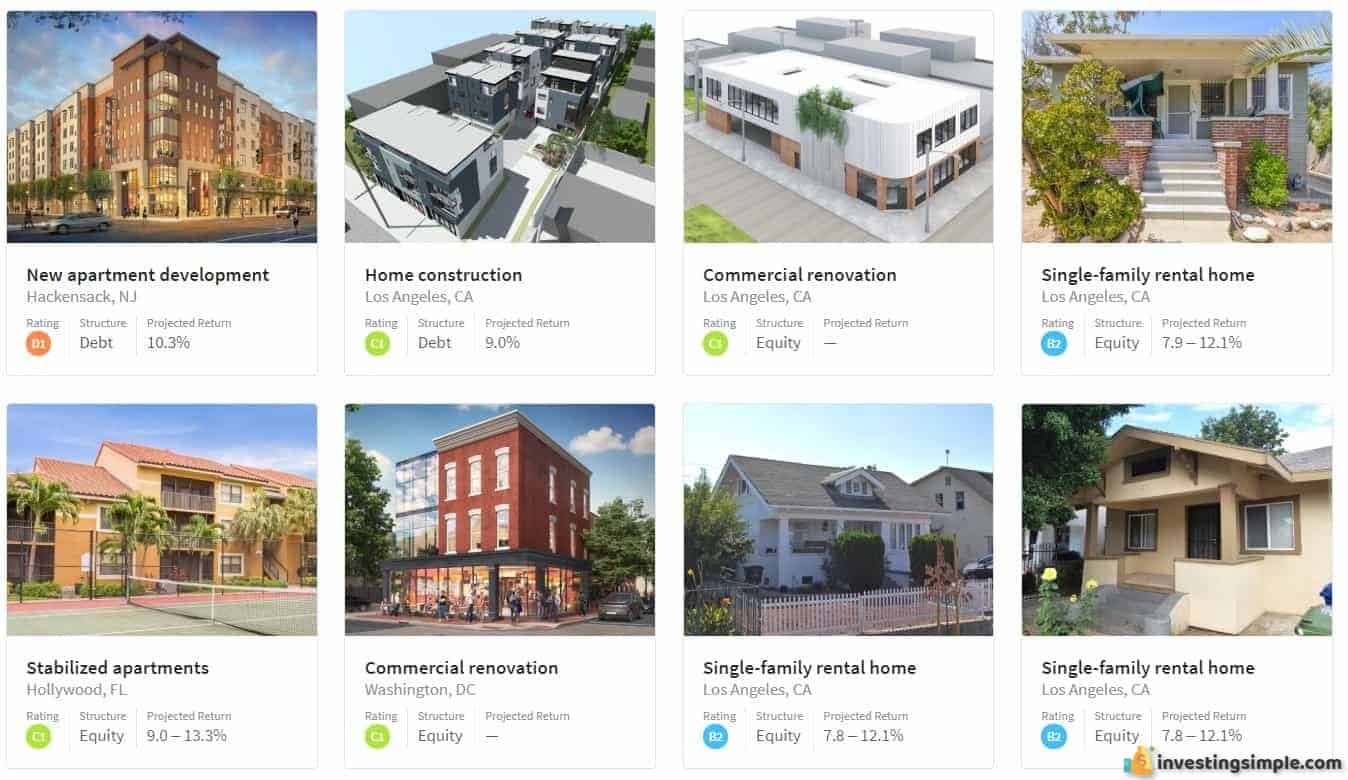 Starter Portfolio
The Fundrise Starter Portfolio is for new investors who would like to give Fundrise a shot. The minimum account requirement is only $500 needed by you to start investing. This portfolio consists of 50 percent growth and 50 percent income-oriented holdings. If you want to upgrade to an advanced plan down the road, it is entirely free!
Supplemental Income
The Fundrise Supplemental Income Portfolio holds income-producing real estate. You can choose an option that will best meet your needs for supplemental income. This will create a consistent income stream by investing in cash-flowing real estate.
The goal here is to funnel quarterly dividends to you via a portfolio allocated mostly to debt real estate assets. Investors will earn returns primarily through dividends from cash flow producing real estate and interest payments. Dividends are generated through rental and interest payments in proportion to your share of the fund.
Balanced Investing
The Fundrise Balanced Investing Portfolio offers a blend of 50 percent growth and 50 percent income-oriented investments. The goal for this portfolio is for a balance of the income-generating real estate, as well as real estate that is appreciating in value. Fundrise balanced investing helps you build wealth steadily through high diversification.
If you buy into this class, the goal is to earn returns through a blend of dividends and appreciation. This is a balanced mix of income and growth strategies. Current projects on the docket feature apartment reno's in Jacksonville, FL; new apartment development in Georgetown, TX; and new commercial projects in Colorado Springs, CO.
Long-Term Growth
The fourth portfolio option is the Fundrise Long Term Growth Portfolio. The goal of this portfolio is to generate returns primarily from property appreciation. This portfolio aims to buy high growth potential real estate and generate returns mostly from the sale of the underlying properties.
This investment portfolio includes buying a property and performing renovations in order to sell the asset for again later. This category aims to earn returns via appreciation in value, rather than consistent dividends. The wide array of projects currently includes apartment reno's in Charlotte, NC; new home construction in Daly City, CA; and new commercial development in Chicago, IL.
Fundrise Fees
There is a flat annual fee of 1% on the Fundrise platform. This 1% fee is broken down as a 0.15% investment management fee to manage your portfolio. And a 0.85% asset management fee to manage the underlying properties held in your portfolio. 
Fundrise also has an asset origination/ acquisition fee. This is a one time fee that can range from 0-2% of the initial investment. This is a fee for establishing real estate partnerships and the origination and negotiation of the underlying real estate assets. 
There are also early redemption fees for taking distributions out of your account before the 5 year period. We will discuss the early redemption fees below.
What are the Risks of Investing with Fundrise?
Fundrise was founded in 2010 with the goal to make investing in private real estate available to individual average joe investors. However, investors must understand all the risks involved before they jump into this type of investment. 
Track Record
Crowdfunded real estate has yet to experience a recession or market downturn. It is not clear how well these non-traded REITs managed by Fundrise will perform in a recessionary market. If the economy falls into a downturn like the great recession of 2008, it may be difficult to understand how Fundrise and other crowdfunded real estate investments will fair. 
Liquidity 
Fundrise investments are illiquid in nature. This means investors are not guaranteed a redemption of their shares. In a downturn, liquidity may not be guaranteed due to a lack of demand as well as protecting existing investors from panic selling. Fundrise also charges fees for early redemptions. Investors should expect to hold their positions in Fundrise for a minimum of 5 years. 
Hidden Fees
Fundrise is not completely transparent about the fees on its platform. In addition to the annual 1% management fee and the 0-2% origination fee, there are additional fees involved.
Investors who would like to redeem their shares before holding them for 5 years will pay an early redemption fee. The fee is calculated as a discount to the share price of your investment.
The redemption fee is 0% if in the first 90 days.
A 3% discount if the shares were held at least 90 days but less than three years.
A 2% discount if shares held at least three years but less than four years.
A 1% discount if shares held at least four years but less than five years.
After holding the investment for 5 years, there is no early redemption fee. 
In addition, Fundrise shares can be sold at a premium to net asset value (NAV). This premium is a sales commission called front end load, which is a popular fee in traditional REIT and mutual fund investments. For example, if a share is purchased at $10.50, but the net asset value is $10 then Fundrise makes a commission on the difference, in this case, $.50 per share. 
Diversification 
One of the most important investing principles is the diversification of your investments. Investors should be wary to invest their entire portfolio into Fundrise or any other type of investment. Concentrated positions are high risk, and investors should consider diversifying their portfolio over multiple asset types, sectors, regions, and geography. 
90-day money-back promise
Fundrise has a promise to give you back your entire principal if you redeem within 90 days of your initial investment. This gives investors the ability to try out the Fundrise platform without a long term commitment. 
Fundrise is a relatively new investing platform offering many benefits to investors. With the introduction of technology, investing in non traded private real estate deals has become easy and interactive using crowdfunded real estate platforms. However, investors must understand how these real estate partnerships work and be conscious of the risks involved with this type of investment.