Best Investing App For Beginners
Investing in the stock market can be truly life-changing for many people. Earning steady returns year after year in a portfolio that continues to grow can help people build long term wealth. Of course, the stock market is a very volatile environment, but over the long term, it tends to increase in value.
However, even though the stock market has the potential to help us build wealth, a lot of people avoid investing in stocks because they don't know how to do it. In the past, buying and selling stocks was much more complicated and frequently involved the use of middlemen like stockbrokers. But, due to advances in technology, investing in stocks is now easier than ever. This means that if you are a beginner, it is now easier for you to get started in stock market investing than it has ever been.
One of the main reasons why it is so easy now is because you can download free investing apps, such as webull, Robinhood, M1 finance, on your phone, and make trades at any time in the palm of your hands! There are many apps available on the Apple App Store or the Google Play Store to help you start investing. Here is a look at a few of these new apps and platforms.
M1 Finance: Best Overall Pick For Beginner's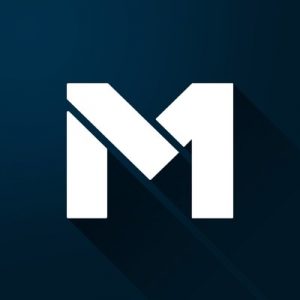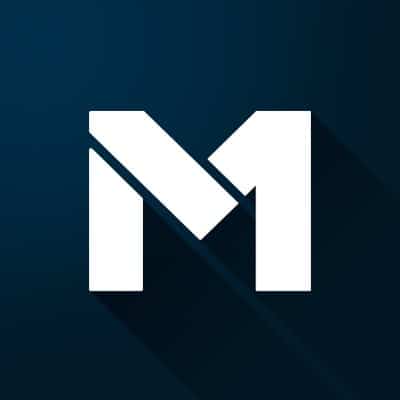 We believe that M1 Finance is the best stock trading app for beginners. There are a number of reasons why this is the case. First of all, M1 Finance offers free automated investing through expert portfolios or pies. This means that the experts can choose all of your stocks and ETFs for you at no cost! When you download the M1 Finance app, you can choose from a number of different portfolio types. For example, you can choose between a general investment portfolio, a socially responsible portfolio, a retirement portfolio, a dividend income portfolio, and more.
So, whichever investment strategy you prefer, you can just choose the type of portfolio, and M1 Finance will automatically choose ETFs to fill out that portfolio in a very sensible and efficient way. This is highly beneficial for newbie investors because, generally speaking, people who are brand new to investing do not have the knowledge to build risk-adjusted diversified portfolios.
Click Here To Get Started With M1 Finance
M1 Finance Expert Pie Portfolios
General Investing: Choose from risk levels ranging from ultra-conservative to ultra-aggressive.
Plan For Retirement: Invest for your target retirement date. Your portfolio allocation will adjust over time to become more conservative as you approach retirement.
Responsible Investing: Socially conscious investing. This investment category invests in companies that are concerned about financial obligations as well as social and environmental obligations.
Income Earners: Contains dividend and interest-paying securities.
Hedge Fund Followers: Pies that track public funds such as Berkshire Hathaway and Icahn Enterprises.
Industries & Sectors: Invest in one segment of the overall economy.
Stocks & Bonds: Multiple options for diversified stock and bond exposure.
Other Strategies: Other investment options like blue-chip stocks, domestic growth, domestic value and more.
Trinity Portfolios: Portfolios created by Cambria Investments.
M1 Finance Fees
Another reason why M1 Finance is ideal for new investors is that it's free. This means that it does not take a commission on trades that you make on the platform. All you need to do is deposit $100 on the platform, and you will be able to begin investing. So, if you do not have a lot of money to get started with, then M1 Finance may be an ideal platform for you.
Fractional Shares
Another key reason why M1 Finance may be great for beginner investors is the fractional share feature. Fractional shares are, quite literally, fractions of shares. So, if you only have $100 in your account, but if you want to buy a stock that costs $500, you can buy 1/5th of the stock for $100. This is extremely beneficial because many new investors cannot afford to buy expensive stocks like Google or Tesla. But, they can afford to buy fractions of them. Buying fractions of expensive, blue-chip stocks is a great way to get exposure to them.
Other Key Features
Retirement Accounts: Another positive aspect of M1 Finance is that it has a wide range of retirement account options. With M1 Finance, you can open a traditional IRA, a SEP IRA, a Rollover IRA, a Roth IRA, and Trusts. All of these things can be extremely beneficial for your financial future and for your retirement. So, if retirement planning is something that is high on your list, then M1 Finance could be an excellent option for you.
Free Consultations: M1 Finance also offers free consultations. So, you can speak with a representative who will go over every detail of the platform and help you to learn all the features. If you have any questions, the person will be able to answer them for you. This is another feature that makes M1 Finance a great option for beginners.
Webull: Best Pick For Intermediate Traders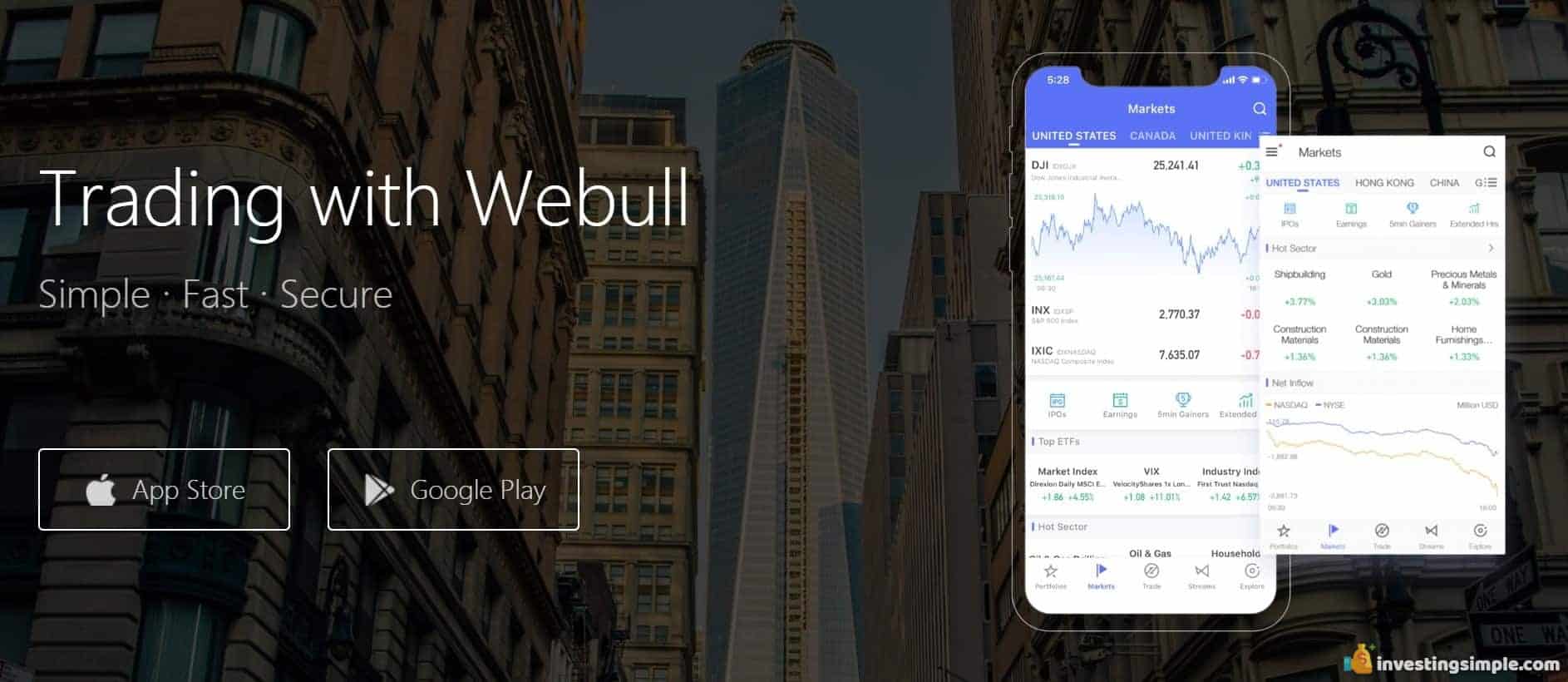 Webull is a relatively new trading app that is designed to cater to people who have an intermediate or an advanced level of trading experience. The app offers commission-free trades that can save active traders a fortune on commissions. In addition to commission-free trades, Webull also provides a ton of valuable research information and tools to help you with both fundamental and technical analysis.
The research that Webull offers includes market information, relevant news updates, individual stock research, screening tools, and more. In a nutshell, Webull is designed to help traders access the key research information that they need in a highly convenient manner. Webull also offers a real-time bar, candlestick, and line charts. Traders can search for a variety of technical indicators, including support and resistance levels, and more to help them with their trade decisions.
So, unlike M1 Finance, which is basically designed to enable new investors to set it and forget it, Webull is designed to make active trading as easy, cheap and convenient as possible for serious investors and traders. It is similar to Robinhood in this respect. However, many people believe that Webull has more advanced features when you compare Webull vs. Robinhood.
Click Here To Get Started With Webull
BONUS! Webull Free Stock Promotion
Webull is offering Investing Simple readers a free stock just for opening an account! All you have to do is use the link below to get your free stock. It is based on a lottery system, so it could be low value or high-value stock. When we opened an account, we got a free share of Ford worth about $10!
Margin Trading
WeBull also offers margin trading, which is highly appealing for many advanced traders. However, if you would like to trade on margin with Webull, then you will need to have at least $2,000 in your account. If your account value falls beneath $2,000 while you are trading on margin with Webull, then you could run the risk of facing a margin call and having your position liquidated.
The Webull app has only been around since 2018; however, it has already earned a stellar reputation in the investing and trading community. It is highly rated amongst trading apps. This is largely due to its advanced features and its ease of use. If you are a trader who is looking for an ideal app to run your trades on from your phone, then Webull is a fantastic option.
M1 Finance & Webull: Conclusion
The app that is best for you depends highly on your skill level, experience, and your needs. For example, if guidance is important to you, then you may want to use an app like M1 Finance. If it is more important for you to be able to quickly conduct your own research using technical analysis, market updates, and other such factors, then you should consider using an app like Webull which offers these features.
However, whichever app you decide to go with, you can test it out and just see how you like it. Remember, both apps are free, so it will not be the end of the world if you put some money in and then later decide that you don't like it. You can just pull your money out and then switch to another app. You can also start out with M1 Finance when you're just getting started, practice with that app, and then open an account with Webull once you get a little more advanced and when your needs change.
Free commission trading has taken the brokerage industry by storm. This is extremely important because if you are someone who plans on doing a lot of trading and/or investing over the next few years or even decades, then you can save hundreds to thousands of dollars in commissions. Other brokerages charge a commission per trade. If you're tired of paying these fees, then you may want to switch to M1 Finance or Webull in order to save money in fees. 
Click Here To Get Started With Webull
Click Here To Get Started With M1 Finance
MUST-READ: