Most online savings accounts offer a rather "one dimensional" experience. That is, a simple place to park your cash with a digital banking app.
Yotta is on a mission to change things up a bit with their prize-linked savings account. Instead of funneling money into the lottery, savers are rewarded with tickets each day based on how much they save.
Challenger banks like Yotta have emerged recently after the banking app Chime took the market by surprise. These new-age banks are garnering tens to hundreds of thousands of accounts in stealth.
So, should you jump on the Yotta bandwagon? Here's our full review.
Ryan Scribner is an angel investor in Yotta. 
Minimum Balance

APY

Savings Incentive

Security

Customer Service
Summary
With Yotta, you can save money while satisfying your "gambling itch." There is a base rate of 0.20% APY on savings, in addition to daily prize drawings. Daily prizes range from $0.03 to $1 Million. One of our reader's won a Tesla!
Since offering the online savings account, Yotta has branched out to offer a debit card and credit card as well. Both of these enable you to earn more tickets into the daily drawing.
Most recently, Yotta launched I Bonds Buckets, which allow you to buy I Bonds without navigating the outdated Treasury Direct website.
Use referral code RYAN for 100 Bonus Tickets when you sign up!
Pros
Earn 100 Bonus Tickets when you use referral code RYAN
100% FDIC Insured through partner bank Evolve Bank & Trust
Easy access to I Bonds
Save money while satisfying your gambling itch
Chance to win up to $1M daily
Cons
0.20% APY base rate is lower than competing savings accounts
Winning is not guaranteed
What Is Yotta?
So far, over 600,000 people have decided to make the switch and bank with Yotta.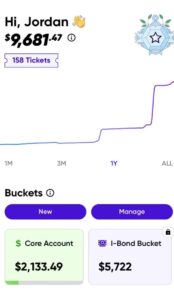 Yotta is essentially a fancy application built on top of a traditional boring savings account.
There are two crucial things to understand about Yotta:
First of all, there's no possible way to lose money (unlike the lotto or gambling)
Second of all, Yotta does not hold onto your money, they parter with a custodial bank called Evolve Bank & Trust
Yotta itself is simply a fancy application built on top of an old school bank account. Through their partner bank, you are fully FDIC insured. 
Yotta Features
Prize Linked Savings Account - Every $25 of your first $10,000 saved gets you 1 Daily Recurring Ticket
Buckets - Savings pods for specific goals or vacations as well as a specific I Bonds Bucket
Debit Card - Spend $10 to earn 1 Ticket for that day
Credit Card - Spend $5 to earn 1 Ticket for that day
Lucky Swipes - Offered with both the Debit and Credit card, every purchase has the chance of being completely free
Pool Play - Pool tickets with friends (just like a lotto pool at work) to increase your odds of winning
Yotta Pay - Like the "Zelle" or "Venmo" of Yotta, send payments to others within the app
Paycheck Perks - Your 1st direct deposit receives a 20% bonus, then it's a recurring 5% bonus
How Does Yotta Work?
Since there are so many features, it can be a bit overwhelming when you first sign up.
Here's how the app works when you get started.
1. Sign Up & Earn 100 Bonus Tickets
To open an account with Yotta, you will need the following information:
Full Name
Email
Address
DOB
SSN
The sign up process is simple and takes minutes.
Be sure to use our referral link or use referral code RYAN for 100 Bonus Tickets!
2. Link Your Bank & Make 1st Deposit
Once you open your account, you will get your 100 bonus tickets (assuming you used the code above).
At that point, you will want to make your first deposit. Based on the amount you deposit, you will earn recurring tickets into the daily drawing. There is a tiered system based on how much you have deposited.
Every $25 deposited earns you 1 daily ticket, up to $10,000 deposited
After that, every $150 deposited earns you 1 daily ticket
So, the ticket incentive is a lot better on the first $10,000 saved up. In that case, you would have 400 daily tickets into the drawing.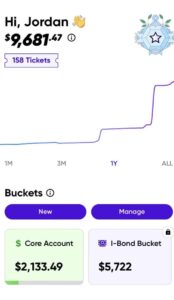 If you deposited $100 and never touched it, you would have 4 daily tickets. 
3. (Optional) Open A Checking Account
If you want to continue earning more tickets, the Debit card is your next step.
With the Yotta Debit Card, 10% of your dollar value purchases turns into daily tickets. If you spent $250 on a Utility Bill, you would earn 25 tickets for that daily drawing.
Lucky Swipes also come into play here. Your odds for a free swipe are based on a number of factors, including whether or not you have direct deposit set up and how many referrals you have generated.
Odds of a free purchase depend on if you have direct deposit setup as well as how many referrals you have. With direct deposit setup, your odds are 1 in 150 for the debit card on average and a 1 in 75 for the credit card on average. Every friend you refer unlocks you 30 days of 1 in 100 odds on average for free stuff on your debit card and 1 in 50 odds on average for your credit card. - Yotta Official Website
4. (Optional) Direct Deposit
If you want to earn even more free tickets, or boost your Lucky Swipe odds, sign up for direct deposit. This is when you have an employer automatically depositing your wages into your Yotta bank account.
When you add direct deposit to your Yotta Checking Account, you unlock the following perks:
25% better Lucky Swipe Odds (1 in 150)
Get paid up to 2 days early
20% bonus tickets on your 1st direct deposit
5% bonus tickets on all future direct deposits
Final Thoughts
In the United States, American's spend $1,000 per year on average on the lottery.
Imagine, instead, if you put that money into a prize linked savings account like Yotta?
That $1,000 would earn you 40 tickets every single day.
If a bank account is able to help you save through incentive, while cutting down on bad habits like gambling, that is a win-win.
Be sure to use our referral link or use referral code RYAN for 100 Bonus Tickets!