Yotta Savings
Minimum Balance

APY

Savings Incentive

Security

Customer Service
Summary
Yotta Savings is a new twist on the traditional savings account. For every $25 you save, you get 1 weekly ticket into a drawing.
On each ticket, you will see 7 numbers. Each night at 9pm, one number is drawn at random in the app. At the end of the week, you can win money based on how many numbers you matched on your tickets.
The more you deposit, the more tickets you receive. This is designed to encourage the good habit of saving money while satisfying the gambling itch most of us have.
Depositors are fully FDIC insured with Evolve Bank & Trust, where all customer funds are stored.
Use referral code RYAN for 100 bonus tickets!
Pros
Earn interest plus the chance to win big (up to $10,000,000)
Over 300,000 people have collectively won over $4m so far
Two people have won Tesla's from Yotta so far
Every $25 saved gets you another ticket
Use the Yotta Debit card to earn tickets when you spend too
Invite friends for additional tickets
Cons
Tickets earned are limited after you have over $10,000 saved
When you save or spend money with Yotta, you will earn tickets into weekly drawings worth up to $10 million.
For deposits, every $25 gets you a recurring weekly ticket. Cash prizes start out as low as $0.10 and go up from there.
You will essentially have the thrill of possibly winning while at the same time, be putting money away for whatever long-term goal you have. This could be for an emergency fund, a down payment on your first home, your child's education, or that retirement plan you've always meant to start.  
Even if you aren't on the long list of weekly winners, you're still making money! The cash that you've saved still has a 0.20% APY, which is four times as high as the national average.
Yotta Savings is completely free. There are no minimums, no monthly fees, so there is no risk. You can withdraw at any time, up to 6x per month, and there are no fees for these transactions.
So far, over 300,000 have already won a total of over $4m with Yotta, as well as 2 Tesla's.
How Does Yotta Work?
For every $25 you deposit in your Yotta Savings account, you earn one ticket into the drawing that happens weekly. Every Monday, you will pick 7 numbers for each of your tickets. If you prefer (or forget), you can have numbers automatically picked randomly.
One number is drawn each night at 9pm EST. There is a $10 million jackpot if all your numbers match.
Sign up for Yotta with the button above to get 100 free bonus tickets!
Or, simply use referral code RYAN when you sign up.
Balance Tiers (Accounts Over $10,000)
For most Yotta users, you'll be receiving a single recurring ticket into the drawing for every $25 you have in your account.
However, once you surpass a certain account size, Yotta is going to slow down the rate at which you'll receive tickets.
With interest rates as low as they are, this makes complete sense. Most users would prefer for high-balance users to get tickets at a slower rate than having the prize amounts reduced for everyone.
$0 to $10,000 deposited = 1 ticket per $25 
$10,000+ deposited = 1 ticket per $150
That means if you deposited $15,000 you would earn 1 ticket per $25 on the first $10,000 and then 1 ticket per $150 on the remaining $5,000.
How Are Winning Numbers Chosen?
The numbers are completely random. Yotta Savings works with a 3rd party "A" rated insurance carrier that randomly draws the numbers using a state-of-the-art number generator.
This insurance carrier is not affiliated with Yotta and has no ability to see what numbers Yotta Savings members have chosen.
It's a double-blind system since the insurance company has no way to see the numbers users pick or the tickets. In the event that there is a 10 million dollar jackpot winner, it would be paid out by the insurance partner.
So, this system is not "rigged."
Yotta does not draw the numbers or handle the lottery aspect. It is conducted by an independent third party.
Yotta Prize Pool
Currently, this online savings account pays an APY of 0.20% in addition to the prize pool.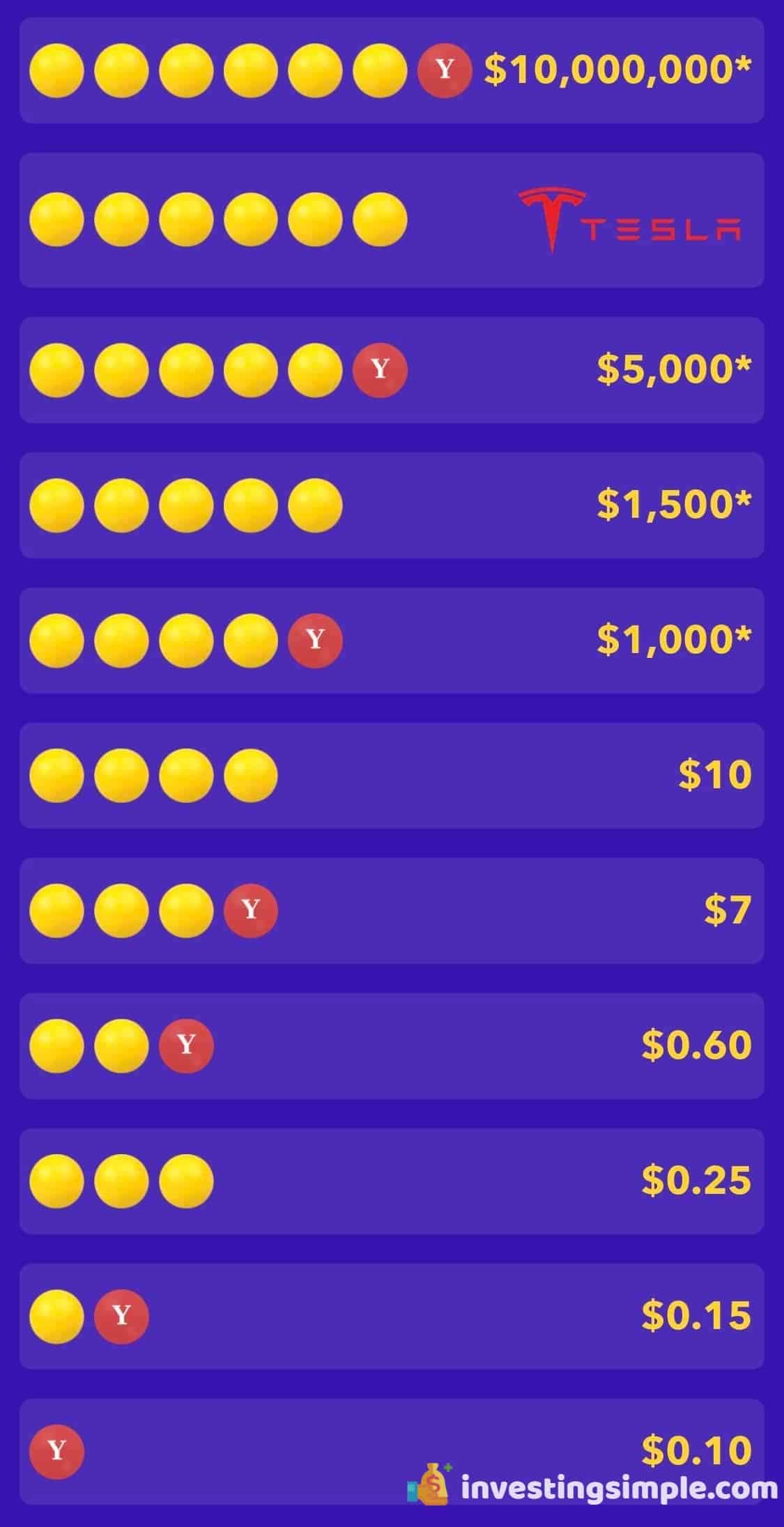 Earn Tickets Through Referrals
Yotta also has a generous tiered referral program that can allow you to earn more tickets by inviting friends. Each Yotta user is given a unique referral code they can use to invite friends and earn more tickets.
In a nutshell, the more people you refer, the more tickets you earn per referral.
Bronze Status (0-2 Referrals)
Earn 100 tickets per referral
Silver Status (3-5 Referrals)
Receive 300 bonus tickets
Earn 150 tickets per referral
Gold Status (6-9 Referrals)
Receive 600 bonus tickets
Earn 200 tickets per referral
5% extra tickets per week
Platinum Status (10+ Referrals)
Receive 1,000 bonus tickets
Earn 250 tickets per referral
10% extra tickets per week
Yotta Pool Play
Earlier this year, Yotta savings added a new feature to their platform called Pool Play. This allows users to join forces and pool their tickets together to increase their chances of winning a big prize.
Anyone can start a Yotta Pool and invite as many people as they want to join. If you want to join a Pool Play, you can decide how many of your tickets you want to allocate to the pool. Then when the Yotta Ball is drawn at the end of the week, all of the prizes won by the pool are split.
The number of Yotta tickets you added to the pool will determine what share of the winnings you get. For example, if you and your friend both put 100 tickets into your own pool, you'd split the prizes 50/50. But if you put in 400 tickets and they only put in 100, you'd get 80% of the Pool Play prizes.
Yotta Pools can either be public or private. A public pool is open to the public, and anyone will be able to join. With a private pool, on the other hand, people will be able to join on
Is Yotta Safe/Legit?
It is! Your savings account is covered by insurance from the Federal Deposit Insurance Corporation (FDIC). 
Remember, Yotta Savings is not holding onto your money. They work with partner banks that are storing your hard-earned money. The name of the specific bank Yotta uses is Evolve Bank & Trust.
Your personal and financial information is protected by bank-grade encryption and authentication.
Yotta also makes it very easy to enable 2-factor authentication within the app which is always a good idea for apps that have your money on them. An extra layer of security is never a bad thing because it helps to keep your cash safe and secure.
With stories in the news about bank accounts being hacked or compromised, it is a relief to know Yotta Savings has this area of security covered. 
They use one of the most sophisticated monitoring and safety protection systems out there today. It is an information security program that will meet or exceed banking industry standards. 
It's called Plaid, a Visa-owned company, that securely connects to more than 15,000 financial institutions.

Yotta sends your credentials through Plaid to your bank. Plaid then sends back an encrypted token to Yotta. This way, no sensitive information touches their servers.
Sign up for Yotta with the button above to get 100 free bonus tickets!
Yotta Review: Final Thoughts
Let's face it, saving money in a bank account is boring, while being a ticket holder in a lottery is a rush. 
The Yotta Savings app fixes this problem by making saving instantly fun while also offering better economic value than most savings accounts. With Yotta, you get the chance to win big just by saving. So even in weeks where you don't win a prize, your money still grows, instead of disappearing like in the lottery.
At the same time, you can refer your friends, earn free tickets, and stir up a fun competition each week to see who will win the most.
Feel free to try it out and see for yourself.
Use referral code RYAN for 100 bonus tickets!