All it takes is a dollar and a dream.
But it takes far more than a dollar. 
Altogether, Americans spent an astonishing $80 billion on lottery tickets in 2019 alone.
That's an average of $640 per U.S. household.
How many Americans are jumping on this bandwagon? In the U.S., approximately 183 million people play the lottery at least one time per year.
Every dollar spent is a dollar down the drain! 
This is because the odds of winning the Powerball are approximately 1 in 293 million.
For Mega Millions, it rises to a jaw-dropping 1 in 302.5 million.
Keep in mind that buying lottery tickets isn't an investment. The tickets don't carry over from one lottery drawing to the next. After the drawing, tickets are only as good as the scraps of paper they are printed on.
However, there is a new bank account called Yotta Savings that is shaking things up by combining the addictive elements of the lottery with a savings account. Here is our full in-depth Yotta review.
Yotta Savings
Minimum Balance

APY

Savings Incentive

Security

Customer Service
Summary
Yotta Savings is a FDIC insured prize-linked online savings account. On the surface, the base yield of this account is less than other online savings accounts. However, when you consider that you could win up to $10,000,000 the upside could be a lot higher. Yotta Savings encourages the good financial activity of saving money while satisfying that gambling itch many of us have.
Use referral code RYAN for 100 bonus tickets!
Pros
Earn interest plus the chance to win big (up to $10,000,000)
Every $25 saved gets you another ticket
Invite friends for additional tickets
Cons
No checking account currently
Limited customer service
Yotta Review: Platform Highlights
The Yotta Savings app provides a free prize-linked bank account
Every week Yotta Savings users are entered into a drawing to win up to $10 million
By keeping more money in your Yotta Savings account, you increase your odds of winning
On top of the weekly prizes, Yotta users also earn 4x the interest rate of the average bank account
On the Yotta Savings app, you can pool your tickets with others to increase the chances of winning big
Yotta Savings offers a debit card that gives users the chance for their item to be free every time they use it
Users looking to take advantage of a higher interest rate can take advantage of Yotta's Crypto Buckets
Yotta's Credit Builder account allows you to build your credit while contributing to your savings
What Is Yotta Savings?
Yotta Savings is a new FDIC-insured online savings account that aims to satisfy your gambling itch while encouraging you to save money, a wise move financially.
They pay slightly less in interest, however, you have the chance to win up to $10,000,000 in weekly lottery-esque pools.
For every $25 you deposit, you earn 1 ticket. Each ticket could win big.
Unlike the traditional lottery, there is no possible way to lose money with the Yotta Savings app. There is only the chance of winning big or potentially winning a smaller prize. Here's our full review of Yotta Savings. 
Use referral code RYAN for 100 bonus tickets!
Best Free Money Promotions
Savings Rates In America
Meanwhile, with all this cash being wasted on lottery tickets, Americans are failing when it comes to ensuring their future financial safety.
That includes a lack of savings and in most cases, hardly any money stashed away for retirement. 
In 2019, 69% of Americans reported that they have less than $1,000 in a savings account. 
But wait a second! The average American household spends $640 a year on lottery tickets. Why are they not simply directing this money to savings?
This is due to the fact that people would rather gamble at the slim chance to win big, rather than doing what is financially wise but boring.
Where People Save Money
The most common place where people put their cash is in a traditional saving account.
In recent years, there has been an enormous leap in the number of online savings accounts. This is because these online banks often have better rates and lower fees. By eliminating costly branches, they are able to pass the savings directly onto the customers. 
The average APR on savings accounts in the U.S. is just 0.05%!
Online savings accounts are a little bit better. However, rates are still pretty low.
For number's sake, let's say a brick and mortar bank pays 0.05% APY while an online high yield savings account pays 0.50% APY.
If you put $10,000 in both, you would earn $5 from the brick and mortar bank and $50 from the online high yield savings account. 
So, the question becomes, would you rather have that guaranteed $50 in interest, or slightly less but the chance to win up to $10,000,000?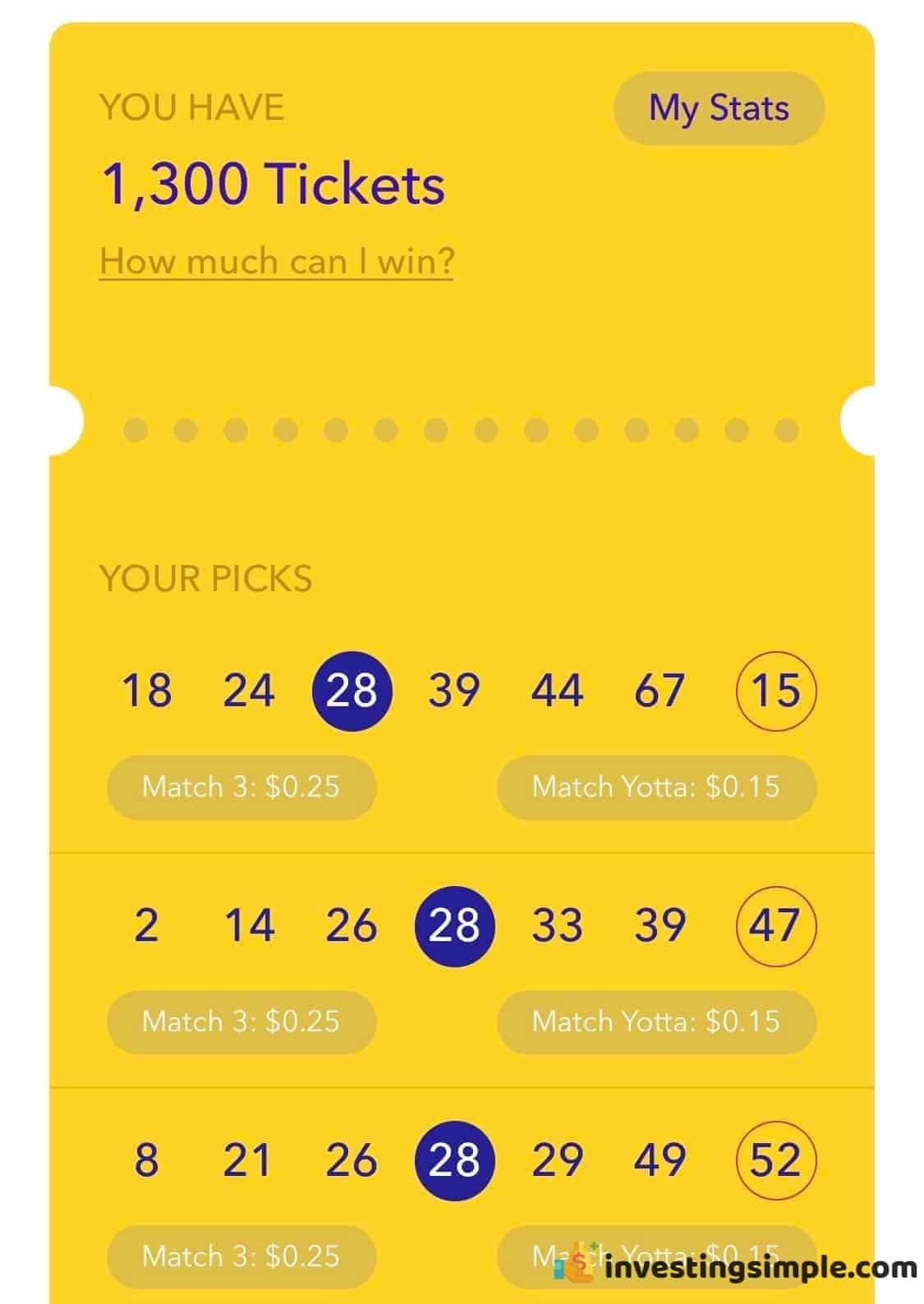 Yotta Savings... Chance To Win Big!
When you open a Yotta Savings account and deposit money, you will earn tickets into weekly lottery drawings worth up to $10 million. You read that right. In fact, every $25 gets you a recurring ticket into weekly number draws.
Use referral code RYAN for 100 bonus tickets!
And there are plenty of other cash prizes ranging from $0.10 cents on up. 
You will essentially have the thrill of possibly winning cash while at the same time, be putting money away for whatever long-term goal you have. This could be for an emergency fund, a down payment on your first home, your child's education, or that retirement plan you've always meant to start.  
Even if you aren't on the long list of weekly winners, you're still making money! The cash that you've saved still has a 0.20% APY, which is four times as high as the national average.
Yotta Savings is completely free. There are no minimums, no monthly fees, so there is no risk. You can withdraw at any time, up to 6x per month, and there are no fees for these transactions. You store up money in your savings account, plus have the chance to win drawings every week.
The list of winners and their cash prizes can be found within the Yotta Savings app, so you can see how much Yotta account customers are winning.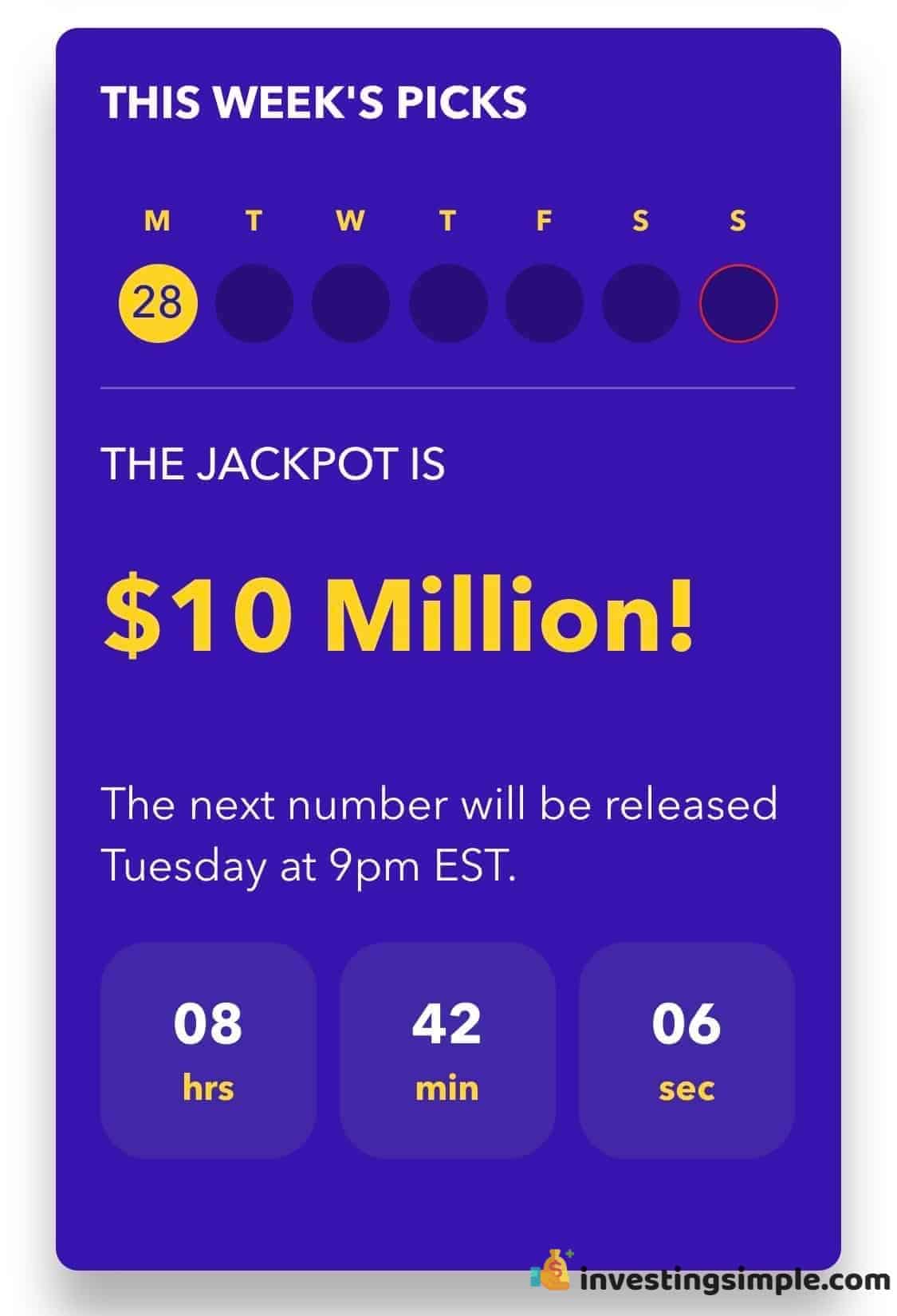 How Does Yotta Work?
For every $25 you deposit in your Yotta Savings account, you earn one ticket into that week's drawing. Every Monday, you will pick 7 numbers for each of your tickets. If you prefer (or forget), you can have numbers automatically picked randomly.
You can get tickets into Yotta Saving's weekly drawing by receiving a recurring ticket for every $25 that you deposit. So, if you have $25 in a Yotta Savings account, you will receive one ticket every single week without needing to make new deposits.
Yotta contests occur weekly, with one number drawn each night at 9 p.m. ET in the Yotta Savings app. Contests start on Mondays at 9 p.m. ET and end on Sundays at 9 p.m. ET. Every Sunday, the 7th and final number for the week's contests is drawn, and your winnings for the week will be determined
There is a $10 million jackpot if all your numbers match.
The more numbers you match, the more money you win. You can track your numbers on an easy-to-read chart connected to your account. If you see "Won" on your ticket chart with a dollar value next to it, that is how much money you have won so far that week for that individual ticket.
If a ticket does not have "Won" on it, it means it has not yet won any prizes that week.
Plus, there's no way to lose! If you don't end up winning anything in a week, you'll get a bonus free ticket for the next week.
Balance Tiers (Accounts Over $10,000)
For most Yotta users, you'll be receiving a single recurring ticket into the drawing for every $25 you have in your account. However, once you surpass a certain account size, Yotta is going to slow down the rate at which you'll receive tickets.
With interest rates as low as they are, this makes complete sense. Most users would prefer for high-balance users to get tickets at a slower rate than having the prize amounts reduced for everyone.
There are two tiers of balances on the Yotta platform: under $10,000 and above $10,000. For your balance under $10,000, you'll receive tickets at the standard 1 ticket per $25 rate. However, any amount over $10,000 will receive tickets at a 1 ticket per $150 rate.
For example, if you had $40,000 in your Yotta account, you'd receive 400 tickets for the first $10,000 (1 ticket per $25). On the additional $30,000, you'd receive another 200 tickets (1 ticket per $150).
While this won't affect most users, it might make some users decide to only keep $10,000 with Yotta.
How Are Winning Numbers Chosen?
The numbers are completely random. Yotta Savings works with a 3rd party "A" rated insurance carrier that randomly draws the numbers using a state-of-the-art number generator.
This insurance carrier is not affiliated with Yotta and has no ability to see what numbers Yotta Savings members have chosen.
It's a double-blind system since the insurance company has no way to see the numbers users pick or the tickets. In the event that there is a 10 million dollar jackpot winner, it would be paid out by the insurance partner.
So, this system is not "rigged."
Yotta does not draw the numbers or handle the lottery aspect. It is conducted by an independent third party.
Joint Accounts
Recently, Yotta added the ability to open joint savings accounts on the platform. So if you and a spouse or loved one want to open an account together, you can pool your cash and double your odds!
Opening a joint account can quickly be done within the Yotta Savings app settings by tapping the "Add joint account holder" button and following the prompts on the screen. This account will legally be owned by both people though, so it's important to only add someone you fully trust.
Give The Gift Of Yotta (Gift Cards)
If you don't know what to give someone for the holidays and are looking for something a little more exciting than a gift card, you could consider giving them a Yotta account.
On the Yotta app, you're able to send a cash gift to someone else via email and start a Yotta account for them. This could help encourage a habit of savings for a child or stir up some friendly competition between you and a friend trying to win the $10 million prize.
Plus, as a bonus, you'll both receive a bonus 100 tickets when the person accepts your gift and starts their Yotta account.
How Much Does Yotta Pay?
The APY of this account changes based on the federal funds rate.
Currently, this online savings account pays an APY of 0.20% in addition to the prize pool.
You do not pay Yotta a dime. There are no fees and no minimums.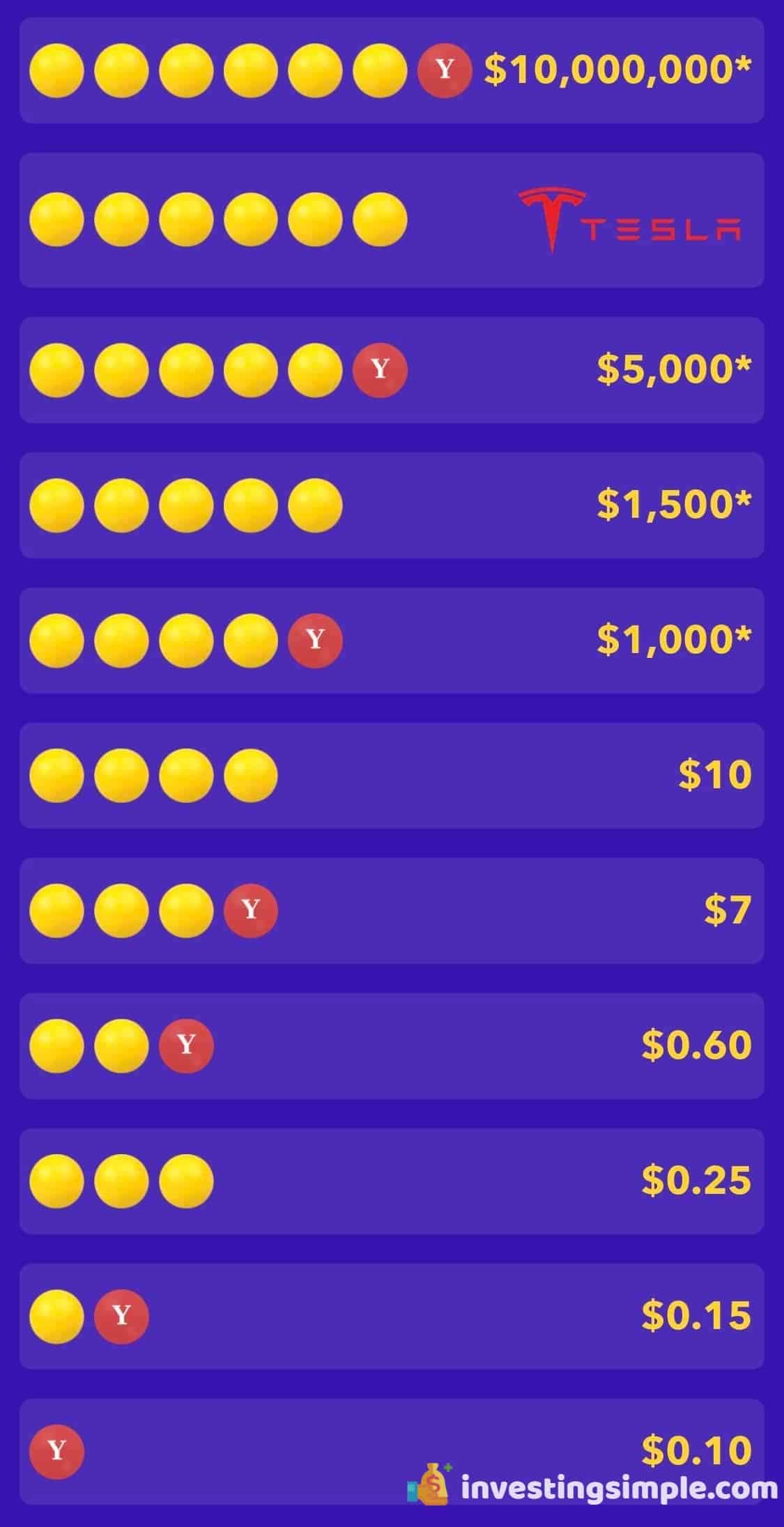 My Results From Yotta
I've been using Yotta for a few months now and so far the rate of return has been much higher than a typical online savings account.
While I haven't won the $10,000,000 (yet), the prizes I have won so far have been a nice bonus.
At this point, I'm currently earning over 2% on my Yotta Savings account when taking both the prizes and the savings bonus into account. This is over 200x the rate being paid by Wells Fargo and Chase!
The savings bonus is the 0.2% APY that Yotta pays out to users on a monthly basis and the prizes are the result of the lottery.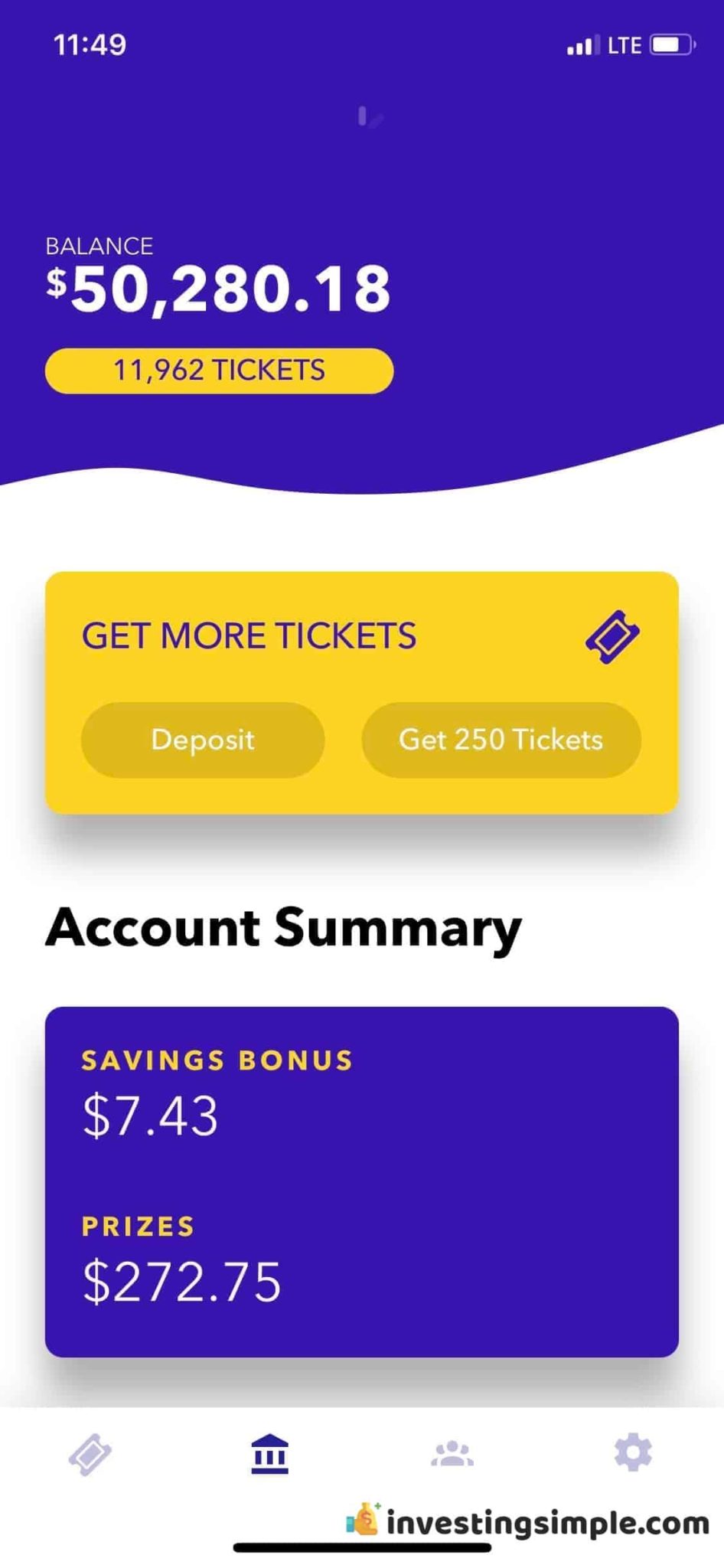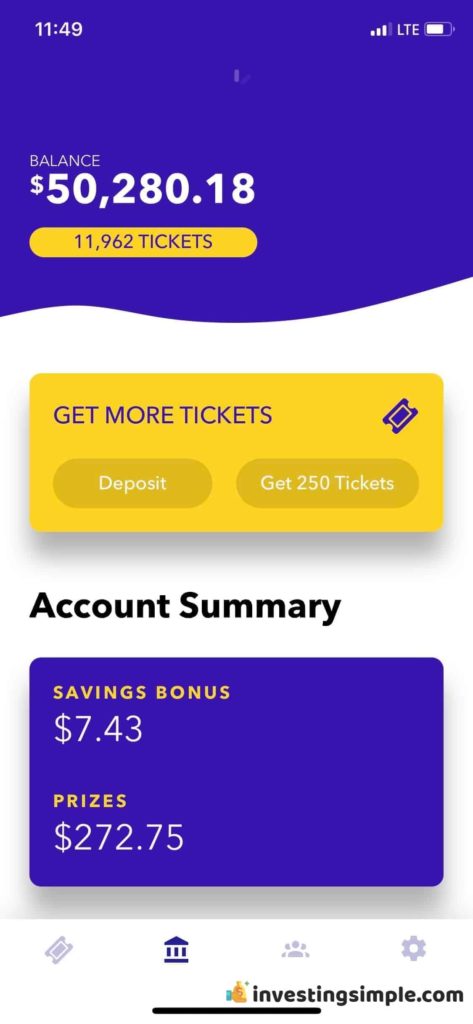 Over the last few weeks, my winnings from the Yotta lottery have varied somewhat from week to week. I general, I'll see anywhere from $20 - $70 per week from the Yotta lottery.
This is 100% passive income and also a fun way to compete with friends. Every night I can compare my tickets with theirs and we can see who is coming out ahead.
While there's not much skill involved, it's still a fun way to stir up some healthy competition while earning some extra cash.
Even as someone who was never much into the lottery, I can definitely see how this could fill a person's craving for the thrill of playing the lottery.
The idea of winning $10,000,000 every week is more than enough to keep me checking my Yotta Savings app.
Yotta Lucky Tickets
Recently, Yotta rolled out a new feature called Lucky Tickets.
If you want to play the same numbers every week, you simply include these numbers here. Then, Yotta will play these numbers first before randomly generating other numbers.
How To Get A Free Yotta Ticket
The "No Purchase Necessary" rule in the US states that giveaways cannot require you to make a purchase to receive an entry. As a result, there is an alternative way to receive a Yotta Savings ticket other than depositing money into your account.
The alternative entry method is to mail a handwritten note to the Yotta Headquarters with your chosen numbers. This will grant you one entry into the weekly $10,000,000 contest.
If you win, you'll be mailed a check for your winnings.
While this seems like quite a hassle for a single entry, it is an option that you have for entering the contest.
For the full details on this method and the address to send your letter to, refer to Yotta's website.
Prize-Linked Savings Accounts
Although new to the U.S., the concept of a prize-linked savings account has been around for some time. 
In fact, for many years, more than twenty countries have used prize-linked savings as a way to encourage people to save money. They include Argentina, Brazil, Colombia, Germany, Indonesia, Iran, Japan, Mexico, New Zealand, Oman, Pakistan, Spain, South Africa, Sri Lanka, Turkey, United Arab Emirates, the United Kingdom, and Venezuela.
The first prize-linked savings account dates all the way back to 1694, used by the British government to pay off war debt.
In the 1950s, the United Kingdom launched Premium Bonds, the world's largest prize-linked savings program. Every month, 3 million prizes are doled out to winners via a raffle. 
Today, Premium Bonds are the number one savings vehicle in the UK. More than 22 million people deposit into Premium Bonds. That's 33% of the UK population! The program has over $100 billion in deposits, and a total of $1.4 billion is given out in prizes every year. 
How To Earn More Yotta Tickets
For every $25 you deposit, you earn an additional ticket.
However, Yotta Savings also has a generous tiered referral program that can allow you to earn more tickets by inviting friends. Each Yotta user is given a unique referral code they can use to invite friends and earn more tickets.
In a nutshell, the more people you refer, the more tickets you earn per referral.
Bronze Status (0-2 Referrals)
Earn 100 tickets per referral
Silver Status (3-5 Referrals)
Receive 300 bonus tickets
Earn 150 tickets per referral
Gold Status (6-9 Referrals)
Receive 600 bonus tickets
Earn 200 tickets per referral
5% extra tickets per week
Platinum Status (10+ Referrals)
Receive 1,000 bonus tickets
Earn 250 tickets per referral
10% extra tickets per week
Yotta Pool Play
Earlier this year, Yotta savings added a new feature to their platform called Pool Play. This allows users to join forces and pool their tickets together to increase their chances of winning a big prize.
Anyone can start a Yotta Pool and invite as many people as they want to join. If you want to join a Pool Play, you can decide how many of your tickets you want to allocate to the pool. Then when the Yotta Ball is drawn at the end of the week, all of the prizes won by the pool are split.
The number of Yotta tickets you added to the pool will determine what share of the winnings you get. For example, if you and your friend both put 100 tickets into a pool, you'd split the prizes 50/50. But if you put in 400 tickets and they only put in 100, you'd get 80% of the Pool Play prizes.
Yotta Pools can either be public or private. A public pool is open to the public, and anyone will be able to join. With a private pool, on the other hand, people will be able to join on an invite-only basis.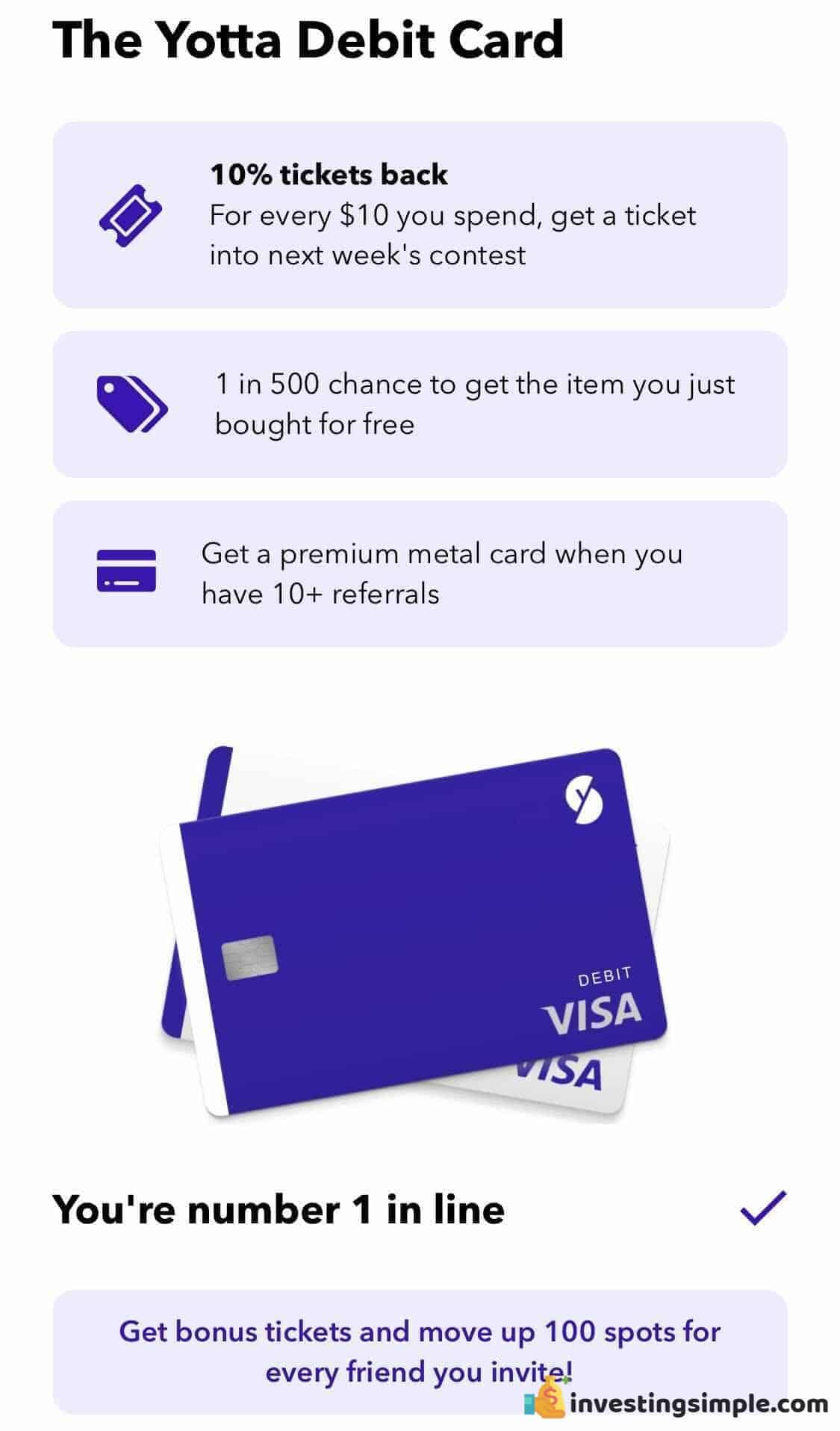 Yotta Savings Debit Card
For Yotta Savings users looking to rack up even more tickets while experiencing the thrill of the lottery, the Yotta Debit Card could be exactly what you're looking for.
This debit card comes with a host of features and perks that you're not going to find with any other card. These include the ability to score more tickets into the $10 million weekly drawing and the chance that any purchase you make on the card ends up 100% free!
For every $10 you spend on the Yotta Debit Card, you'll get one bonus ticket into the next week's drawing. These will stack on top of any tickets you get from your savings account and will allow you to get even more chances at winning big each week.
In addition, there will be a 1/500 chance that any purchase you make on the Yotta Debit Card ends up free! That's because Yotta will randomly pick up the tab on 1/500 purchases made on the card. However, this is totally random so you might just end up with a free lunch from Yotta every once in a while.
These perks are very aligned with the current Yotta savings account and after this debit card is released, it's likely Yotta will continue rolling out banking products that are fun to use.
At the moment, the Yotta Debit Card has not been released yet. There is a waitlist within the app though, which you can join so that you can get the first dibs on this new card as soon as it comes out.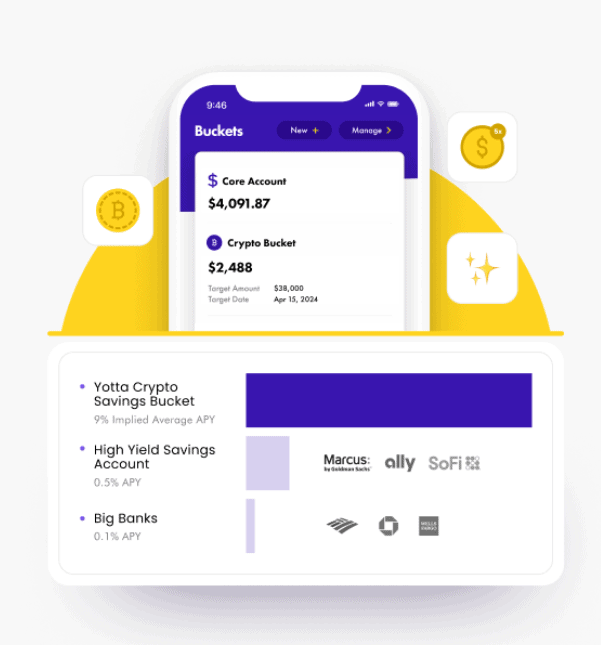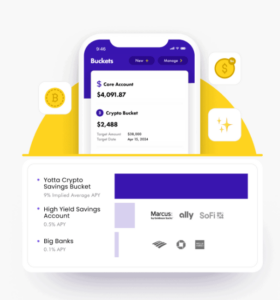 Yotta Crypto Buckets
With the rise of platforms like BlockFi that allow users to receive above-average APYs through the use of cryptocurrency, Yotta has taken notice. Users now have the option to choose whether they want to contribute to the traditional Yotta cash savings bucket or the Crypto Bucket.
Instead of receiving 1 ticket per $25 deposited as you would in the cash account, crypto deposits earn 1 ticket for every $5 deposited. Also unlike the cash account, there is no $10,000 balance tier that reduces your earned tickets. Instead, you earn 1 ticket per $5 on your total Crypto Bucket balance.
The Crypto Bucket works by converting your US Dollars into stablecoins which are pegged to the value of the dollar. Yotta then partners with trusted organizations like Terraform Labs to generate a significantly higher return than traditional banks. On their website, they state that their crypto buckets offer an implied average APY of 8%.
Users should keep in mind that similar to all other crypto accounts, Yotta's Crypto Buckets are not FDIC insured. This is an additional risk you'll need to keep in mind anytime you own crypto.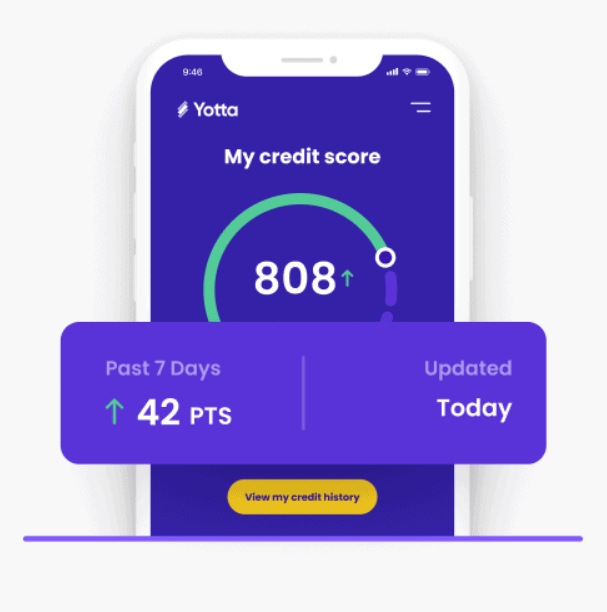 Yotta Credit Builder
In addition to the traditional and crypto buckets, there is another option for Yotta users to choose from. The Yotta Credit Builder account allows users to build their credit by contributing to their savings account.
This account works by requiring a monthly contribution of $55 per month for 24 months. Each of these payments will be reported by Yotta to the credit bureaus and work to build your payment history. Payment history is the most impactful factor of your credit score, making up 35% of the total. Therefore, the Yotta Credit Builder account has the potential to significantly improve your score.
When you open the account, Yotta funds it with $1,000 which earns you 40 tickets into each week's drawing. After the 24-month term is reached, the $1,000 along with all prizes won will be released to you.
Is Yotta Safe/Legit?
It is! Your savings account is covered by insurance from the Federal Deposit Insurance Corporation (FDIC). 
Remember, Yotta Savings is not holding onto your money. They work with partner banks that are storing your hard-earned money. The name of the specific bank Yotta uses is Evolve Bank & Trust.
The FDIC is an independent agency of the federal government. It was created in 1934 in response to the thousands of bank failures that occurred in the 1920s and early 1930s. Since the start of FDIC insurance on January 1, 1934, depositors have not lost a penny of insured funds as a result of a bank failure. 
What does this mean to you and your Yotta Savings bank account? It means that your cash is fully guaranteed by the U.S government for up to $250,000.
Your personal and financial information is protected by bank-grade encryption and authentication.
Yotta also makes it very easy to enable 2-factor authentication within the app which is always a good idea for apps that have your money on them. An extra layer of security is never a bad thing because it helps to keep your cash safe and secure.
With stories in the news about bank accounts being hacked or compromised, it is a relief to know Yotta Savings has this area of security covered. 
They use one of the most sophisticated monitoring and safety protection systems out there today. It is an information security program that will meet or exceed banking industry standards. 
It's called Plaid, a Visa-owned company, that securely connects to more than 15,000 financial institutions.

Yotta sends your credentials through Plaid to your bank. Plaid then sends back an encrypted token to Yotta. This way, no sensitive information touches their servers.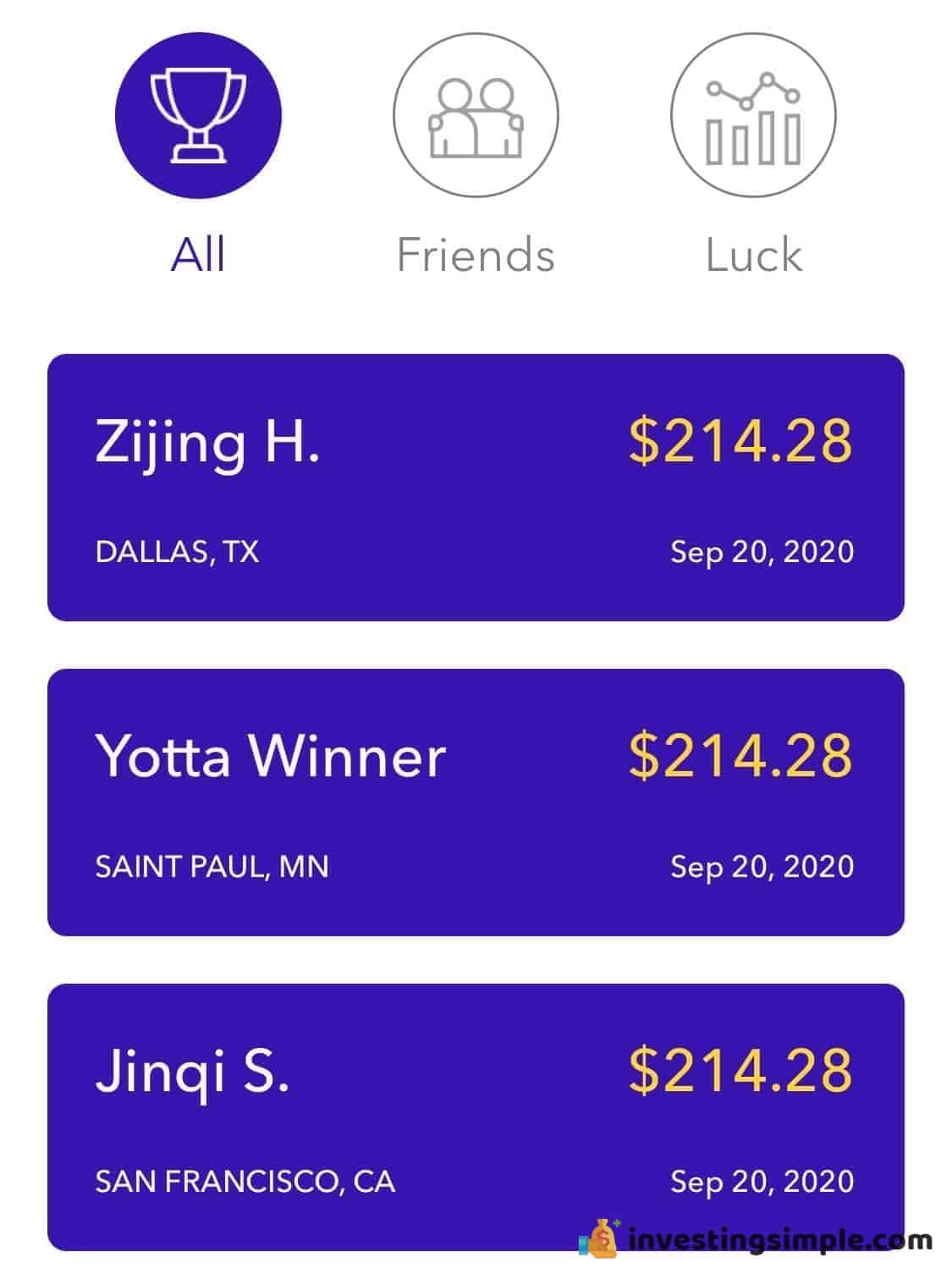 Yotta Review: Final Thoughts
Let's face it, saving money in a bank account is boring, while being a ticket holder in a lottery is a rush. 
The Yotta Savings app fixes this problem by making saving instantly fun while also offering better economic value than most savings accounts. With Yotta, you get the chance to win big just by saving. So even in weeks where you don't win a prize, your money still grows, instead of disappearing like in the lottery.
At the same time, you can refer your friends, earn free tickets, and stir up a fun competition each week to see who will win the most.
Feel free to try it out and see for yourself.
Use referral code RYAN for 100 bonus tickets!