Yotta Savings has led the charge for prize-linked savings accounts to start taking hold in the US market and WeWin has been quick to follow suit.
In essence, a prize-linked savings account merges the thrill of the lottery with the prudence of a savings account. By contributing to these accounts, instead of earning a flat percentage interest rate for your cash, you receive entries into a weekly drawing.
With interest rates as low as they are, this has become an appealing option for many savers looking for more than a fraction of a percent in interest.
These accounts have been shown to encourage a higher savings rate among populations that traditionally don't save much money. While at the same time, participating in prize-linked accounts leads to lower spending on lottery tickets. So you're really getting the best of both worlds; less lottery spending and more saving for the future.
It wasn't until the launch of Yotta Savings back in 2019 that prize-linked accounts popped on the radar of most Americans, but now more and more apps are popping up left and right.
One of the newest prize-linked savings accounts to hit the market is WeWin. In this article, we'll be providing a full breakdown of Yotta Savings vs WeWin so you can see which pays a higher rate and which will be a better option for you.
Summary: WeWin vs Yotta Savings
Yotta Savings was the original prize-linked savings account app in the US.
WeWin is run by Earnin, an app offering a service similar to payday loans for low-income individuals.
Both apps offer a $10 million grand prize in their weekly drawing.
Yotta Savings pays a flat 0.2% interest on your account balance in addition to your prize winnings.
Yotta has a generous referral program
WeWin also offers a referral program that is not as lucrative
Both accounts are FDIC insured up to $250,000
Yotta gives users 1 ticket in each weekly drawing for every $25 they have in the account
WeWin gives users 1 ticket in each weekly drawing for every $10 they have in the account
Your total account balance is limited to $2,000 on WeWin
Your odds to are slightly worse on WeWin than on Yotta.
Use referral code RYAN for 100 bonus tickets!
What Is Yotta Savings?
Founded in 2019, Yotta is the first prize-linked savings account to start finding traction in the United States. While these types of accounts are somewhat popular across the globe, they had yet to gain a foothold in the US.
Savers on the app are able to earn interest on their savings as well as receive entries into a weekly $10,000,000 drawing based on the amount they have saved.
The company was founded on the basis of research done showing that these types of accounts statistically reduce the amount people tend to spend on the lottery and increase savings rates. Their service is tailored towards individuals who typically spend money on the lottery, however, they have also grown in popularity with individuals looking for the highest available APY on their idle cash.
How Does Yotta Savings Work?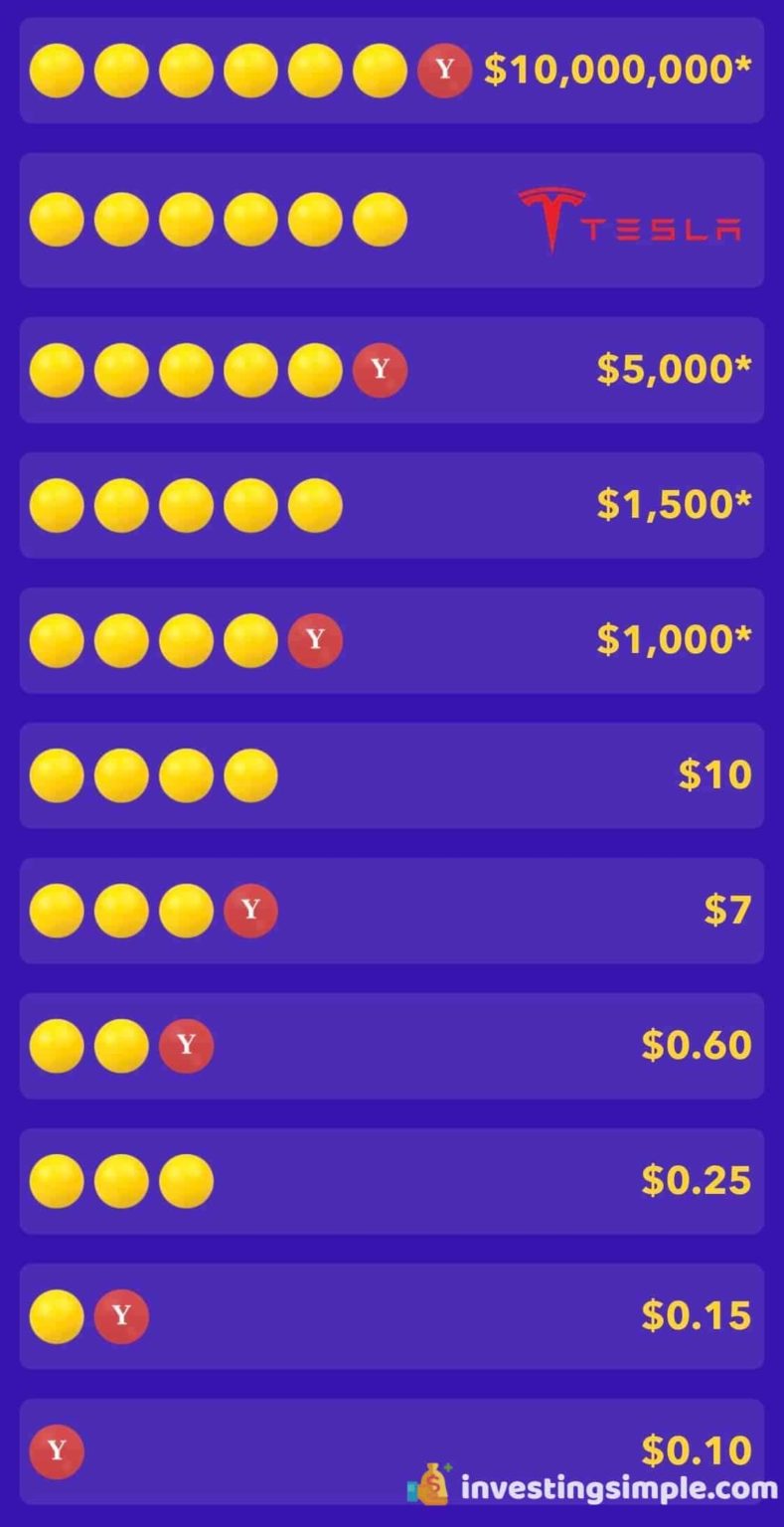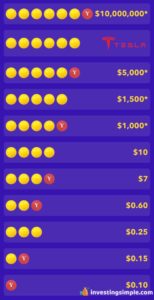 Every Monday night, a new $10 million drawing starts on Yotta. Before the contest starts, you are able to choose the numbers for your tickets, or you can let Yotta auto-select them for you. If you forget to pick your numbers before the contest starts, they'll be auto-selected for you so there is no penalty for forgetting.
Numbers are drawn each night at 9 pm EST and the weekly contest ends after the last number is drawn on Sunday night. At that point, you'll be able to see how much you won for the week and add your winnings to your account balance.
Your winnings are determined based on how many numbers you match on each of your tickets. The chart above displays the prizes and the number of numbers you need to match in order to win that prize. The yellow circles represent the normal balls that are drawn on Monday - Saturday. The red circle represents the Yotta ball which is drawn on Sunday evening.
In order to with the $10,000,000 prize, you'll have to match all six of the normal balls as well as the Yotta ball!
You get 1 ticket for every $25 you have in your account under $25,000. If you decide to fund your account with over $25,000, those excess funds will only earn tickets at a rate of 1 ticket per $150. This is to reinforce the company's goal of serving lower-income folks that have historically spent a larger percentage of their earnings on lottery tickets.
Use referral code RYAN for 100 bonus tickets!
Yotta Debit Card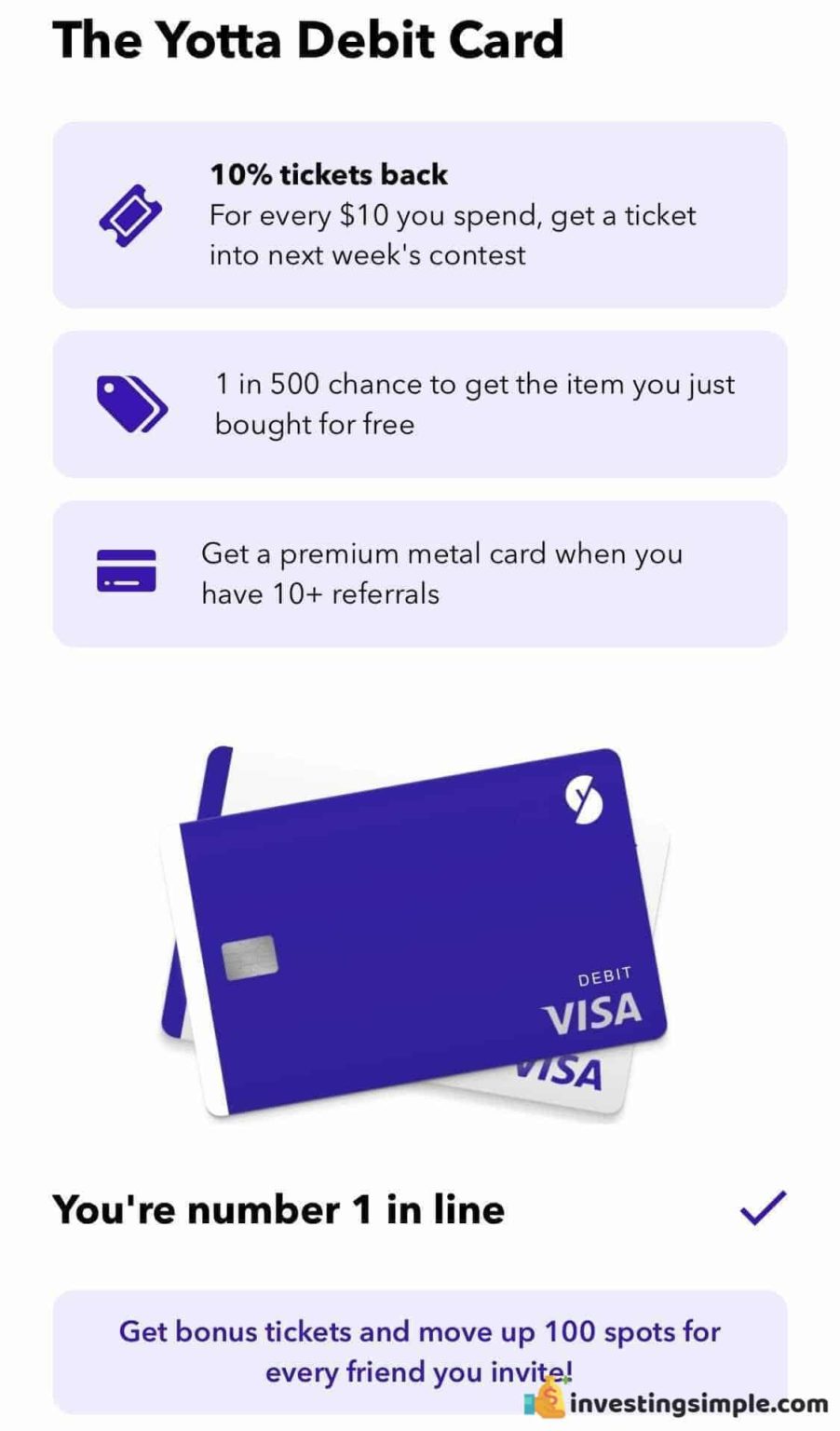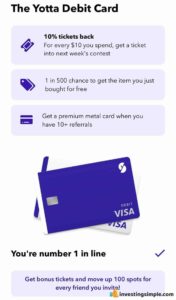 Recently, Yotta announced a debit card that they will be rolling out to their users shortly. The card features a unique set of perks that are on-brand for Yotta.
The most interesting of which is the chance that any item that you purchase on the Yotta debit card may end up free! That's because there is a 1/500 chance that Yotta refunds you the cost of any item you purchase with your card. This is not a feature you're going to find with any other debit card out there and complements the Yotta Savings account.
In addition, you'll get 10% tickets back when you shop. This means for every $10 you spend on the card, you'll get a bonus ticket into the weekly drawing. This allows you to amass even more chances to win the $10 million grand prize.
Currently, the card is not available to the public, but you can join the waitlist directly through the app.
Yotta Saving Pros
Prize-linked savings account allows savers to earn entries into weekly $10 million drawing
Flat 0.2% interest on deposits in addition to prizes
FDIC insured up to $250,000
Debit card to earn additional tickets and free purchases
Better odds than WeWin drawing
Generous referral program
Use referral code RYAN for 100 bonus tickets!
Yotta Savings Cons
Reduced rates for earning tickets on any cash over $25,000
What Is WeWin?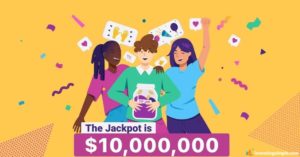 WeWin was launched by Earnin in December of 2020. The account is still very new and so far appears to be extremely similar to Yotta. However, there are a few important differences between the two platforms that we will cover.
As a company providing an alternative to payday loans, it's clear that Earnin's users are likely prime customers for a prize-linked savings account. The features on this platform reflect that it is specifically tailored towards this demographic of users.
As a very new platform, it's likely that we will see many new developments and additions to WeWin as 2021 progresses. The platform has been live for less than a month at this point so we'll be sure to update this article as new information arises.
How Does WeWin Work?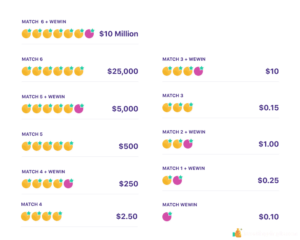 The account works almost exactly the same as Yotta does. Weekly contests start Monday night at 9 pm EST and numbers are drawn each night at 9 pm EST. You pick your numbers before then, or can choose to have them auto-selected for you.
Despite the similarities, there are a few important differences to highlight between the two platforms.
The first of which is that your WeWin account is limited to a $2,000 balance. Beyond this point, you'll no longer be able to earn additional entries into the drawing. This reflects their focus on lower-income individuals who typically rely on payday loans. These folks typically don't have a significant amount of savings and so the lower limit won't be a huge hinderance to this audience.
At the same time, this discourages individuals just looking for the highest APY around from signing up for the platform. These customers tend to cost these companies a significant amount and are not the target market for this service.
Another key difference is that you'll earn one ticket for every $10 in the account as opposed to the $25 per ticket on Yotta. This could potentially mean that people with under $2,000 could see a higher return from WeWin.
However, the odds for winning on WeWin are slightly worse than they are for Yotta. With more tickets, you're likely to win more often though, so this may help encourage lower-income individuals to dedicate a greater percentage of their income to WeWin.
WeWin Pros
Prize-linked savings account allows savers to earn entries into weekly $10 million drawing
FDIC insured up to $250,000
Higher expected value than Yotta offers (only up to $2,000)
Receive 1 ticket per $10
Specifically tailored at lower-income individuals who typically rely on payday loans
WeWin Cons
Account limited to a total balance of $2,000
No guaranteed interest on deposits
Worse odds than Yotta Savings offers
Lower prize values
Final Verdict: WeWin vs. Yotta Savings
When comparing both of these apps side-by-side, the similarities between the two are quite apparent. From the prize structure, to the websites, and even the time of the drawings, these two apps are quite similar. Where they differ is largely in the prizes themselves and in the customers they are targeting.
Yotta Savings is a company that was created around the concept of bringing prize-linked savings accounts to the mass market, and as such, they frankly do them better. The interface is more user-friendly and the platform has a stronger track record than WeWin. The prize structure on Yotta is also slightly more generous than that of WeWin according to the official rules of both apps.
WeWin on the other hand was created by Earnin, a company that primarily provides a replacement for payday loans to users. As a result, WeWin is built for people living paycheck-to-paycheck and the service encourages building strong financial habits. This is reflected in capping out the accounts at $2,000 which is likely not an issue for someone who currently has no savings.
For now, most people will likely benefit more from Yotta. However, if you're someone who currently has no savings and are starting from scratch, you might find WeWin to be a platform better suited to your needs.
Use referral code RYAN for 100 bonus tickets!