Kraken is a cryptocurrency platform that has risen in popularity over the last few years. Some members find the user interface to be more challenging. And while they do support a large number of cryptos and other features, some options are limited for US members.
For some, Coinbase may be better suited for your needs as they have a larger collection of cryptos and cater well to US members.
Additionally, Coinbase has a fantastic user interface that makes trading crypto simple.
Whatever the case may be, if you are looking to transfer crypto's from Kraken to Coinbase, then this is the article for you.
We will provide step by step instructions on how to execute this transfer.
Limited Time: Robinhood 1% Transfer Bonus
If you transfer an existing brokerage account to Robinhood through January 31st 2024, you can get an Unlimited 1% Transfer Bonus.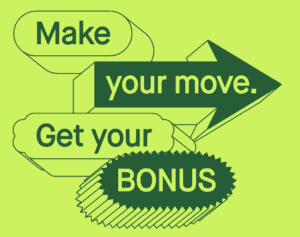 For example, if you transferred a brokerage account worth $50,000 - that would be a bonus of $500.
In addition, Robinhood offers a free stock for new users as well as a 1% IRA match for retirement accounts.
How To Transfer Crypto From Kraken To Coinbase
Transferring crypto from Kraken to Coinbase is not difficult.
The process can be completed with the 4 steps below, which only take a few minutes to complete, unless you need to wait for verification.
Verify your Coinbase Account
Gather Necessary Information
Send Crypto from Kraken to Coinbase
Each of these steps has a few steps themselves. Let's dive into those now.
Best Free Stock Promotions
1. Open A Coinbase Account

Coinbase is a top rate platform for a number of reasons.
Chief of these is their simple user interface that makes trading crypto seamless. They also offer a number of other benefits like free education resources and an advanced platform for more seasoned traders.
If you sign up for Coinbase using our button above, you will get $5 worth of free Bitcoin!
Before executing a transfer from Kraken to Coinbase, you will need to set up a Coinbase account.
Setting up a new Coinbase account is simple:
Create an account with your email and password
Submit your address and SSN for verification and tax purposes
Set up 2FA by adding your phone number
Link to your bank account using a secure service called Plaid
Verify your ID by taking a picture of the front and back
2. Verify Your Coinbase Account
When creating a Coinbase account, you can skip verification and start trading cryptos.
However, to send/receive crypto, you do need to verify your account.
This verification is done through uploading a photo of your driver's license or other state issued ID:
To do this, you will click "Send/Receive" once logged into Coinbase
A popup will appear that prompts you to upload a photo of your ID (front and back)
This can take 1-2 business days to complete
You will receive an email once you are verified or if Coinbase needs more information.
If the image of your ID is clear and matches the information in your account, verification will be completed in mere minutes.
3. Gather Necessary Information From Coinbase
When transferring crypto assets out of Kraken, you will need a location to send them to.
In this case, that location is going to be a crypto wallet from Coinbase. Each crypto has a specific wallet, and each wallet has a specific address.
This address can be found in Coinbase quickly and easily:
In the "Home Tab" of the Coinbase app, tap "Receive" at the top (on the desktop version, click the "Send/Receive" button)
A new screen (popup on the desktop version) will appear with a QR code and an address
Beneath the address, you will see a cryptocurrency
Tap the box to select the crypto you wish to transfer
Copy this address with the "copy" function on your phone
You will use this once you initiate a transfer from Kraken
Always double check to make sure you are sending cryptocurrencies to the correct wallet type.
If you send Bitcoin to an Ethereum address, for example, it will likely be lost forever.
4. Send Crypto From Kraken To Coinbase Wallet
Sending crypto from Kraken to Coinbase is a fairly simple process. Before diving into the process, it's important to note that there are applicable fees and minimums.
Withdrawing crypto from your Kraken account will result in a transfer fee.
The fee will depend on the crypto that you are transferring. For example, if you want to transfer Cardano, then the fee will be 1 ADA. Additionally, there is a minimum transfer amount that varies by crypto. With Cardano, the minimum transfer is 5 ADA.
To see all fees and minimums, take a look at Kraken's fee schedule here.
Here's how to send crypto from Kraken to Coinbase:
Once logged into Kraken, click on "Funding" in the main menu
Find the crypto you would like to transfer and click on "Withdraw" or the up arrow
Click on "+Add address"
A new popup/screen will appear when you will type in a description of the new address (example "Coinbase Wallet") and paste in the address you copied from Coinbase
Click "Save Address"
You will then receive a note informing you to confirm the new address
You will receive an email with instructions on how to approve the new wallet you just added
After confirming the new address, you will enter in the amount of the particular coin you want to transfer
Confirm the information is correct and click "Withdraw"
Don't forget to grab your free stock worth up to $200 from Robinhood today!