Cryptocurrency has been a hot topic for the past few years. This increased interest and demand has led to numerous new trading platforms dedicated to crypto.
Other existing trading platforms, such as Webull, also expanded their offerings to include cryptocurrency investments.
When choosing a crypto trading platform, one question that consistently comes up is whether or not the platform comes with a wallet. Like fiat currency, crypto must be stored somewhere. That's where a crypto wallet comes into play. Though this wallet can be physical or digital, each wallet comes with an assigned address, which is essentially a hashed version of the public key.
Because crypto lives on the blockchain with an address, sending and receiving crypto is quick and easy. Unlike with stocks and other assets, crypto can be transferred between accounts, friends, and family quite easily.
Without a wallet however, this is not possible.
Up until now, Webull did not offer members this functionality. However, Webull is now launching a cryptocurrency wallet that will make sending and receiving cryptocurrency easy! Let's review Webull and their new crypto wallet so you are ready when it becomes available!
Best Free Stock Promotions
What Is Webull?


Webull was founded in 2017 as an app-based brokerage for investors looking to explore stock and ETF trading. Since then, the company has expanded into options trading as well as crypto trading.
While Webull does provide a lot of data, the company has gone to great lengths to make sure this data is user-friendly and as simple as possible. It aims to supply you with all of the data and research tools you need while keeping the platform simplified and easy to use.
Investors of all experience levels should be able to navigate the platform with relative ease and make investments.
Webull Crytocurrency
In 2020, Webull expanded into cryptocurrency. Today, they offer investors the chance to invest in 45 coins. This includes popular investments such as Bitcoin, Ethereum, Litecoin, and Dogecoin. The platform also consistently adds to new cryptocurrencies over time.
In order to trade crypto on Webull, you do need to fill out an application. You can do so by following the instructions below in the Webull app:
Click the Webull logo in the middle bottom of the screen
Tap the icon in the top right corner
Tap "Crypto Trading" among the options listed
After you have submitted your application, you will be able to start trading cryptocurrency on Webull.
Webull Crypto Wallet
The new crypto wallet is currently in beta testing. It will soon be rolled out for all Webull members.
This new wallet will function like other wallets on platforms such as Robinhood and Coinbase.
When wanting to transfer coins into the platform, you will simply need to copy the wallet address within Webull and paste it into the platform you are sending from.
This transfer will be completed quickly and easily. After the transfer is complete, you will be able to see all of your investments in one platform.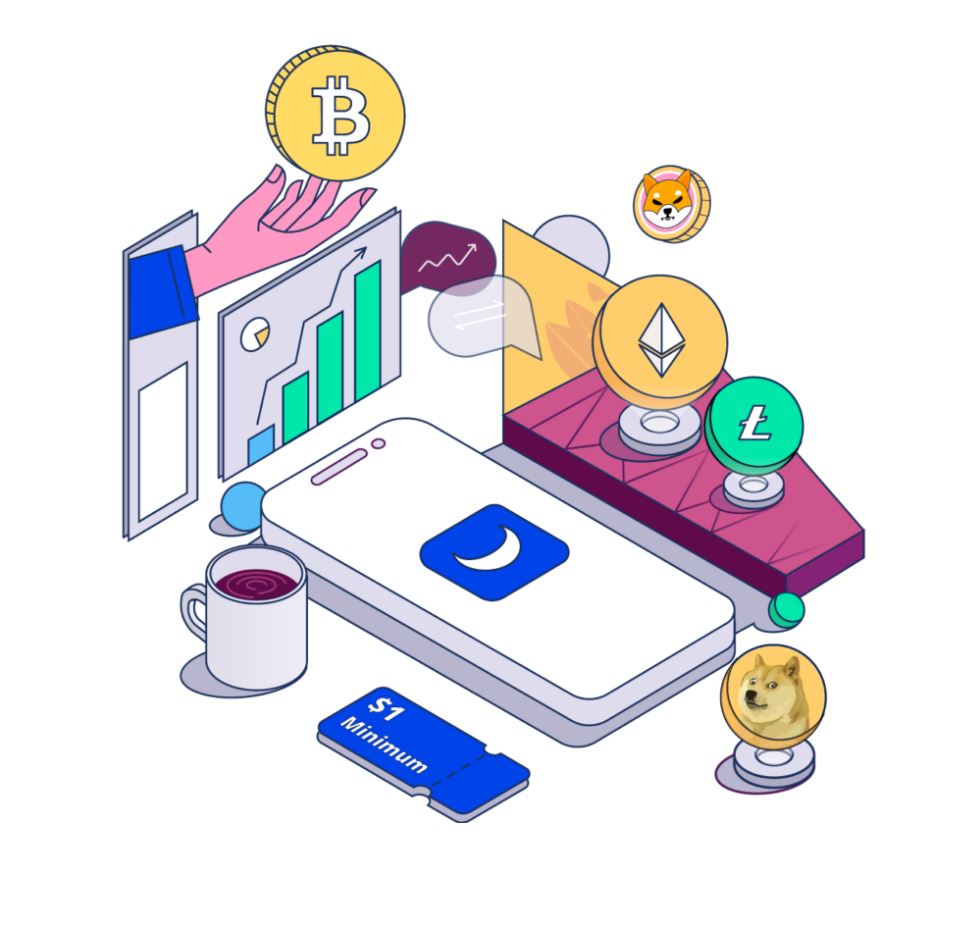 Webull Crypto Features
If you like using Webull, then you will love cryptocurrency on the platform. It is all housed in the same place for convenience and accessibility. Here are a few of the top features members love:
Webull Crypto Interface: Webull is famous for it's massive array of research tools. This level of data also exists for cryptocurrency. Members can see real time data and specific key indicators to stay well-informed. Additionally, your cyrpto holdings are held in the same location as the rest of your investments, meaning you can see all your investments in one place.
Instant Settlement: When buying and selling cryptocurrency, your market orders are completed instantly. Buying power is also settled instantly after selling.
Fractional Coins: Webull also offers fractional coins. This means that instead of purchasing the entire coin, you can type in a dollar amount and elect to purchase only that amount.
And now with a new wallet, transferring coins in and out of the platform is a breeze!
Webull Crypto Wallet: Final Thoughts
One of the main reasons people chose other platforms for crypto was because Webull did not offer a crypto wallet. With a new wallet, Webull is now a top option for cryptocurrency investing.
Members have all the great features Webull previously offered such as fractional shares, commission free trades, and research tools. And now, they also have the ability to move coins in and out of the platform.
If you are interested in trading cryptocurrency, then be sure to check out Webull!
Don't forget to grab your free stock worth up to $200 from Robinhood today!