Everyone who has ever invested in the stock market has the same goal... to make money!
Today's online trading platforms have all kinds of bells and whistles to help you on your journey to success.
Among these is Webull, a commission-free stock and ETF trading platform that has attracted almost 10 million users across the U.S. and around the globe.
Webull wants you to make money on its platform and tell all your friends to sign up. They pitch in by giving you tons of features including research tools, free stocks, and more.
The best way to make money with Webull is to take advantage of all the perks they offer to learn as much as you possibly can about the market today, tomorrow, and in the future.
Keep in mind, the stock market is not a guaranteed place to make money. However, most long-term participants do well.
How To Get Started Making Money With Webull
1. Get Your 2 Free Stocks
Your first move to making money is to grab your 2 free stocks. 
Right now, when you sign up for Webull and deposit at least $100 into your account, Webull will award you two free stocks.
You'll get one free stock just for opening your Webull account. Then, once you deposit at least $100 into your account, you'll get one more free stock.
Now, how much will these stocks be worth?
The exact amount is anyone's guess. That's because Webull chooses their free stocks based on a random lottery system. However, there is a range of values that your stocks will fall between.
Your first stock will fall somewhere between $2.50 and $250. Then your next free stock will end up between $8 and $1,600.
There is a small chance the stocks you receive will no longer be in this range due to market volatility but this is unlikely.
Best Free Stock Promotions
2. Learn The App
Next, before you jump right into investing, you should familiarize yourself with the platform.
The app itself is easy to navigate and is well-organized. This is a huge plus, because you won't need to spend a lot of time learning.
The first way to start making money is by not spending it! Webull does not charge you any money for opening and maintaining a trading account. There is also no minimum account balance you will need to hold in your cash account. No trading commissions either. That means you'll be able to take advantage of free trades on Webull. Obviously, you'll still need to pay any relevant exchange fees for your trades, but you'll be paying these regardless of where you invest.
Again, this is a 100 percent free stock trading platform. They do not charge any hidden fees and there are no strings attached. If you're wondering how Webull makes money, we've got an entire article diving into that.
So once you sign up – which is free - get into the app and figure out how to use it.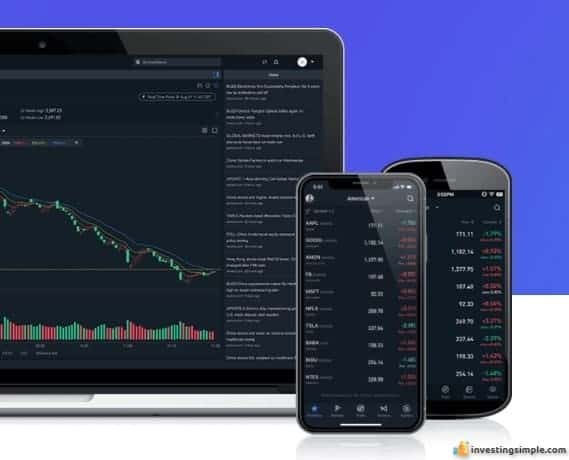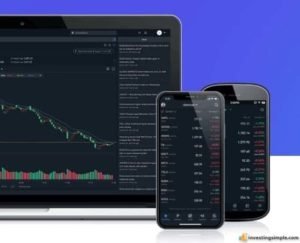 3. Play With Paper Money
The next step you need to take is trying your hand with paper money. Webull is one of a handful of platforms that will let you practice with a trading simulator.
They will put $1 million of fake money into your account and let you go through all the steps of making trades within the app.
This means you are just practicing buying and selling stocks and exchange-traded funds (ETFs) and building a diversified portfolio without worrying about emptying out your bank account. You chart progress and market fluctuations up and down and tally up your results at the end.
Then, learn from your mistakes! Maybe you acted on impulse and sank too much money into a stock because you "had a feeling" it was going to skyrocket.
The smartest trading decisions are made with facts and research, not the emotion of intuition. Unless you own a crystal ball, you won't be able to see into the future where your picks are heading.
Simulated trading will also help you figure out your tolerance for risk. Some people like to ride the roller coaster of trading while others shy away from risky moves. There's plenty of room in between for you to settle into. Test the waters with paper trading.
4. Invest For Growth
Once you are familiar with the app, you might consider making an investment in a growing company.
This is referred to as "growth stock" which is one of the ways to potentially make money with Webull.
The idea here is to buy a stock at a lower share price. Then, weeks/months/years later, you sell it for a higher price. This strategy of "buy low, sell high" is recommended by the greatest investors such as Warren Buffett.
Let's say you buy 10 shares of a stock for $25 each. Then, after a few years, the stock is trading at $50.
You paid $250 for your shares, but now they are worth $500. If you sell them, you doubled your money!
This is one of the most popular methods retail investors use to make money in the stock market.
5. Dividend Stocks
Aside from growth or asset appreciation, the other way to make money from the stock market is dividend investing.
These companies pay cash payments to shareholders on a monthly, quarterly, bi-annually, or annual basis. In most cases, it is quarterly.
Rather than investing for growth, you can instead invest for income by purchasing these dividend payers. These are often more well-established companies that have less growth potential, but long track records of success.
Earned dividends will go to your cash balance in your brokerage account. You can take this cash out, buy new stocks or reinvest the money back into the issuing stock to earn compound interest.
Conclusion: Making Money With Webull
The best way to make money on Webull is to put all their info to good use.
Learn to use the app. Use the paper money to practice in the trading simulator. Study the news briefs, earnings reports and dividend updates – basically everything you can find to get up to speed.
Remember, too, that the best trading decisions are made based on research, not hunches.
Webull has plenty of market info to help get you where you want to go. As we all know, that's straight on the path to wealth.
You can also rest easy knowing that Webull is registered with the Financial Industry Regulatory Authority (FINRA) and SEC.
So continue to hone your skills and improve your investing over time. This will improve your ability to make money from the stock market and take full advantage of everything the Webull app has to offer.