Regardless of if you have been investing in Robinhood for days, weeks, months, or years, there may come a time that you want to withdraw from the brokerage. We have the different steps you will need to take to assure a secure and simple transfer of your investments to your bank account.
Selling your Shares
The initial step to getting your funds transferred to your bank account from Robinhood is to sell your shares. This is where you can decide if you wish to keep some of your shares or sell all of them. Here are the steps for the selling process:
Mobile
Find the stock you are looking to sell and click

Trade

Then tap on

Sell

Choose the

Sell in Dollars

option in the upper right corner

Click on

Review

to make sure the information is correct

Swipe up to submit your request
Web
Find the stock you wish to sell and navigate to the details page for that specific one

Click

Sell

in the options window

Choose

Sell in Dollars

in the drop-down menu

Review

the information to make sure it is correct

Submit

your sell order 
Transferring to Bank Account
It then will take the day of the trade plus two more trading days for the funds to settle before being available for withdrawal. Before the next step, you will need to choose between a partial or a full withdrawal depending on your needs. Below are the steps for each platform withdrawal process.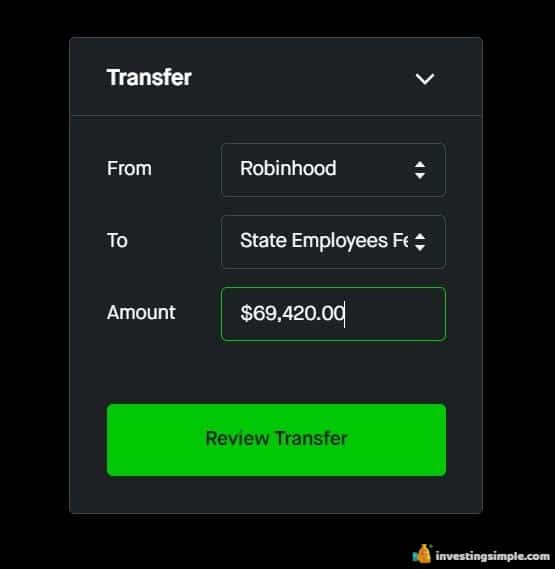 Mobile
Tap on your

Account

in the bottom right corner of the screen

Click

Transfers

and choose

Transfer to Your Bank

Choose the bank account you wish to transfer to
*We will cover what goes into transferring to a different account below
Enter the dollar amount you wish to transfer

Click

Submit

once you have verified the information is correct
Web
Click

Account

in the upper right-hand corner

Tap

Banking
Using the panel on the right side, initiate a bank transfer from Robinhood
Robinhood Withdrawal Factors
Pending Deposits
Once you have gone through the steps to withdraw money into your connected bank account, it may take up to five trading days to be ready for withdrawal. Within that time period, this money cannot be invested. 
Separate Bank Account Deposit
This would be the case if you wish to deposit your funds into a different account than the one you had originally been depositing funds into Robinhood with. One of the largest drawbacks, if you are on a time crunch, is that it may take 60 days to verify the account due to the verification process. 
You may be prompted to give some of the reasoning as to why you are using a different account than the one already connected to Robinhood.
As a result, your best bet is generally to withdraw to the same account you initially linked to your Robinhood account.
Withdrawing Your Referral Stock
One of the perks Robinhood gives their investors is the free stock received when signing up. If that is one of your stocks you are looking to withdraw from, there is a thirty-day holding requirement to be able to do so.
This means that you'll have to wait a full month after opening your account to cash out on that free stock.
Summary
Before withdrawing from Robinhood, make sure you have a strong understanding of the different processes you will need to go through to do so. We hope this article can be a resource for you to use time and time again as you go through your investing journey.
Best Free Stock Promotions