Transferring your brokerage account to M1 Finance is simple, with the seamless and intuitive process they offer.
Whether you're looking to migrate an entire brokerage account or shift your IRA, M1 Finance simplifies the process through a series of user-friendly steps.
To ensure a smooth transition, here is a step-by-step guide on how to transfer your brokerage account to M1 Finance effortlessly.
In this guide, we will show you how to transfer from Webull to M1 Finance, step by step - specifically.
What Assets Can You Transfer
M1 Finance supports 6,000+ stocks and ETFs that are listed on NYSE and the NASDAQ exchanges.
However, M1 does not support options trading at this time. You will need to sell your options before making the transfer.
Make sure to carefully consider the tax implications!
One final note, you must pay off any Webull margin balance and make sure your account is in "good standing" before transferring your assets to M1.
Best Free Stock Promotions
1. Open An Account With M1 Finance
The first step in the transfer process is to create an M1 Finance account.
Keep in mind, the account type you are looking to transfer needs to match the account type you open with M1 Finance.
2. Gather Information From Webull

Look at your most recent Webull statement and organize the necessary information, which includes your account number and account type. 
M1 will need these details to process the transfer. In addition, they may ask you to upload a copy of the statement, so be sure to download a copy. 
3. Account Type Compatibility
Before initiating the transfer process, ensure that you have an open account with M1 Finance that matches the specific account type you're transferring.
For instance, if you're transferring a Roth IRA, it must be directed to an M1 Roth IRA Account.
4. Access "Move Money" Tab
Once you've confirmed the compatibility, navigate to the Home tab within your M1 Finance account.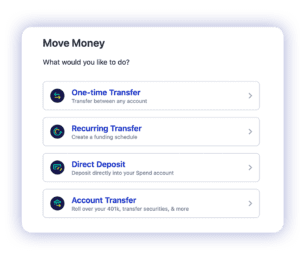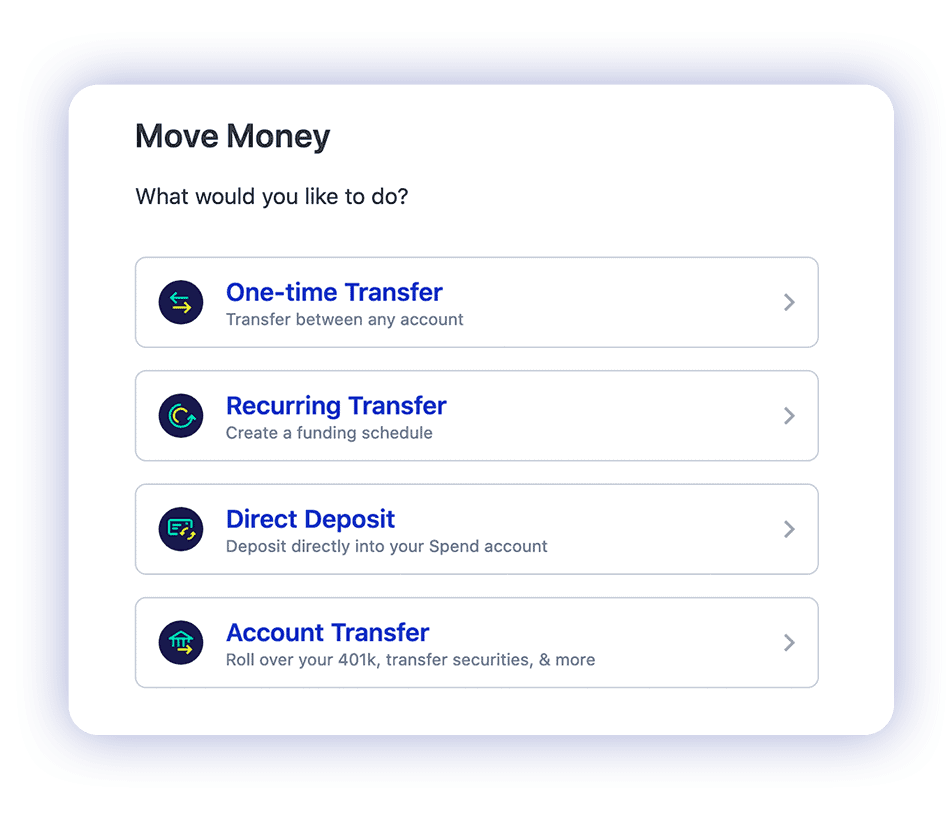 Look for the "Move Money" option and click on it to proceed with the transfer process.
5. Select "Transfer From Another Brokerage"
Within the "Move Money" section, opt for the "Account Transfer" feature, which serves as the starting point for initiating the transfer process.
6. Choose Transfer Type
To kick off a full brokerage account transfer, select the appropriate option based on your specific needs and account type.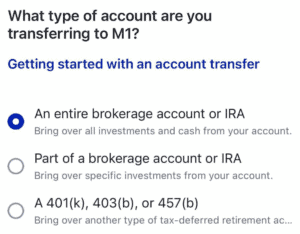 7. Specify Originating Brokerage
Choose the brokerage from which you're transferring your account - which is Webull in this case.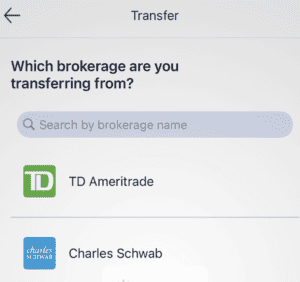 8. Provide Account Details
Enter the account number of the brokerage account you intend to transfer into your M1 Finance account.

Ensuring the accuracy of this information is crucial for a successful and smooth transfer process.
9. Select Receiving M1 Invest Account
Choose the specific M1 Invest Account that will receive the transferred funds.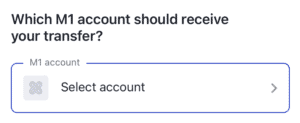 10. Confirm Your Transfer
After reviewing the details, click the "Continue" button to confirm and initiate the transfer process.
You'll receive a confirmation email shortly after submission.
Transfer Fees
Keep in mind that Webull collects a $75 fee for an account transfer.