In the midst of chaotic 2020, online brokers have been offering up their services to eager investors that are looking to participate in the high flying financial markets. These brokers offer various features. From zero commissions to stock research to trading platforms, you name it it's out there. Online brokerage app Webull has recently partnered with NASDAQ TotalView to release level-2 advance quotes to its users, a potentially valuable feature to active traders.
Summary: Webull TotalView
Webull has partnered with the NASDAQ TotalView platform to offer Level 2 Advanced trading.
Gain access to the best 30 bids/asks for stocks and ETFs
$0 commissions on stocks and ETFs, even when using TradingView
More in-depth information such as NOII - Net Order Imbalance Indicator
Referral system lets you win points for your Webull profile
Sign up process is seamless and only takes a few minutes
Analyze aggregate buy/sell orders on TradingView
What Is TradingView Level II?
Traders often use the second level to give them an edge on the market when making high-frequency trades. Level II lets you see all of the bids and asks for the stock that you're looking at along with the number of shares the buyers/sellers are looking to buy. Remember, every transaction in the stock market is zero-sum, meaning if I buy it, someone had to sell it to me. As a result, for every buyer, there is always a seller, and second level trading gives you the transparency of seeing those orders.
Level II Trading's Importance
There are many reasons why trading on the second level is important. Mainly, traders use it to have a better gauge of what inflows and outflows are occurring on a certain stock in order to spot patterns and unusual activity. This process of analyzing the second level of a stock is called "reading the tape."
Net Order Imbalance Indicator (NOII)
The NOII feature is one of the biggest benefits of using Webull TradivingView. Using the NOII feature you will get more data into the NASDAQ opening, closing, IPO, and halt crosses. This featured is used to keep all market participants equally informed and provide a more liquid market environment.
Reading The Tape
Highly sophisticated traders analyze buy and sell orders to understand the story of how a stock trades. The "tape" tells them who is buying, who is selling, how many shares, and at what price. For example, one strategy when "reading the tape" is to spot "whale orders." Whale orders are unusually large buy or sell offers made that should raise a red flag. For example, if there are typically buy/sell orders of 10-20 shares at $5 of a stock, and then there is a buy for 5000 shares of the stock at $5.05, this would be considered a "whale order." Now that you know more about the importance of a second-level when trading on a highly frequent basis, let's take a closer look at TotalView and some of its fantastic features.


TotalView Features
So reading the tape on a second level is important, but what tools does Webull offer in its new platform to enhance traders' experience utilizing this feature? Let's take a look at some of TotalView's most important features now.
Bid/Ask Prices
TotalView gives its users a comprehensive display of the bids/asks for single securities on its platform. The bid price is the highest price that you can buy a stock, and the ask is the lowest price at which you can sell a stock. Through TotalView's second level charting, you will be given the 30 best bids and asks for your stock. This means you can choose the best deals when you choose to buy or sell a stock. This tool is extremely important especially if you are looking to trade stocks with high spreads between their bid and ask price. For example, if there is a big difference between the bid and ask prices of a stock, it is very important to take the best offer. Taking the best offer means getting in at the most optimal price which enhances profits.
Aggregate Buy/Sell Orders
When analyzing a stock, many traders calculate the total amount of buy/sell orders to gain insight into the market's sentiment for it. If a stock is having more buy than sell orders, it is a good sign that stocks demand is increasing, leading to a higher price.
On the contrary, if a stock begins to accumulate more sell orders than buy orders, it shows a negative sentiment and results in the stock price decreasing. A less sophisticated chart would only show individual orders in a list on the trading screen, but not TotalView. TotalView will tally up all of the aggregate buy/sell orders and automatically calculate the total number for you. In essence, TotalView takes the mathematical pain out of it and only gives you the analysis.
Real-Time Market Data
TotalView's real-time market data streamlines precise prices for securities so you are spot on with entry/exit points. This is different from some other brokers that have quotes delayed up to 15 minutes. Not TotalView.
Referral System
Webull offers a referral system for its second level charting platform so you can invite friends and earn points. Points give you a higher ranking among other users and additional benefits on the platform. Mostly, they are to show you are a contributing member of Webull's strong community.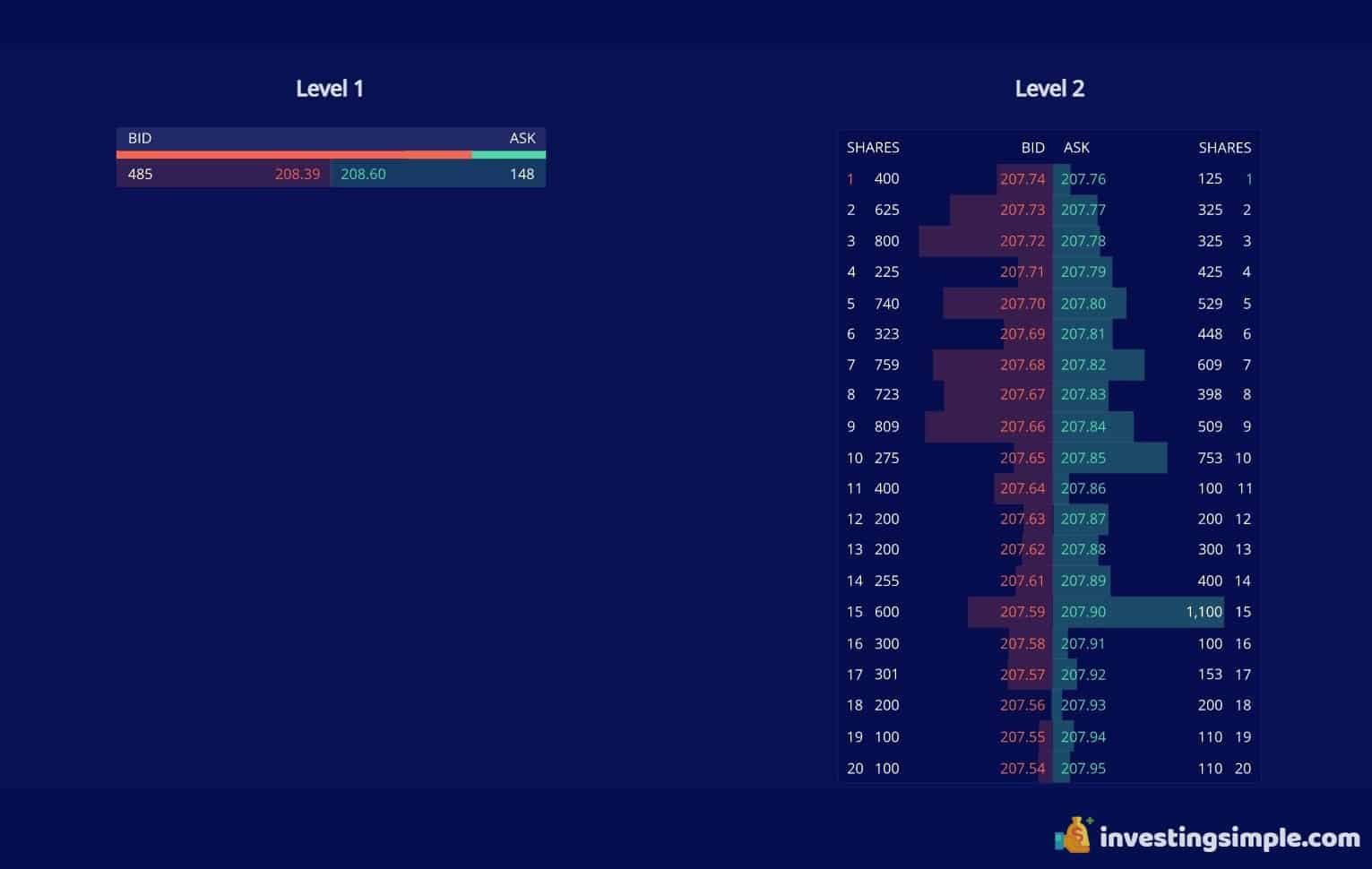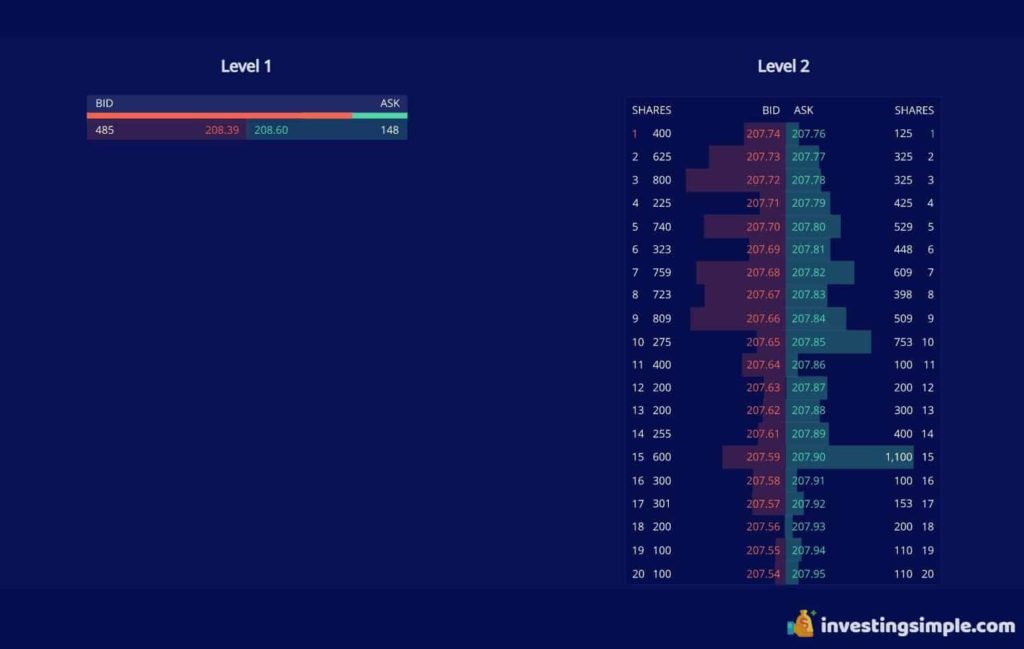 $0 Commissions
Commissions are charged by brokers when executing buy and sell orders for a security. Some brokers charge commissions up to $10 per trade! Luckily for you, on Webull and its TradingView platform, you will pay no extra commissions on your stock and ETF purchase and sell orders. This is especially significant because most brokers that offer level 2 trading price their commissions at high levels, not Webull.
Signing Up For TotalView
Now that you know more about TotalView and some of its distinct features, the next step in your trading journey is to sign up. But exactly how do you sign up for Webull Totalview?
Signing Up For Webull TotalView Step-By-Step:
Open the Webull app
Tap on the watchlist tab
You will come to a detailed stock and ETF page
Scroll down to see NOII information
After following these four simple steps, you should be all set to begin trading on Webull's second level platform
TotalView Fees
Lucky for you, Webull tries to keep its fees down as much as possible for its users. This extends to TotalView as well, costing just $1.99 per month. There are still some fees that you should be aware of, however, when trading with Webull. Let's go over some of them now.
Margin Fees
Margin is money that is borrowed from a bank or broker that has to be paid back. This margin can be used to trade stocks and ETFs on Webull's trading platform and with TotalView. The rate that margin has to be paid back is based on the interest rate at which you take it out.
On Webull, these rates vary. If you are looking to take out between $0-$25,000 in margin from Webull, you will be charged a 6.99% annual margin rate. This interest rate scales down as the amount of margin you are seeking to take out increases.
If you use $3,000,000 or more in Webull Margin the annual interest rate is 3.99%. Remember that even with highly technical trading features such as TotalView, there is still inherent risk in taking out margin. So, be careful and use it correctly if you are thinking about investing using margin.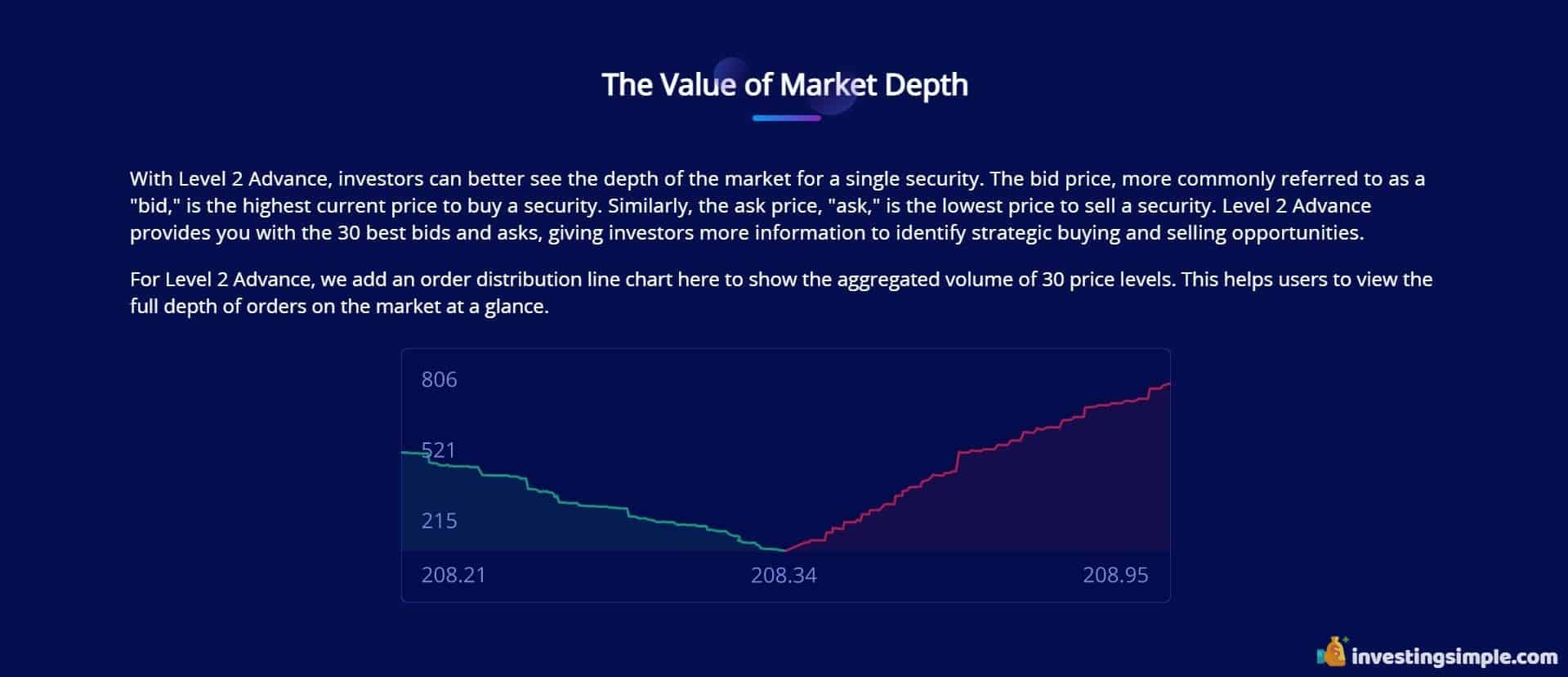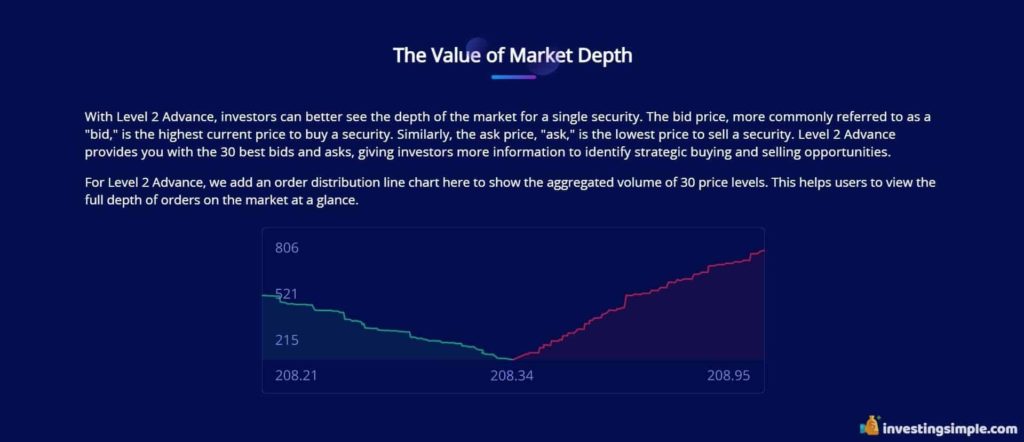 TotalView Pros
An easy four-step process to sign up for TotalView
TotalView offers a second level, helping traders "read the tape"
Aggregate buy/sell orders make it easy to assess market sentiment toward a stock or ETF
Given best 30 bid and asks for with TotalView
Referral system lets you earn points on Webull
No commissions on stocks or ETFs offered on Webull and when using the TotalView feature
Time and sales data offered on transactions
Desktop application for ease of use and convenience
TotalView Cons
Margin fees are average compared to industry standards
Level II trading may be complicated for beginners to understand
Unable to access level II trading on mobile phone
The Final Verdict: TotalView 2021
For a highly technical and in-depth level II trading platform, Webull's TotalView shines. By partnering with the NASDAQ, Webull's TotalView feature gives you a market edge without the added headaches of traditional level II platforms. If you are somebody who values precise orders, entries into your trades, and exits, TotalView may be a great option for you.
If instead, you are focused on technical charting features and analysis, there are several other brokers that offer these features as well. At the end of the day, I'm a huge fan of TotalView, but that doesn't mean you have to be as well. Find what trading strategies work for you and figure out if TotalView fits into your trading system. If it does, maybe you found a new feature to enhance your profits. If not, there are many other options and features you can look elsewhere.
Best Free Stock Promotions