Buying and selling crypto has exploded in popularity and shows no signs of slowing down any time soon.
Cryptocurrency is a virtual currency that utilizes cryptography for protection and security. It is used as a means of exchange to buy and sell; however, it exists solely digitally. There is no tangible version of it. This digital money is not regulated by a middleman such as a bank or government. It can be traded securely in peer-to-peer transactions on the Internet.
It is estimated that there are currently over 6,000 cryptocurrencies in existence today! Most investors are aware of the big ones such as Bitcoin or Ethereum. Likewise, many brokerages offer investors the chance to buy and sell these main cryptocurrencies. Other cryptos, such as Dogecoin, Cardano, and Ripple, can be more difficult to trade.
In this article, we take a look at the crypto available for trading on Robinhood. So, what crypto does Robinhood offer? Let's dive in!
What Is Robinhood?
Robinhood is an online trading platform known as the early frontrunner that launched commission-free trading. It opens doors for beginning investors looking to learn about the market, establish a trading strategy and start investing without paying any initial fees.
Robinhood does not charge its members any trading fees whatsoever. There is not a minimum initial account balance, and bank transfers are free. These features make it a great starting point for people looking to start out small and work their way up in the world of investing.
Its creators designed this platform with beginners in mind. It is meant to be one of the simplest trading platforms out there.
Along with traditional stocks, investors on Robinhood can buy and sell cryptocurrency.
What Crypto Does Robinhood Offer?
Robinhood users should be aware that the company's crypto platform is limited.
The following seven cryptocurrencies are currently available for investors to purchase on Robinhood:
Bitcoin (BTC)
Bitcoin Cash (BCH)
Ethereum (ETH)
Bitcoin SV (BSV)
Dogecoin (DOGE)
Ethereum Classic (ETC)
Litecoin (LTC)
Just as Robinhood does not set minimums on your investments, when you're trading crypto, you don't need to buy a whole coin. With the platform's fractional investing, you can start with as little as $1.
Many crypto exchanges charge up to 4% just to buy and sell coins. Robinhood charges 0%.
Keep in mind that if you buy any cryptocurrencies on Robinhood, those coins must stay on Robinhood. They offer no way to withdraw to another wallet. However, Robinhood crypto wallets are now available for a few! You can join the waitlist to gain access, which would be a huge benefit added to Robinhood crypto members.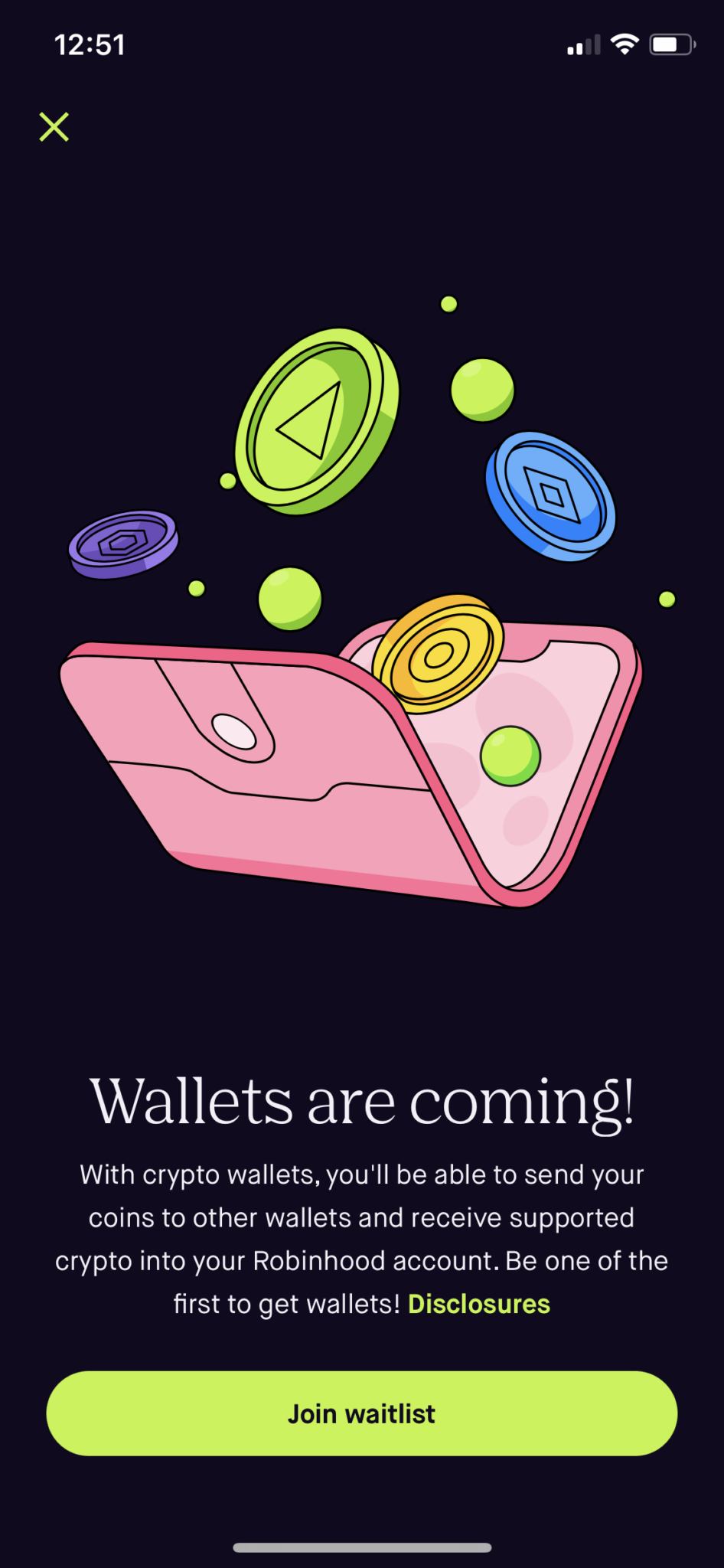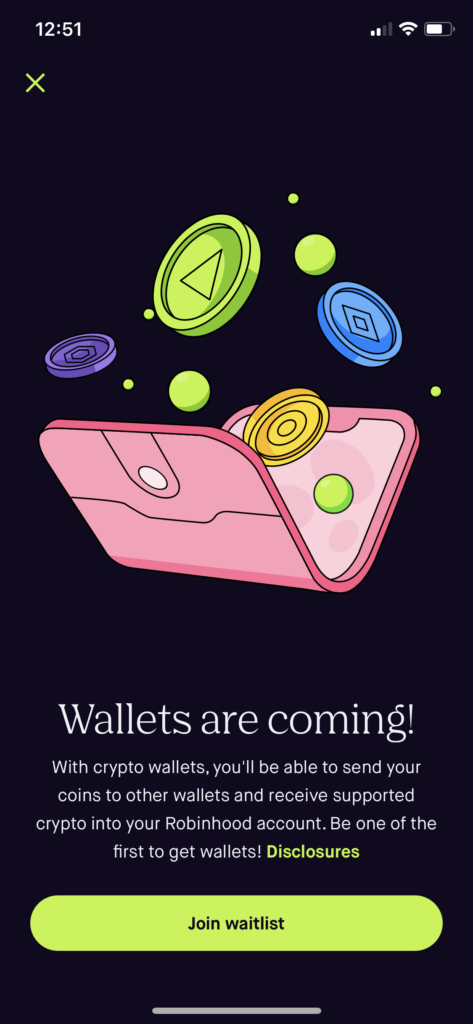 Is My Robinhood Crypto Insured?
It's crucial that you understand the lack of safety nets when trading crypto. It is offered through an account with Robinhood Crypto, which is not a member of the Securities Investment Protection Corporation (SIPC). Cryptocurrencies are not stocks and therefore are also not protected by the Federal Deposit Insurance Corporation (FDIC). This is true regardless of the platform that you use.
Crypto On Robinhood: Conclusion
Robinhood is a popular and highly-respected online trading platform with no minimums to launch your account and zero trading fees.
The platform offers a handful of the most popular cryptocurrency, but you will likely find more on other apps.
Buying and selling cryptocurrency is a whole different ball game than trading stocks. Robinhood Crypto is a separate entity from its securities corporation. Therefore, your crypto is not covered by federal or statewide insurance entities the way traditional stocks and cash in trading accounts is insured.
Best Crypto Promotions