If you're looking to leverage ChatGPT, understanding what prompts to use is essential.
I'll be taking you from a complete newbie to a ChatGPT prompting expert in this ultimate guide. I've personally spent about 500 hours using ChatGPT for content creation, research and more.
If you're a complete beginner to ChatGPT, watch my video below for a tutorial on how to sign up.
Don't forget to grab your free stock worth up to $200 from Robinhood today!
About the Author
Ryan Scribner is the author of From Side Hustle To Main Hustle To Millionaire - a practical guidebook on launching your own side hustle. He is recognized as a Top 100 Money Expert by GoBankingRates.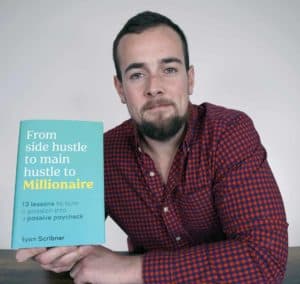 Ryan runs a successful YouTube channel focused on money and investing, which he started in 2016. He also owns a portfolio of digital business, all earning passive recurring revenues.
Now, Ryan teaches others how to create additional income streams.
Best ChatGPT Prompts
Here is a run-down of some of the most helpful prompts you can use with ChatGPT.
Be sure to check out our post on ChatGPT side hustles too!
Learning Prompts
First, we have learning prompts. ChatGPT is the ultimate tool for learning new skills. 
Give some of these prompts a test drive.
1. Simple Question
Prompt: "What was Abraham Lincoln known for?"
2. Simple Question Explained In Simple Terms
Prompt: "What was Abraham Lincoln known for explained as simply as possible."
3. Clarification
Prompt: "Why did they do that?"
4. Complicated Questions
Prompt: "Should the U.S. pay off its National Debt?"
5. S.T.E.M. (Science, Tech, Engineering, Math)
Prompt: "Solve for X: 3(X-2) = 2(X+4)"
6. Learn A Coding Language
Prompt: "Start teaching me Python."
7. Study Assistant
Prompt: "Quiz me about American History."
8. Multiple Choice Quiz
Prompt: "Ask me multiple choice questions about American History."
9. Explain
Prompt: "Explain Gravity to me."
Assistance Prompts
ChatGPT has the capability of being your ultimate digital personal assistant. 
Here's a few ways ChatGPT can help you streamline your work to become more productive and efficient. 
10. List Generation
Prompt: "Best side hustle ideas."
11. Curated List Generation
Prompt: "Best side hustle ideas for Outdoor Enthusiasts."
Prompt: "Write me a short response to this comment on my YouTube video: ___"
13. Email Responses
Prompt: "Write me a response to this email politely turning down the offer: ___"
14. Create Instagram Captions
Prompt: "Give me 5 examples of Instagram captions for a beach photo in Miami, FL."
15. YouTube Video Titles
Prompt: "Shorten this YouTube video title and make it more enticing: ___"
Prompt: "Give me a list of hashtags for an Instagram post about Chihuahuas."
17. Template
Prompt: "Write me a Privacy Policy."
18. Legal Analysis
Prompt: "Am I able to break this lease agreement: ___"
19. Find Relevant Quotes
Prompt: "Find a quote from Warren Buffett that relates to Compound Interest."
20. Recipe Ideas
Prompt: "Give me a recipe for Sweet Potato Fries with Truffle Oil."
21. Queries
Prompt: "Write a cold email to Graham Stephan offering a thumbnail design service."
22. Resume Building
Prompt: "Write me a summary of the following work experience for my resume: ___"
23. Cover Letter
Prompt: "Write me a Cover Letter tailored to this job opportunity: ___"
24. Mock Job Interview Questions
Prompt: "I'm interviewing for a job as a Security Consultant at Microsoft. Ask me some mock interview questions."
25. Data Cleanup
Prompt: "Reformat this list of names to the format: Last Name, First Name"
26. Microsoft Excel
Prompt: "Write me an Excel Formula that calculates the average of cells A2 to A7."
27. SEO Tools
Prompt: "Extract the top 10 keywords from the following article: ___"
28. Marketing Material
Prompt: "Write me a flier for a Dog Poop Scoop business in Seattle, WA."
29. Writing Feedback
Prompt: "Critique this video script and suggest some potential improvements: ___"
30. Generate Summaries
Prompt: "Summarize the key points of the following passage: ___"
31. Lengthen Content
Prompt: "Lengthen the following piece of content: ___"
32. Translate
Prompt: "Translate this text into Spanish: ___"
33. Passive Voice Correction
Prompt: "Change this sentence from Passive Voice to Active Voice: ___"
34. Mass Word/Number Change
Prompt: "Change all instances of 4% to 5% in the following passage: ___"
35. Outlining
Prompt: "Write me an outline for a documentary about Teddy Bears."
36. What Can I Cook
Prompt: "I have Chicken, Cheese and Eggs in my fridge. What can I cook?"
37. Troubleshooting
Prompt: "I have slanted lines on my timeline in Final Cut Pro. How do I fix this?"
38. Dating Openers
Prompt: "Give me 5 openers for a message to a girl who likes Golden Retrievers."
39. 20 Questions
Prompt: "Play 20 Questions with me."
40. Recommendations
Prompt: "Best books about Sailing."
Creation Prompts
Lastly, ChatGPT is an extremely powerful content creation tool.
Here are some prompts for creating AI-generated content.
Prompt: "Write me 5 Tweets about the following piece of news: ___"
42. Blog Articles
Prompt: "Write me a short article about how to hire a moving company in Boston, MA."
43. Current Events Article
Prompt: "Write me an article about ___ based on the following information: ___"
44. Write An Ebook
Prompt: "Write me an ebook about: ___"
45. Write Code
Prompt: "Write a Python script to open photo files and rename them to the size of the file."
46. Write A Screenplay
Prompt: "Write me a screenplay about: ___"
47. Song Writing
Prompt: "Write me a song about: ___"
48. Write A Poem
Prompt: "Write me a Haiku about horses."
49. Write In The Style Of
Prompt: "Write me a bedtime story in the style of Robert Frost."
50. Choose Your Own Adventure
Prompt: "Write me a story about ___ and let me choose different options about how it continues."
51. Write Jokes
Prompt: "Write me a joke about: ___"
52. Comparisons
Prompt: "Write me a comparison between FHA Loans vs Conventional Loans."
Final Considerations
For the 1% who are ready to take their side hustle journey a bit more seriously, I wrote a book about side hustles.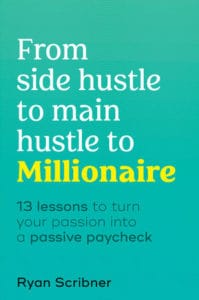 It covers all phases of the side hustle journey, and you get access to a members only discord where you can ask me questions along the way.
And you can grab a copy in person at most Barnes and Noble stores across the United states, or it's right on Amazon.
So grab a copy today and let's get started on your side hustle journey together!