American Airlines is one of the leading airline companies in the United States, renowned for its extensive domestic and international flight network.
With a rich history spanning nearly a century, American Airlines has played a significant role in shaping the commercial aviation industry.
Here is a list of the top 10 American Airlines shareholders as of 9/14/2023.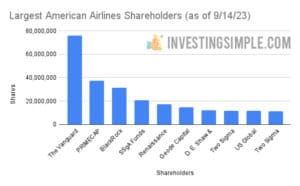 Best Free Stock Promotion
1. The Vanguard Group Inc
Ownership: 11.67%
Shares Held: 76,272,810
2. Primecap Management Co
Ownership: 5.71%
Shares Held: 37,317,721
3. BlackRock Fund Advisors
Ownership: 4.79%
Shares Held: 31,260,482
4. SSGA Funds Management Inc
Ownership: 3.17%
Shares Held: 20,693,076
5. Renaissance Technologies LLC
Ownership: 2.62%
Shares Held: 17,107,332
6. Geode Capital Management LLC
Ownership: 2.24%
Shares Held: 14,653,004
7. D. E. Shaw & Co. LP
Ownership: 1.87%
Shares Held: 12,241,599
8. Two Sigma Advisers LP
Ownership: 1.79%
Shares Held: 11,692,600
9. US Global Investors Inc
Ownership: 1.77%
Shares Held: 11,529,374
10. Two Sigma Investments LP
Ownership: 1.72%
Shares Held: 11,210,009
Click here to check the current Share Price of American Airline (AAL) on Robinhood!
What Is American Airlines?

American Airlines is one of the largest and oldest airlines in the United States.
It is a major airline that operates both domestic and international flights.
Here are some key points about American Airlines:
History: American Airlines was founded in 1926 and has its headquarters in Fort Worth, Texas. It has a rich history and has played a significant role in the development of commercial aviation in the United States.
Size and Fleet: American Airlines is one of the largest airlines in the world by fleet size, the number of passengers carried, and revenue generated. The airline operates a diverse fleet of aircraft, including various models of Boeing and Airbus airplanes.
Hubs: American Airlines has several major hub airports across the United States, including Dallas/Fort Worth International Airport (DFW), Miami International Airport (MIA), Chicago O'Hare International Airport (ORD), and Los Angeles International Airport (LAX). These hubs serve as primary connecting points for passengers traveling on American Airlines flights.
Routes: American Airlines offers a wide range of domestic and international routes, serving destinations across North America, South America, Europe, Asia, and the Caribbean. It is part of the Oneworld alliance, which allows passengers to connect to even more destinations through partnerships with other airlines.
Services: American Airlines provides various classes of service, including Economy, Premium Economy, Business Class, and First Class, depending on the route and aircraft. Passengers can also join the AAdvantage frequent flyer program to earn miles and enjoy various benefits and rewards.
Merger: American Airlines went through a significant merger with US Airways in 2013, creating one of the largest airlines in the world. The merged entity retained the name American Airlines.
Operations: Like many other airlines, American Airlines faced challenges in the aviation industry, particularly during the COVID-19 pandemic. It had to adjust its operations and implement safety measures to adapt to the changing circumstances.
American Airlines is a prominent player in the global airline industry, and its extensive network of routes makes it a popular choice for both domestic and international travelers.
Conclusion
These top shareholders in American Airlines are a mix of institutional investors, investment management firms, and asset managers.
Together, they own a significant portion of the company and have a significant influence on its operations and strategic decisions.